Whether you want to build a long-lasting brand name or create a channel that will resonate with originality and style, getting yourself high-end gaming logos is an outstanding first step!
While it might seem intimidating to get into logo design at first glance, there are thousands of free gaming logo templates and gaming profile picture maker tools to customize your profile within seconds!
Now, let's see what we can choose for ourselves among the selection of free gaming logo makers and premium services. I'll cover a couple of them who race for the title of the best free and premium gaming logo maker.
Post 7 of 17 in the Graphics
1. OWN3D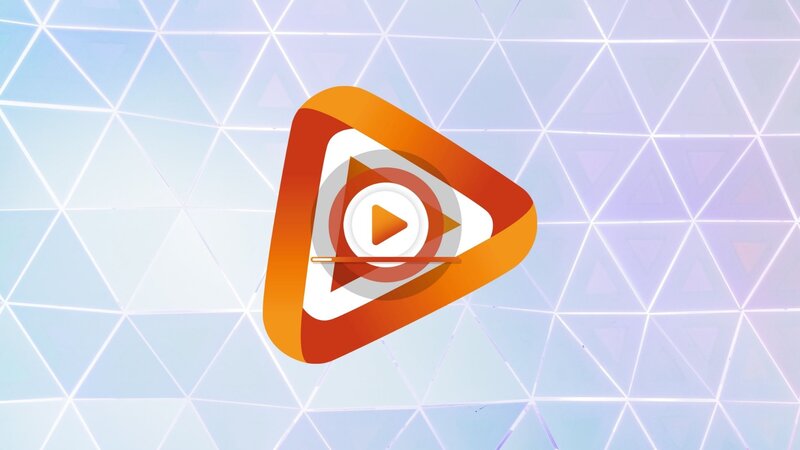 ---
*Use code STREAMMENTOR for 50% discount*
OWN3D is a website where you can get all of the visuals that you need for your streaming channel, and obviously, logos are included in that.
Going for a logo from OWN3D is a great idea because you can get other visuals from there too, which will make your channel look nicely curated and uniform, which will be greatly appreciated by your audience.
Besides choosing from something that's pre-made, you could easily make your own logo using the logo maker on the website, so you have a lot of options to choose from. However, the logo maker is meant for e-sports.
Pricing
On OWN3D, you need to pay for everything that you're getting, so there aren't free options to choose from. One good thing though, is that there are a lot of discounts very often, so if you like something, then it won't be a problem to find it at a discount.
Paid:
When it comes to logos that you make, the e-sports gaming logos are priced at $56.99. This is a high price; however, there are often discounts on OWN3D, especially -50% ones, so you can easily get your logo at around $28.
2. Fiverr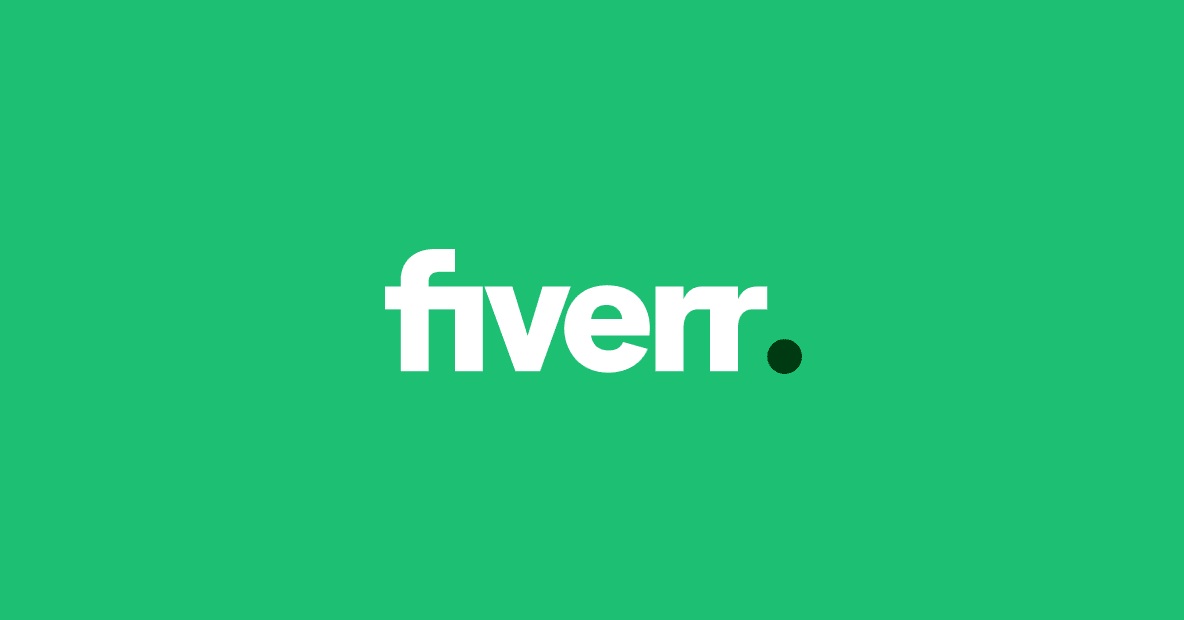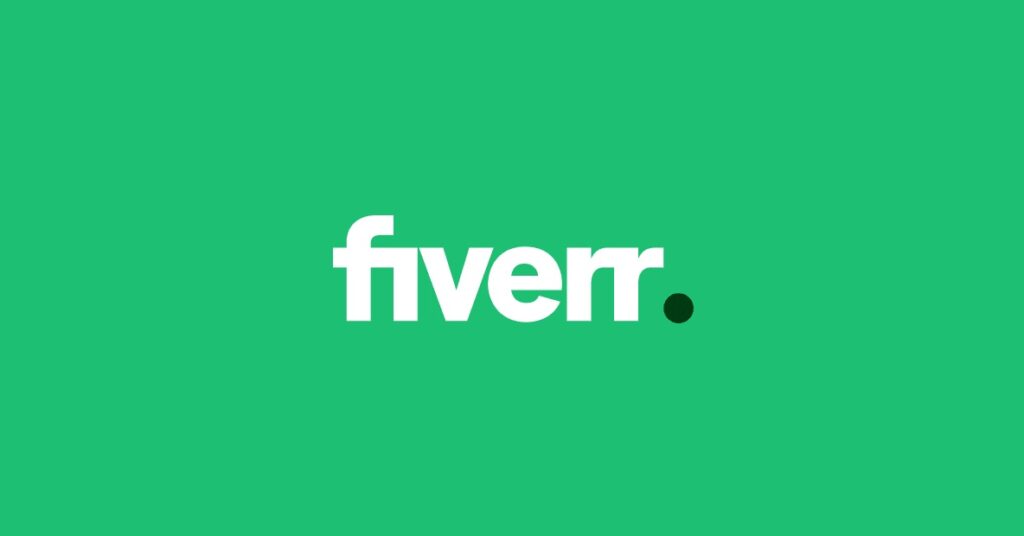 Fiverr is the biggest freelancer platform on the Internet, gathering freelancers of all types of professions in one place, making it easy for them to find clients and for you to find a service you need.
The highest number of people on Fiverr are probably graphic designers, and among all other designs, most of them are probably very well versed in creating logos.
There are even people who specialize in logo design, so you'll be sure that the people you're paying know what they are doing. You can look at everything each designer has made and see whose works are the best fit for your channel and branding.
While paying might be a downside, having someone design exactly what you imagined to have is the biggest perk that you get when you decide to go down this route.
Pricing
On Fiverr, you will have to pay for everything you get, so there isn't a free option. However, prices don't get too high, especially for logos.
Paid:
The whole branding behind Fiverr and its name is that all services you get on there can start at a price as low as $5.
Prices vary between creators; however, since you're not looking for anything too big, it's not very likely that you'll need to pay some high price.
The great thing here is that you can find services at a wide range of prices, so you can easily choose according to your budget.
If you're just starting out, no one will expect you to have the perfect logo just yet, so investing a lot of money that you don't have isn't the way to go.
If you already have a well-established channel and audience, then you can have the liberty to go for Level 2 sellers that are also well-established at their work.
3. Looka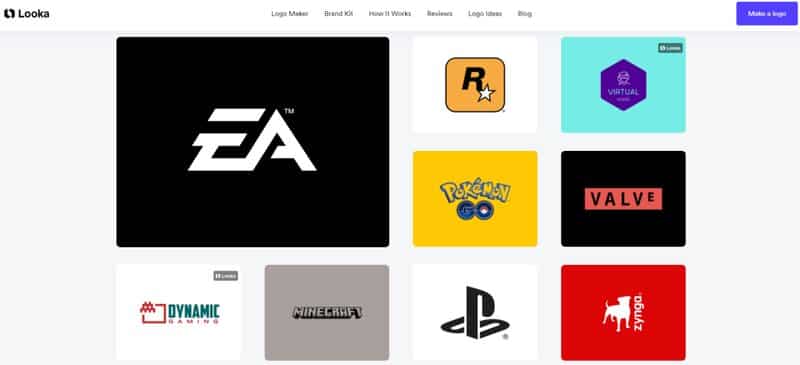 Establishing a new up-and-coming brand has never been easier, and this AI-powered free gaming logo maker aims to impress in every aspect of design.
Combining personal preference and advanced AI technology into beautiful and unique logos, Looka has branded templates, marketing tools, website generators, and much more- a true swiss army knife of logo creators!
The detailed logo creator allows you to pick out your layout, color, add symbols, and thousands of unique features. You can choose logo design based on a particular industry, giving you a categorized variety that few competitors can match.
Pricing
Let's take a look at the pricing models Looka offers.
Free:
The free option is limited; you can catch a glimpse of what this tool is capable of and whether or not the service can suit your needs.
Reviewing the free gaming logo templates and customizing them is available on the free plan, but downloading them and using all the tools is within the paid plans.
Paid:
All the paid plans are charged based on a monthly basis, which is billed annually.
The basic plan costs $4.99 and allows you to test the waters; lifetime technical support with options for creating custom logos, posters, flyers, which are all high-res. It's the most commonly picked option as it covers the needs of most basic users.
The premium plan costs $7.99 that covers additional services such as letterheads, brand guidelines, business cards customization options, and much more + additional logo design options.
The business kit costs $15.99 and gives you even more services at your disposal, giving you the option of creating AI-generated websites, which is a precious commodity for already established gamers and streamers who want to expand their influence and business.
Alternatively, you can choose a one-time payment within three options:
How to create a logo:
Enter a name of an established business or selected logo styles. Pick one out of a selection of custom logo mockups.
Utilize the logo editor to personalize and create your custom design until you are satisfied with the result.
4. Placeit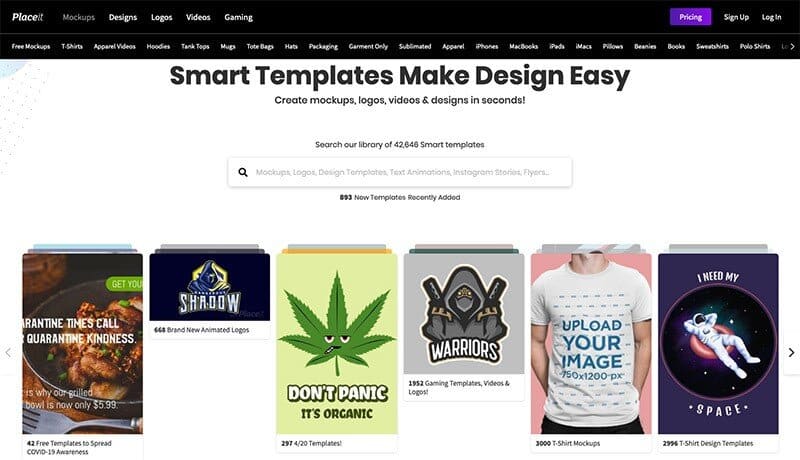 No review of free gaming logos would be complete without the highly-sough after quality and customization that Placeit offers!
This service goes far beyond making designing your cool games logo accessible to all types of audiences, but it also offers a wide selection of marking and branding tools all in one place.
Pricing
From a youtube gaming logo transparent to a fully customizable cool games logo that can suit the needs of the most demanding streamers, you can receive great deals on both paid and free plans!
Free:
Includes a free trial period during which all the tools are at your disposal. It offers a pre-selected choice of images that can be downloaded free of charge.
All custom images created during your free trial or paid plans remain yours even if you unsubscribe or the trial period ends.
Paid:
The paid option offers both a monthly/yearly subscription plan ($14.95 a month, $99.95 a year).
If you only want a single or a few multiple purchases, the services are priced as follows:
How to create a logo
Choose a template that you like. Use the wide selection of customization tools to personalize your template. Download your customized logo.
5. DesignEvo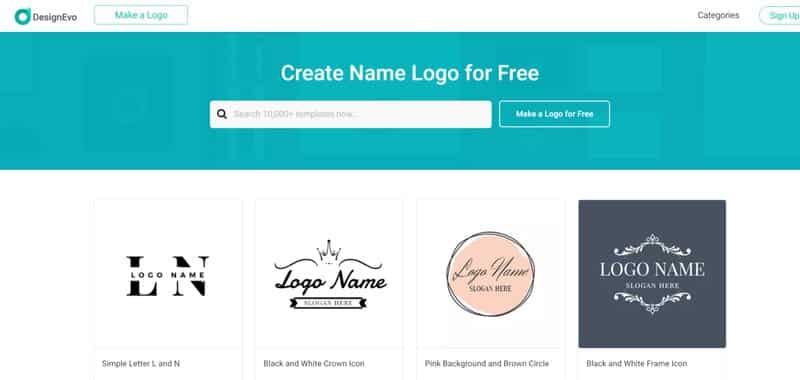 Giving the market a massive amount of gaming logo templates and different design palette options to choose from, DesignEvo allows users to taste everything it has to offer before making a payment!
Aside from being a free gaming logo maker, it is often used by streamers to leave a strong impression with this simple to use and powerful tool that can create entirely free gaming logos from scratch!
This service is an exemplar in terms of overall accessibility and ease of use; you can enjoy all it has to offer, with the only restriction being low-resolution logos and DesignEvo promotion on every product.
Pricing
Here's the catch upfront. All features DesignEvo offers are completely free of charge, but they will all be low-res.
If you can make do with your cool games logo being in low resolution, or you want to experiment with its various tools and gaming logo template selections before making a purchase, this won't be a detriment.
Paid:
The one-time "Basic" plan costs $24.99 is most commonly used by streamers who want a customized, high-quality logo that also comes with a transparent PNG.
The "Plus" option costs $49.99 offers the same package of benefits as the previous plan, yet it allows you unhinged copyright ownership, vector files for download, and different fonts.
Paying for these services ensures you full access to gaming logo templates and the complete plethora of options that make this service such a fantastic option that it is.
6. TheHOTH Logo Maker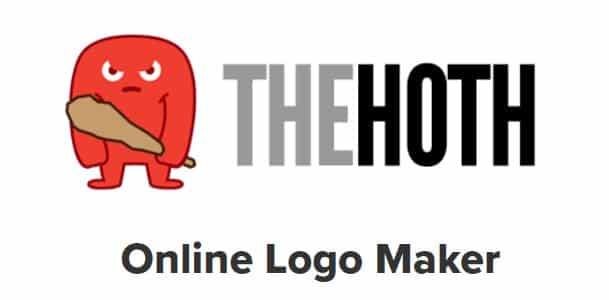 Familiar to anyone who has been in the logo design business long enough, this free gaming logo maker brandishes superb free gaming logo templates that anyone can customize and use effortlessly.
As an SEO service-providing company, TheHoth is an excellent choice for a free gaming logo maker when you want to save your money and get a nice-looking logo that can represent your brand one day!
Aside from a satisfying selection of tools you can work with, it also includes an EPS converted logo that is sent to your email address that you can additionally customize yourself or hand it over to a designer.
Pricing
From the initial choice of a template to final customizations, this service is entirely free! Your logo, conversion to PNG, JPG, EPS, and all the tools the service has are at your disposal free of charge!
How to create a logo
Pick out a shape, symbol, and add text to create a logo from scratch or combine these elements with an uploaded image of your choice (you can also customize business card templates).
Customize your desired gaming logos with different colors and shapes to create your logo.
7. Wix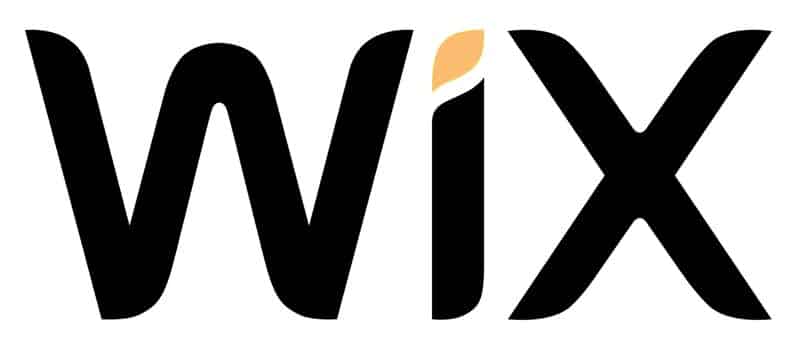 Wix is a popular name that is well-known among online businesses and gamers alike; it offers marketing and branding option for almost any online niche that you can think of, which gives you great quality assurance at the very beginning.
All of the products, from the video maker to the logo creator, are interconnected yet are also fantastic when used exclusively on their own.
The design process considers the logo's purpose and many small details that can give you a good product if you put your time into it.
Pricing
Let's take a peek at what sorts of free and paid plans Wix offers.
Free:
Wix gives every user a taste of the platform's full potential and unhinged customization options up until the last moment- and it contains a fantastic amount of variation that the user can witness immediately.
The tool can works wonders as both a youtube gaming logo maker or a gaming profile picture maker, which are both essential aspects to a gamer who wants to build a lasting brand.
When you finish your logo for gaming, you can download a non-commercial version that is low-res with no strings attached.
Paid:
If you want to immediately implement your logo and start your brand within a moment's notice, a paid plan is mandatory. It gives you full commercial rights to use the logo in high-res.
The "basic" plan costs $20 and gives you a bundle of PNG's of your logo in different color schemes:
It is worth mentioning that Wix gives 5 of these PNG versions of the original logo transparent backgrounds, which makes this service great for creating a youtube gaming logo transparent.
The "Advanced" plan aims to cater to the needs of social media expansions with resizes available for placing your logo on merchandise intended for users who want to commercialize their brand.
For $50, you get SVG files that can be used for later editing with vector graphics software. While most gamers will be delighted with the basic plan, the advanced alternative offers layers of additional use.
How to create a logo
Alternatively, you can hire a designer from Wix to create a custom logo for you, but as prices can vary and be quite steep, you are better off hiring a designer on Fiverr for as low as $5.
8. Canva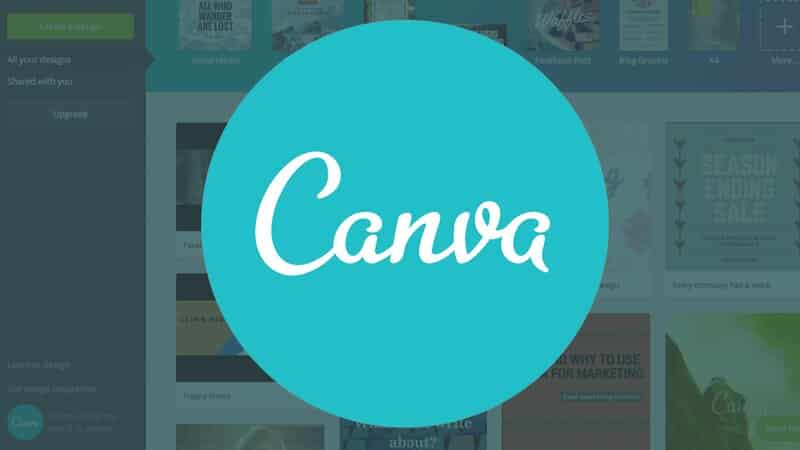 Canva is an online platform meant for making graphic design easy for both professionals and amateurs.
Whether you know how to go around graphic design but don't really want to open up Photoshop, or you don't really know that much about design, Canva is a great option to go for.
There are a lot of logo design templates that you can choose from, and you can customize everything in just a few easy steps.
If you don't want to work with templates and would rather start from scratch, you can do that too.
Pricing
With Canva, you have the option to work with both paid and free content, so you can choose accordingly depending on your needs.
Free:
Canva is primarily free, you can use the website without any purchases, and the app version is free on both Android and iOS.
There are a lot of free templates, fonts, and elements that you can add to your design.
If you want a simple design and don't want to work around it too much, then you can easily just use the free things and have a nice logo.
Paid:
There is a Premium version of Canva that you need to pay for, and with it, you will have access to even more templates, as well as other elements needed for designing.
Besides that, you also get access to some additional tools that can come in handy, like background remover.
Like with most things, you have the option to choose a 30-day free trial of the Premium version, so if this is going to be a one-and-done thing for you and you won't have much need of Canva in the future, then you should definitely get the free trial to make your logo.
Canva also has different price points depending on how many people are going to be on the plan, so if you have friends who also have some need for graphic design services, maybe it can be a good deal to split the costs.
Here are the exact prices:
When it comes to the Pro package, it can be paid either monthly or yearly, depending on what works best for you.
The Enterprise package probably doesn't really interest you, but it basically gives you some options that are appropriate for working in an enterprise.
But, if you just need the logo, the best thing to do is to get the 30-day free trial.
Besides the Pro package, there are some elements that are Premium content that needs to be paid for even when you have the Pro package, so if you really like something and want it on your logo, then it might happen that you need to chip in additional dollar or two, but there's not a lot of content of that kind.
How Do I Design a Logo?
From two-minute customization to full-blown million-dollar projects made by teams of professional designers, logo design ranges from automated click-based creation to the use of many different kinds of software (and sometimes countless hours of mockups creating potential candidates).
One good logo can represent a brand in numerous different formats. Just take a look at the image below.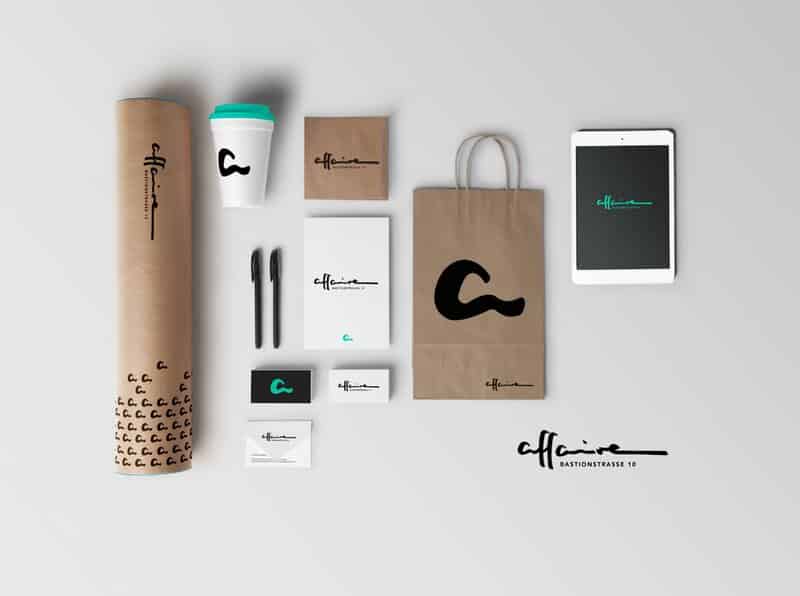 Each logo aims to attract a specific crowd and is pretty much the first thing people associate your brand with; it is like a personification of your business or gaming affair in the long term!
While the creation of a logo from absolute scratch is a complex venture, nowadays, the process has been simplified and brought to the public; anyone can create a simple yet effective logo!
Related: Best Twitch Emote Designer
These are the necessary preparations and steps to consider:
1. What kind of audience you wish to attract, and what will the logo be used for?
Do you want to grow a large community of beginners or a smaller, more professional, and skilled audience that wants to develop their skills? The choice is yours!
2. What is the brand identity you wish to embed in your logo?
What makes your brand special?
What defines your gaming channel?
What could define your brand with as little as three words?
Aim to associate your brand with specific qualities and unique qualities that make it stand out and become slowly instantly related to particular attributes or trademarks.
Are you extraordinarily entertaining and can make the crowd laugh every step of the way?
Can you make crazy plays that keep your audience on their toes?
Make it a goal to stick your trademark to your channel and, by extension, your logo!
3. Find out if your logo matches any of your competition
If your logo can be unique in the industry, and if there isn't a chance of mixing it with another streamer's channel, you are good to go!
4. Choose a specific type of logo
Traditionally, there are 7 types of logos that you can use as forms.
Most gaming logo makers focus on mascot logos or combinations; you can make unlimited variations out of the commonly used form of entering the industry with an emblem logo or pictorial mark to add more spice to your unique mark!
5. Pay a designer to create a logo based on your idea or use a paid or free service to create one for yourself
The idea is the crucial aspect of your vision, and from there, you can choose to hire a professional designer from sites such as Upwork, Toptal, Fiverr or use one of the many high-quality free or paid gaming logo makers to do it yourself!
The options genuinely are only limited by your imagination and initiative!
FAQ About Best Free and Premium Gaming Logo Maker
1. Is Wix logo maker free?
Wix allows you to create and download a non-commercial low-res logo for free, while high-res variations that can be commercially used require a paid Basic or Advanced plan.
2. What is a transparent logo?
The primary purpose of a transparent logo is to stand out on virtually all surfaces. In most cases, a transparent logo only changes the background of a logo, checkering it and allowing it to attract attention in almost any product or marketing setting.
3. How many colors should a logo have?
It depends on what effect you want your logo to have. Using  1 color ensures the logo is easily identifiable and can more easily remain in the minds of your audience; it does not always have to be complex to leave a good, lasting impression!
This does not mean you should shun using your creativity and combining two or three colors! More colorful logos are great if there are many similar logos or if you want to create more complex and visually appealing logos.
However, different color combinations shouldn't include more than 3 colors, with only a few world-famous logos from companies such as Google or NBC News utilizing more than 3 colors.
There are always exceptions to the 3 color rule, but unless you have previous experience and extensive knowledge on what effects your logo can have on your audience, keeping it to 3 colors is recommended.
4. How do I make a logo transparent?
Making your logo transparent very quickly with software such as Photoshop  and Photopea by following a simple tutorial that is almost universal with all editing software:
– Upload your image in the software of your choice that can create transparent backgrounds
– Use the Magic Wand tool to adjust the Tolerance setting according to the specifications you wish to implement in your logo
– Click on your logo's background and utilize the Magic Wand to create a selection on the background, then press "Delete" to make the environment around your logo turn transparent
– Export the modified logo as a PNG to preserve the modifications and save it on your computer
Some services offer transparent logo versions in addition to the primary version of the logo, so be sure to take into account if you will need to create it yourself or receive a ready-made transparent gaming logo.
Join our Discord Group. Ask questions, team up with fellow streamers, share memes, and more!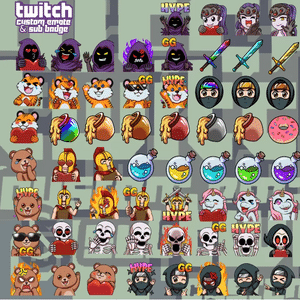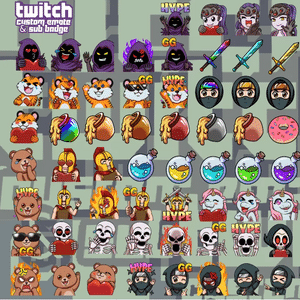 Claim for FREE:
FREE Emote PACKS
A book on growing your audience