Best DSLR Microphones
<!—INSERT CODE BLOCKS BELOW—>

Size: 15.7 x 13.3 x 6.9 centimetres
Weight: 51 grams

RØDE VideoMic GO Lightweight

Weight: 73g
Connectivity: 3.5mm jack

Connectivity: 3.5mm
Size: 16.99 x 10.8 x 5 cm
DSLR microphones are an incredible tool for anyone looking to work on the best content on the move. Not only that these devices give much better sound than any built-in microphone, but they also provide you with a lot more customization options and more versatility overall.
As a result, they have become quite a popular choice with many content creators and amateur users. In this guide, you will find some of the best options currently on the market, complete with all you need to know about each of them.
Post 1 of 11 in the Microphone for Streaming
Best DSLR Microphone
Reviews
Choosing the best DSLR microphone for yourself isn't something you can do overnight. There is more than just the audio quality to consider. Things such as a shock mount, background noise, frequency response range, and connectivity all factor in and are evaluated in this guide.
1. Movo VXR10
---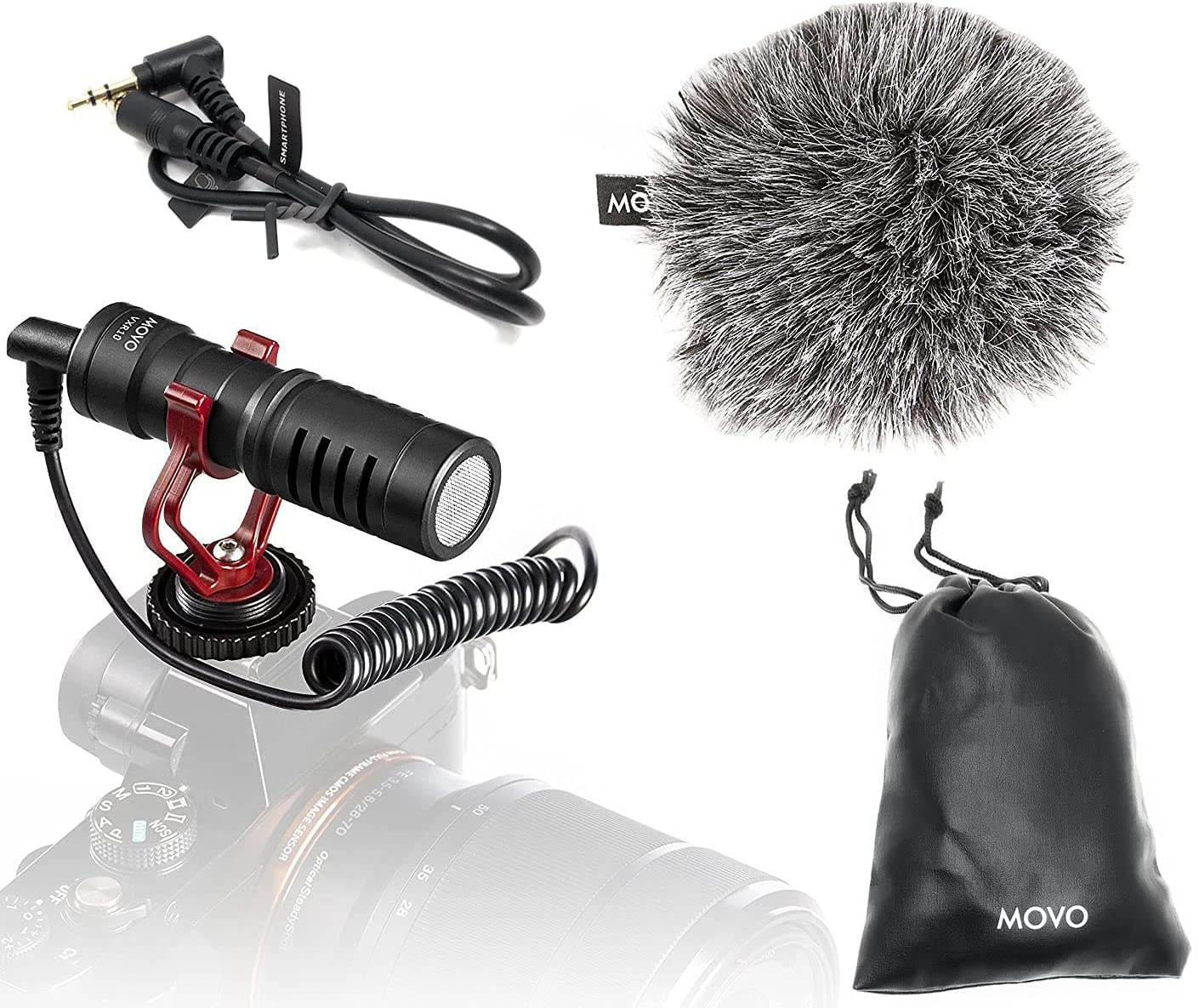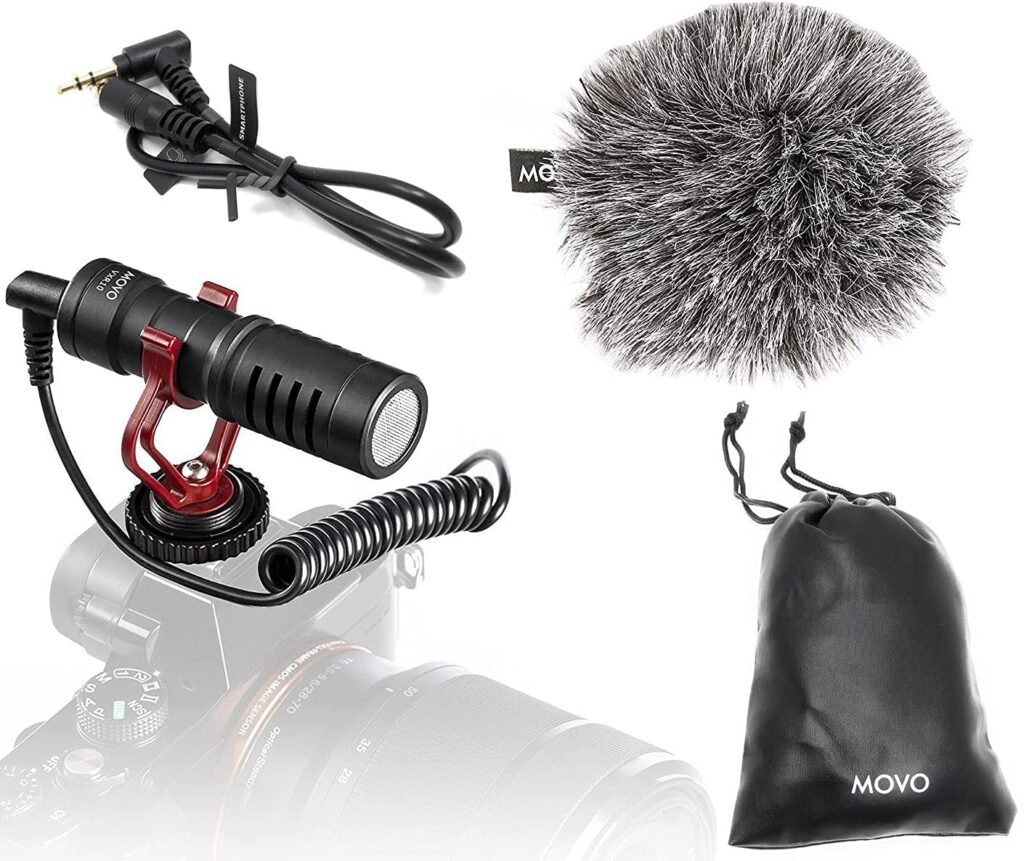 ---
Movo is well known for making excellent multi-purpose DSLR microphones, and this one doesn't disappoint either. Compatible with most DSLR cameras and camcorders, this high-quality cheap shotgun mic can also be used with iPhones and Android devices.
As a result, the microphone performs admirably in outdoor shooting situations, such as family events or vacations, no matter the location. It certainly beats any internal microphone you might have access to.
Furthermore, the microphone is quite sturdy, made of an aluminum alloy for extra wear resistance. Not only that, it comes with a built-in shock mount that makes handling noise much quieter.
Another great thing about this microphone is the furry windscreen that comes with it. It provides excellent noise cancellation and preserves quality sound in case of wind noise, further improving the outdoor performance.
Next up, the microphone comes with a 1-year warranty, during which the manufacturer's support team will fix any defects free of charge. This warranty will help ease your mind even if the microphone is durable enough to be unlikely to get damaged or stop working.
Finally, the fact that the microphone comes with its own set of cables for connecting to cameras and mobile devices and a carrying bag for more accessible transport is pretty neat.
Overall, we are looking at a high-quality audio recording device with excellent connectivity and a reasonable warranty length, one I can gladly recommend after testing it.
2. RØDE VideoMic GO Lightweight
---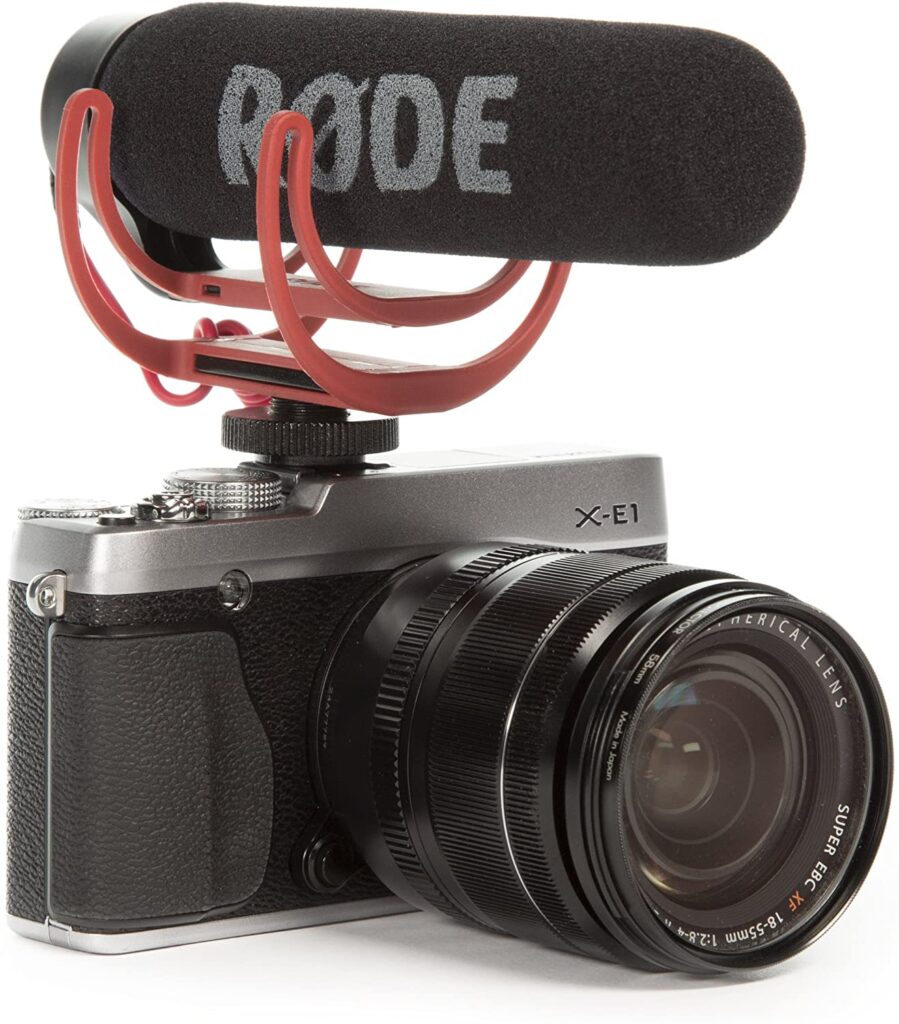 ---
This lightweight microphone was primarily designed to be compact and easy to transport and use on the move. Naturally, this comes with a few drawbacks, though those are all acceptable and don't take away from the overall experience.
The decision to make the microphone directional and front-focused is one such factor. While it does make this shotgun microphone useless in situations where you need to pick up sound from all around you, it drastically improves frontal sound quality.
As long as your microphone for DSLR is pointing towards whatever sound you are trying to record, the background noise will be eliminated.
These microphones' low powering requirement makes them excellent for long shoots using DSLR cameras. It powers directly through its connection to the camera, allowing you to use it without worrying about your batteries running out.
Additionally, such a setup makes this RODE DSLR mic incredibly easy to operate, all you need to do is plug it into the camera, and it will become usable.
The next great thing about these on-camera microphones is referenced in the name itself. At only 0.073kg of weight, the microphone can barely be felt while carrying your camera around and might even fit into your camera bag due to its compactness.
Finally, this DSLR mic features the Rycote Lyre shock mount is incredibly durable, allowing for more excellent stability than even some handheld microphones.
Overall, you are looking at an easy to use and transport device that provides high-quality sound as long as it is coming from a single direction. While a bit niche, RODE GO Lightweight is still an excellent choice for many situations.
3. Moukey Camera Microphone
---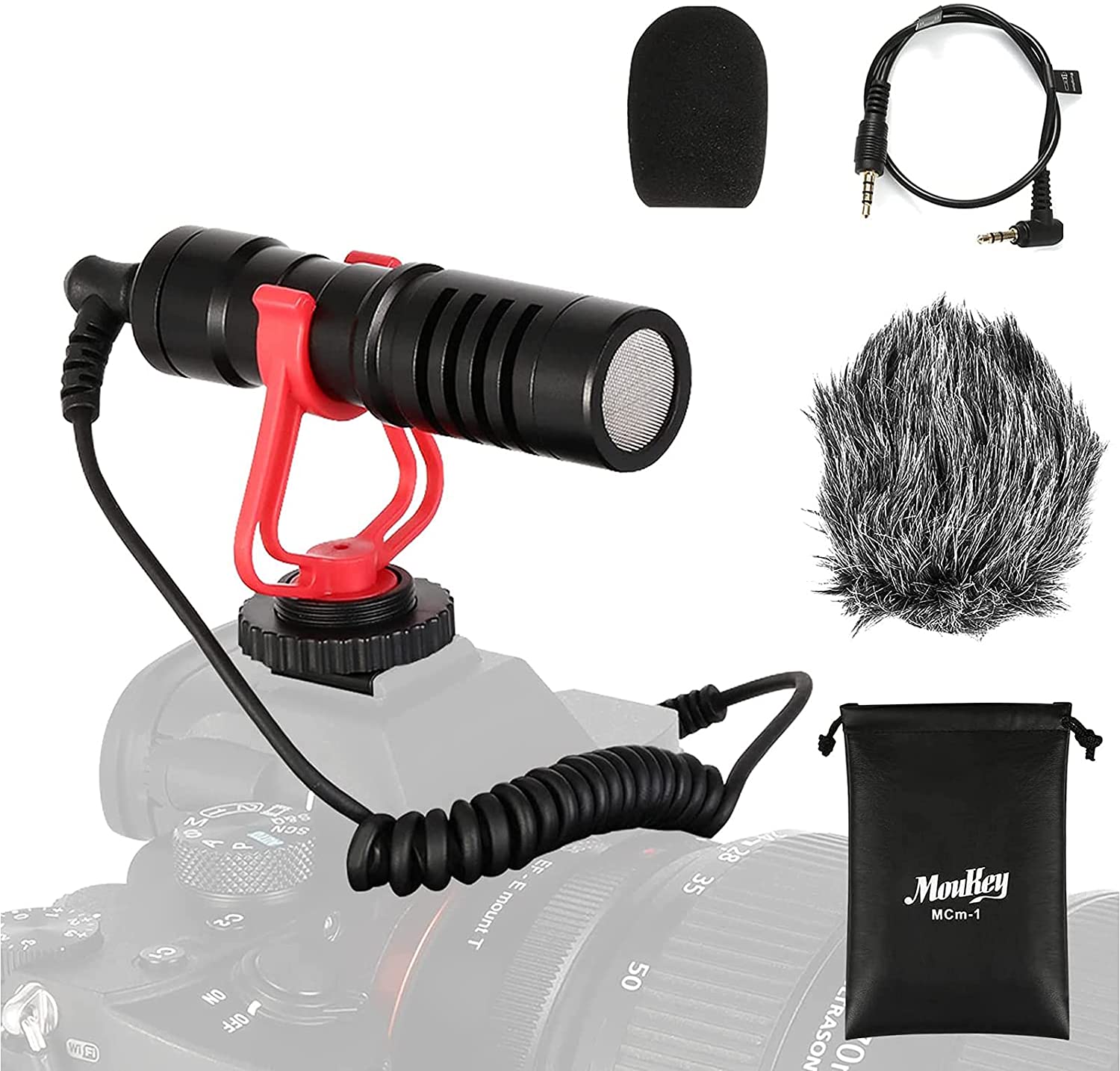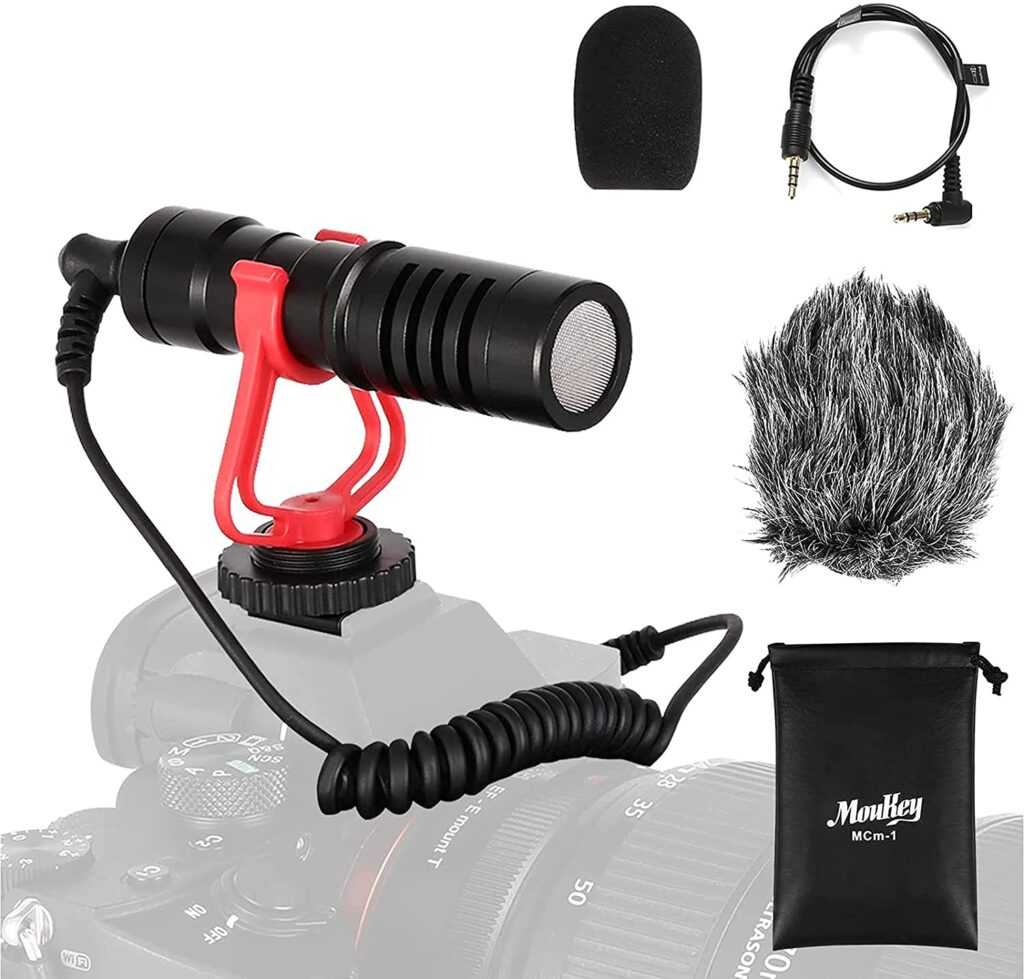 ---
This high-quality external microphone solution from Moukey comes with several extra features that only add to its baseline quality.
First of all, this DSLR microphone is almost universally compatible, working with just about any device with a 3.5mm jack, be it a smartphone, a DSLR video camera, or a camcorder. Unfortunately, iPhone 7 and later users will need to purchase an additional 3.5mm adapter to use this microphone, as it is not included in the package.
On the other hand, as all condenser microphones do, this one provides incredible sound quality and has two transmission cables to ensure none of that quality is lost in the video.
Furthermore, the monodirectional nature of this microphone's audio recording makes it incredibly good at tuning out unwanted noise, allowing it to position itself as a great outdoor recording tool for any video camera.
This noise cancellation also makes it the perfect TikTok and youtube video recording tool, as it will only catch what you want it to.
In addition, the microphone's compact nature and aluminum body make it excellent at protecting the recording quality while also providing easy transport.
Finally, the fact that you get quite a few accessories, such as a bag, a shock mount, a foam cover, and output cables, all boost the attractiveness of this device.
4. Comica CVM-V30 PRO
---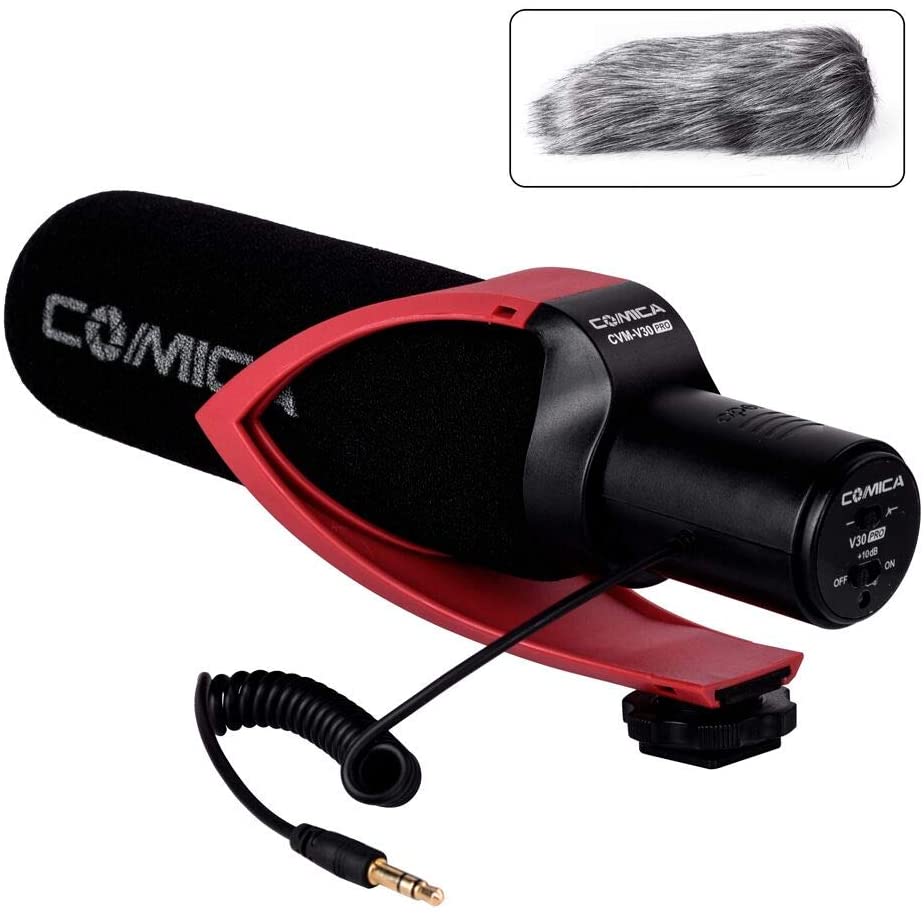 ---
One of the best microphones for DSLRs currently available on the market, this solution from Comica offers high-quality audio for your DSLR camera wherever you go.
An almost universal 3.5mm jack connects it, so the connectivity and compatibility should never become an issue with this device. It has its batteries to not drain away power from the camera.
Another great thing about this mic is its adjustability. The audio signal sensitivity can be adjusted from -28dB to -38dB, and there is also a low-cut mode for noisy environments.
In addition to that, this excellent shotgun microphone features a high-quality mount that almost wholly cancels out handling noise.
One notable downside of this cardioid shotgun microphone is the lack of extra equipment. While you get a windscreen, there is no cable or a carrying bag included.
Overall, we are looking at a high-quality audio recording device that works the best when you have the monodirectional sound you are trying to record.
5. SmallRig Universal Video Microphone
---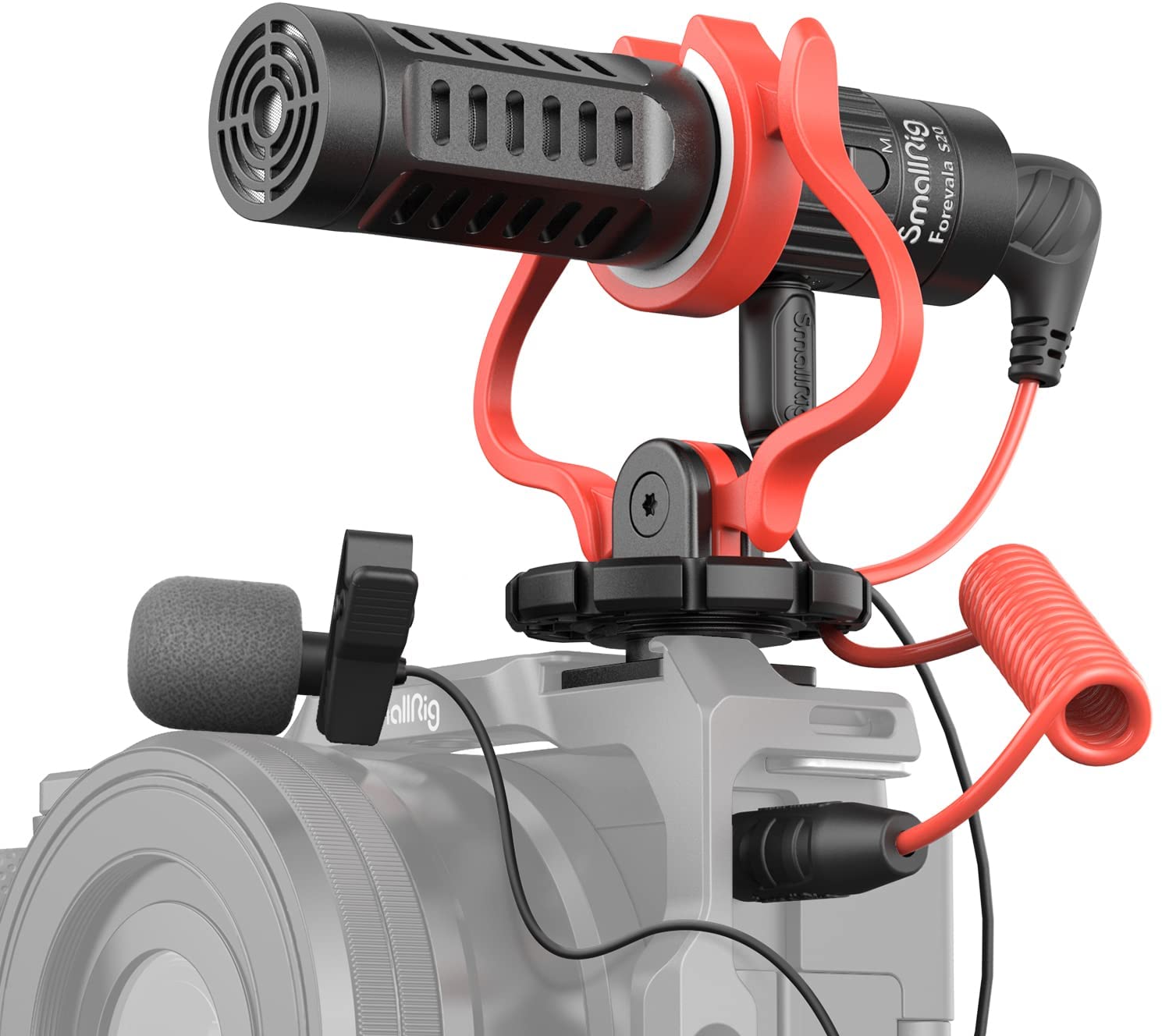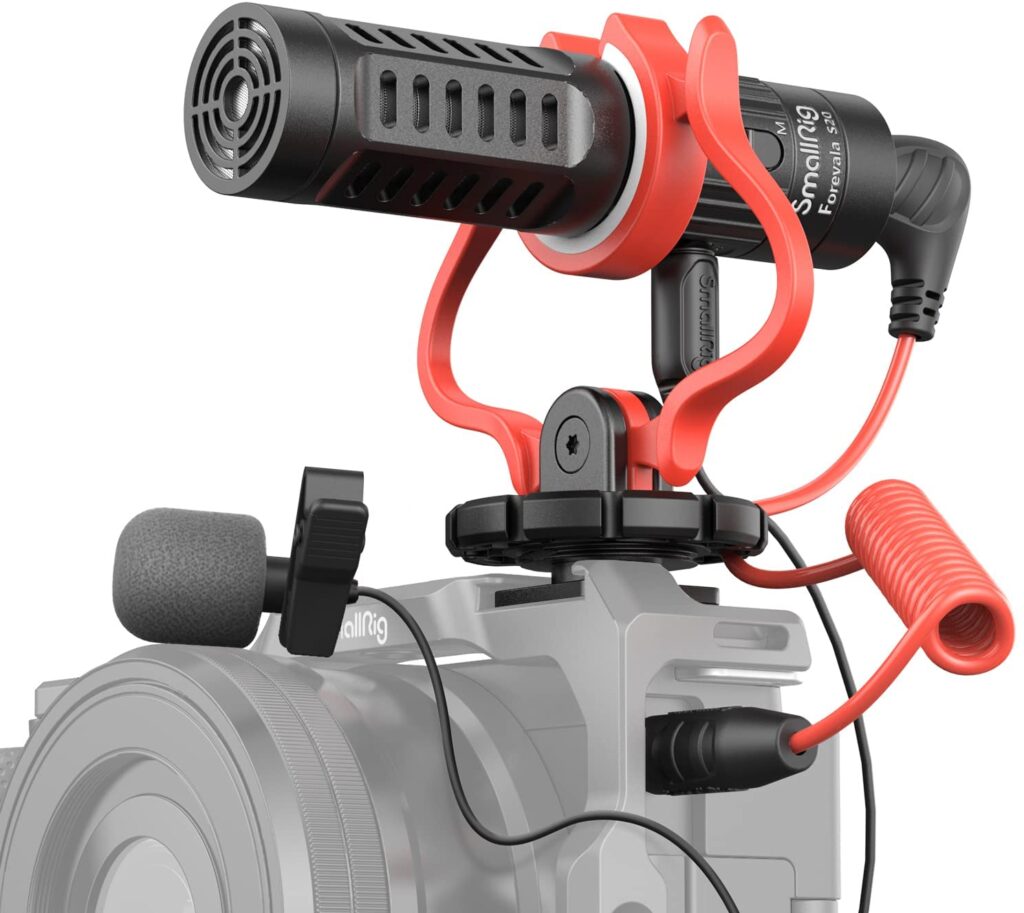 ---
If you are trying to find a shotgun mic that will work with just about any device you connect to while still providing excellent sound quality, look no further!
This solution from SmallRig provides studio microphone quality sound while easy to carry around and attach to a wide variety of DSLR video cameras.
First of all, you can attach a lav mic to this thing, allowing you versatility when using it. These recordings are there easy to edit and turn into a usable video.
The super-cardioid pickup mode of the microphone eliminates nearly all noise coming from the sides of the background, allowing you to have perfectly clean and clear audio.
In addition, the microphone entirely plugs and plays capable, allowing you to use it as soon as you unpack it, without even charging the batteries as it gets its power directly from the camera.
Next up, the TPE shock mount works wonderfully with extensions such as foam and windscreens, nearly removing all vibration from handling.
Finally, the number of accessories you get with one of these microphones is incredible. It makes it a worthy addition to this list without considering the rest of the parameters.
Three foam windshields and a furry one, a high-quality multi-purpose shock mount, and cables for connecting to both cameras and smartphones are included in the package. You will even get a carrying bag!
Overall, this is an incredible shotgun microphone that does almost everything and does it well. Indeed an excellent choice for anyone in need of one of these devices.
6. Deity V-Mic D3 Pro
---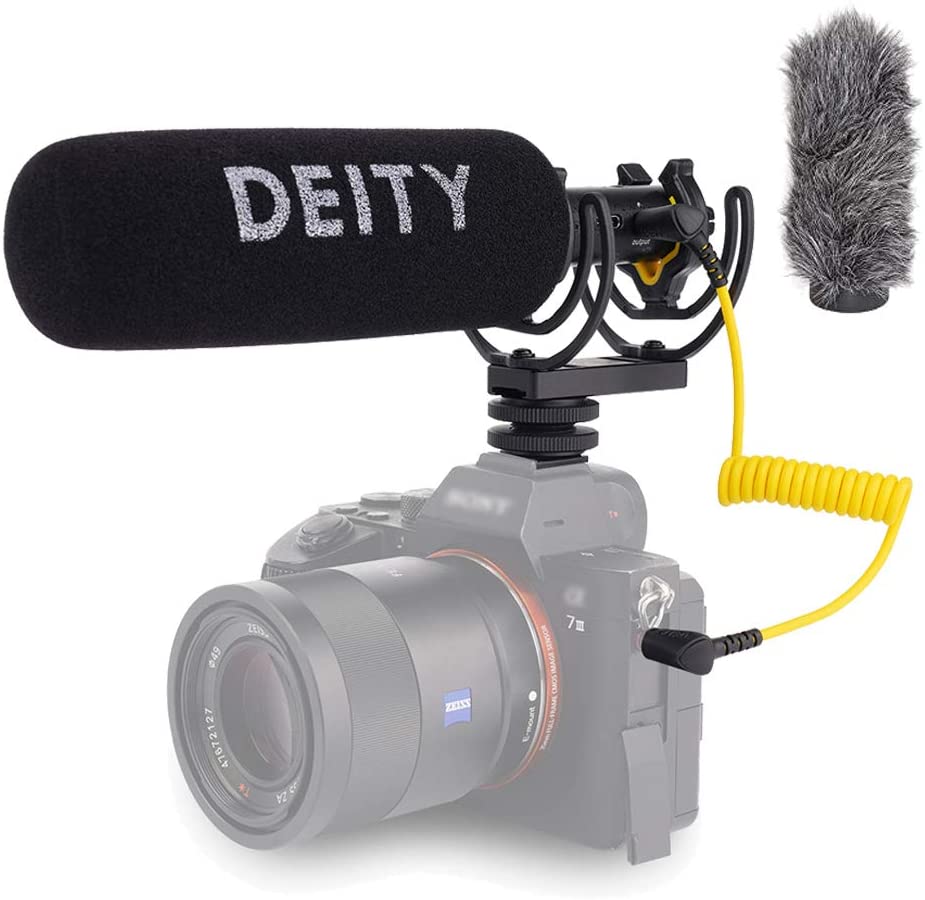 ---
First of all, this microphone for DSLR cameras advertises itself as the only such device to feature a step-less gain knob, adding 20 dB to any sounds you record with it.
That, however, is far from the only remarkable thing about this solution from Deity.
First of all, the audio sensitivity range is excellent, going from -24dB to 84dB and providing superior audio performance regardless of the recording angle.
Furthermore, the device has a vast range of compatibility, from smartphones to camcorders. The only downside is that you will need a lightning to 3.5mm adapter to use it with the later iPhones.
Additionally, you can easily switch from 75Hz to 150Hz with a single button low-cut switch that makes it easy to use this microphone even in extreme wind noise.
Finally, the device has an automatic on-off feature that activates when you provide the device with a battery. This feature is handy during long shootings, allowing you to preserve power.
As a result, you will be able to use your video camera and microphone for much longer without charging.
This excellent, high-tier microphone provides crystal clear audio in almost all conditions and works even around loud sounds such as strong wind.
7. Comic CVM-V30 Lite
---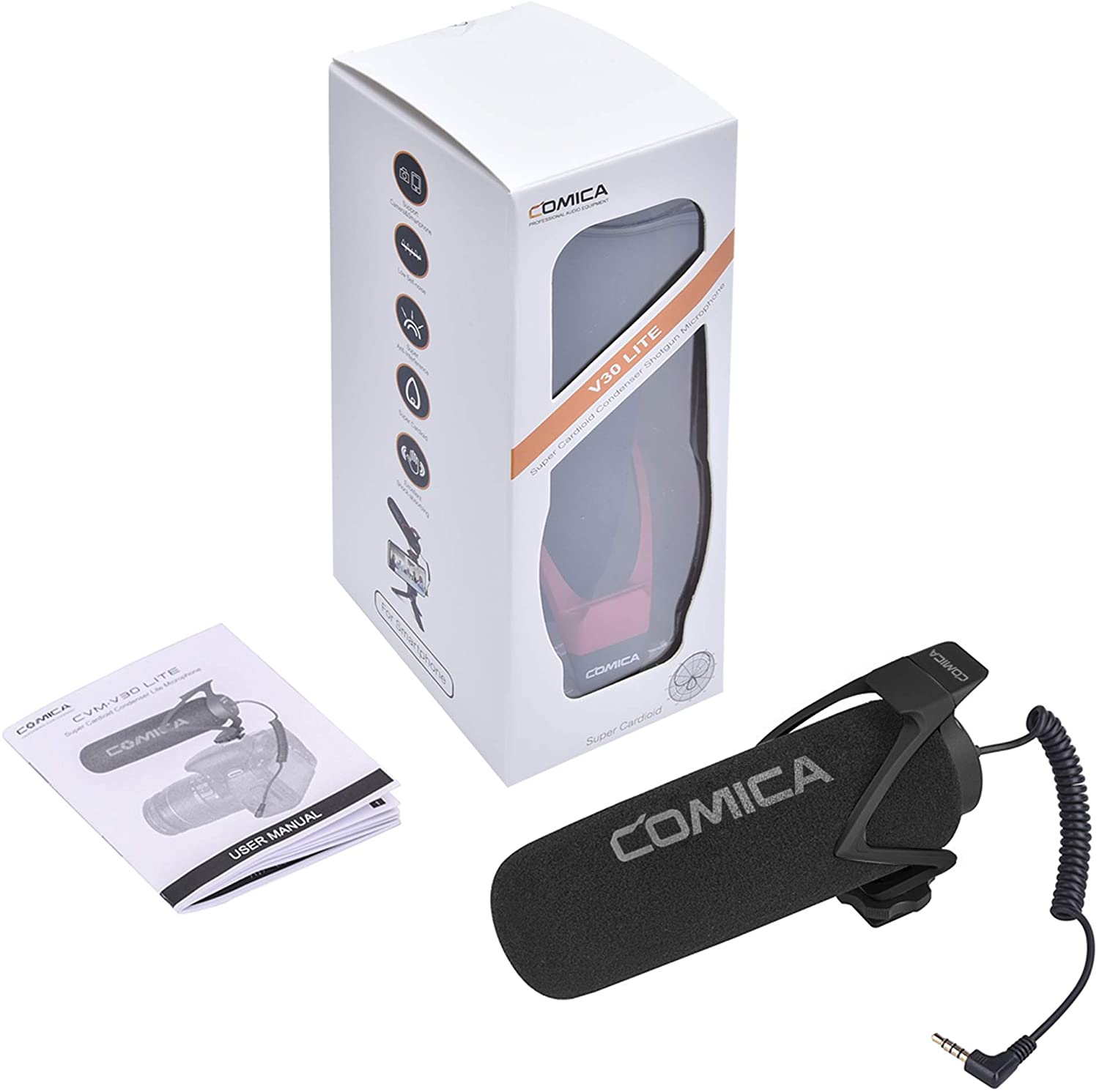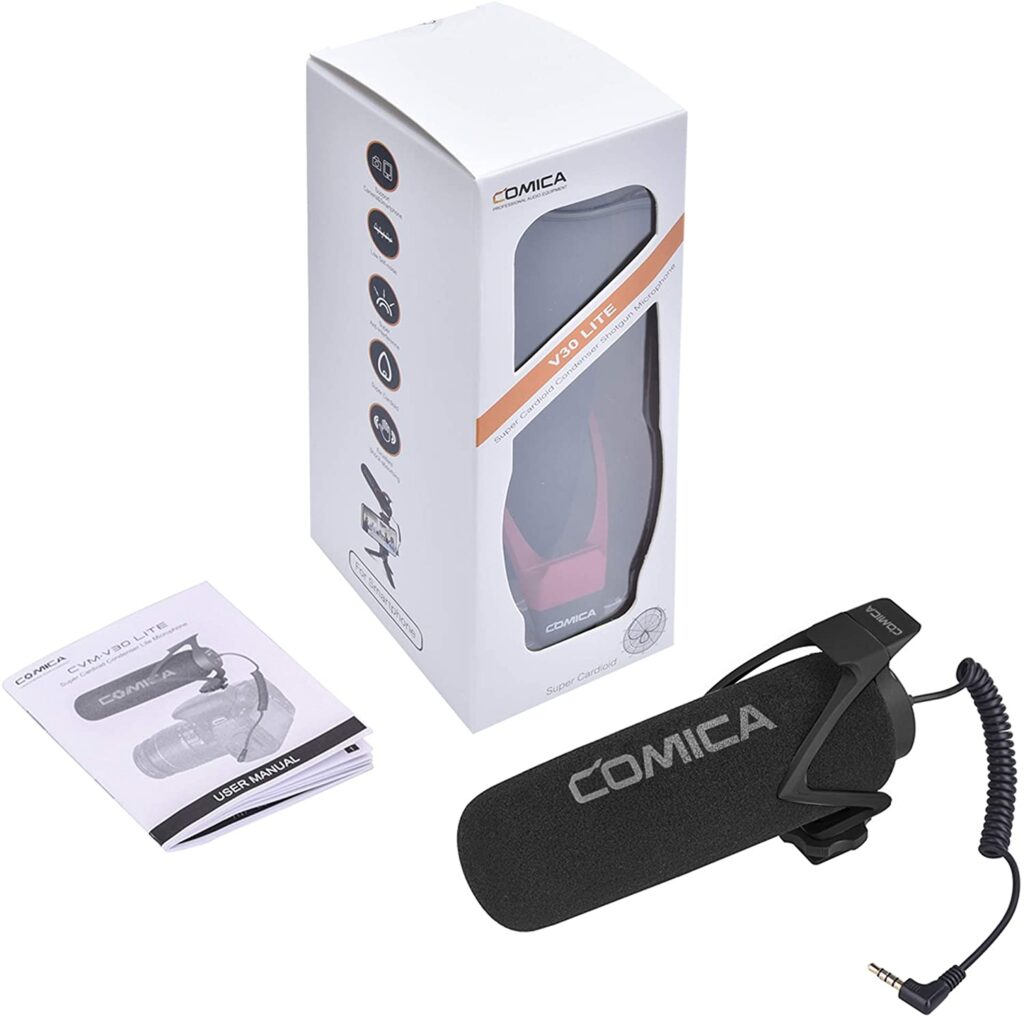 ---
Another excellent solution from Comica, this microphone is designed to make your video camera better for vlogs, interviews, etc.
First of all, the super-cardioid polar pattern allows excellent off-axis performance, effectively reducing sounds that you don't want to record.
Furthermore, the 3.5mm hack and TRRS-lighting cables allow you to use the microphone with almost any camera or camcorder and Android and IOS devices.
In addition, the shock mount helps reduce handling noise and provides broadcast-quality audio for your camera.
And there is more. The microphone itself is entirely silent, reducing interference and not interfering with other wireless signal sources around it.
Finally, this microphone for a DSLR video camera is wholly plugged and played, requiring no batteries to work and getting its electricity directly from your camera.
Overall, if you are looking for high-quality audio on the move and don't want to worry about charging another device, this DSLR camera microphone will be a great purchase.
8. RØDE VideoMic Pro
---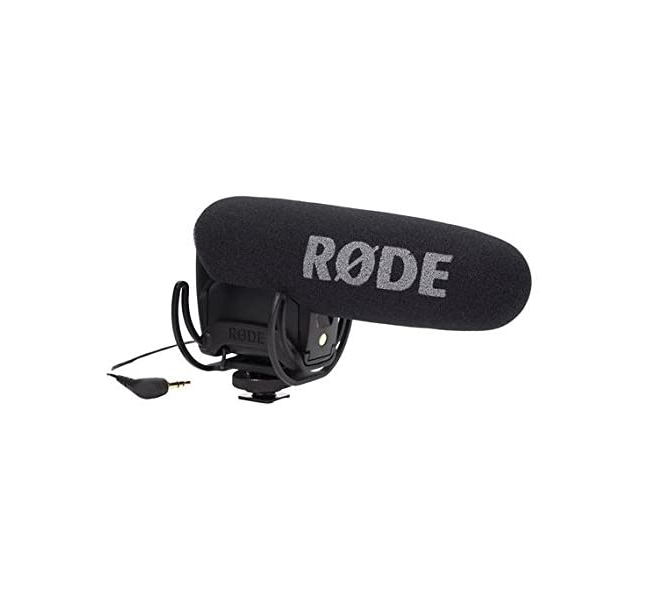 ---
Rode is a well-known company for making all kinds of DSLR microphones, from those external mics primarily meant for studio environments to shotgun mics such as this one.
First of all, the adjustability of this mic is off the charts compared to most DSLR microphones. It features things such as a high pass filter and adjustable gain, making it suitable for sound recording in varied situations.
Furthermore, the power requirement is shallow; a single charging of its 9v battery will net you over 70 hours of runtime, which is excellent for prolonged outdoor shootings or simply making a travel vlog, where you won't always have access to a charger.
Likewise, the condenser capsule makes it so only the audio straight in front of your microphone is picked up, making noise cancellation a non-issue and increasing the sound quality tremendously.
One downside of this microphone is that it was explicitly made with video cameras in mind and, as such, isn't smartphone compatible. Still, the device more than makes up for it with a slew of useful features, many of which you won't find in its competition.
Overall, if audio quality is your main concern, the shotgun mic has you covered. Its adjustability ensures that you will always have the best sound recording possible, no matter the situation.
9. Sennheiser Pro Audio MKE200
---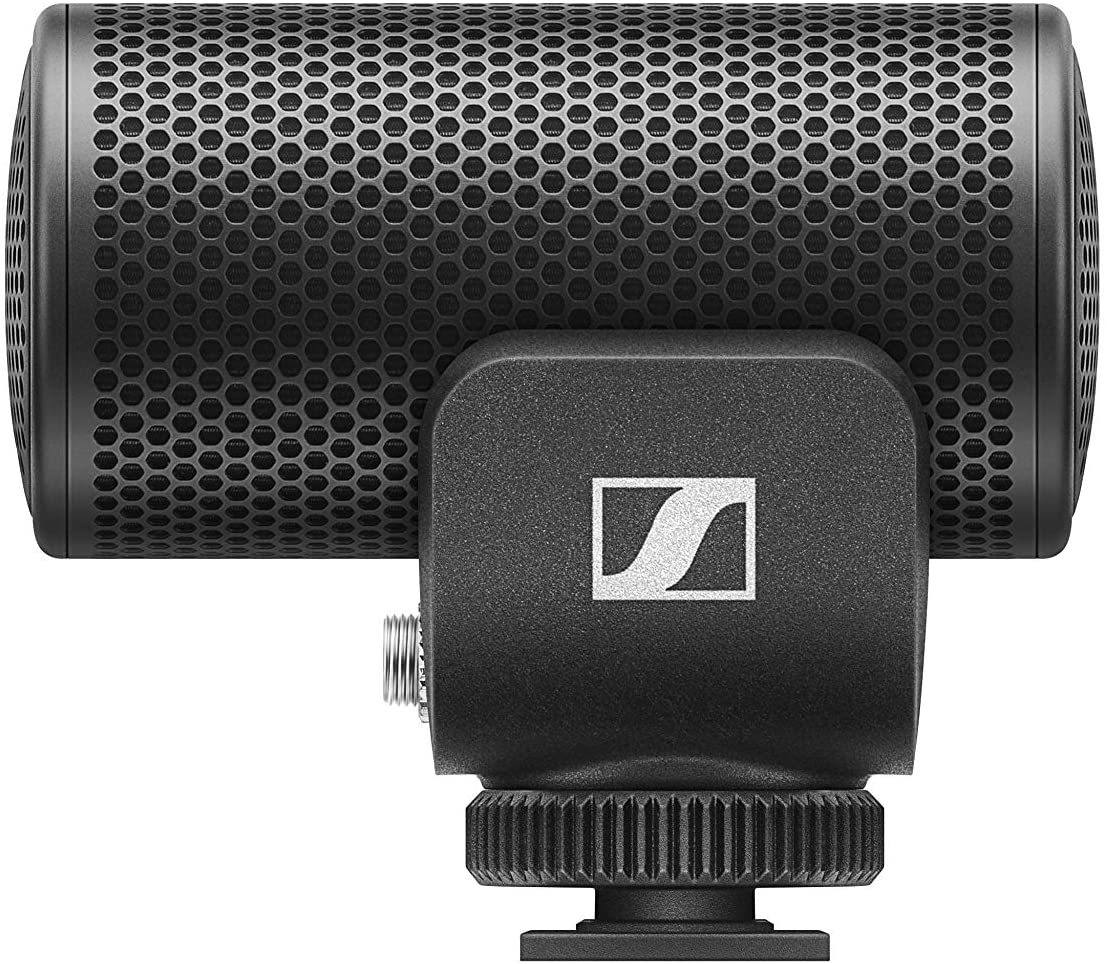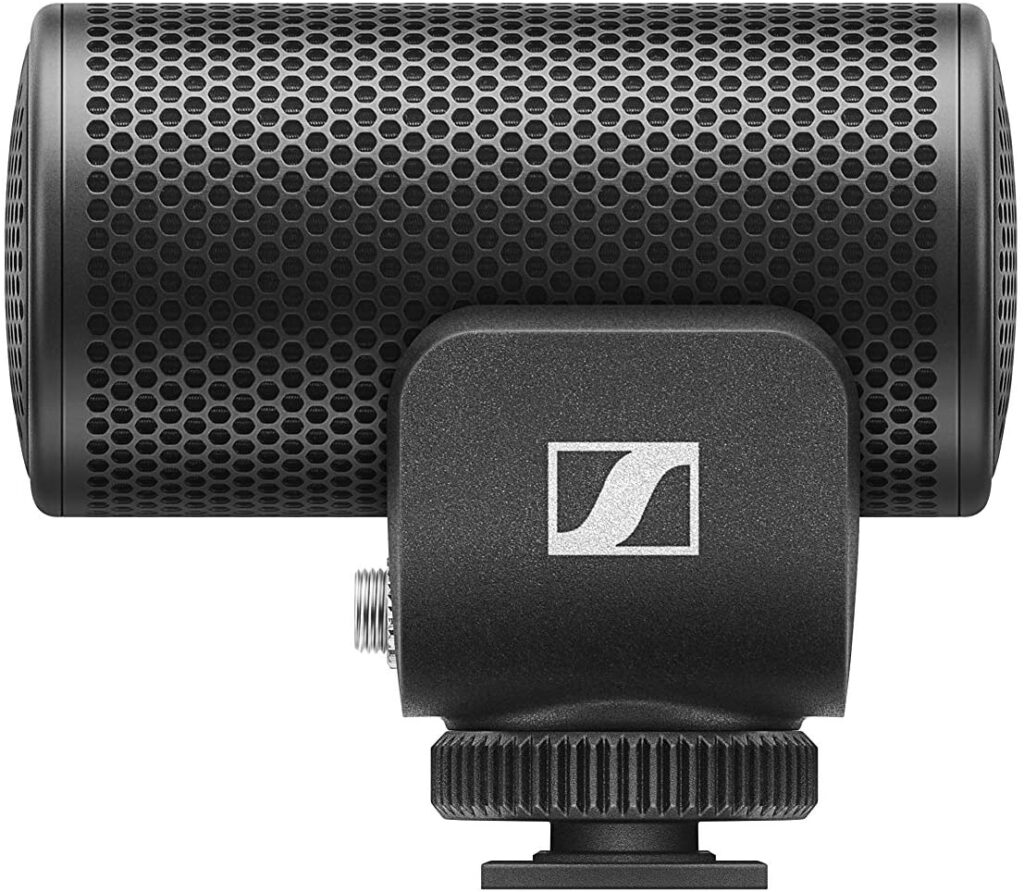 ---
This excellent Sennheiser makes 200 condenser microphones f has several features that make it a perfect choice for both DSLR cameras and smartphones, some of which are scarcely found in other solutions.
To start with the basics, the microphone is monodirectional, primarily focusing on the sound coming from its front and canceling out any from the sides and background noise. This makes it an excellent choice for vlogging as well as conducting interviews.
In addition to that, the design was focused on both appearance and durability, meaning that you are getting a sleek black condenser mic that is also likely to last you a pretty long time, even with repeated use.
The connectivity is excellent as well. Between TRS and TRRS cables and a 3.5 mm jack, you will be able to connect your mic to just about any device.
Finally, this Sennheiser MKE condenser mic features a universal cold shoe that allows it to attach to quite a few different surfaces.
Overall, we are talking about an excellent device with outstanding audio quality and high connectivity, making it very versatile in use.
10. Wireless Lavalier Microphone
---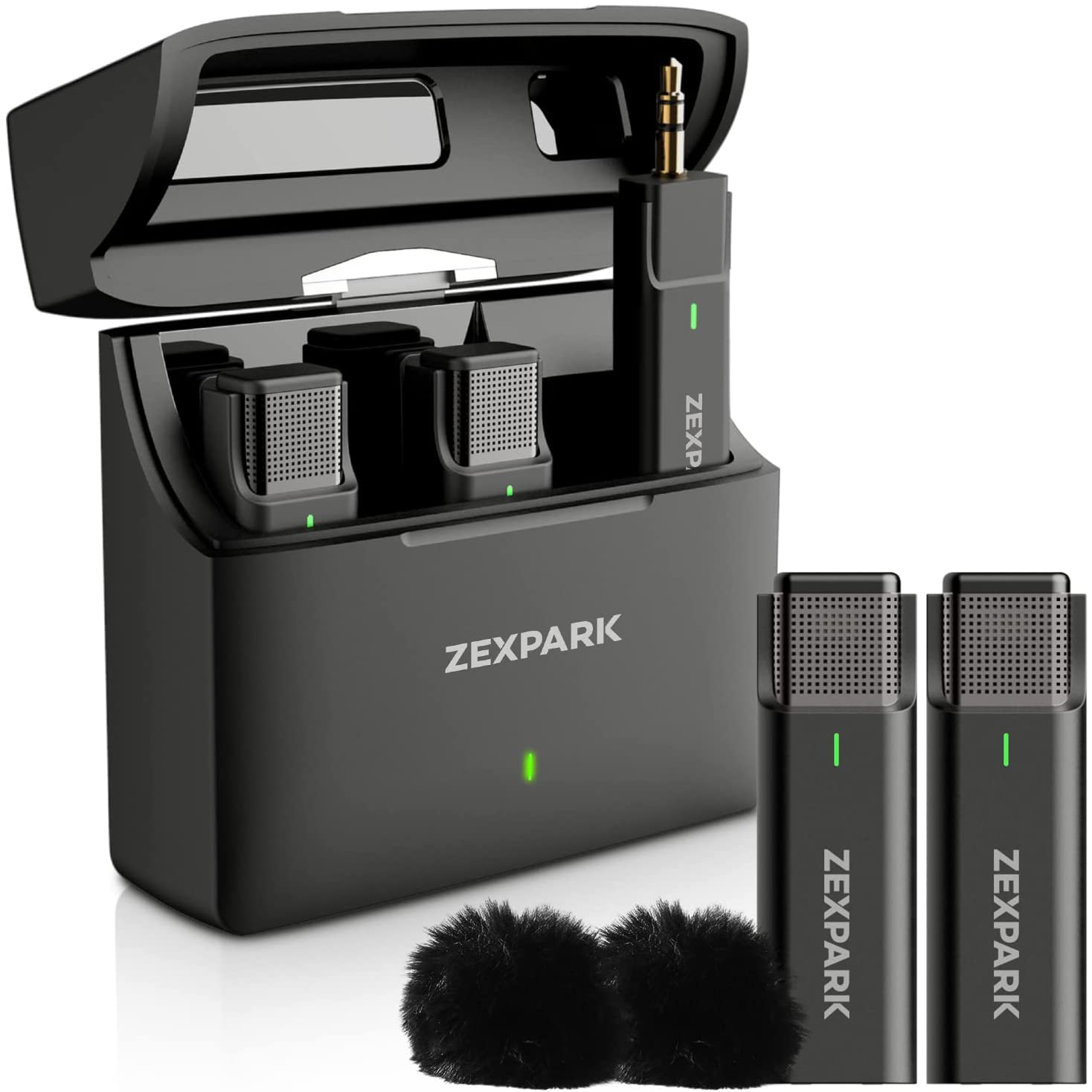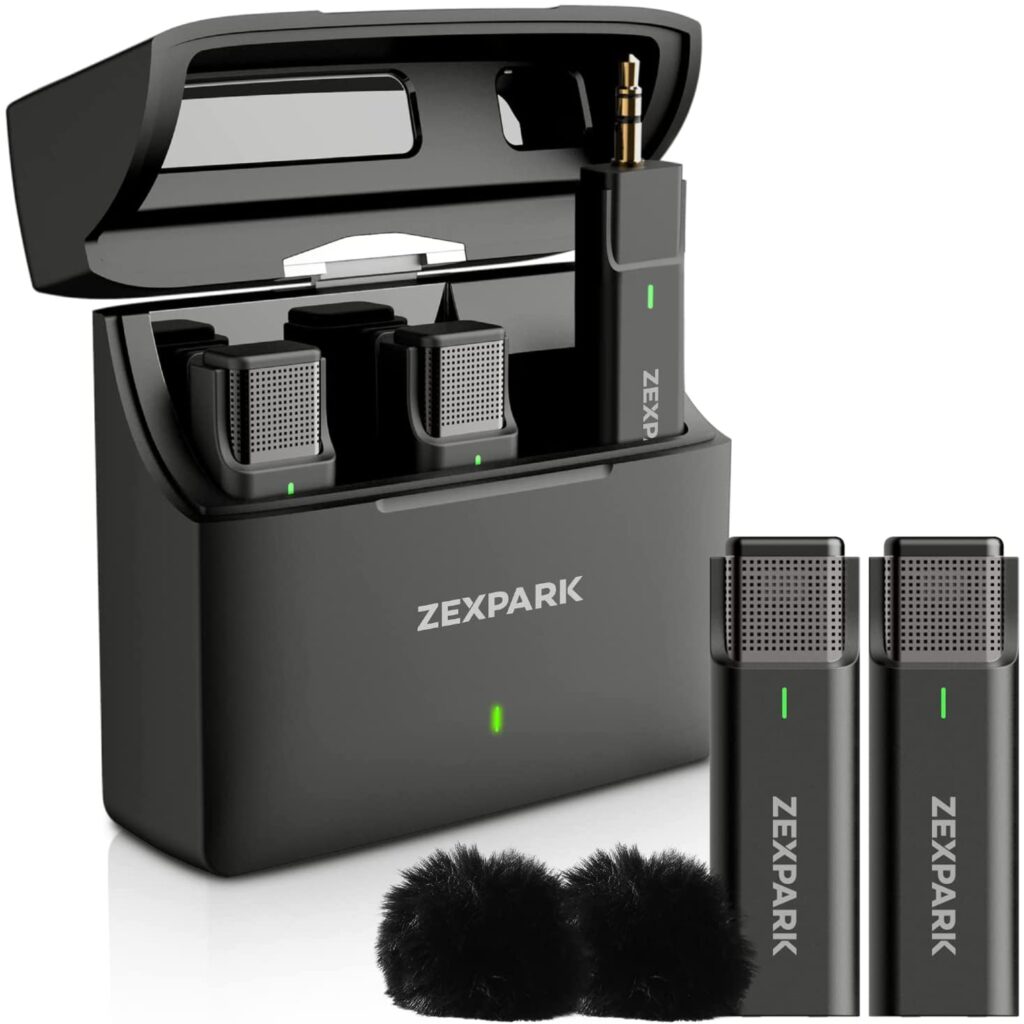 ---
If you are looking for good wireless lavalier microphones for DSLR cameras, this solution from ZEXPARK might be pretty interesting to you.
Not only that, it is completely plugged and play with no systems to worry about; this professional-grade lavalier mic provides studio-quality audio at a 60ft range, even in noisy environments.
You are provided with excellent noise cancellation and sound synchronization that allows you to make video editing much more accessible and even real-time sound mixing.
Finally, this product was designed with DSLR video cameras in mind, which gives it several advantages over its competition, such as better optimization and excellent battery life.
Anyone looking for a great wireless microphone to serve as a tool for their outdoor streaming or video recording will genuinely appreciate this piece of tech.
11. USKEYVISION Universal Video Microphone
---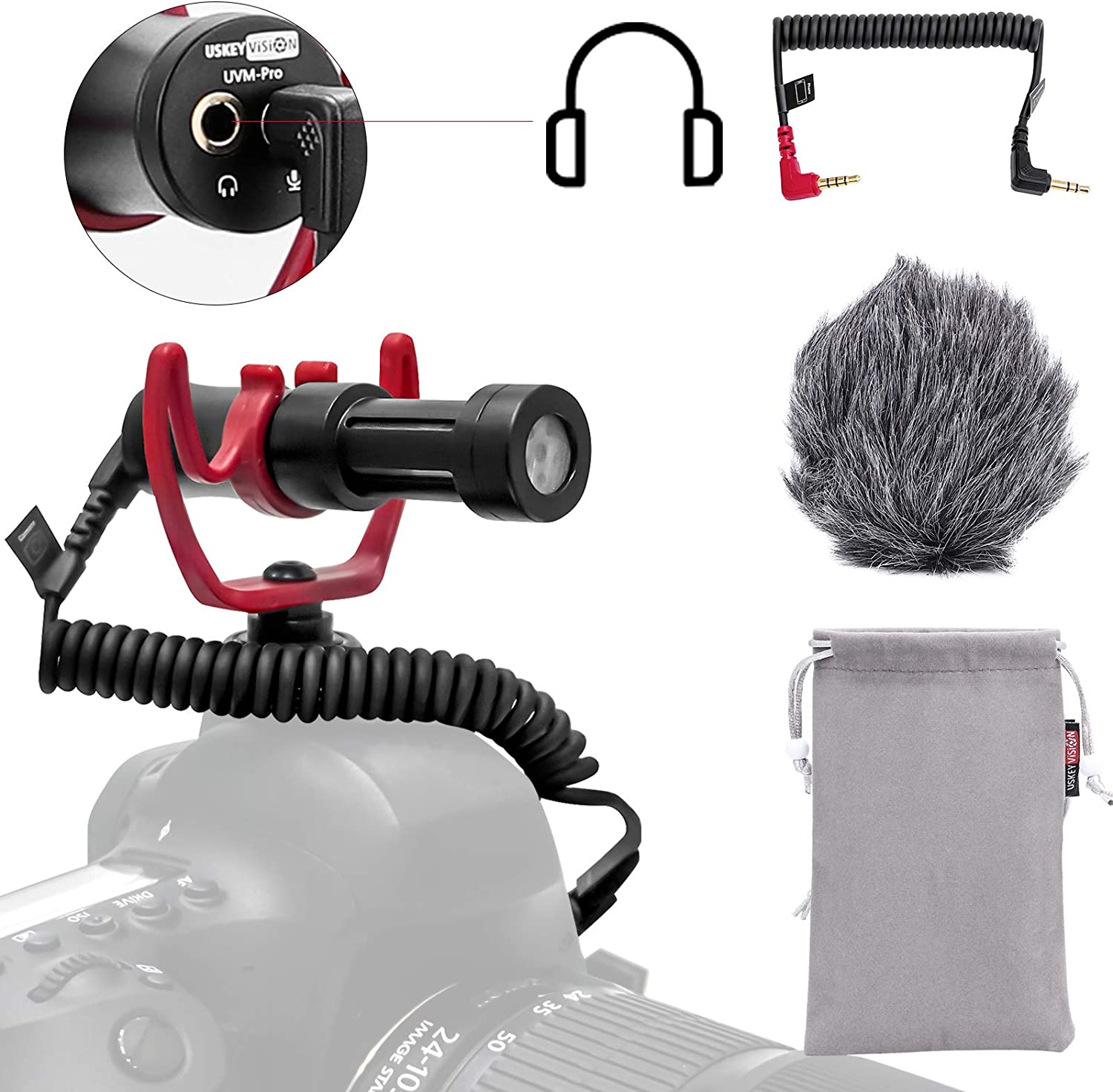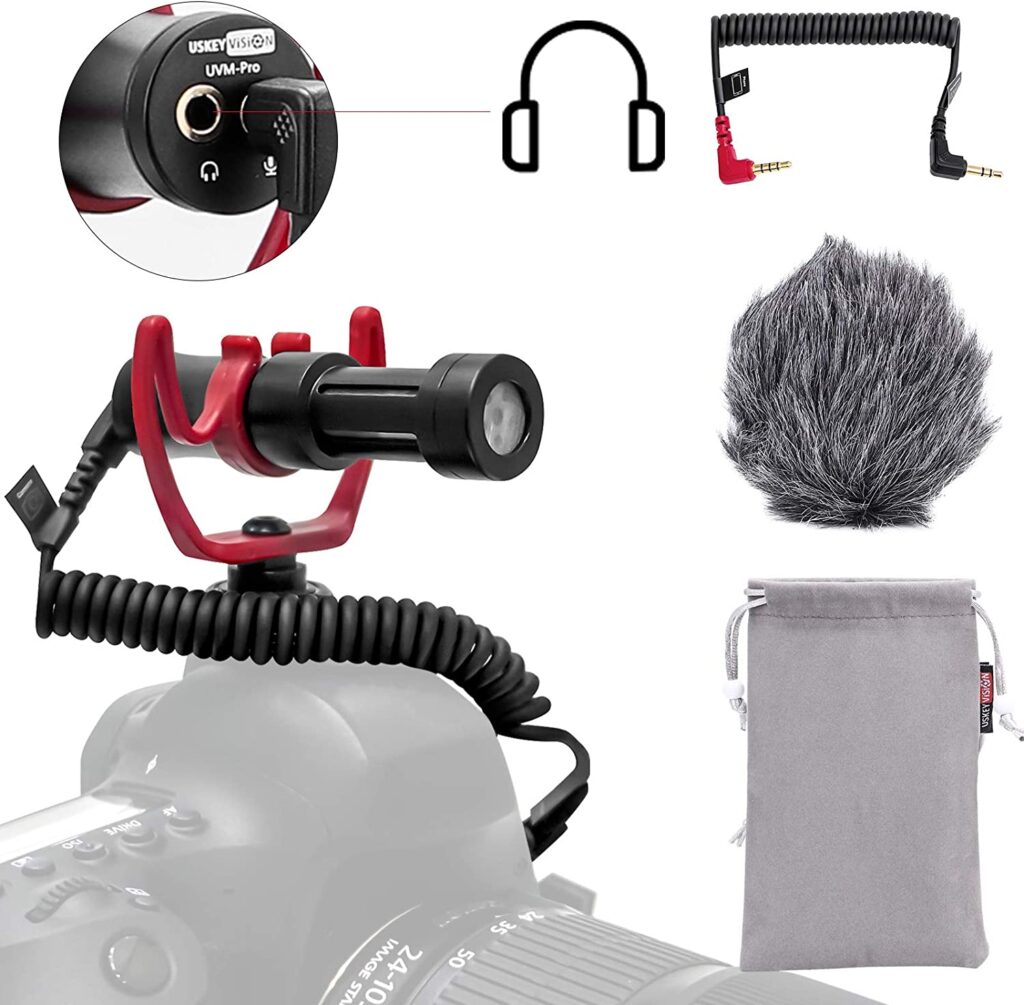 ---
The first thing you will notice upon purchasing this microphone is its design. Its durable flame's red and black colors are quite attractive, giving even more appeal to an already impressive device.
First of all, the device has no battery and is supplied from your camera. That, however, doesn't stop this shotgun mic from delivering incredibly high-quality sound for all kinds of purposes while also reducing all background noise to an unnoticeable level.
In addition, the wide compatibility range of these shotgun mics makes them usable with all sorts of cameras, smartphones, and camcorders.
The next great thing is that the shock mount and the windshield included in the purchase are high quality and significantly reduce the recording's effective handling and environmental noise.
Overall, we are looking at a DSLR video camera microphone that can be used for multiple social networks such as Facebook and youtube and vlogging. If you are doing any of these, this quality microphone will be a good choice.
12. Tikysky Video Microphone
---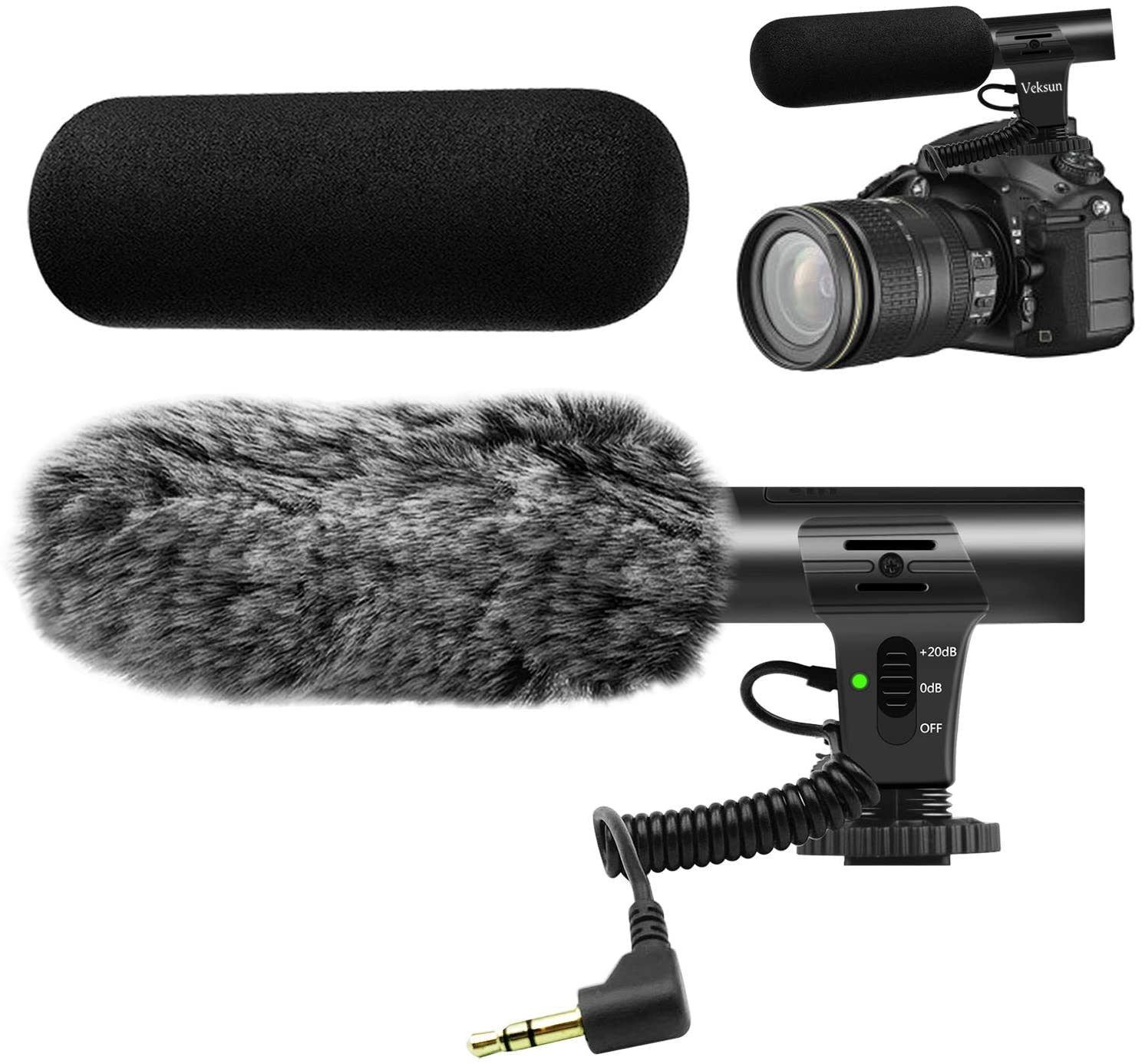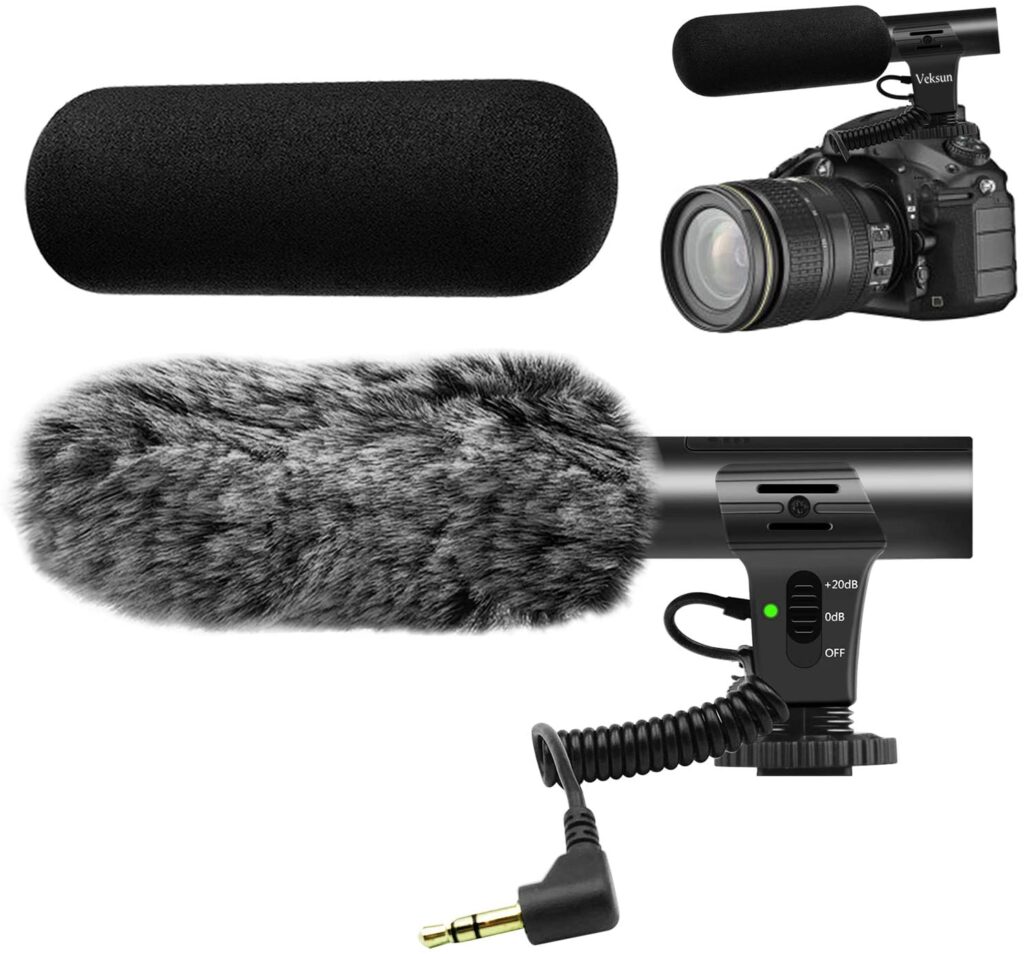 ---
One of the more powerful DSLR microphone options on the market, this solution fits any camera or camcorder with a 3.5mm plug.
It is also relatively lightweight, allowing you to carry it around quickly and not adding much extra weight when used.
In addition, it captures clear frontal audio while reducing background noise no matter its origin. Even powerful wind noise will be all but canceled out.
Additionally, both the pickup strength and the sound resolution are excellent, making this one of the best microphones.
Furthermore, the microphone has its batteries, so it won't drain away from the power from your camera, allowing for more extended shooting.
This device is excellent for all sorts of indoor and outdoor shootings and better shotgun microphones overall, as it can be used casually and professionally.
13. TAKSTAR SGC-598
---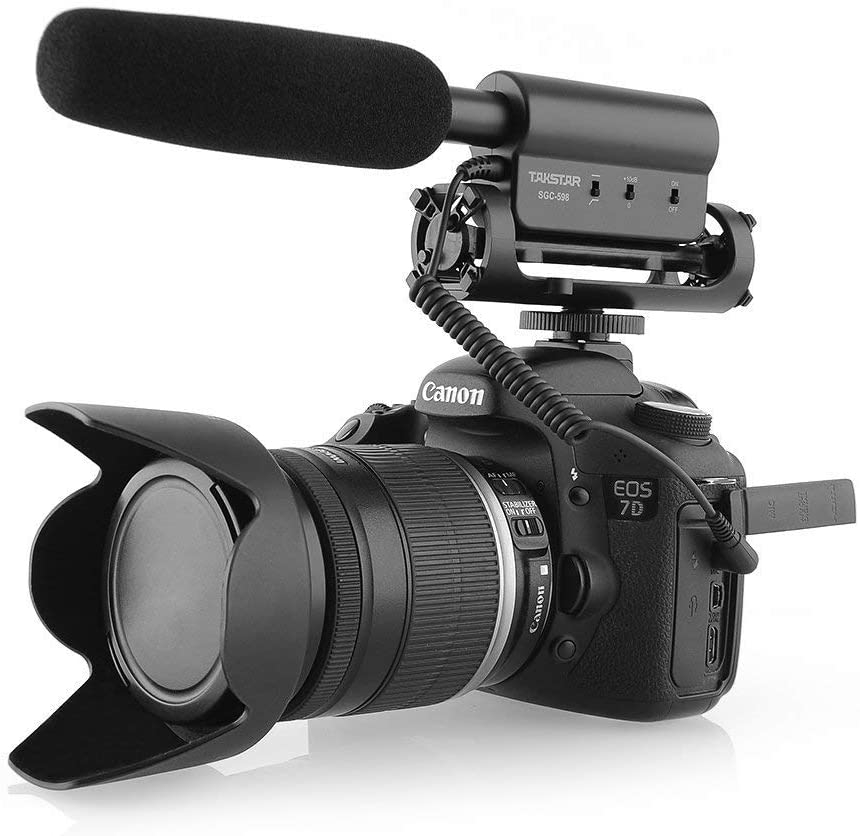 ---
A simplistic yet professional-grade solution from Takstar, this DSLR camera microphone has several features that make it an excellent choice for anyone looking for such a device.
First of all, this condenser mic picks precisely what you want it to; background noise and sounds coming from the sides are fully canceled out.
Furthermore, the device is powered by a single AA battery, so it will work under its power without draining your camera.
Likewise, the sensitivity is excellent, allowing you to pick up both low and loud noises with equal precision and providing clear audio.
Finally, the mic also boasts a decent compatibility range, being usable with most, if not all, cameras and camcorders. Smartphones are not included on that list, unfortunately.
What to look for in a DSLR microphone
Audio quality
The first thing you should watch out for whenever you buy any microphone is audio quality, as it is the most critical factor to the end state of your recordings.
Of course, this also ties into things such as sensitivity and noise cancellation and a few other less-known factors.
Connectivity and Compatibility
Your DSLR microphone will be of no use to you if it is incompatible with your camera because it cannot be connected to it.
While most cameras use 3.5mm jacks for connection, there are exceptions, and you will need to look at those before making your purchase.
Accessories
Some DSLR microphones come with many accessories that can make them more viable in different situations. Others, however, will require you to purchase those items separately.
While it may be a non-issue for you if you already have all the accessories you need, it is still a good sign of the mic's quality to have all the accessories it needs.
FAQ
Which camera microphone is the best?
There is no precise answer to this question. Instead, it would be best to start by asking yourself what you need your camera mic for, then buy one that matches those needs the best. In our guide, you will find a lot of great DSLR microphones that you can check out.
Can you attach a mic to DSLR?
Absolutely. Most DSLR cameras are meant to be used with a microphone anyway, so attaching one should not be an issue if you take care of compatibility. Check the guide for more detailed instructions about connecting one.
What is the best quality microphone?
Quite a few brands are competing for this elusive top spot. As a result, you will need to look for what suits you the best personally instead of going for some particular device.
If you want to purchase an excellent microphone for DSLR, check out this guide! There are over a dozen options that we have thoroughly tested.
Join our Discord Group. Ask questions, team up with fellow streamers, share memes, and more!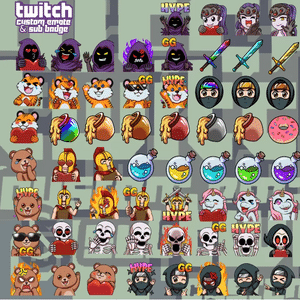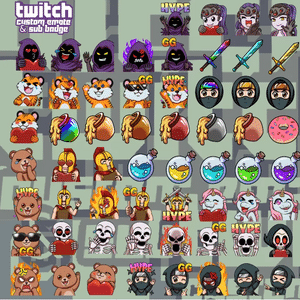 Claim for FREE:
FREE Emote PACKS
A book on growing your audience