There is a large number of computer processors in stores. They have various maximum achievable heating levels. CPU coolers are there to help minimize this issue by cooling the processor.
In this text, our processor of interest will be Intel Core i9, model 9900K. We have explored the cooling options and found a list of the best CPU coolers for i9 9900K.
Post 6 of 13 in the Streaming PC Components
Best CPU Cooler for i9 9900K
Reviews
Firstly, let us take a look at the Intel Core i9 9900K processor. It belongs to the 9th generation of Intel Core processors and it is very popular in the gaming community. The two features that are of significance for us now in choosing the best CPU cooler for i9 9900K are:
Based on these two conditions and the overall performance (with quietness especially on our minds) of air and liquid CPU coolers, we have assembled the following list.
QUICK OVERVIEW: CPU Cooler for i9 9900K
<!—INSERT CODE BLOCKS BELOW—>

Noise level: 24 dB
Weight: 2.86 pounds

Dimensions: 15.63 x 4.71 x 4.71 inches
Noise level: 36 dB

Weight: 4.55 pounds
Cooling method: liquid cooling
1. Noctua NH-D15 chromax.black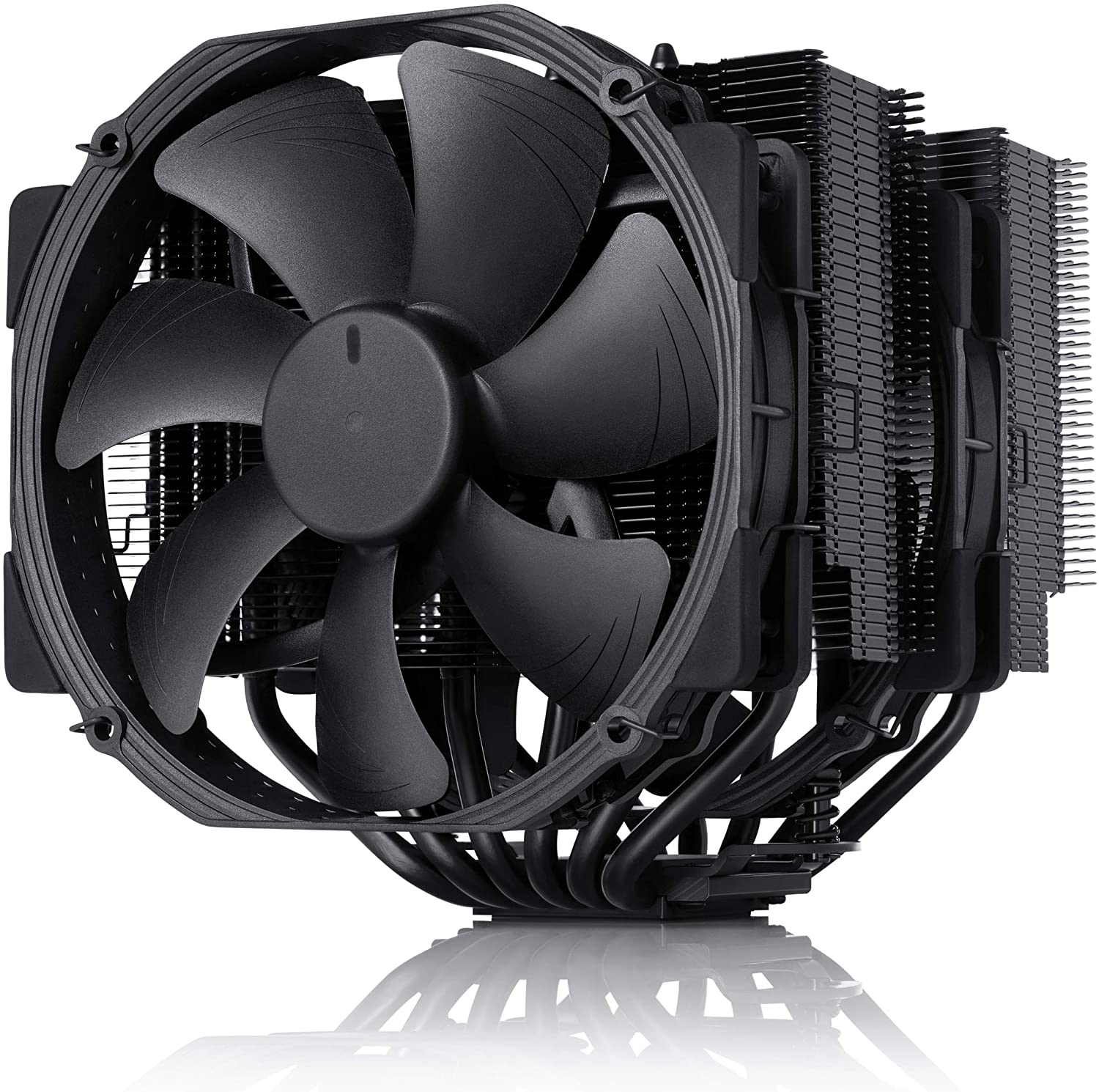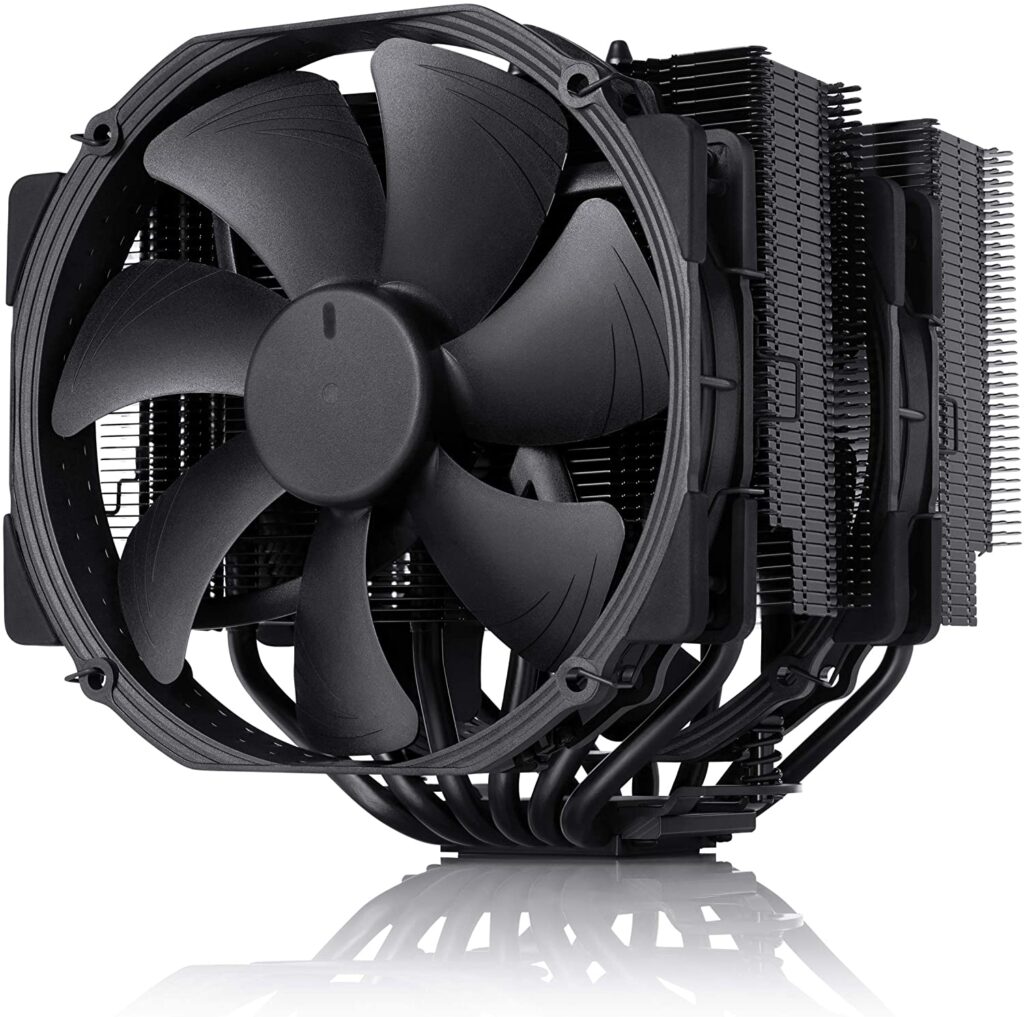 Noctua is a company from Austria that produces computer hardware, more specifically computer fans and CPU coolers. It has been in business since 2005 when two companies – Austrian Rascom Computerdistribution Ges.m.b.H and Taiwanese Kolink International Corporation decided to join forces for a joint goal.
Their air cooler model Noctua NH-D15 chromax.black is one of the best versions of their NH-D15 models. This deluxe and very elegant model has an outstanding rating on Amazon. It is a completely black, dual-tower CPU cooler with a width of 140 mm. It is an appropriate cooler for i9 9900K because it is strong enough to cool it off even when under a great workload.
Specs
Key Features
Noctua NH-D15 chromax.black is a high-quality heat sink (that transfers heat from a computer component to the coolant medium) and has won over 300 awards so far. This particular model is black so it is visually fitting for almost all color combinations of other computer components.
Its dual tower design is 140 mm wide; it has dual fans with pads that prevent vibration and six copper heat pipes. These features, together with two low-noise adaptors, account for a very low level of noise. Noctua NH-D15 is an excellent choice for a processor which is expected to withstand extreme overclocking.
It is compatible with fans of the following dimensions: 140x150x25 (with 120mm mounting holes), 140x140x25 (with 120mm mounting holes), and 120x120x25.
Noctua NH-D15 can be used in a single-fan mode, where the recessed lower fins give a 64 mm clearance space for the heat sink. Therefore, there is RAM compatibility with most RAM modules in stores.
In dual-fan mode, it should be used with the standard RAM slots of 32 mm at most.
This cooler comes with the NT-H1 paste as well as the SecuFirm2 mounting system.
Noctua gives a warranty for 6 years on this product, Noctua NH-D15, stating that it is a premium choice of a CPU cooler for i9 9900K.
---
2. Corsair iCUE H150i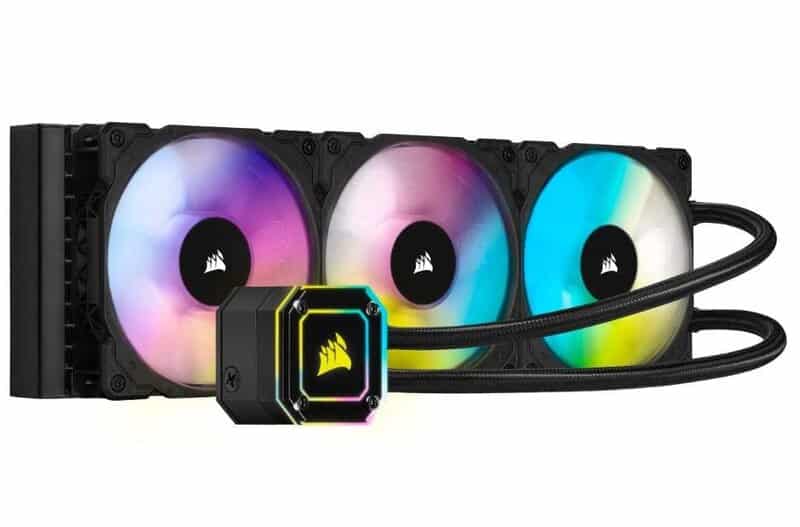 Corsair Gaming Inc. was previously known as Corsair Components and Corsair Memory. This is an American company, though it has a production facility in Taiwan and distribution centers and marketing offices in Europe, Asia, and of course, the US. It produces a wide range of computer hardware items and peripherals.
Their liquid CPU cooler model iCUE H150i belongs to the Elite Capellix Series style. It includes the RGB pump and fans, so its vibrant colors are very pleasant for looking at. This type of model may come in the sizes of 240 mm (H100i), 280 mm (H115i), and 360 mm (H150i), each with slightly different performance. Of these three, the H150i is a very good liquid cooler for i9 9900K.
Specs
Key Features
The RGB pump of the Corsair Hydro AIO cooler iCUE H150i has 33 ultra-bright LED lights shining around it. The visual effect is vibrant and lively.
The colorful style of the Elite Capellix Series consists of liquid loop coolers whose pumps have two separate caps: the first one is elegant and black and the second one is transparent and lets the LED lights shine through it for the wanted visual effect.
Its 6 fans are also in RGB colors; each has as many as 8 LEDs. Their speed and lighting can be controlled and adjusted for anyone's need and preference by the controller with Corsair iCUE software.
The software has several things to control. Besides the speed and lighting of fans, you can control the pump speed and synchronize the lighting with all the devices compatible with Corsair iCUE. Moreover, the temperature of the coolant can also be controlled.
The fan speed ranges from 400 to 2,400 revolutions per minute. The fan profile can be set to the fan speed of 0 RPM for low temperatures, when, obviously, no noise is heard from the cooler whatsoever.
All these features make it a very good product. And since it is compatible with Intel's processor, we can conclude that Corsair iCUE H150i is an excellent CPU cooler for i9 9900K.
---
3. NZXT Kraken Z73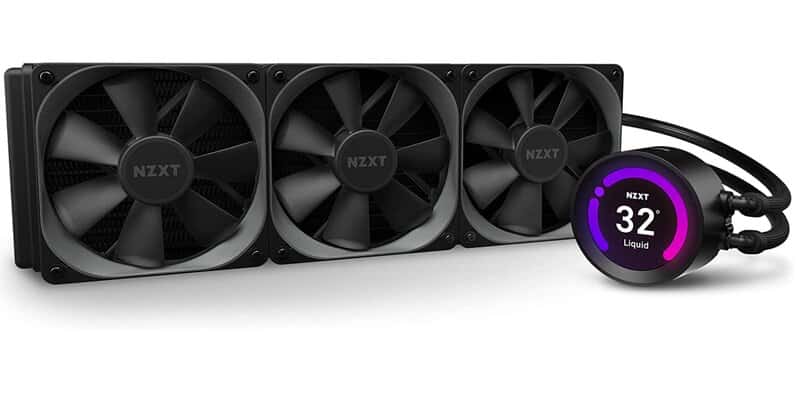 NZXT was founded in the US in 2004 to make products aimed at DIY PC building. Their first product was a computer case named NZXT Guardian. Soon, they expanded to manufacture more various items of computer hardware. Now they have in their offer power supplies, coolers, motherboard for streaming, LED lighting, etc.
Its AIO cooler Kraken Z73 is very highly rated on Amazon. It is an AIO liquid cooling system with a customizable LED display. It includes 3 120 mm radiator fans and an improved pump. The size of this particular model – Z73 is360 mm, and there are similar but smaller and less powerful models Z63 (280 mm) and Z53 (240 mm). This liquid CPU cooler can support and cool the temperature of Intel's i9 9900K processor.
Specs
Key Features
The NZXT liquid cooler model Kraken Z73 has a very interesting feature: a customizable 2.36" LCD screen. It displays 24-bit color and users can choose the look that fits their style best.
It has a special software – CAM V4 that has intuitive controls and is very user-friendly. It allows you to customize the display, and you don't have to choose just one color for that, but you can display the CAM system info or even choose pictures or gifs to be shown on the screen.
With the software, not only can you control the screen, but also the position of the pump. The pump can rotate, which is beneficial for reducing the expansion slot clearance. The program doesn't take sensitive info from your computer. What it takes is statistics, such as load or temperature.
The way to circulate the cold air through the PC case and send the hot air out is through radiator fan cooling.
Thermal paste is pre-applied to this liquid CPU cooler model, so it is not included in the package. Also, leaking is prevented by using ultra-low evaporation rubber.
With the maximum noise rating of 21 dB, this is the quietest CPU cooler on our list. The manufacturer argues that it is reliable in the long term (the expected life of the cooler is 6 years) and has an impressive performance. It is a good fit for i9 9900K.
---
4. Be quiet! Dark Rock Pro 4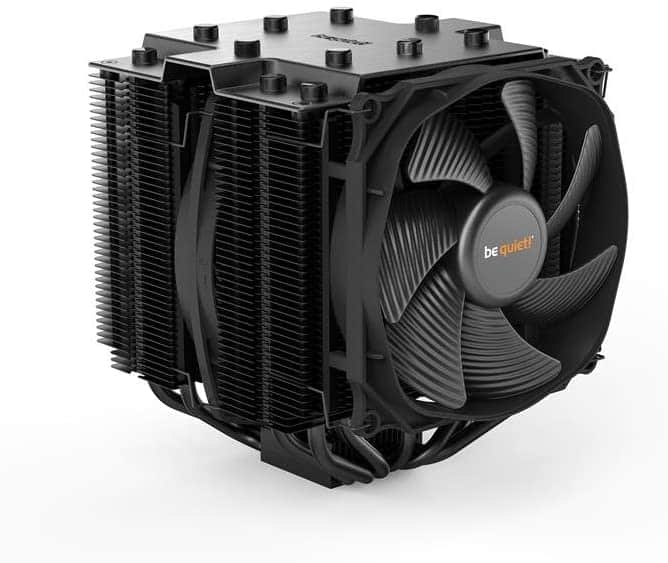 be quiet! is a brand that lives under the German firm Listan GmbH. This brand was formed in 2002 to produce PC power supplies with added equipment for reducing noise levels (hence the name). Six years later, they added cooling products to their offer – cooling fans and CPU coolers). Their main targets are gamers and PC enthusiasts. Though they sell their goods all over the world, at the moment, Europe is their main market.
Their air CPU cooler model Be Quiet Dark Rock Pro 4 is an excellent choice when it comes to fan cooling systems. Its fan running volume is reduced to a minimum. Its TDP is 250 W, which is significantly higher than the TDP for the processor Intel Core i9 9900K, which is 95 W. This means that the cooler can work efficiently on the i9 9900K.
Specs
Key Features
This be quiet! BK022 cooler for i9, the very quiet Dark Rock Pro 4 model, comes with a thermal compound paste and a special screwdriver. It has two very silent fans, reaching only 24.3 dB at their maximum speed.
With a TDP of 250 W, low temperatures are achieved easily and the cooling performance is very high.
It has seven copper heat pipes to gather heat for blowing it out of the cooling system. Also, the black coating that includes ceramic particles improves the transfer of heat from the system.
There are two dual tower fans that are pre-installed. They have fluid dynamic bearings and six-pole motors that are another step toward producing less noise. It is possible to add a third 120 mm fan for ultimate cooling.
Physically, there are cutouts that ensure ram clearance in a PC case. Visually, the all-black design is very pleasing. All in all, the i9 9900K processor can be cooled successfully by Dark Rock Pro 4.
The manufacturer warrants a three-year usage for Be Quiet Dark Rock Pro 4. The product has a proud German quality.
---
5. Cooler Master Hyper 212 BE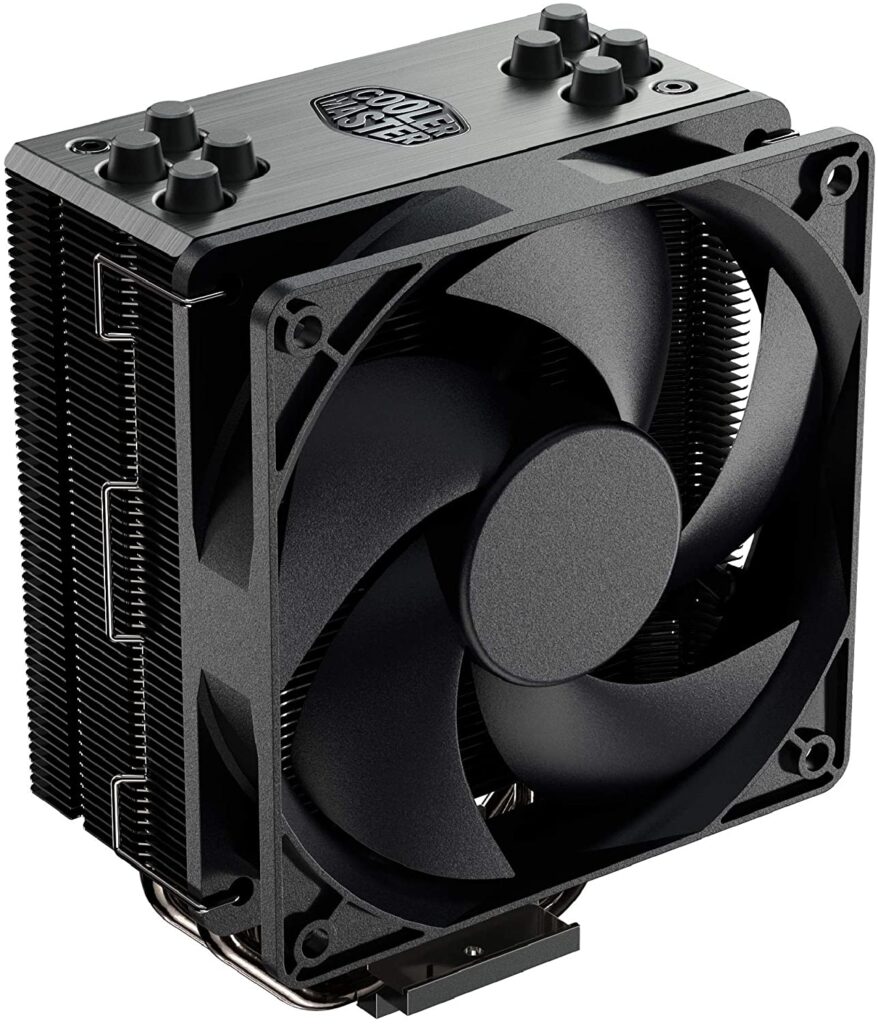 Cooler Master is a Taiwanese company that produces computer hardware: cases, CPU coolers, power supplies, and computer peripherals. Not only do they produce and sell their goods, but they also produce cooling devices for other companies such as NVIDIA (VGA coolers), EVGA (motherboard heat sinks), and AMD (CPU coolers). They are even sponsors of some eSports teams.
One of their best air cooler models is Hyper 212 BE with an elegant all-black design. It is equipped with a Silencio FP120 Fan and 4 CDC 2.0 heat pipes. It is an excellent choice for the CPU cooler for i9 9900K. It has a high Amazon rating and we thought it is good enough to be on our list.
Specs
Key Features
Cooler Master Hyper 212 BE is built using the Continuous Direct Contact technology. This technology compresses the copper heat pipes together and thus the surface of the cooler base gets bigger. In this way, heat dissipation becomes very efficient.
The volume of the airflow this cooler moves is 42 cubic feet per minute. The airflow is precise and vast due to the stacked fin array. Also, the least airflow resistance is ensured to let the cool air into the heat sink.
There is a smart fan sensor that prevents cables to jam into it and components to get mucked. If there is a potential issue, the sensor stops the fan. Also, the design of the fan bracket is intuitive, so installing and removing it is very easy.
This CPU cooler comes with only one fan, but its cooling performance is very efficient even with high CPU temperatures. Despite what you may think about a one-fan CPU cooling system, the reviews of this one show that it is worth trying out.
The expected noise levels don't go above 26 dB. It is a very quiet CPU cooler and it can be heard with the most demanding CPU loads. However, when mixed with the ambient noise, it is almost unnoticeable.
---
Things to Consider When Buying a CPU Cooler for i9 9900K
1. CPU Cooler Budget
Having a spending range in mind can help you decide properly on the CPU cooler model that is right for you.
Spending too little on it may get you an incompatible CPU cooler that is too weak for your processor. On the other hand, overspending may result in your having a cooler that is cut out for a better CPU than yours is -the money which you may have spent on another component.
Once you take into account all the factors described below and explore them, you will get the idea of an approximate price for a CPU cooler with the decent build quality.
2. What Is the Cooler For?
The intended use for a cooler dictates which type you are to buy.
It may be a computer with a high level of expected performance. It may be a computer set up on a budget or one that will be used for average performance, so a strong cooler isn't necessary.
It may also depend on the other computer components, such as in our case here. Now, we are looking for the best CPU cooler for i9 9900k processor.
3. Air Cooling or Liquid Cooling
This is one of the most important decisions to make. To make things clearer for you, here are the lists of pros and cons for both options.
It can be noted that there are other cooling systems, usually based on these two main ones, that are far less efficient and will not be mentioned here.
Air Cooler
Liquid Cooler
4. Thermal Design Power (TDP)
This feature is also known as thermal design point/profile/parameter.
When a PC works, its components get warmer. Under an intense workload, they can get quite heated. There is a maximum heat a component can withstand without getting broken.
Put simply, TDP is the amount of heat a PC component (such as CPU or GPU) generates when it is under the maximum workload. It is stated in watts.
Even CPU coolers have a TDP stated in the specification sheet. As a way to see whether a cooler is appropriate for a processor, you should compare the two numbers.
A CPU cooler needs to be strong enough to cool the CPU when handling the heaviest workload. Thus, the TDR rating of the cooler should be bigger than that of the processor.
Small, medium-sized, or big coolers are available for various processors.
5. CPU Socket
There is more than one type of socket that may be designed for a processor. Hence, your CPU cooler needs to have a proper bracket for it.
Certainly, most producers of cooling systems will make them fit most CPU sockets.
However, some CPU coolers fit only particular types of sockets, so checking that is an important part of choosing the best CPU cooler for your needs.
6. Clearance Space
You should mind whether your preferred CPU cooler fits physically into your computer case. This factor includes three aspects:
7. Noise
The cooler is the noisiest part of a computer, more precisely, its fans are.
A smaller fan tends to be louder because it needs to make a lot of spins for a certain level of cooling. On the other hand, a bigger fan can spin more slowly for the same result and is thus quieter.
Also, when we compare one fan versus a few, the cooler with a few fans will be quieter. The reason is that its fans, don't need to spin as fast as the cooler with only one fan to produce the same result.
Frequently Asked Questions
Does i9 9900K need liquid cooling?
A liquid cooler is not absolutely necessary for i9 9900K. The kind of cooling system to use is entirely up to the preference of users. Typically, liquid cooling is used in a high-end CPU cooler.
If you have one of a lower quality, then one of the traditional air coolers (a stronger or a weaker air cooler, according to your needs) will be enough for you.
What cooler is best for i9?
In the text above, you can see a list of coolers with excellent build quality from which you can choose the best CPU cooler for i9 9900K. Note that among the fan types of the coolers available on the market, DC fans are weaker and PWM fans are better.
We have chosen the best cooler from 5 different manufacturers (Noctua, Corsair, NZXT, be quiet! and Cooler Master). If you want the best air cooler, you can check out the Noctua NH-D15, be quiet! Dark Rock Pro 4, and Cooler Master Hyper 212 BE. If you are a fan (pun intended) of a liquid CPU cooler for your i9 9900K, then one of the NZXT Kraken Z73 or Corsair hydro iCue H150i coolers is for you.
Does the i9 9900K have a cooler?
No. When you buy an Intel Core i9 9900K, you don't get a stock cooler but need to get a CPU cooler separately. A thermal solution is necessary, and the choice of a CPU cooler for i9 9900K (liquid cooler or air cooler) is completely the choice of each user.
Conclusion
We have gotten to the end of our list aimed at helping you choose the best CPU cooler for i9 9900K. There are air cooling and liquid cooling options of excellent build quality, for anyone's preference. Also, for those who are new at choosing this kind of product, there is a small guide to the features that are essential for the best CPU cooler to have.
Related: Best CPU for Streaming on Twitch
Join our Discord Group. Ask questions, team up with fellow streamers, share memes, and more!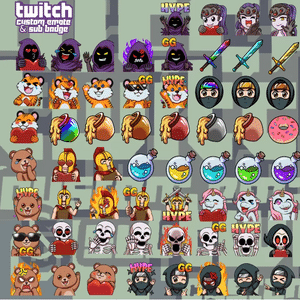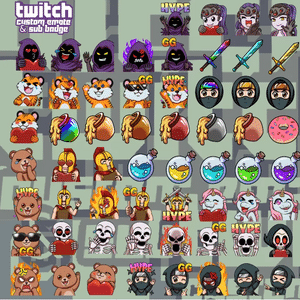 Claim for FREE:
FREE Emote PACKS
A book on growing your audience