Green Screen
If you need to find other streaming gear, make sure to look at our Streaming Gear page. Here, you will find everything you need!
Post 2 of 5
Hi there!
So, you're looking for an easy and practical way to get rid of your messy background in your streams, without actually needing to tidy things up?
You've come to the right place.
In this article, I'll share with you some of the best collapsible green screens that you can use for Zoom calls and when you live stream.
Here's what we'll go through:
Let's get into it!
Post 2 of 5 in the Green Screen
Best Collapsible Green Screens On The Market
Reviews
Having a green screen background is very practical when you stream or film YouTube videos.
It can also be great to use the green screen when you're video conferencing, especially if you don't have a dedicated workroom or a study, which most of us don't have.
And while backdrop stands are a great option, the basic ones usually take up way too much space and are also complicated to work with.
That's where collapsible backgrounds come into play.
Portable green screens are easy to set up and fold down whenever you need them, so having limited space won't be a problem.
Most of them aren't too expensive either, so depending on what you're gonna use it for, you will see what seems acceptable for you to invest in it.
---
QUICK OVERVIEW: Best Collapsible Green Screen
<!—INSERT CODE BLOCKS BELOW—>

Made out of 100% Polyester
1480 x 1800 millimeters

Neewer Blue-Green Backdrop

150 x 200 centimeters
The backdrop stand is adjustable

HEMMOTOP Green Screen Backdrop

Adjustable stand
1.5 x 2 meters
❶ Elgato Green Screen
---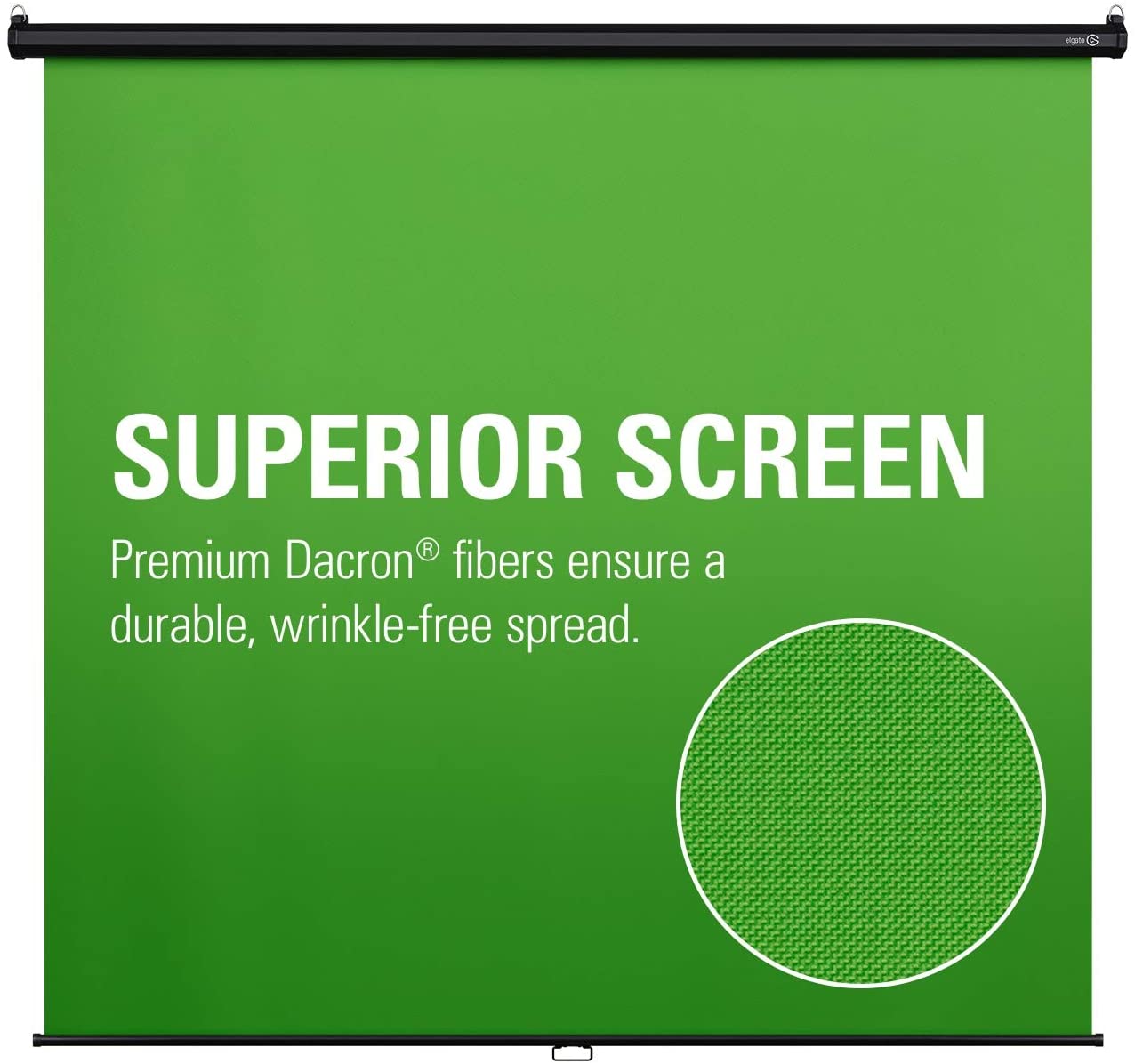 ---
The Elgato green screen is a very sturdy and professional green screen, and so is its price.
If you've been streaming for a long time, and you have the means to invest in your equipment, then look into this Elgato green screen.
Description
The Elgato green screen is a wrinkle-resistant green screen, which is probably the main thing that you should look into when searching through all different kinds of green screens.
If you get one that is not, it will most likely not work well and basically, end up not being worth your money.
This chroma key green screen is very easy to work with, you only need to lift it and the pneumatic X-frame will do the rest and lock the screen in place.
When you don't need it, it will be equally as easy to pack it up and store it.
As far as green screen backdrops go, you will get everything you need with this one.
❷ Neewer Blue-Green Backdrop
---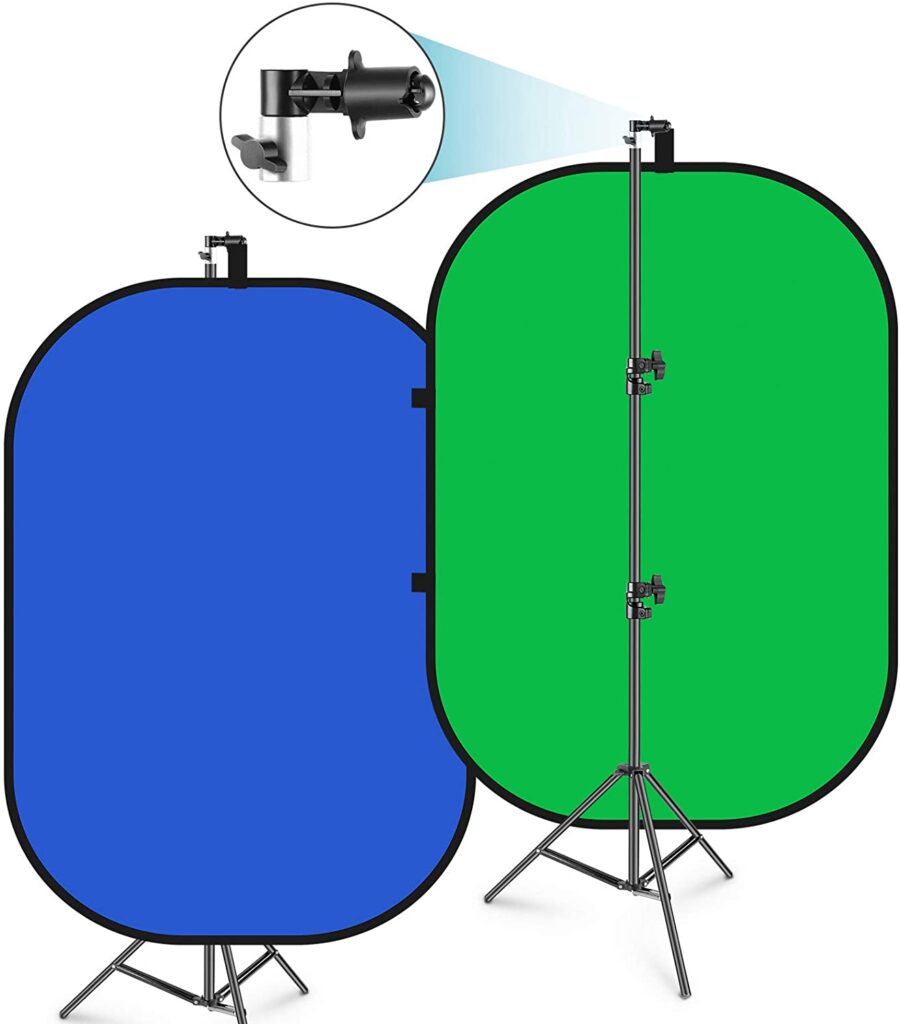 ---
Here we have both a green screen and a blue screen, you just need to see which one works better for you.
Blue screens are usually used when you need better image quality, a less grainy look, and cleaner edges.
Description
The main selling point of this item is the fact that it is a 2 in 1, both a green and a blue screen.
On one side of the collapsible screen is a green color, and on the other you have blue.
This kit includes the green/blue collapsible chroma key panel, a backdrop support stand, one backdrop clip, and a carrying bag.
The material is wrinkle-resistant, and the green screen kut is overall very easy to work with, so you shouldn't worry much about technicalities.
Since you get a 2 in 1 deal with this backdrop stand. you can say that this is a fairly cheap green screen.
It is great to work with, whatever you do – streams, photoshoots, constant video conferences.
❸ HEMMOTOP Green Screen Backdrop
---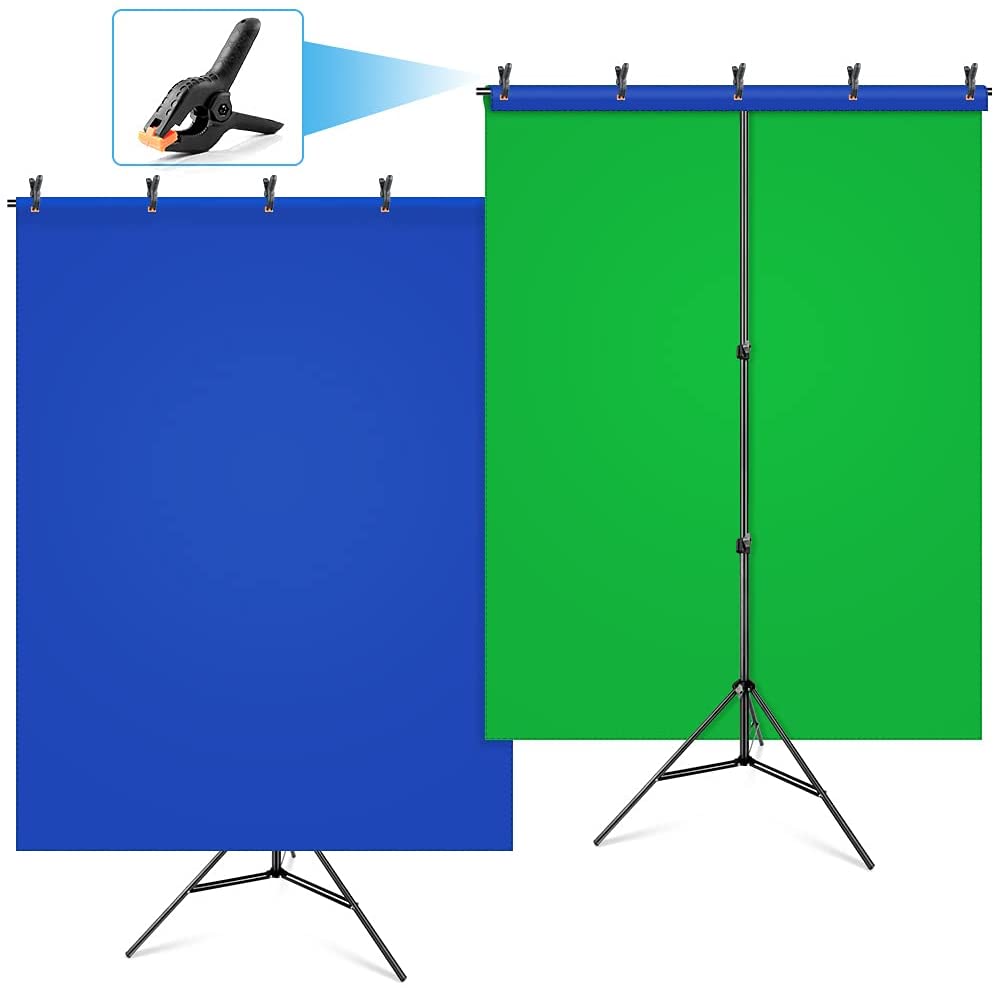 ---
Here we have another fairly inexpensive product that gives you 2 in 1.
Description
Compared to the previous chroma key green screen kit, this one is shaped a bit differently, and a typical rectangle model like this one might work better for you.
As you would expect, the fabric of this green and blue screen is wrinkle-resistant, but it is also safe for machine washing as well as ironing.
The design of this one gives you the ability to easily unassemble it and wash it, which is a great advantage to have.
When it comes to dimensions, this one is 1.5 x 2 meters, so it will hide quite a lot of space.
The stand it comes with is also foldable, and it can be adjusted from a minimum of 31.5 inches to 78-inch height.
It also comes with a strong backdrop clip, so you can easily point your green screen background in any direction, and it will stay there.
❹ EMART Portable Green Screen
---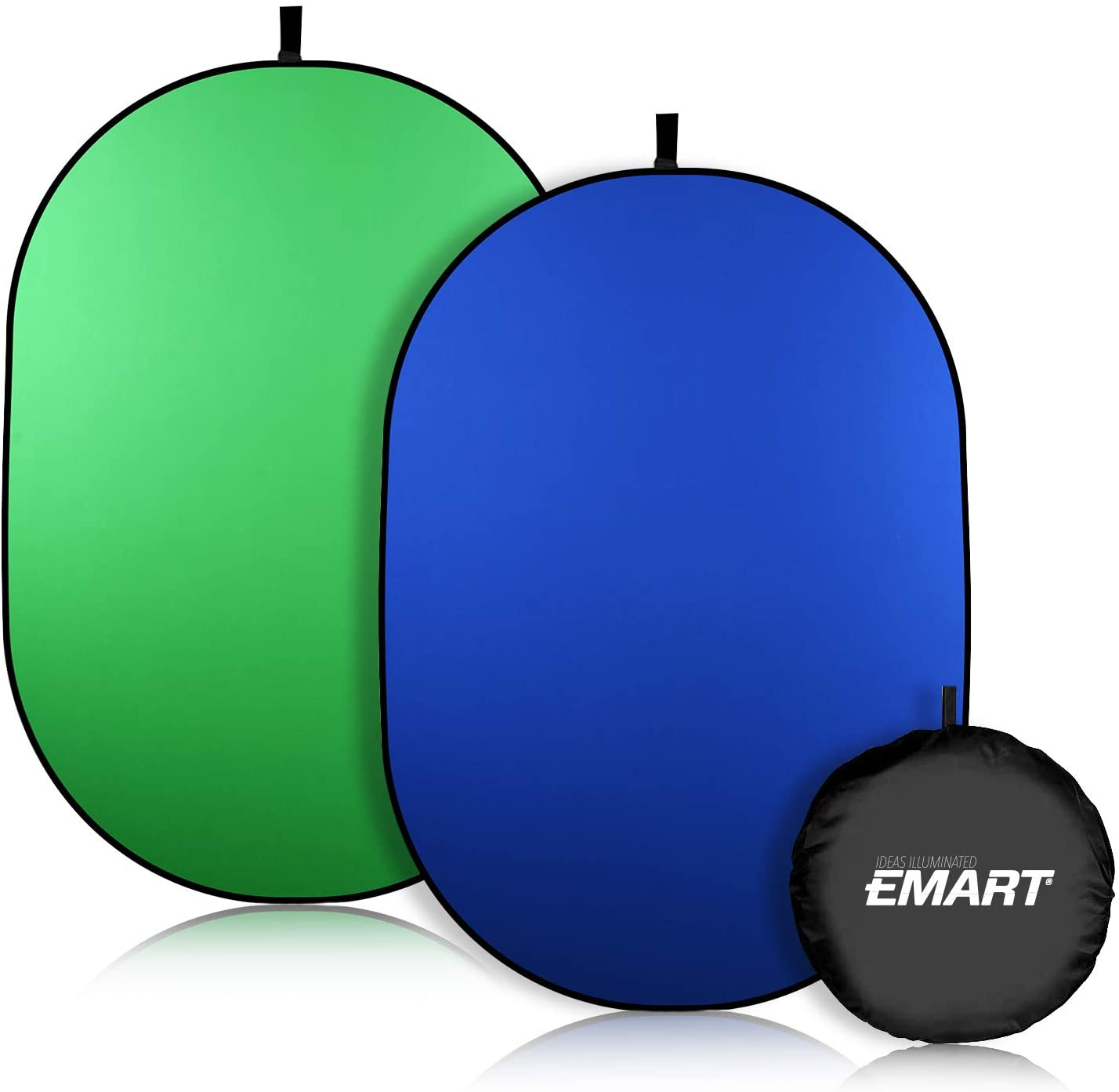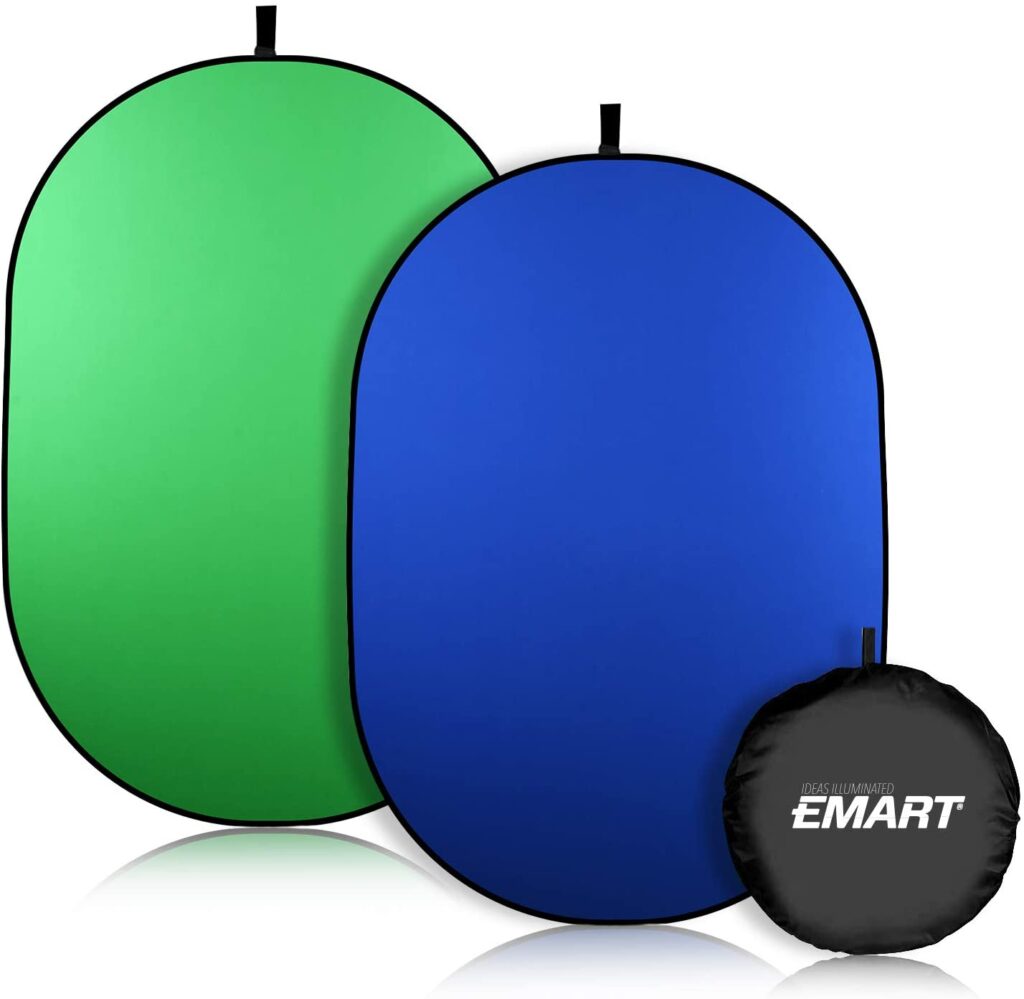 ---
So, you already have a stand that will work with a green screen background, but you need to replace the fabric in order to have a green screen work.
This is a great solution for you.
This EMART green screen comes with some of the additional accessories as well, so if you need that, just keep on reading.
Description
If you need a panel for the background removal of a smaller amount of space, then this can be a great option for you.
It doesn't have edges, it's rounded, so wide rectangle background removal is not the main deal of this specific green screen.
Again, you have a great deal with these green screen backgrounds, because it comes with blue fabric on the other side.
Depending on what you need on different occasions, you can choose to have either one.
The shape of this wrinkle-resistant green screen all0ws you to put it up in either horizontal or vertical position, so you can adjust your green screen for streaming depending on which kind of setup you have.
Different backgrounds might work better with different green screen positions, so try it out with whatever virtual background you like using.
This one also comes with a sleek bag for storage, so it can also be used for traveling if you need some visual effects or the look of a blank wall while you're filming outside.
❺ EMART Green Screen with Stand
---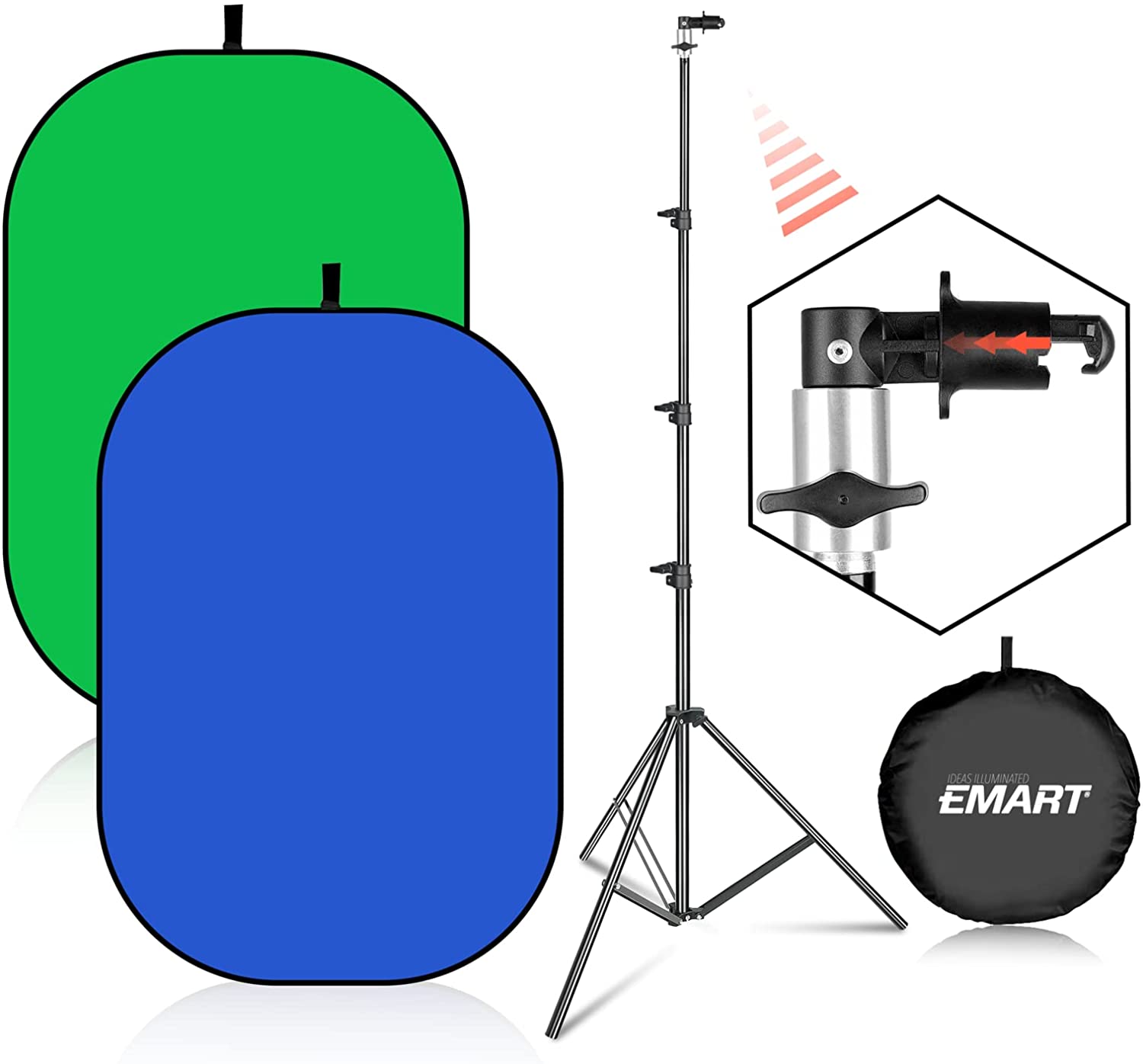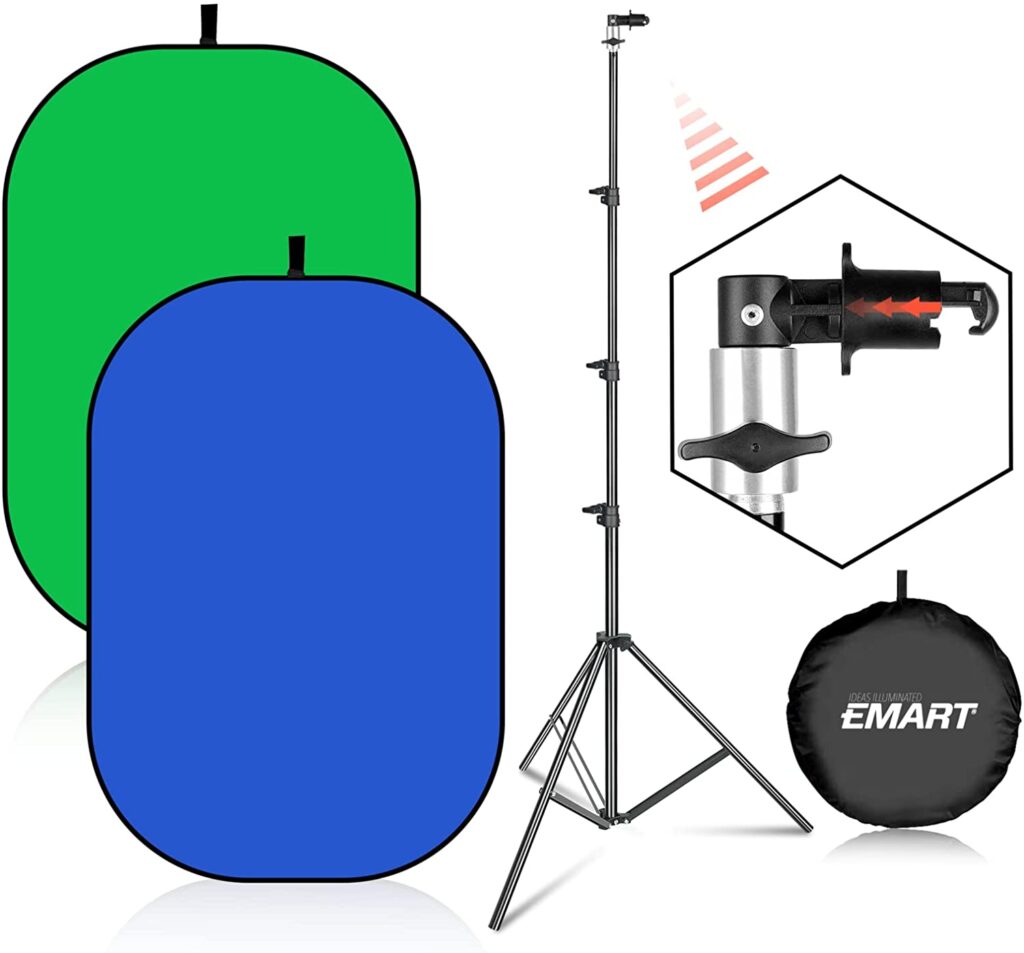 ---
If you like the look at the specifications and dimensions of the previous green screen, but you lack the equipment like a stand, then this product is the right one for you.
It is literally the same thing, only with a stand.
Description
This EMART green screen is a muslin backdrop with a steel frame, so it stays nice and flat once you pop it up.
As it comes with a stand, this is a great green screen for streaming and video conferencing in whichever environment you want it.
It will stand still behind an office chair, but it will be great for other kinds of setup as well.
As it is a 2 in 1, you can use the blue muslin backdrop when you need to cancel out some bright light when you're taking professional photos.
The stand you get is made out of aluminum, so it's lightweight but sturdy.
You can adjust the stand to be anywhere from 2.9 feet to 8.5 feet.
This larger green screen works great with all kinds of green screen software, so you don't have any reason to worry.
FAQ
---
Do pop-up green screens work?
Yes, the collapsible screens work just as well as the ones that are static and not collapsible. One downside is that if you often fold it up, the green screen like that might get some creases and folds.
However, most of them can be ironed safely, so even if that happens, you will most likely find a way to work it out. If it gets more permanently wrinkled, then the camera chroma keying might start picking it up and disrupt the background cancellation.
What kind of fabric is best for green screen?
Nylon or spandex is the best type of material to go for when it comes to green screens. That kind of green screen materials is completely crease-resistant and easily foldable.
Also, it's very easy to stretch them and adjust them to be nice and flat. There are many different kinds of materials that are used for making green screens, but you should try opting for one of these options for your large screen.
Are cheap green screens good?
Cheap green screens will probably work well at the start, however, they might start underperforming once some time has passed and you've been using it a lot.
This especially goes for collapsible models, as folding them out often might cause creasing that will become harder to deal with.
Also, if your green screens get dirty often, so you wash them a lot, the color might start fading out, which will lead to the camera and software not picking up the color it needs to in order for the background removal to happen.
How do I collapse my green screen?
Folding up collapsible green screens is quite easy, even though it might seem a bit complicated to start with. Here is an easy step-by-step explanation:
1. Pick up either short end of the screen and rest it against your hips, while the other short end stays on the ground.
2. Now, you need to grip the long sides with both hands and basically fold the screen up like a taco, by bringing your hands up in front of you and folding. 3. Bring your left hand over your right hand, and then the right over the left, so the edges of the screen overlap.
4. Push the edges down towards the ground, and the green screen will just collapse flat on itself.
---
Join our Discord Group. Ask questions, team up with fellow streamers, share memes, and more!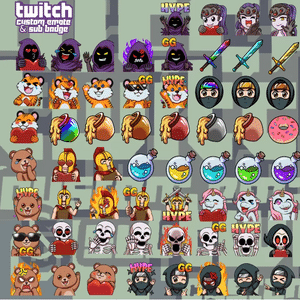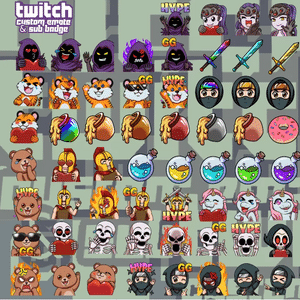 Claim for FREE:
FREE Emote PACKS
A book on growing your audience