So, I hear that you've been thinking about recording gameplay from your Wii U lately.
Recording footage from a game console can be very fun, and a great type of content to stream, but to do that, you will need a game capture card.
If you scroll down, here's what you'll find waiting for you:
Let's dive right into it!
Post 6 of 14 in the Capture Cards
Best Capture Card for Wii U
Reviews
---
The reason why you will going to need a capture card in order to be able to stream your console video game footage is that a capture card is there to capture and record video signals from the console, and then make it possible for you to get into video editing on your desktop computer or laptop.
Basically, its job is to make sure that your viewers have some high-quality streaming on their computer screen, while you enjoy the gameplay on your Wii U.
QUICK OVERVIEW: Best Capture Card for Wii U
<!—INSERT CODE BLOCKS BELOW—>

It has 4 PCIe slots
Internal capture card

HDMI ports as input and output
The interface is a USB 3.0 cable

USB 3.0 connector
HDMI input and output
1. Elgato 4K60 Pro MK.2
---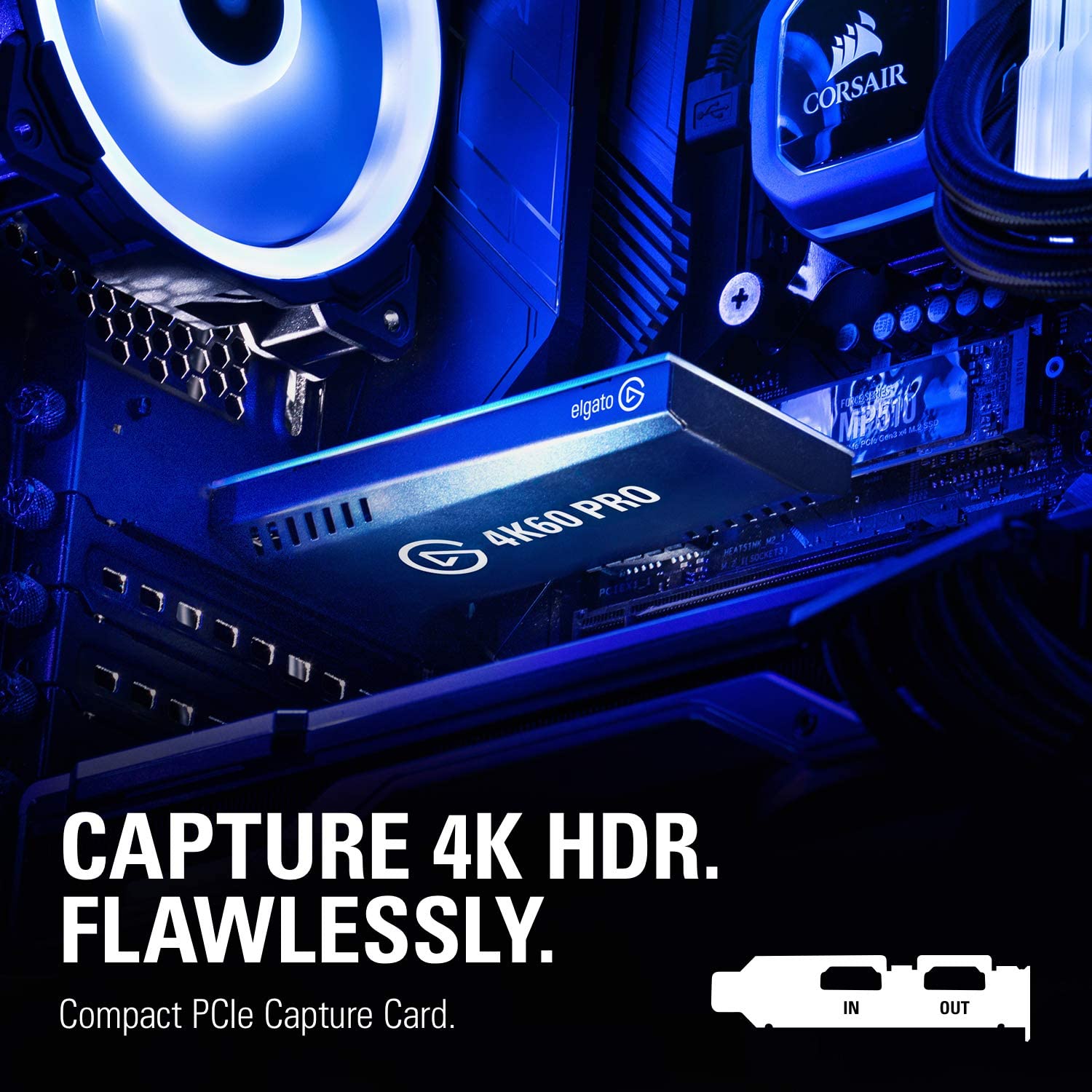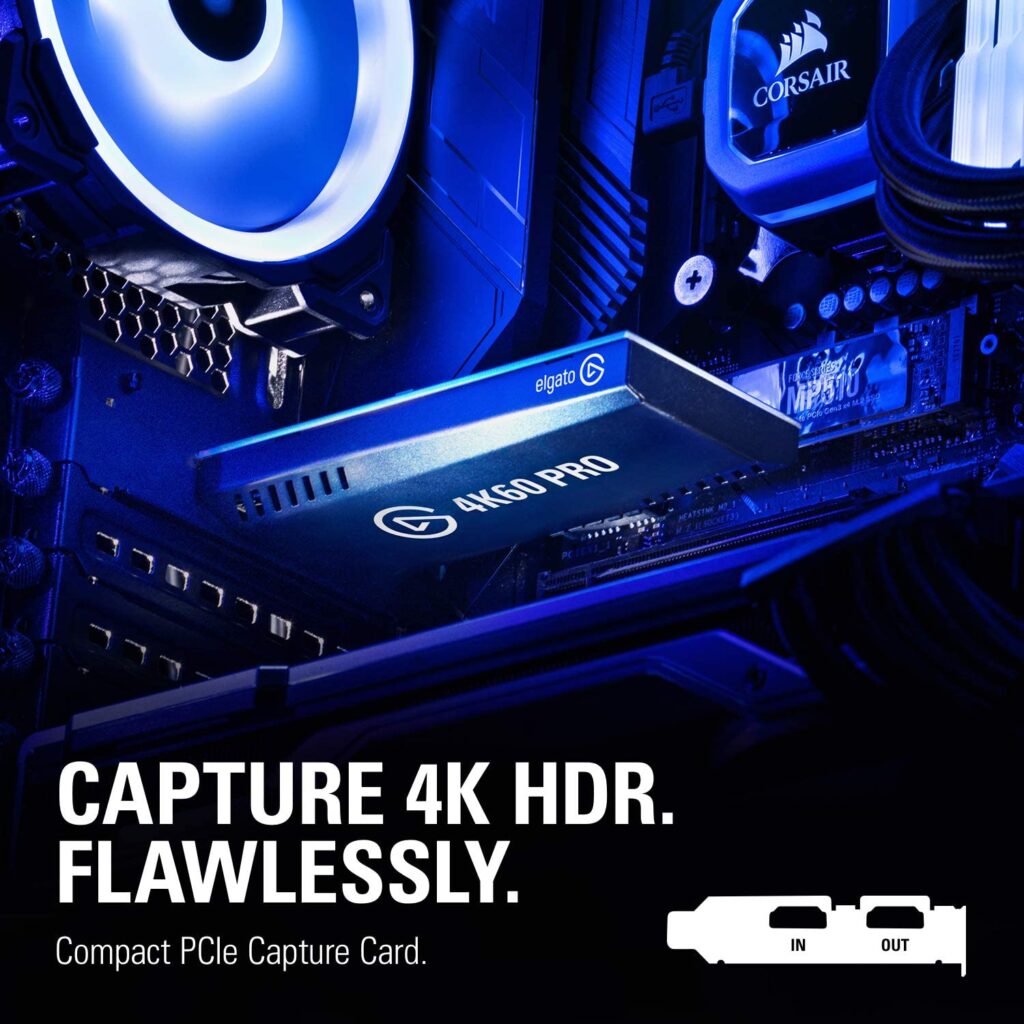 ---
Elgato game capture HD cards are very well known all over the industry, as Elgato itself is considered one of the leading streaming gear manufacturers.
This is an internal capture card capable of a lot of things, but it also comes at a price, so let's see what it's all about.
Description
When it comes to technicalities like input and output methods, both are in form of an HDMI cable with this Elgato game capture card.
The HDMI is unencrypted, and with a lag-free pass-through.
An amazing feature this comes with is 2160p60fps resolution, which is where everyone wishes to have their content be.
When it comes to the interface, this one has 4 PCIe slots, so it really is pro-grade.
The maximum bitrate it supports is 140 Mbps, and besides the Wii U, the Elgato capture card works great with PS5/PS4, as well as Xbox One/Series X/S.
If you wish to add this to your new PC, just be sure to add it after you've already installed your Windows, as it can cause some confusion in the system.
Of course, it comes with its own software that you need to install before you can fully use it for your video inputs.
One downside and problem that sometimes occurs with this Elgato capture card, is with the game audio.
Sometimes, it doesn't record audio well enough, as it tries to mix all the analog audio input together – you, the game, and the chat.
So you might say that the audio mixing capabilities aren't the greatest.
2. Mirabox 4K
---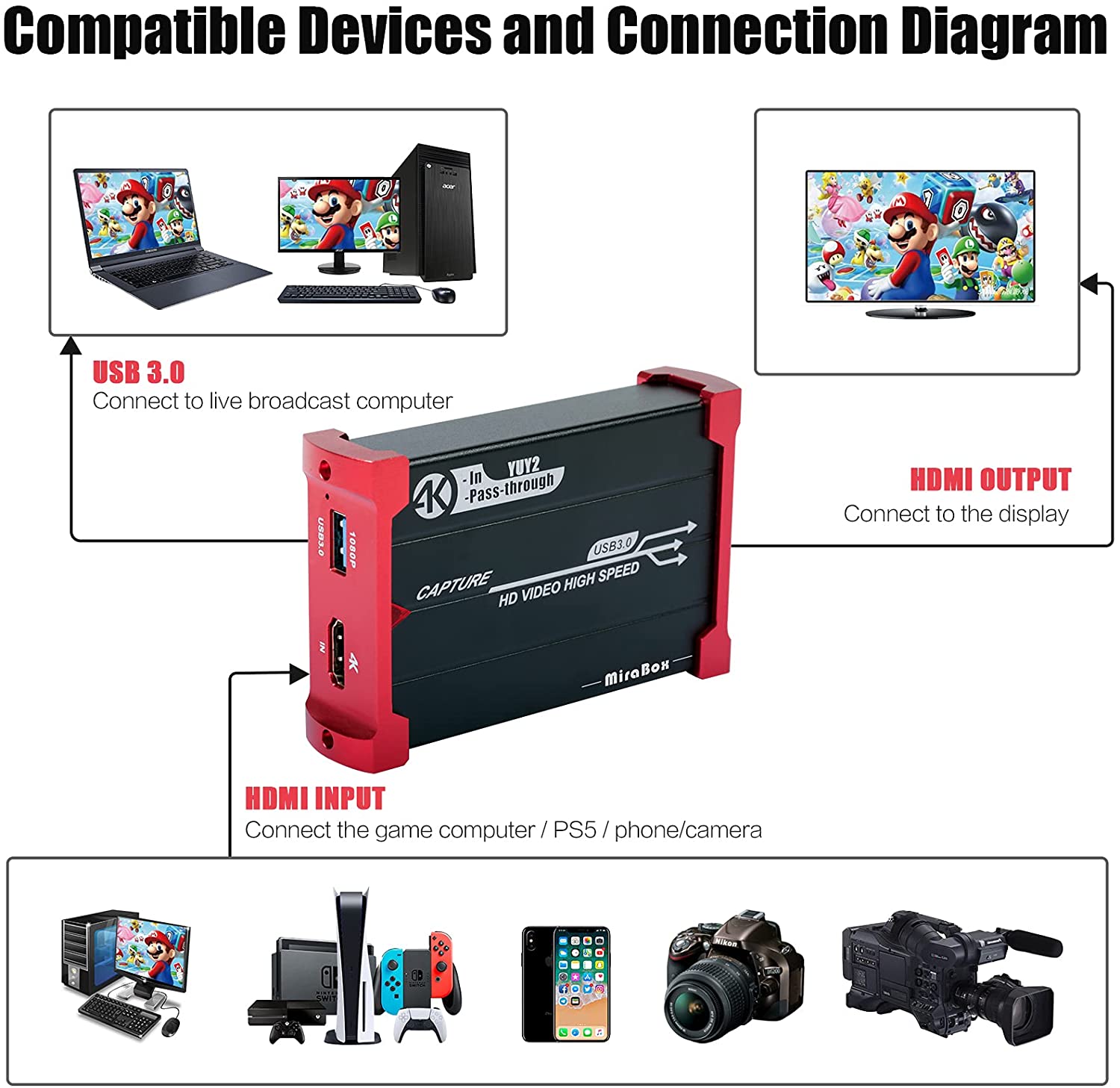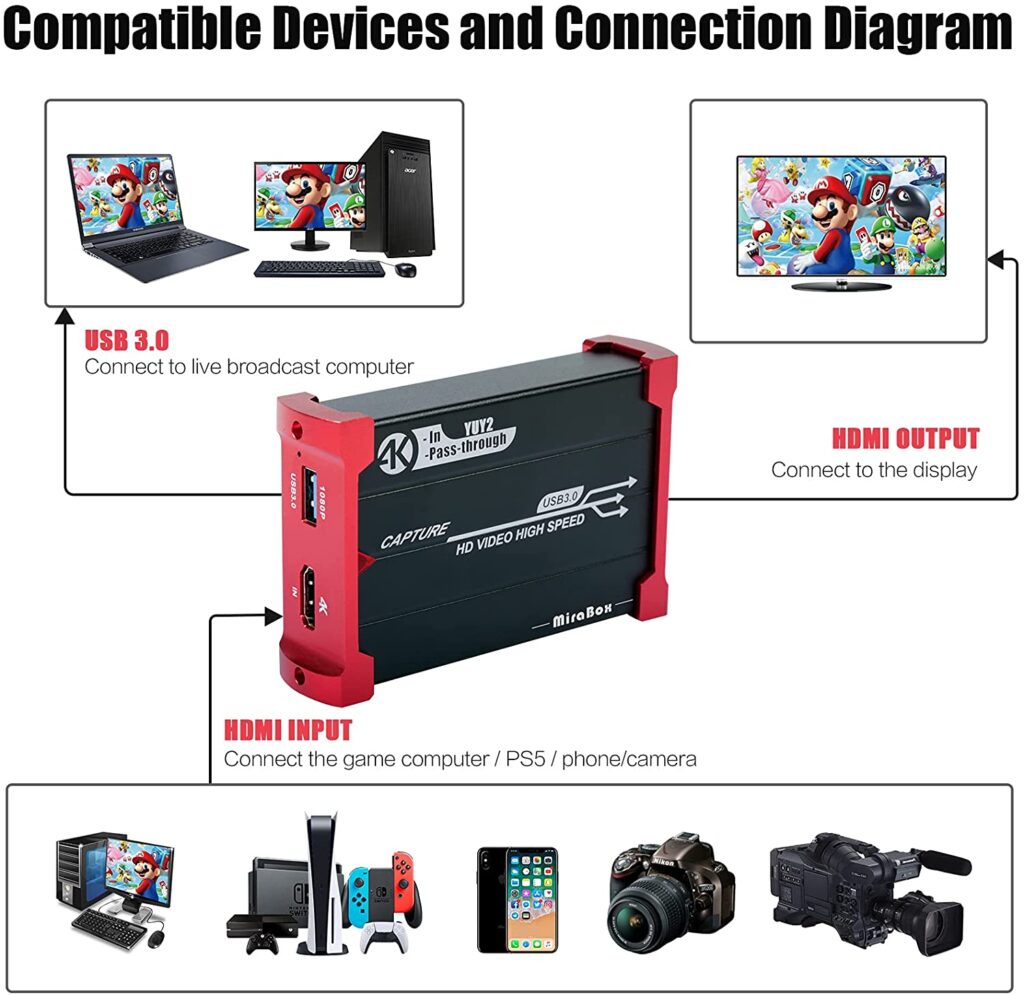 ---
This is a more inexpensive capture card that seems to be popular currently, so let's see whether that low price comes with some downsides, or is it an overall great capture card despite the low price-point.
Description
This is another one of the internal capture cards that I have on this list, and if you're looking for your first internal capture card, then considering it might not be a bad idea, as it won't really break the bank, and the features it has are not that bad either.
When it comes to the resolution, this one supports video quality at 1080p, and it can't capture 4K footage.
However, what it can do is have the content be at the frame rate of 60fps, which is always nice to see.
It's an HDMI device, so it can be connected to any console that supports that type of input and output.
The interface is a USB 3.0 cable, that has a very high transmission speed, so the delays on the stream will be minimal with this capture card.
One interesting thing about this capture card is that it has plug-and-play functionality, so it doesn't have additional recording software that you'll need to install, making it very easy for beginners.
3. MYPiN USB 3.0 HDMI
---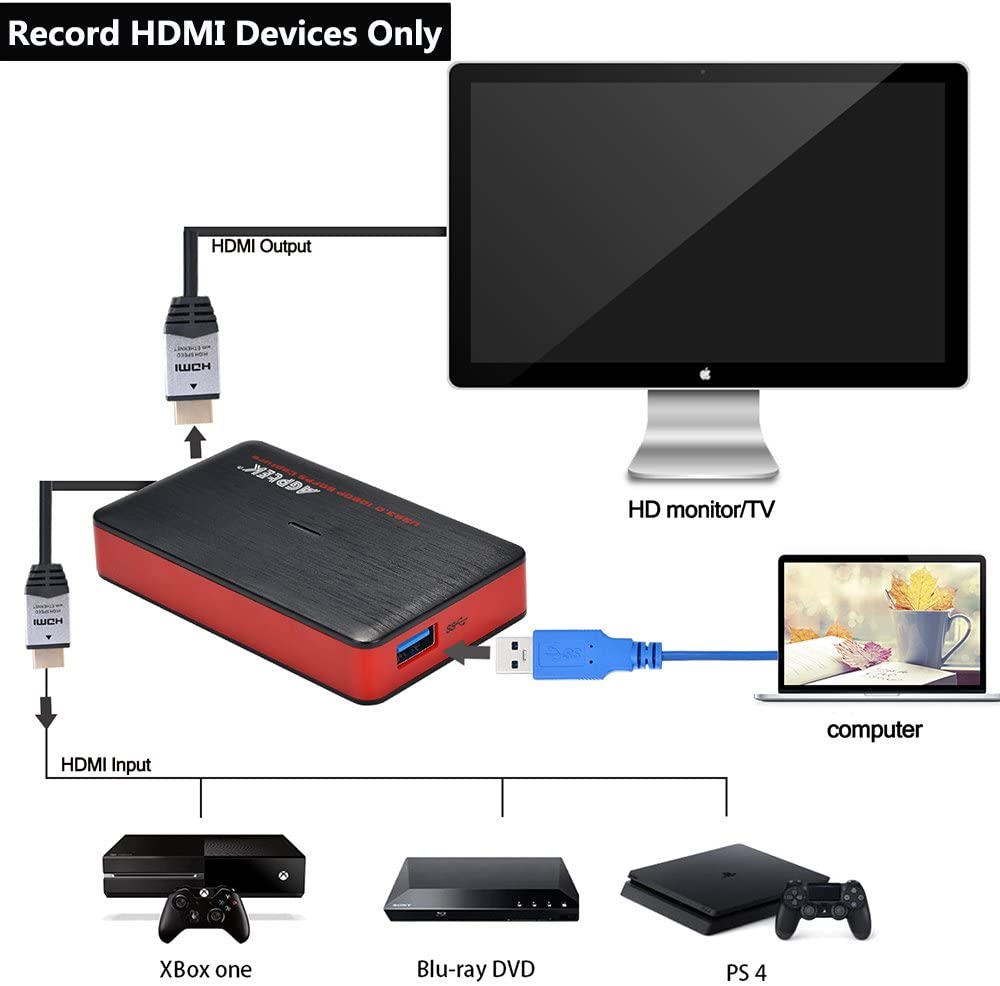 ---
Another fairly good device among the inexpensive internal capture cards, this capture card also might be a great one to opt for if budget is an issue, or if you're just a beginner.
Description
This game capture card comes with a USB 3.0 interface, and HDMI input and output, which makes it widely compatible with many different consoles, as well as Wii U.
Like most other capture devices that are more affordable, this one will give you 1080p resolution, however, it has great recording capabilities that provide you with a frame rate of 6ofps.
With it, you also get a CD with their software, which is similar to VLC and OBS.
But, you might not have a CD drive, so this might not be overly exciting, I know I haven't had one for quite some time now.
This capture card can also be used during meetings and conferences to easily share your screen with others involved in that.
Like the previous inexpensive capture card, this one is a plug-and-play type of device, so again, a great choice for beginners.
4. AVerMedia Live Gamer HD 2
---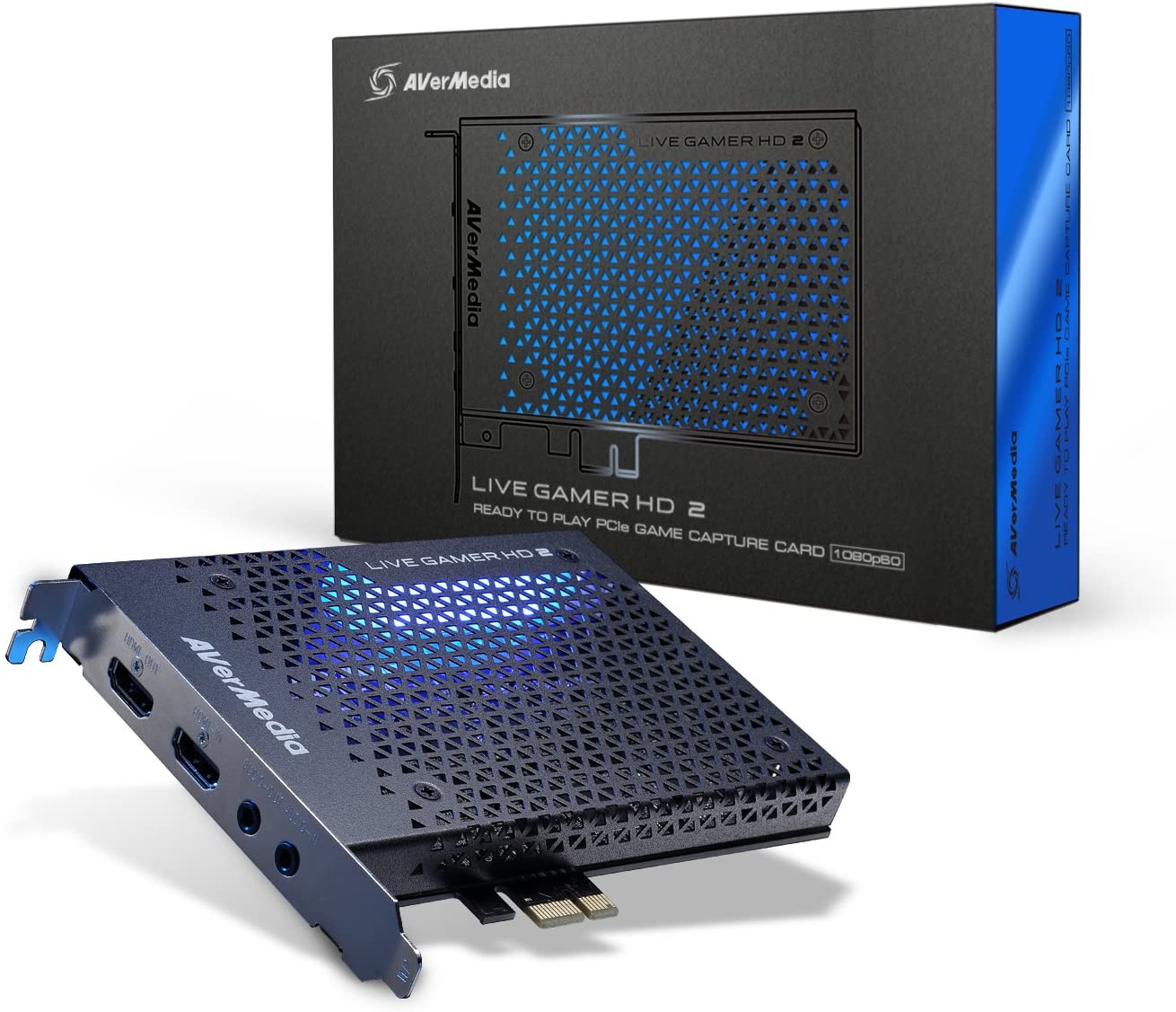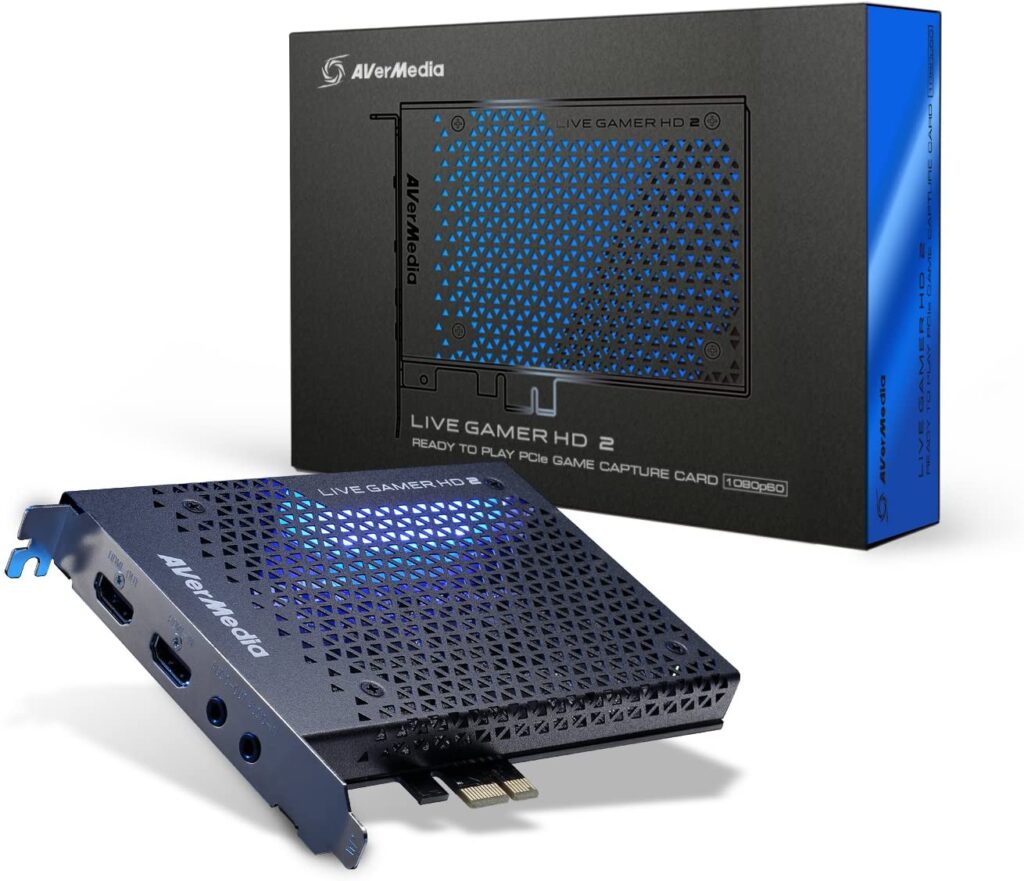 ---
The AVerMedia live gamer capture card is a capture card that has its price in the middle range, and that is my favorite kind of pricing because you usually get the best of both worlds.
Let's see if that's true here as well!
Description
This capture card is compatible with many different consoles, but it also works with PC.
The gameplay will come on your stream in Full Hd, and the resolution of the content from this game capture card is at 1060p and 60fps, which is more or less a standard.
When you connect it to Windows – not including Win7 – this is a plug-and-play type of device, so you're sure that you'll easily set everything up.
The gameplay will be delivered with a low latency HDMI passthrough.
Also, it supports uncompressed video output and gives you superior picture quality, as well as compressed video output that has low bandwidth demand.
The interface is more high-quality, as it is a PCIe Gen 2, so you will have a free PCIe slot on it.
One specific advantage that this capture card has is the multi-card support feature.
What To Look For When Buying A Capture Card For Wii U
Resolution And Frame Rate
Of course, the main quality you need to look out for is the image quality that the dedicated capture card is able to provide you with.
Nowadays, it's basically become a standard to have Full HD and 1080p, so you should mainly aim to get at least that.
Of course, many higher-end capture cards can get you 4K footage, and image quality at Ultra HD, however, but a Full HD capture card is what you should look for primarily, and don't worry if you can't invest in a 4K one just yet.
Speaking of frame rates, having 30fps is usually a very good thing to have, and not everyone needs to have 60fps.
This depends on your preferences and what kind of Wii games you like playing, so the rule of thumb would be to not stress too much about getting 60fps, but if it happens to be in your budget, and budget generally isn't a problem for you, then definitely look into it.
Software
Most capture cards come with their own software that you'll probably need to work with, so you will want to make sure that it's a user-friendly streaming software that you'll know how to work with.
This differs from manufacturer to manufacturer, so depending on that, the built-in software will be different, however, most of the ones I listed above have pretty well-made software.
What this type of capture software usually provides you with is the ability to add different commentary to your content, streaming overlays, or your webcam.
Input Type
In order for your game capture card to even work, you have to make sure that the input of the device you're gonna be using is compatible with the capture card.
Speaking specifically of the Wii U, HDMI cable is where it's at, so make sure that the capture card you get has HDMI ports.
Interface
The interface how your capture card connects to your streaming computer.
Overall, the easiest and most widely used way to do this is via a USB cable, which I would assume you know how to set up.
However, if you want to be a bit more professional about everything, and wish for your streams to be with absolutely no delay, then you can also consider PCIe as your preferred interface.
Namely, this will require more overall knowledge from you and when you use PCIe it is expected that you have some more experience, but if this sounds like you, then going for this type of interface can work out great.
FAQ
---
Do capture cards work with Wii U?
Game capture cards work with all different kinds of consoles if the input and output methods match both of them.
If the game capture card has HDMI input and output, it will work with the Wii U. If you come across game capture cards that have something different for the audio and video output, then they won't work with Wii U.
This goes for all other consoles, too, so if you want to stream something from a console, keep that in mind.
Is Elgato the only good capture card?
There are a few different Elgato game capture cards. Like Elgato game capture HD60, and Elgato 4K60 Pro MK.2, which are all amazing capture cards.
Elgato is a leading publisher when it comes to streaming equipment, so it is great, but Elgato game capture HD cards aren't the only ones worth your time.
And if you don't have the budget to invest in an Elgato game capture card, don't worry, there are capture cards on the market that can work very well with your Wii U.
One that I would specifically state here as possibly the best capture card for Wii U is the AVerMedia Live Gamer HD 2 capture card, as it has some pro qualities, but isn't too expensive.
Can Elgato capture Wii?
Yes, the Elgato game capture card can work with Wii. Any capture card that has HDMI input and output integrated into it, can work with your Wii U.
Most game capture cards, as well as consoles, have HDMI, so most of them are widely compatible with each other.
If you can afford yourself an Elgato game capture card, I would say definitely go for it and don't worry about the Wii U compatibility, as it works great.
What is the best type of capture card?
This depends on what type of content you're streaming, and on what device are you playing the games that you plan on streaming.
Overall, capture cards from Elgato are always a great choice if you can afford them. Something like the Elgato game capture card HD60, and since that one is always sold out, you can also look into Elgato 4K60 Pro MK.2.
If that's too expensive for you, then a more affordable model like AVerMedia Live Gamer HD 2 video capture card can be a great choice.
Of course, there are some very inexpensive models that do their job well, however, the previous ones are truly one of the best.
---
Join our Discord Group. Ask questions, team up with fellow streamers, share memes, and more!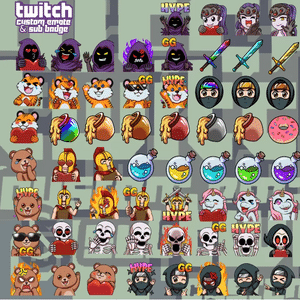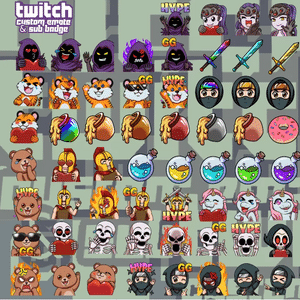 Claim for FREE:
FREE Emote PACKS
A book on growing your audience