These products are invaluable for recording and streaming on-screen content at any time. Their popularity is expected to keep on growing!
While choosing the right card might cause a headache for many, this list has you covered with the best ones on the market!
Post 13 of 14 in the Capture Cards
Best Capture Card for Streaming
Reviews
Backed up by the research of independent market experts, this fine selection is aimed to provide exceptional value for every occasion and for every budget!
QUICK OVERVIEW: Best Capture Cards
<!—INSERT CODE BLOCKS BELOW—>

Flashback recording
Multi-device support

140Mbps max bitrate
Supported resolutions up to 2160p60

AVerMedia Live Gamer Plus
1. Elgato HD60 S+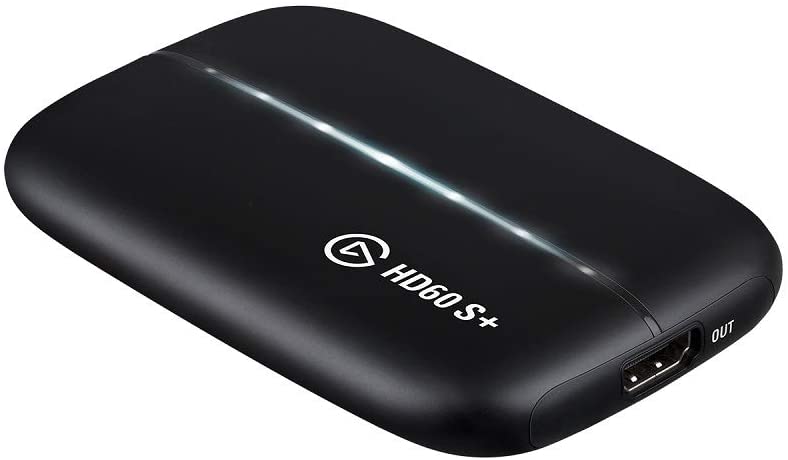 As a premium and highly sought-after streaming card, the Elgato HD60 S+ is last year's start model of dedicated capture cards for streaming that delivers professional-class performance.
With over 15,000 ratings and an Amazon's Choice label, you can immediately see this is way beyond the class of good capture cards- it's among one of the best the market has to offer!
Who is it Best for?
Simplicity, efficiency, and overall high-performance are the defining features of this product, making it more than ideal for gamers who need top-notch performance with no strings attached.
The HD60 S+ is incredibly adaptable, working at 108-p default resolution at 60fps on any platform. With the added compatibility with OBS, Xsplit, OBS Studio, and other less known tools, there is little this streaming capture card can't do!
Key features
The next-gen technology puts this product as one of the best capture cards for streaming, as it packs a max bitrate of 60Mbps and a USB 3.0 interface that allows for massive performance up to 4k60 HDR 10 passthrough.
As far as devices that work best with this video capture card for streaming, Xbox Series X/S, PS5, and PS4/Pro are exceptionally compatible and offer the highest video quality with ultra-low latency.
---
2. Elgato 4K 60 Pro MK.2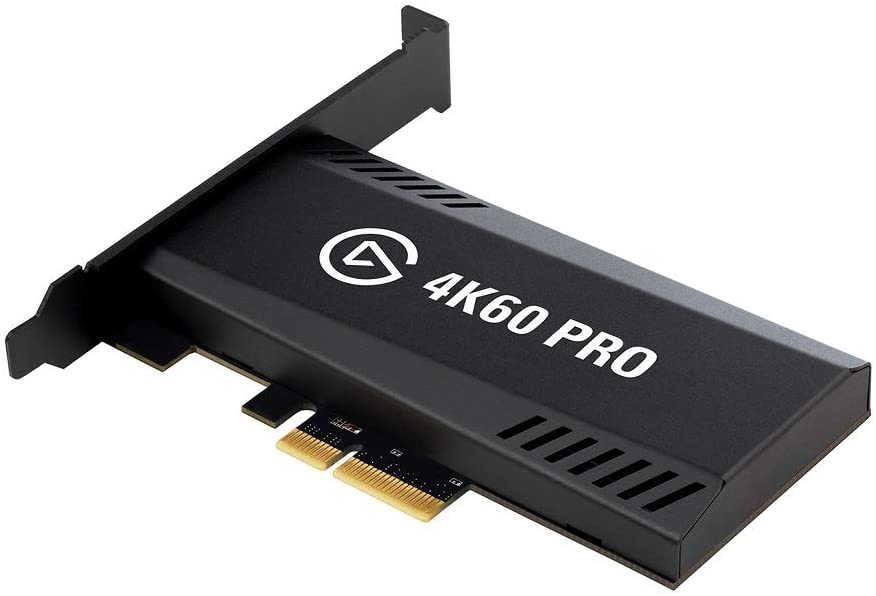 Anyone who has been in the streaming business long enough has most likely heard the name "Elgato" at some point. This is the most tried and tested capture card for streaming that has seen widespread use since 2019.
If getting the best video capture card is your goal, this is a strong contender that can make any customer satisfied with sheer quality alone.
Who is it Best for?
The Elgato is custom-tailored to fit the needs of professionals who can spare no expense when the quality of their equipment is in question. Especially when it comes to the CPU for streaming.
The sheer power this small capture card brings is enough to warrant the attention of famous gamers, and it is more than enough for the average user.
Elgato is world-famous for its work towards developing the very best for the capture card industry. This product is a testament to their technical genius.
Key features
1080P60 capture, 20160P60 capture, and 1080P240/1440P144 passthrough define this card, which easily gives it the title of the best capture card for streaming. It suits both newbies and professionals alike.
Its dedicated software and components capture crystal clear 4K resolution at 60fps with HDR10 imaging. 1080p at 120 HZ, 1440p at 1440 Hz, or even 1080p at 240 Hz- the power rests in your hand.
---
3. AVerMedia Live Gamer Portable 2 Plus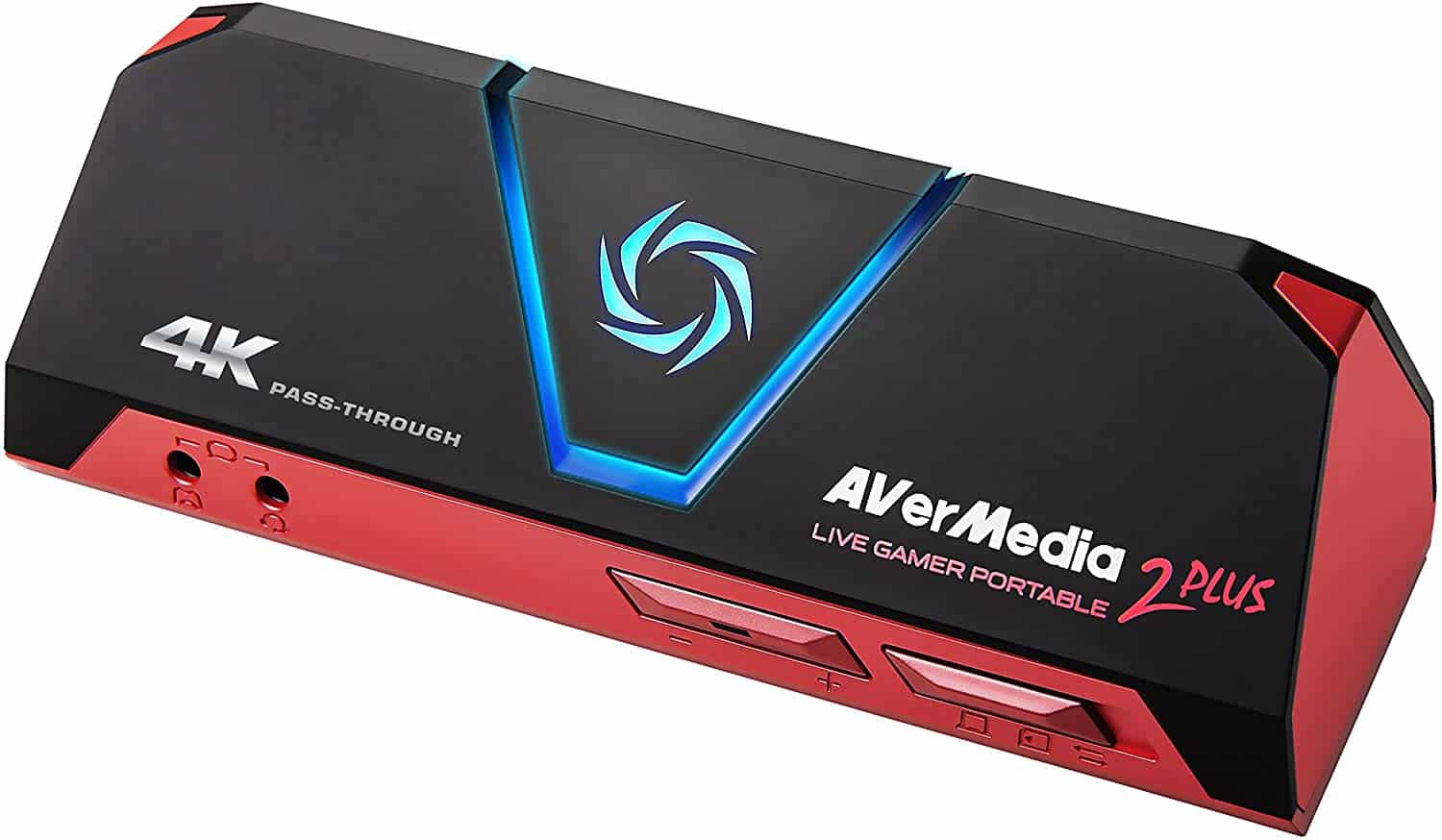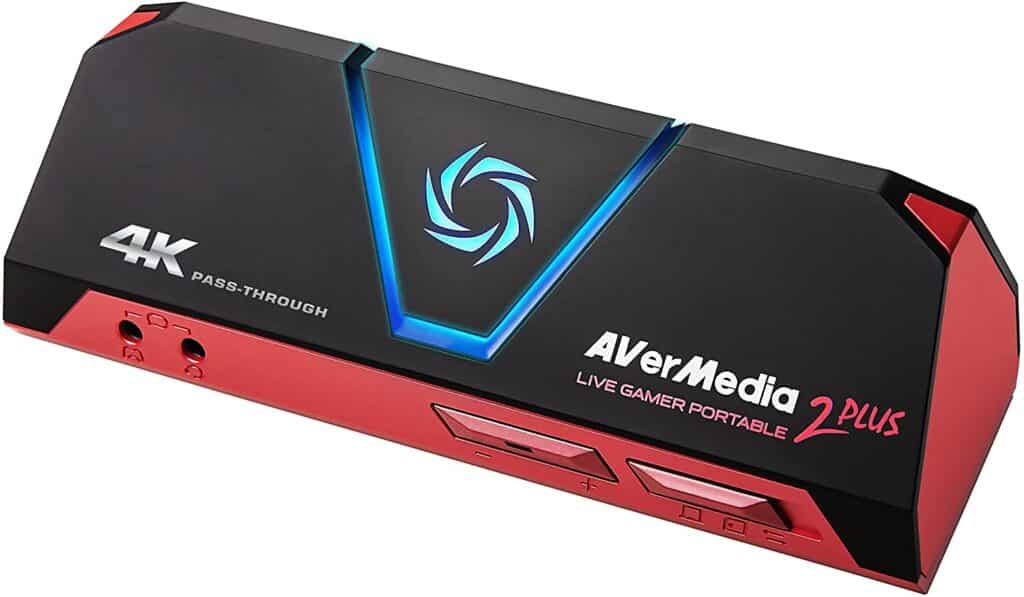 Avermedia has earned its reputation by introducing compact and affordable products that can compete with the international market with sheer power and quality alone.
While being an uncontested contender in essential streaming capture card qualities, you get additional features that might pleasantly surprise you.
Who is it Best for?
This is a must-buy for those who want the whole experience of PC-Free Capture and Voice Commentary in their hands.
This is the best capture card for streaming for more advanced users who want to enrich their production with commentary while still not breaking the bank.
Key features
AVerMedia Live Gamer Portable 2 Plus allows for 3rd Party Support, working alongside Xsplit, Streamlabs, and OBS that seamlessly works with LGP2 Plus, which functions right out of the box.
The latest UVC technology means that all you will ever need is just your PC or Mac. It also includes a PC, PC-free, and Card reader mode.
The Console Party Chat mode allows you to capture all-party chats within mere seconds. At the same time, the Headset Commentary feature makes adding commentary t your streams quick and easy.
The device's portability requires 1 set of Lithium-ion batteries, which is a small price to pay for such a small and powerful capture card such as this.
---
4. AVerMedia Live Gamer ULTRA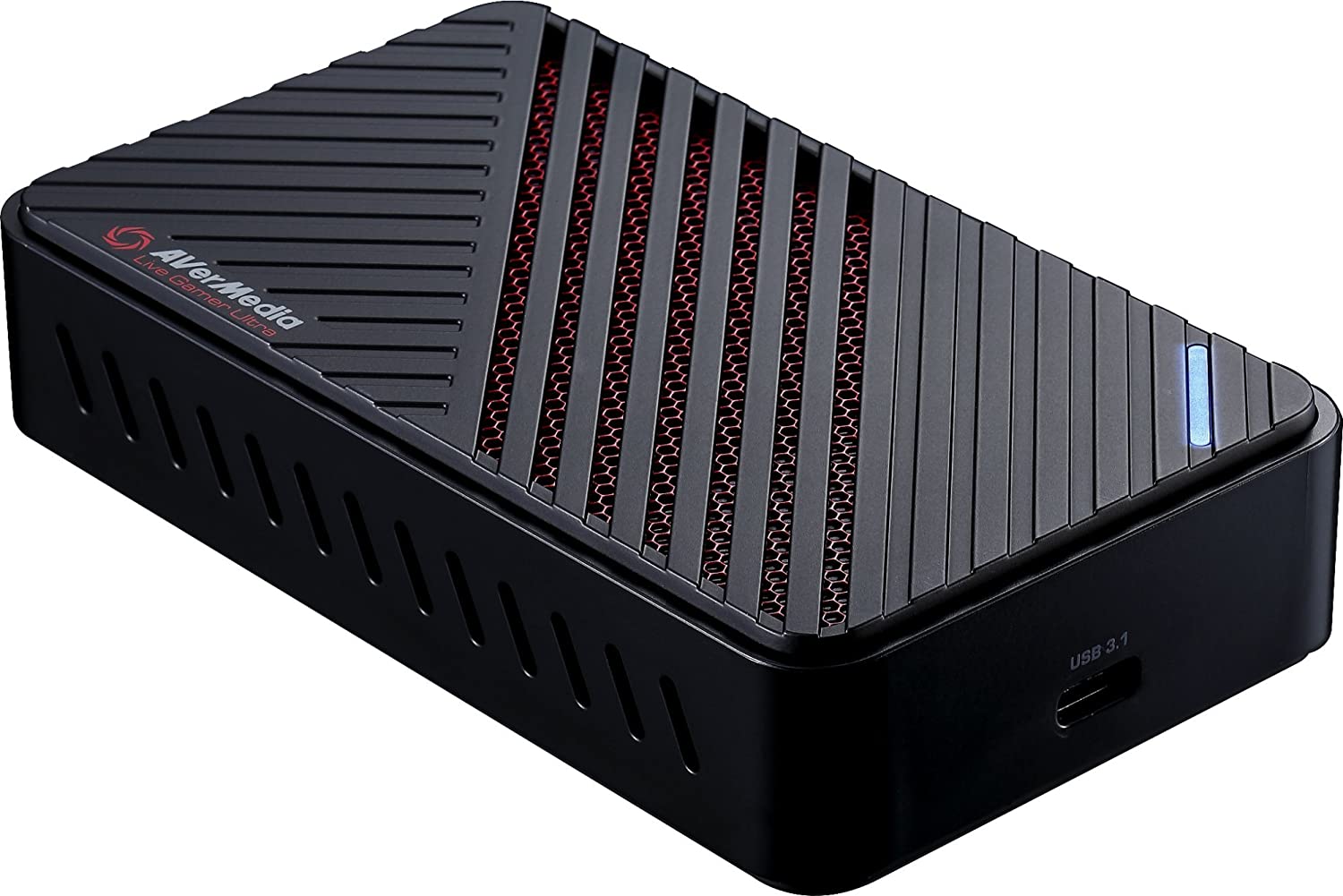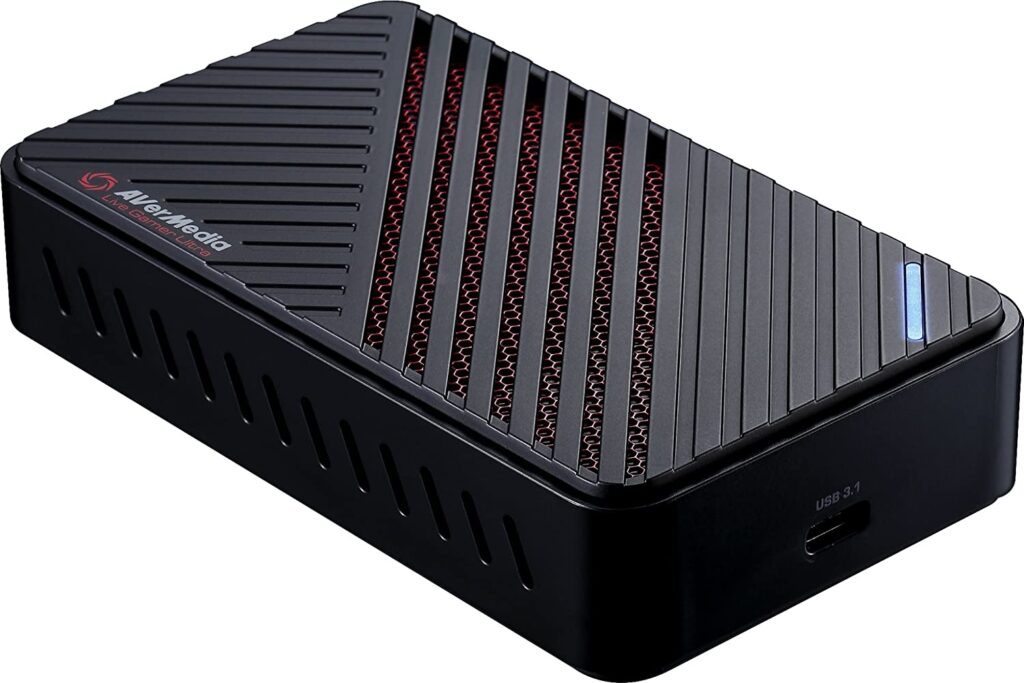 Yet another streaming capture card from the famous company in Taiwan, the AverMedia ULTRA is richly designed with a passion for perfection throughout its design.
Sporting a very portable design and fantastic durability, this is the best video capture card in terms of overall compatibility, reliability, and high-end specs.
Who is it Best for?
Competitive streamers who want the very best pieces of tech for their setup will find this particular streaming card a true delight, especially when considering how easy it is to set it up and use it almost anywhere.
It sports software for 4k video editing and is compatible with the latest editing tools while remaining fully compatible with both Windows and macOS systems in equal measure.
Key features
Right out of the box, you can plug in your capture card and start streaming within moments! The passthrough resolution is highest at 4K resolution if you have an NVIDIA graphics card. With an Intel chipset, the performance is absolutely flawless and practically latency-free!
The driver-free and LGU features work flawlessly to ensure that the device is not a burden on any machine and works with almost any additional software to give you the results you want.
Alongside compatibility with console and PC gaming, the unprecedented value of this video capture card for streaming is further enhanced by the driver-free attribute, which makes installing any additional software unnecessary, just plug and play!
---
5. Razer Ripsaw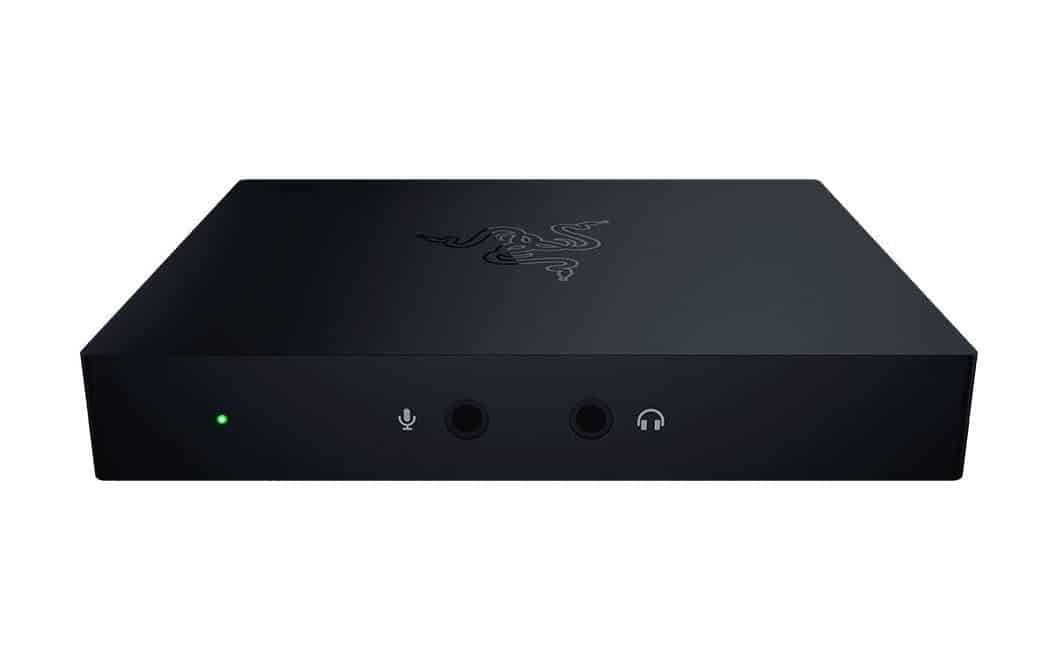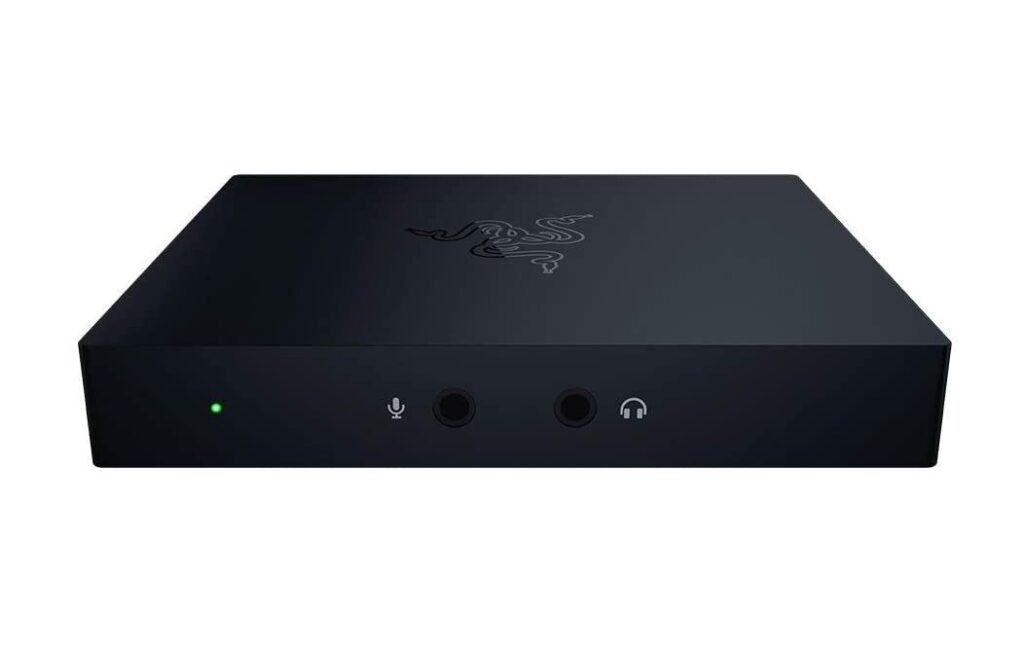 As perhaps one of the most well-known manufacturers of computer equipment worldwide, Razer's products offer above-average quality at their worst and near-flawless levels at their best- you know who you are doing business with.
The Ripsaw HD Game Streaming Capture Card is the best budget capture card in terms of value for the price, and below, you will see precisely why you can't go wrong with this one!
Who is it Best for?
Modern console and pc gamers will adore this streaming card due to its flexibility of use and mixing capabilities.
It comes with the latest technologies that allow for 4K passthrough and Full HD 1080p with any console or pc while also giving you latency-free use.
People who don't want to deal with any setups other than plugging in the cable will find this capture card ideal- it works the moment you plug it in!
Key features
Audio mixing of the highest quality and the best possible resolution combine to create one of Razer's premier video capture cards for streaming which is fully broadcaster certified for the highest possible performance.
It stands at the highest level of standards in terms of overall passthrough video quality and recording resolution (1080p60fps), which is offered at an affordable price in terms of value.
Connectivity is fantastic with two HDMI 2. ports, input and mic/headphone jack passthrough, USB-C power, making the Ripsaw an ideal companion for every modern streamer's kit.
---
6. Mirabox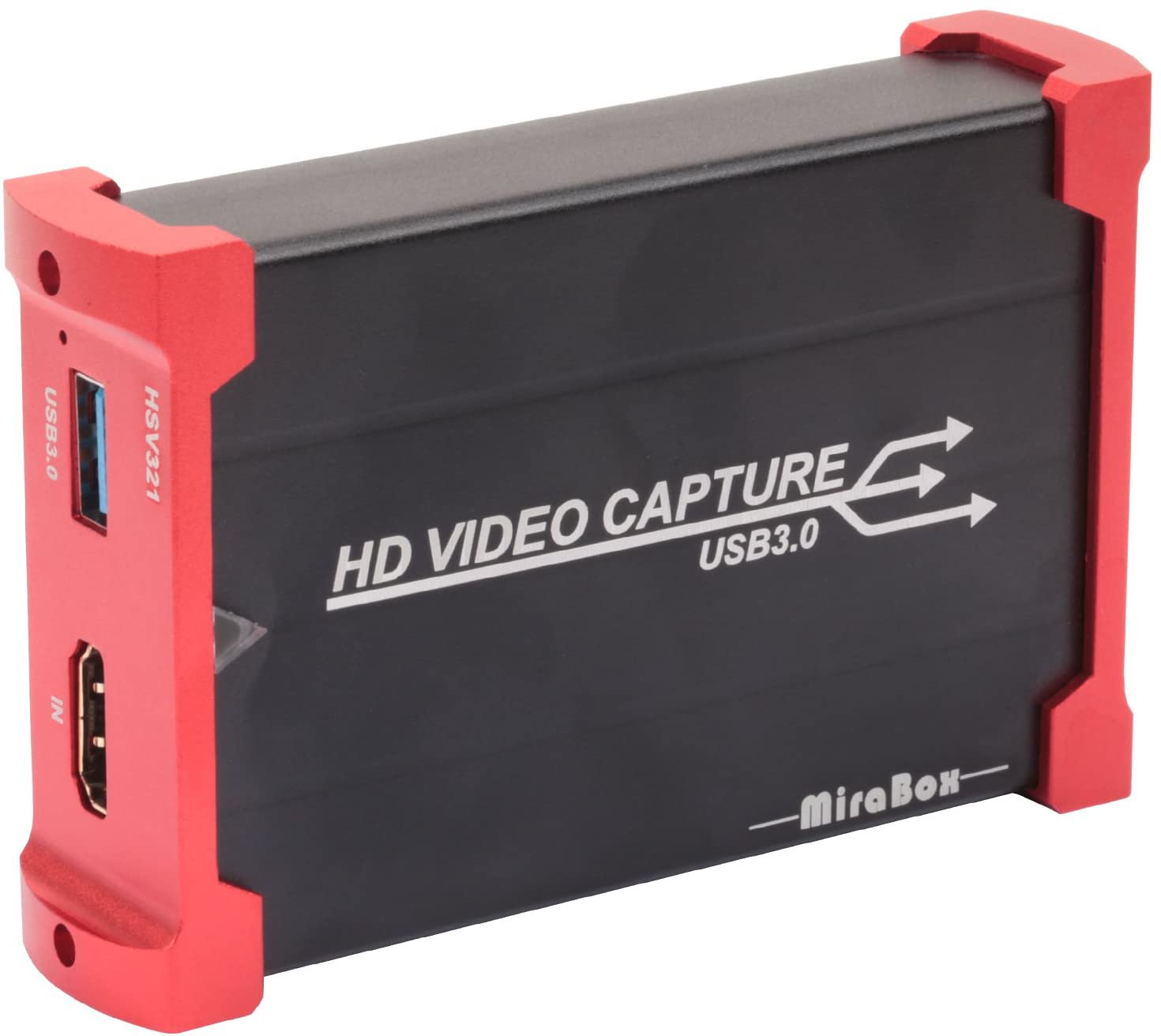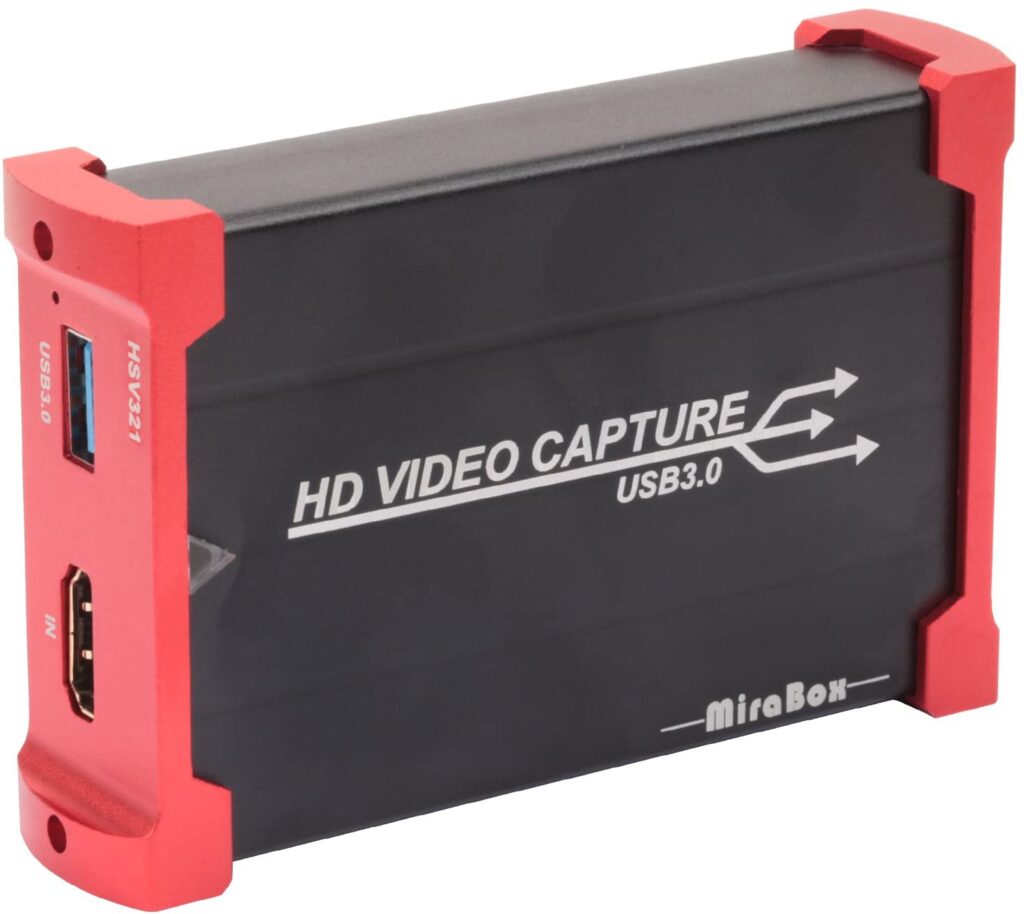 Well-known for its reliable and affordable products, MiraBox offers new streamers, perhaps the best budget capture card for streaming.
This product is portable, easy to handle, and very potent-performance-wise. If you want a sound all-rounder capture card for streaming, this one will do the trick!
Who is it Best for?
Specially designed to meet the demands of console streamers, you will be amazed by how much this little device brings to the table!
Now, keep in mind that this is product falls within the line of good capture cards, but it still has some limitations when compared to the most expensive alternatives, yet don't let that stop you- it offers extraordinary value for a minuscule price tag!
It works well on so many devices with no performance drop, making it a must-have for streamers who play on portable machines, consoles, and computers but aren't entirely sure if they want to invest too much money on video capture cards for streaming.
Key features
This capture card is a real treat not only in terms of portability but the level of quality standards it brings in such a small package.
It offers instant activation with a mere plug into your device: no drivers, no additional hassle, no problems.
The data transmission is ultra-fast and offers the highest possible transmission quality while remaining fully compatible with popular streaming services and video modification software.
With full 1080P and 60FPS, you are fully equipped to take on the world of streaming and show your value within mere moments!
---
7. ZumYu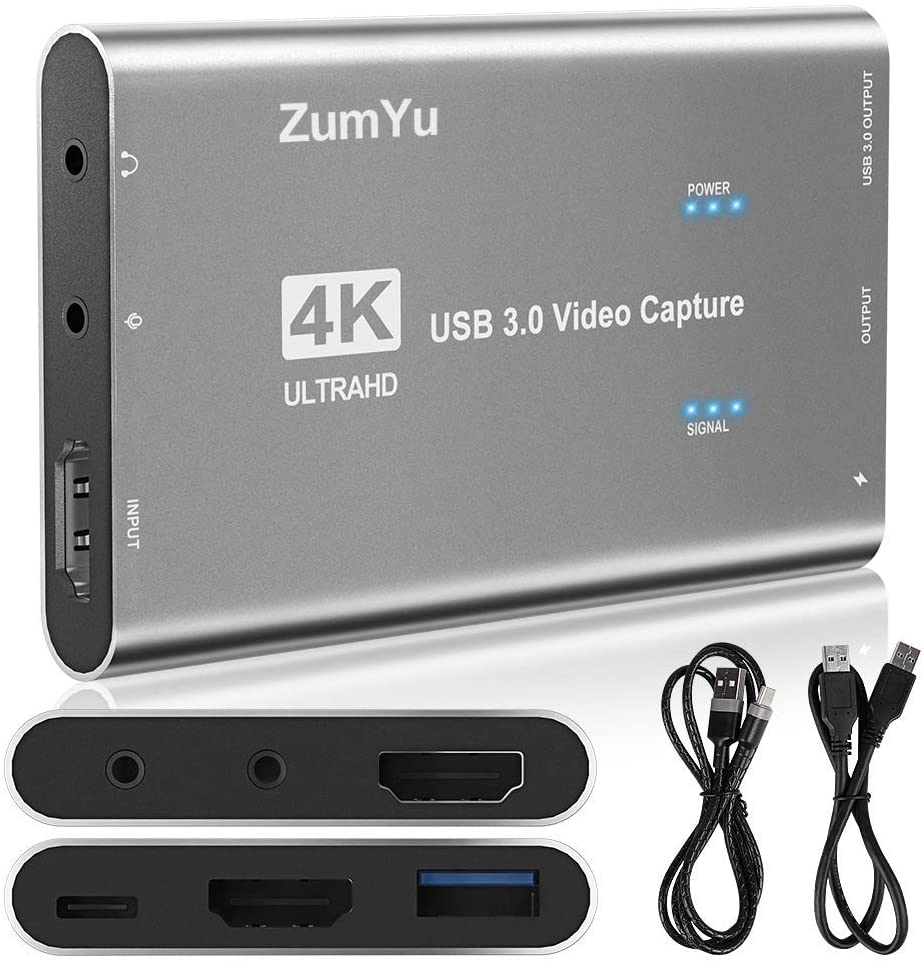 Stylish, classy, and affordable- these are the traits that define this capture card. At first glance, the design is very basic, but perception alludes to the true potential of this device- the potential to be a genuinely great capture card for streaming for users who have moderate needs.
Who is it Best for?
For anyone who wants to get a solid foundational experience of a satisfying streaming card without having to break the bank, this device will satisfy most needs.
It is widely used for various purposes, from recording conferences, classes, webcasting shows, and much more. As it allows for the gold standard that defines all good capture cards, it is hard not to get satisfied with the value you are getting for such a small price.
For a tight budget, you can get yourself a product of solid quality that is sure to give you a great experience before making a decision to move on to higher-end products.
Key features
What's noteworthy about this device is that it supports UAC and UVC protocol, UVC video capture, and YUV422 video output. The RGB color range is 0~255, and the picture quality truly is pristine.
It automatically detects the input video format and adjusts the output size and frame rate accordingly. This capture card can capture a single HD HDMI video signal and has multiple acquisition sticks that can be used on one PC.
Being compatible with pretty much all the popular Windows OS systems, alongside the fact that it can be used as both a universal console/pc capture card for streaming or work, gives it a solid grade as the best budget capture card for users who are unsure if they want to invest in more expensive options.
---
8. PACOXI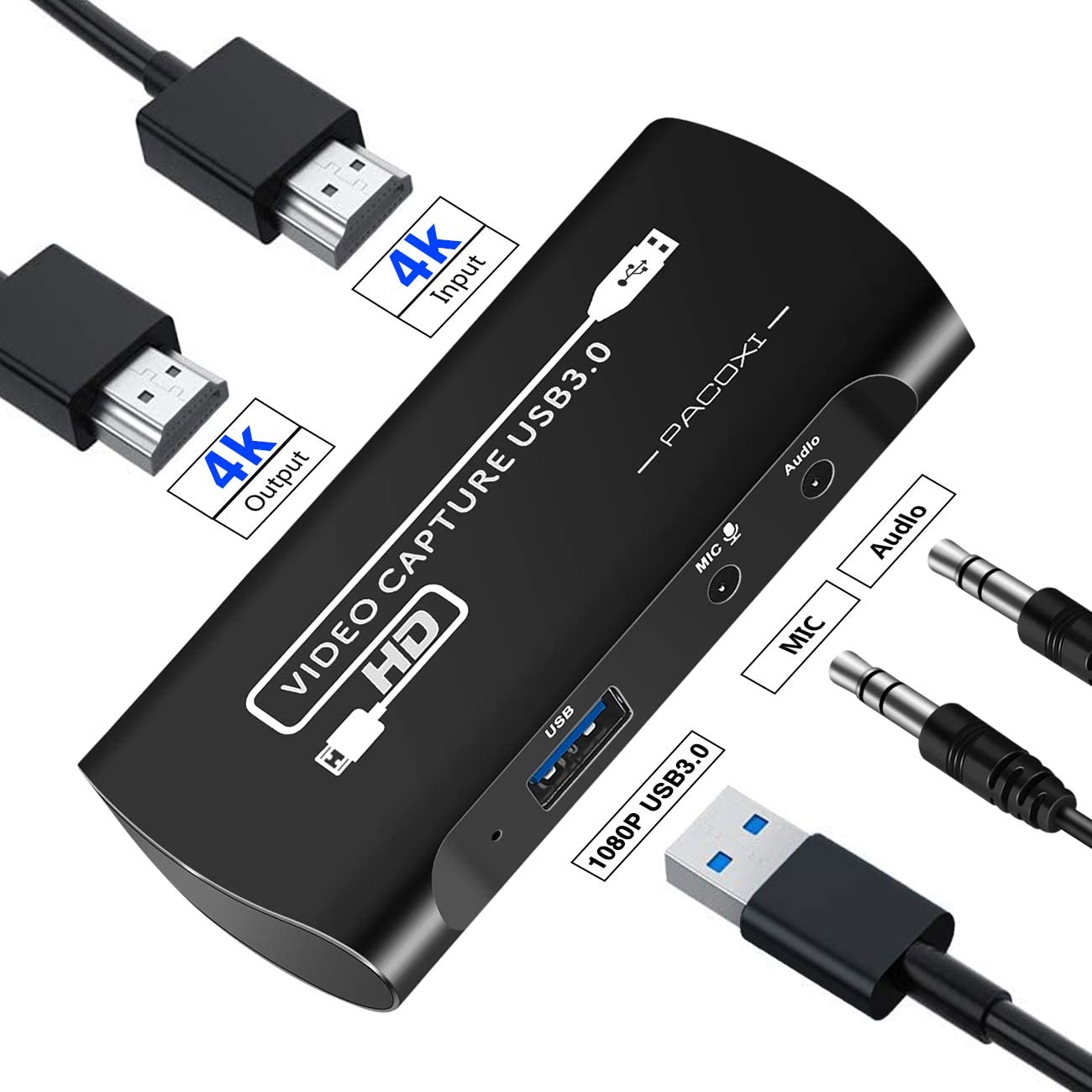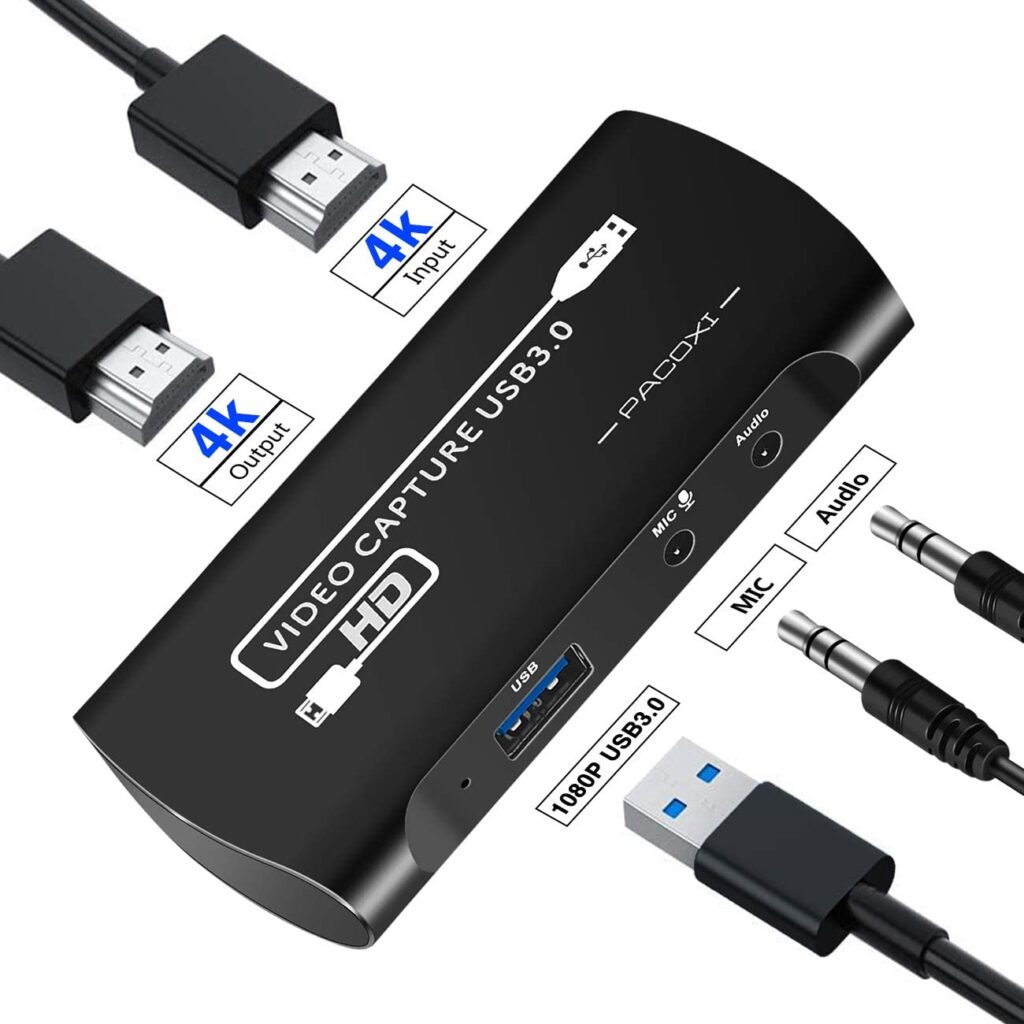 Introducing one of the most compact, affordable, and beginner-friendly cards on the market, this little device is perfect as a portable streaming companion for any occasion and any place!
Who is it Best for?
When the customer is faced with numerous options where almost all of them are similar with only a few differences in between, it can be quite hard to make the right decision, especially if they are unfamiliar with the products well enough.
For this reason, the PACOXI is the best capture card for those who don't want to make any rash decisions when investing their money and still get a worthwhile product to stream content!
As this particular capture card offers unparalleled flexibility and compatibility with most HDMI devices, you can rest assured that it is pretty much universal in terms of compatibility.
Combined with the low price tag, this makes for a great long-term purchase for most basic users who don't need anything fancy- just a capture card that does the job!
Key features
This capture card works excellently with software such as OBS Studio, Twitch, VLC, Skype, Youtube Live, Facebook Live, Adobe Flash Media Live Encoder, and much more, as you are guaranteed to get your money's worth within a brief time span!
The industry-standard 3.5 mm Audio and Microphone port are well-designed and allow you to instantly record and stream your voice into your game streams.
This bad boy has even more tricks up its sleeve, as it can work even with security cameras and DLSR's- all without the need for additional drivers.
---
Things to Consider When Buying Capture Cards
Capture cards come in various shapes, sizes, and specs. Hence knowing a thing or two about the basics can go a long way if you face multiple options yet can't decide what to get for yourself.
1. Frame rate
The most important thing regarding the frame rate revolves around your overall output and how much your desired device can capture.
Suppose your device's output is 60fps while the capture card can capture 120 or 240fps. In that case, you might find yourself paying a higher price for a capture fps rate that you won't ever have the opportunity to use.
2. Resolution
Standard and HD capture resolutions are the most common forms of resolutions offered at the market, but your choice should be based on the output of the device you will stream from.
As HD capture resolutions are more expensive and will not work if you connect it to a standard resolution output device, always check what kind of resolution you can expect from your setup.
3. Connections
First, ask yourself this;
"What kind of devices will I be using to stream from? Do I need to connect it to my main or secondary monitor?"
It might sound like a no-brainer, but it's pointless to buy an HDMI capture card if you want to capture off a PS Vita. Check this page for a quick guide for connection types.
Related: Best Motherboard for Streaming
Frequently Asked Questions
Do you need a capture card to stream?
Technically, no, you don't need a capture card to stream, but it is highly recommended for a couple of reasons. Most light games such as CS:GO can be streamed by using OBS or X-Split or a second PC, but, if you want to capture from a console or if your CPU might not be able to handle gameplay and the capture software all at once- a capture card can help a lot.
How to use a capture card?
Most card setups are straightforward- all you need to do is plug in an HDMI cable from your device to the input slot of your capture card and then plug in the HDMI cable from the card's output slot on your monitor.
Some cards, however, require a more tech-savvy approach, usually by accessing the motherboard and finding a spare PCIe port to connect your card to.
If you can't find a spare one on your motherboard, you might have to upgrade it or find yourself a different card. After the connection issue is settled, some capture cards might require additional software installation, or they might come without the need for additional software to function.
How does a capture card work?
A capture card is a medium between your console/PC and a PC you are using to upload the footage. The data transfer can often get dense, so lag is a common issue among most capture cards used for streaming, especially when less-expensive options are utilized. The data can be streamed in real-time or be saved on your PC for later use.
A common misconception is that the capture card itself encodes the data- which is not true. The card won't lighten the processing load of the streaming PC (unless it is one of the high-end models), so getting a good quality machine that can handle your streaming load is a must-have for high-quality outputs.
How much is a capture card?
It depends on what kind of cards you want to get for yourself. Some cards are dirt-cheap and might even perform admirably, yet professionals often resort to getting a moderately expensive, long-term capture card, which can go from 150$ to 250$. If the budget is tight, you can get an unbranded capture card for about $40.
Do you need a capture card for PC?
If streaming using two PCs is what you plan to do, then a capture card might as well be unnecessary. You can use software such as OBS to get the same job done (as the capture card does not encode the data itself but merely transfers it).
If you plan on adding devices such as cameras or consoles to the stream, a capture card is necessary, which is why most professional streamers invest in one to enrich their options for streaming.
Conclusion
That's all folks! These were some of our top picks.
If you are really on a budget, have switch, and don't want to "waste" money on a capture card, there is a way around it. You can actually stream without a capture card.
I hope this helped you!
Join our Discord Group. Ask questions, team up with fellow streamers, share memes, and more!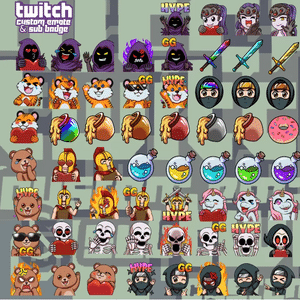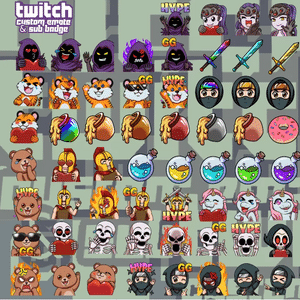 Claim for FREE:
FREE Emote PACKS
A book on growing your audience