Choosing the best camera for streaming is often one of the most important factors leading up to the ultimate success or failure of a certain channel, regardless of the platform you are streaming on and the content the channel contains.
While streaming is often associated as an integral part of the gaming industry, there are other types of streams as well, each of them having its own recommended type of camera that yields the best results.
Because of all this, I have decided to write up a guide containing some of the best cameras for live streaming in each of the most common types, as well as recommendations on which type of content each camera should be used for.
Post 1 of 17 in the Webcams/Cameras
Best Camera for Streaming
Reviews
---
There are several factors that were included when making the decision on which cameras to put on this list.
Things such as resolution, camera size, weight, presence of a tripod and other extra equipment, as well as compatibility with gimbals, DSLR stabilizers, and computer monitor and operating systems, were all taken into consideration.
Finally, we have also made sure that the cameras offer good value for the money invested in their purchase by thoroughly testing each and every item on the list in order to make sure that they are indeed the best of the best cameras for live streaming you can buy.
Best Webcams for Streaming
1. Logitech C922x Pro
---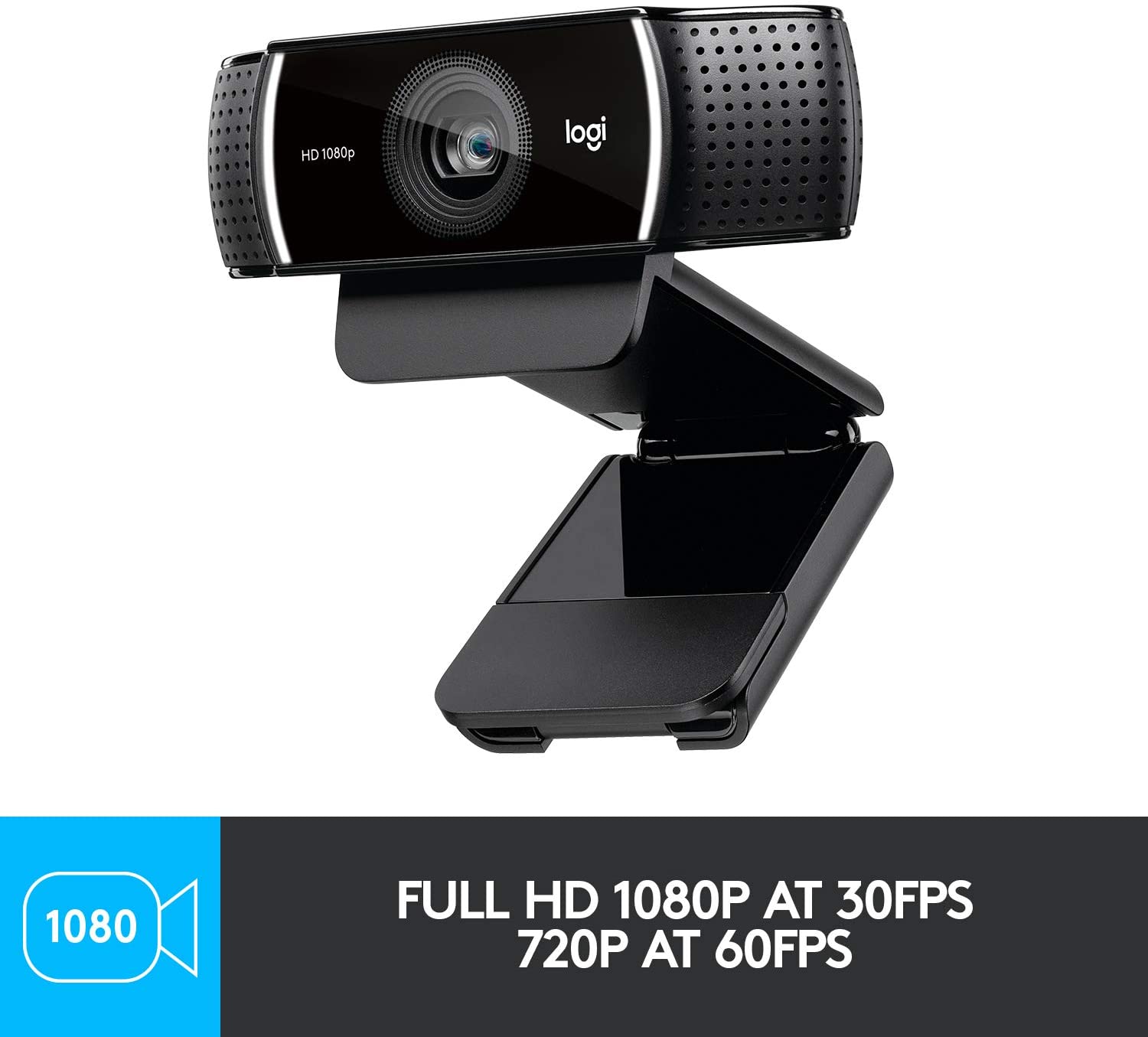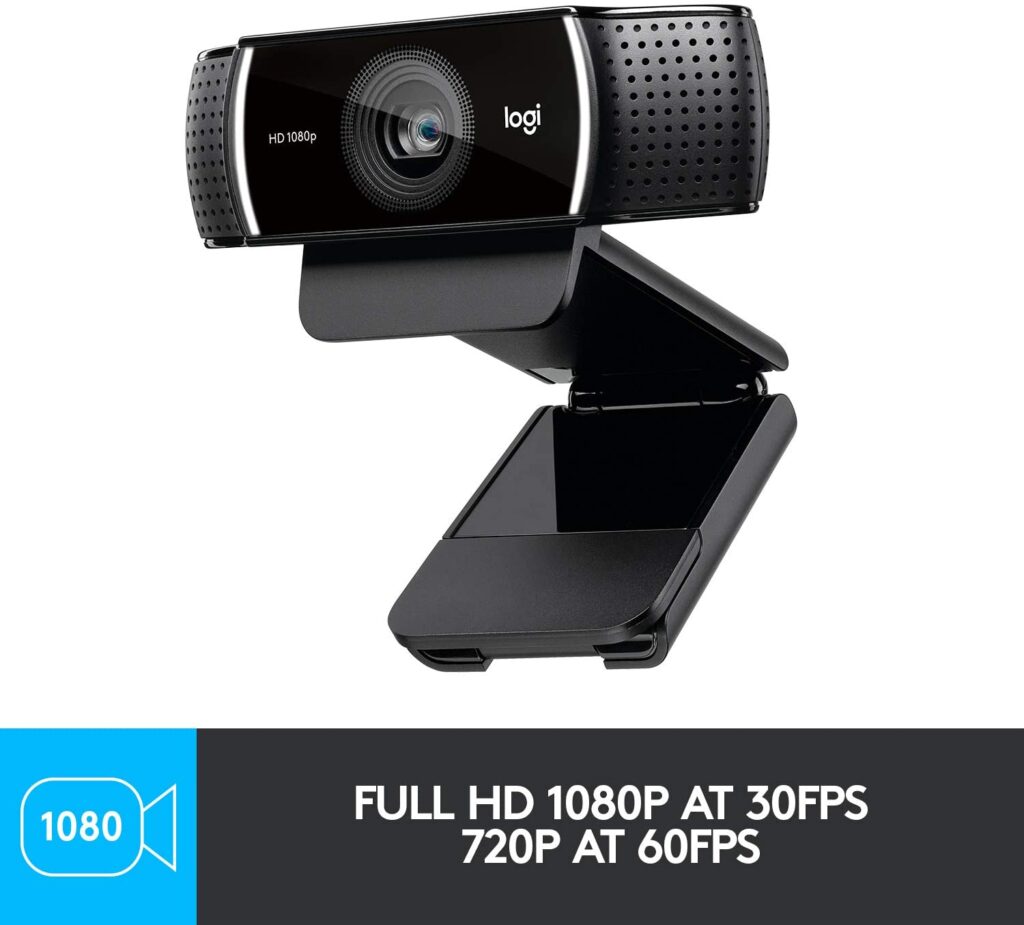 ---
Logitech has been a strong competitor for the top spot when it comes to PC and Laptop peripherals and other accessories for a really long time, and this camera for streaming is a very clear indicator of why.
One of the most popular HD video webcams there are, Logitech C922x is a worthy successor to the legendary C920 and a significant upgrade in just about every category, making it an excellent choice for anyone looking for great streaming quality at a reasonable price.
It lets you record videos at full HD 1080p at 30fps and 720p at 60 fps, preserves the natural colors even in low light environments with ease, and overall gives great quality video as well as audio regardless of the background you use it in.
The audio quality is ensured by the built-in microphones on each side of the lens, providing background noise cancellation.
Additionally, the 5ft long cable and the tripod that comes included with the camera allow you to have a great deal of freedom when choosing where to put this device, allowing you to focus on video recording and streaming without having to worry about technical issues.
Lastly, the webcam is compatible with a majority of popular operating systems, Such as Windows (7 and above), Mac OS 10.9 and later, as well Android 5.0
Overall, I believe that the Logitech c922x is a great choice for anyone looking for a quality camera at a reasonable price. While it does lack the Ultra HD capabilities of some other Logitech products, the video capture is extremely smooth, making it a popular full HD resolution camera choice.
2. Logitech Mevo Start
---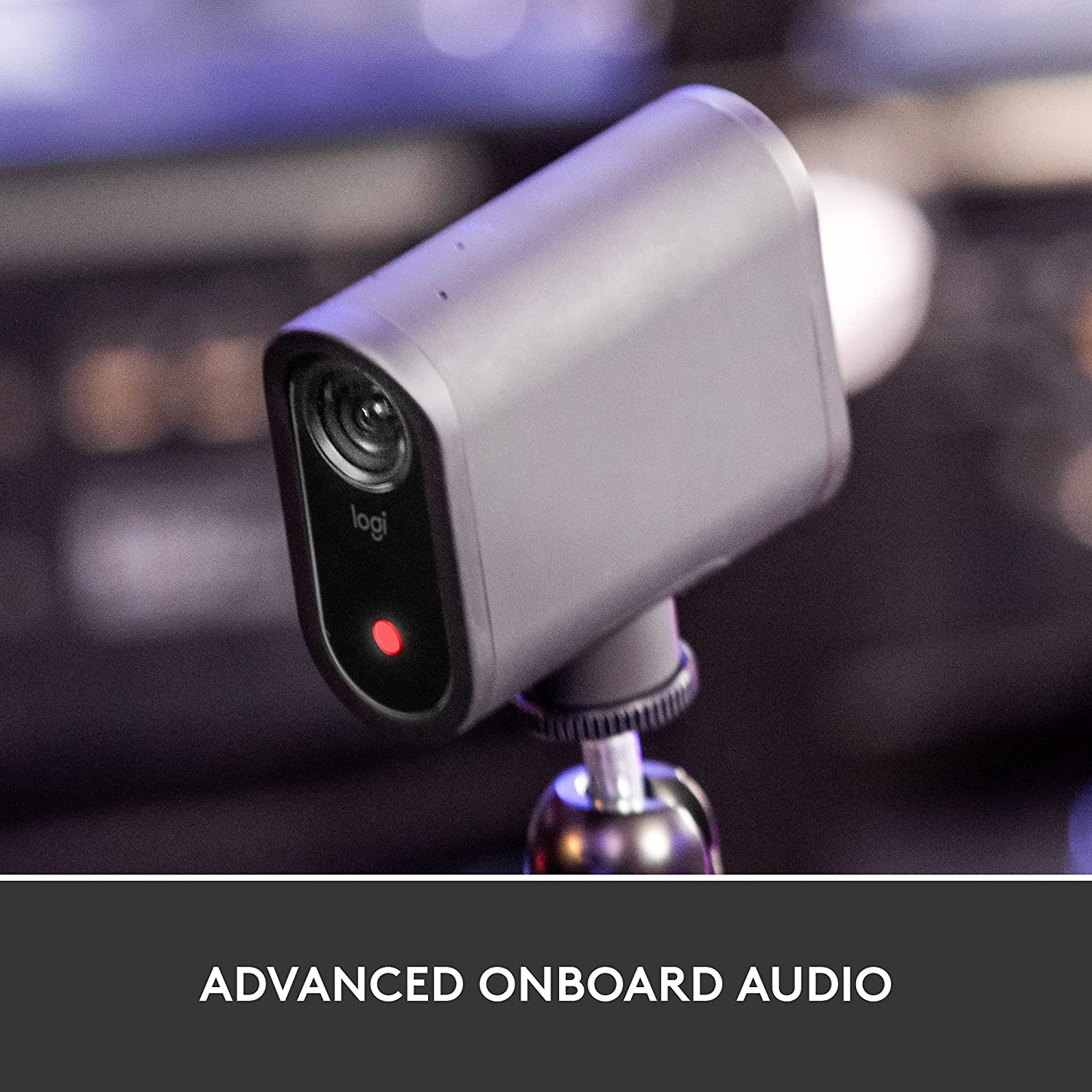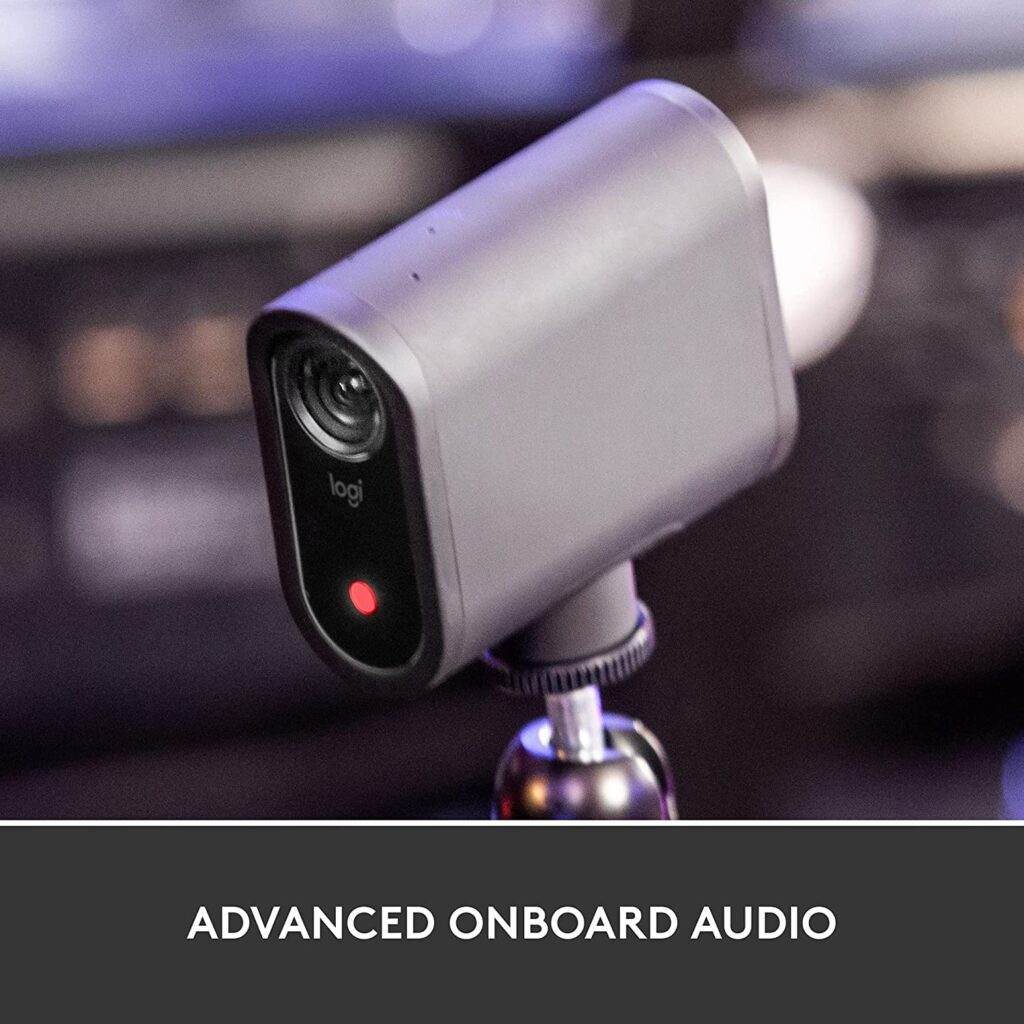 ---
Having another webcam by Logitech on our list so soon after the first one helps prove the point the company is one of the best options when it comes to video and image quality in live streaming.
Logitech Mevo is an excellent, Full HD video compact camera that can be used wirelessly thanks to its 4h battery life, which, while not all that long, means that you can easily use it to stream on the move if you want, making it a good webcam not just for game streaming, but for outdoor footage as well.
Furthermore, the mobility of this webcam is improved by just how versatile it is in its connectivity. Aside from the usual Wi-Fi support that you will find in most wireless streaming cameras, it is also compatible with Ethernet and LTE, making streaming with it truly simple.
And this is a good thing, especially as full HD video at 60fps is hard to find in this category of video cameras, making Logitech Mevo Start an excellent choice for just about anyone wanting to stream on the move.
Furthermore, the remote control of this camera is quite easy thanks to the intelligently made smartphone app that allows you not just to control one Mevo Start camera at a distance but to actually connect up to three of them to create near studio-grade broadcasts anywhere you want.
Finally, the device's audio quality is nothing to scoff at either. While not as great in terms of noise cancellation as some other webcams Logitech has to offer, they still do a fairly good job of capturing any sound you want to be a part of your footage, which is the most important thing in the digital camera world.
On the other hand, nobody would blame you if you decided to make an extra investment and purchase a dedicated external microphone to use with your camera setup.
Overall, I believe that this is a great camera for live streaming video on the move, as well as Multicam footage.
It features a high video resolution, is more reliable than most cameras in its category, and gives sharp images even in low light conditions, making it just the right camera for a variety of different situations.
3. JIGA Streaming Webcam with Dual Microphone 1080P
---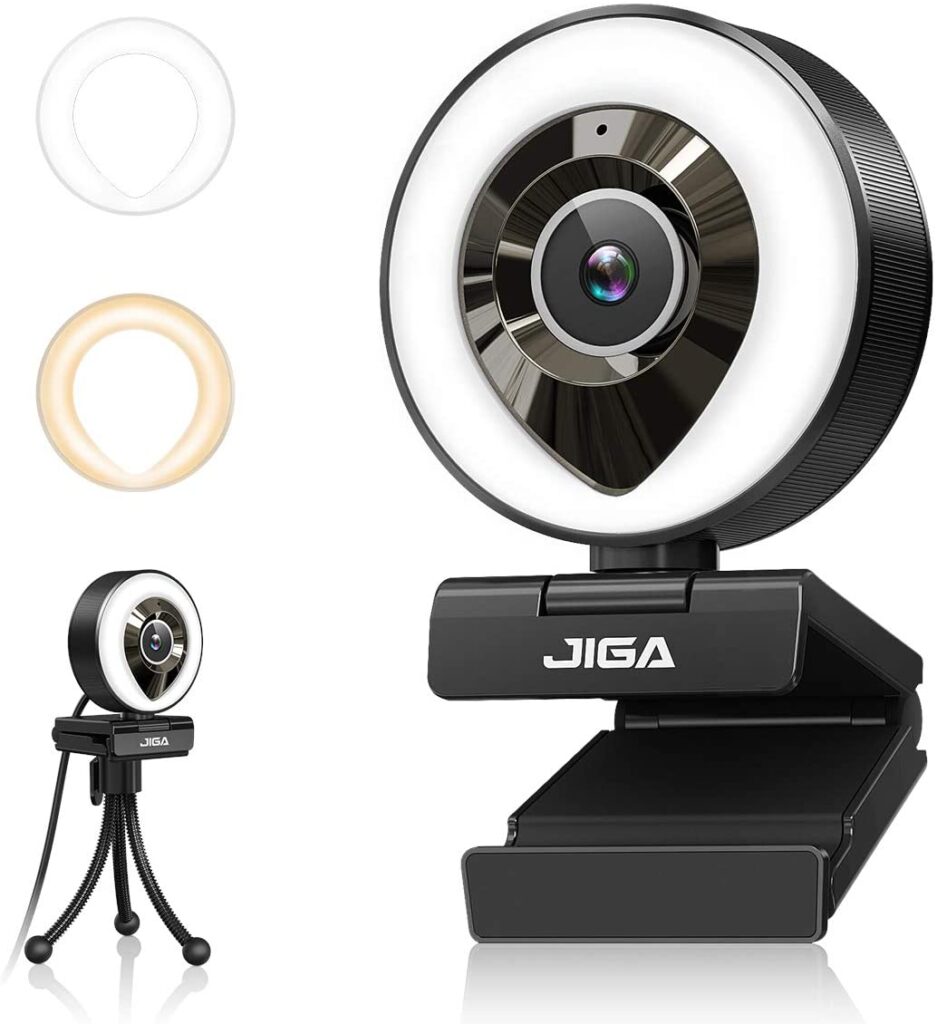 ---
While not as well-known or as popular as some other brands, JIGA is still a manufacturer whose ability to build high-quality webcams deserves a considerable amount of respect.
This webcam features a full HD video quality with great white light control and manual light correction that is second to none, which can easily be adjusted via the touch-sensitive screen for maximum performance.
Furthermore, the dual microphones feature excellent noise cancellation that beats most other cameras allowing for a much clearer stereo sound that any streamer is sure to appreciate, letting you focus on making a high-quality video without worrying about your audio getting to your audience even in noisy conditions.
Another thing that should be mentioned is the ring light, as well as the wide 90 degrees field of view. And not just that, but the camera can be rotated freely both horizontally and vertically, eliminating the need for any extra equipment that would help with its positioning.
In addition, the camera is fully USB compatible and completely plug and play, making setting it up extremely easy. No annoying software or drivers to deal with; you just connect it and start streaming.
Finally, this webcam is tailored for streaming above everything else, making it a great choice for anyone looking to work with streaming platforms such as OBS or Streamlabs while also being a good choice for video calls.
Overall, the video and audio quality of this camera are far above the average, as is the camera angle, especially in this price range, making the JIGA's creation a serious contender on our list.
4. ToLuLu Webcam HD 1080p
---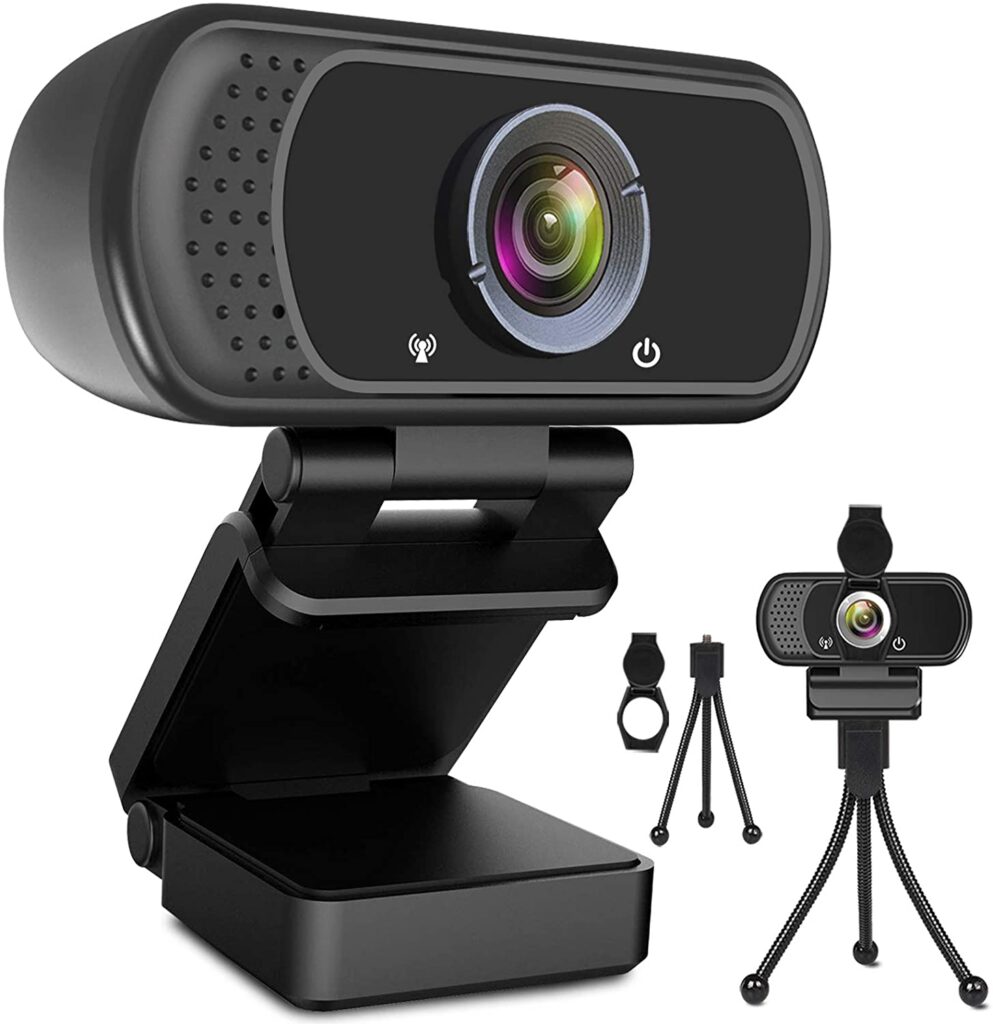 ---
Visually similar to some popular Logitech webcam solutions, this ToLulu webcam can compete with them in quality as well, which just shows how good of a webcam it is, as Logitech is considered a leading digital publisher by many.
The webcam features a glass lens delivering full HD video recording at 1080p 30fps with excellent image stabilization and automatic light correction for both conference calls and streaming, making it a great choice for badly lit rooms or streaming in a dark, enclosed space.
The camera is tripod ready, solving much of the mounting problems usually found in webcams of this kind, and it even comes with a tripod included with the package, so you will not have to purchase your own even if you don't already have one.
The 110 field of view is also excellent, allowing you to pick up quite a few things in the room and thus partially removing the need for a Multicam setup, and the microphone captures clean audio and features excellent noise reduction while still picking up the streamer's voice even at the distance of 10 feet.
One other thing that needs to be mentioned is the facial enhancement capability that makes the webcam focus on the streamer much like a smartphone camera does during video calls, allowing you to always look clear to your viewers.
Finally, the webcam boasts an incredibly wide degree of compatibility, working with just about any desktop or mobile operating system in existence, which will be greatly appreciated by anyone using more than just one device to stream.
Overall, we are looking at one of the better live streaming cameras in the digital camera world, with great audio and video quality and QOL features, making it a great choice for any streamer.
5. Razer Kiyo
---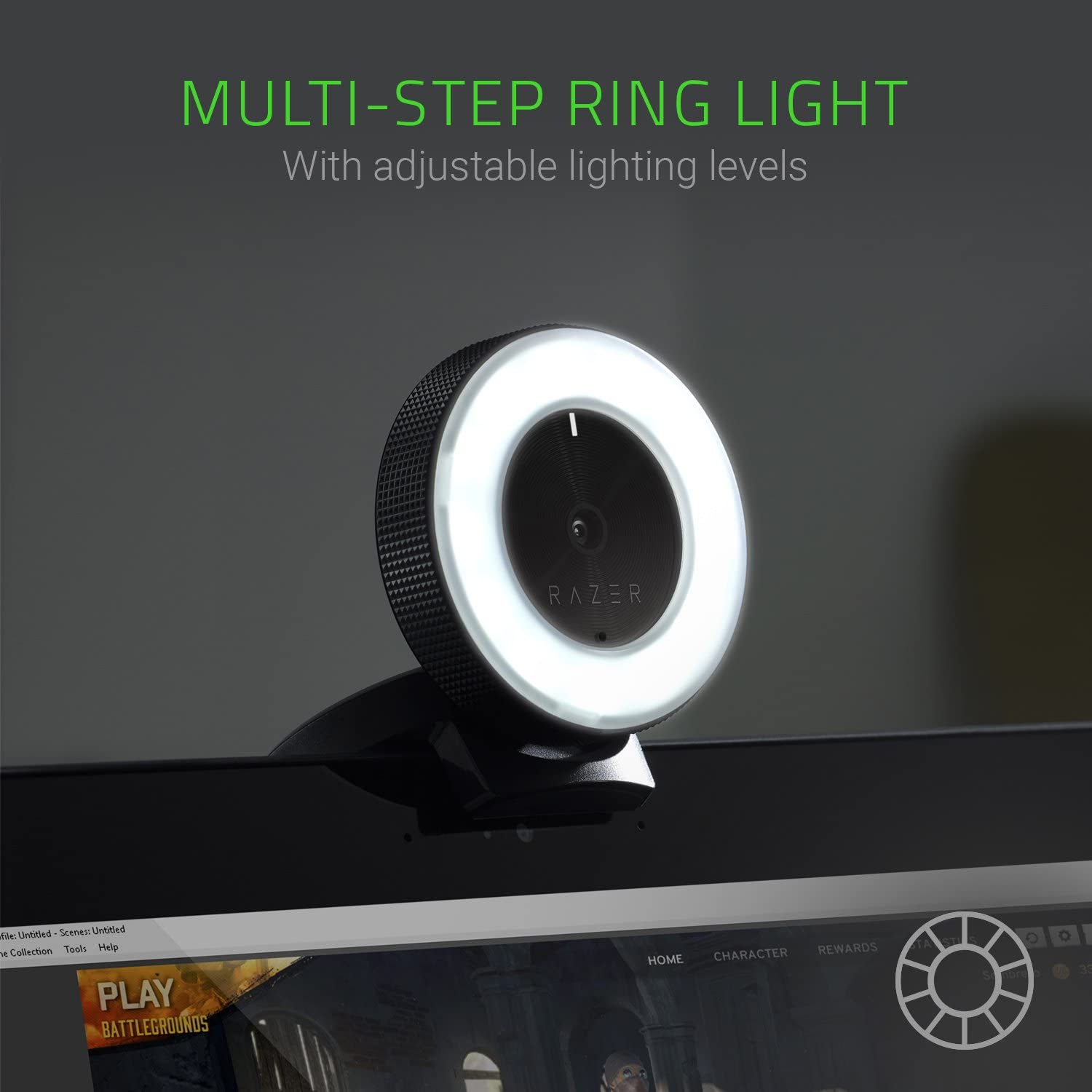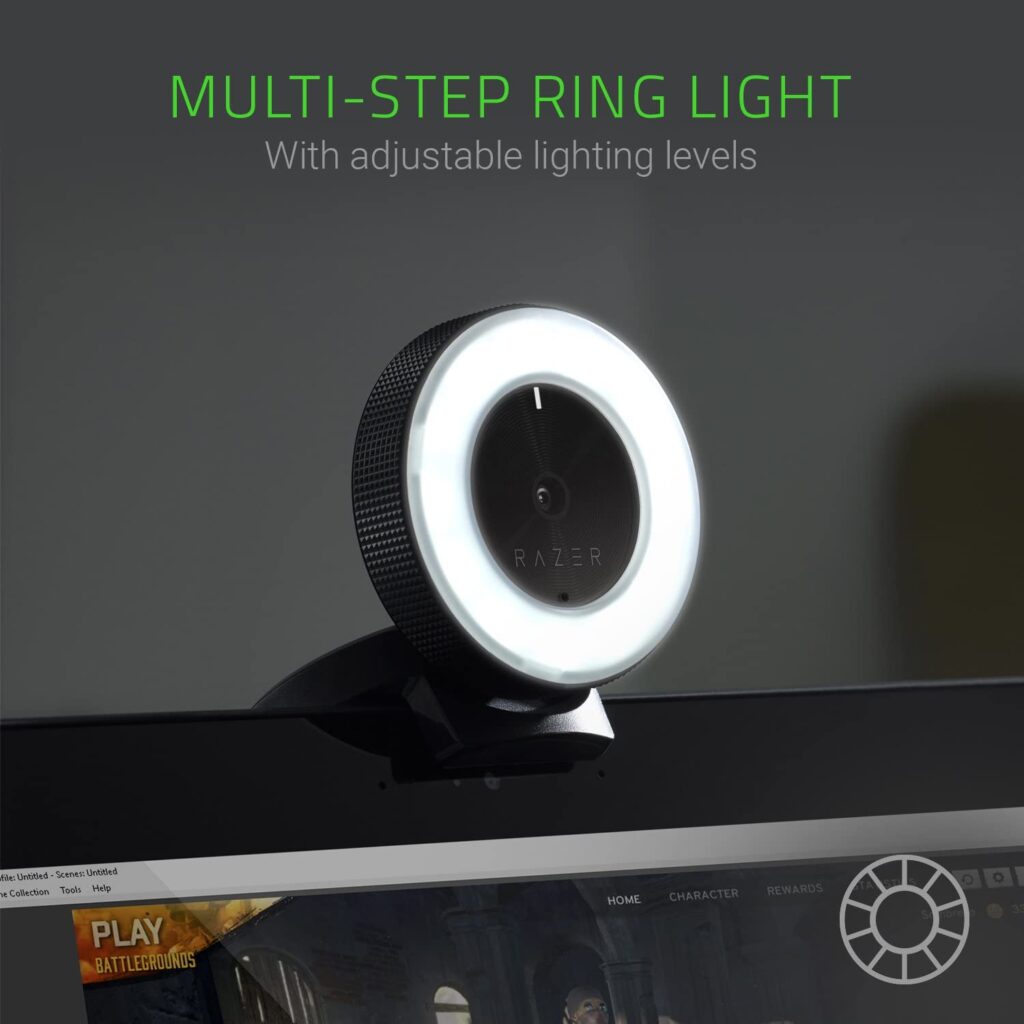 ---
While usually associated with gaming peripherals rather than webcams, razer is still a company capable of producing a high-quality streaming camera, of which Razer Kiyo is a good indicator.
This camera is more of a midrange solution than a high-end one, but it doesn't stop it from being one of the best cameras for live streaming in its category, featuring an extremely clear 1080p 30fps video with a built-in ring light and adjustable brightness for some truly impressive image quality.
Not only that this allows you to stream in low-light conditions, but it also lets you easily do video calls and conferencing.
Furthermore, this high-quality webcam's light adjustment is made by simply rotating the ring light. While not automatic light correction, it is the next best thing and sometimes can even be better depending on the effect you are trying to accomplish.
Additionally, this boosts the low-light performance of the webcam quite a bit, making it an excellent choice for dimly lit environments.
Finally, the camera is extremely easy to set up and use and compatible with most operating systems and streaming platforms such as OBS, Streamlabs, and YouTube, making it extremely easy to get into streaming with it.
My personal impression of this webcam was quite positive. It is a well-balanced, middle-of-the-road camera for streaming that offers good value for its price and is a very reliable solution for streaming, in line with some other future brands in the same price range.
6. NexiGO N980P
---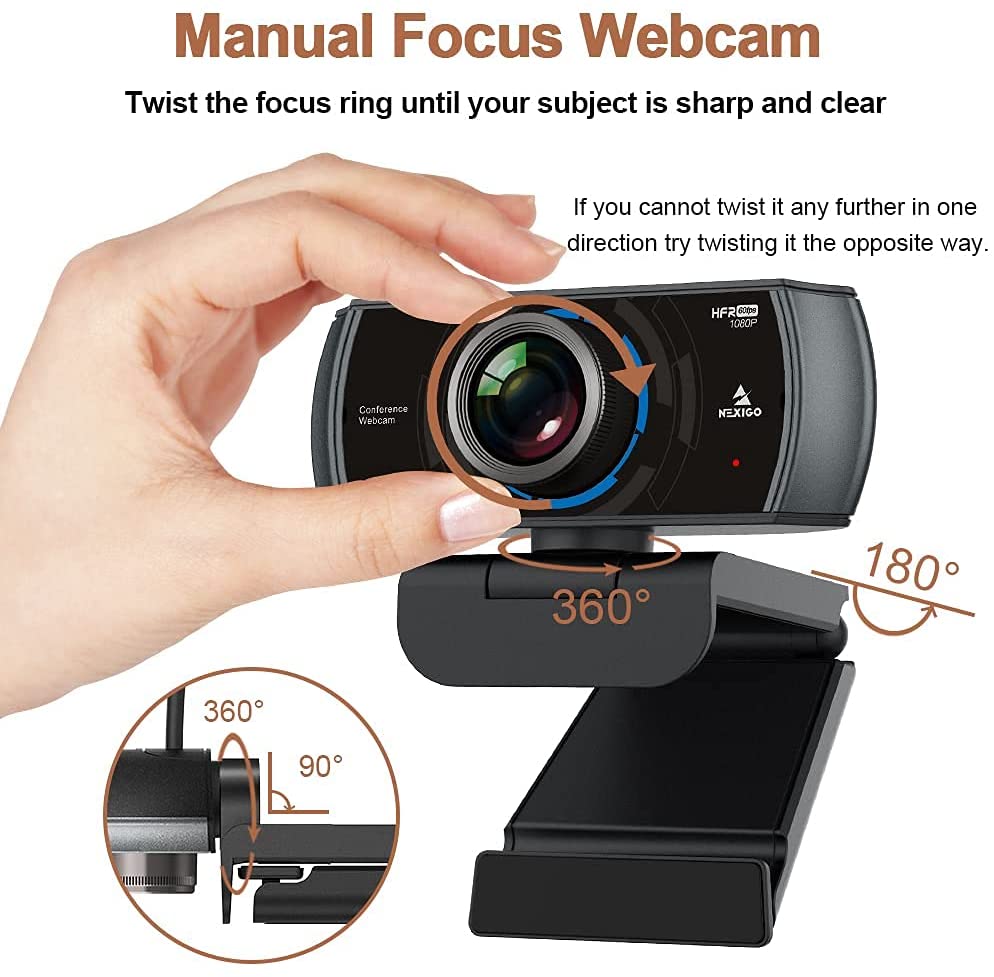 ---
Another lookalike of some of the popular Logitech webcams in design, the NexiGO N980P is nevertheless a highly respectable webcam that features quite a few unique things that make it an excellent streaming camera no matter what kind of content you intend to broadcast.
First of all, the live streaming resolution of this camera is 1080p 60fps, much better than the 30fps usually found in this price range, and the image quality reflects that by being quite a bit clearer than what the competition has to offer.
Additionally, the CMOS sensor offers very smooth video, and the omnidirectional microphone, which was made primarily for video and conference calls, has excellent noise cancellation and gives incredibly clear audio.
Likewise, the low-light operation quality is quite high thanks to the 120-degree lens, which, coupled with the plug-and-play nature of the device, makes it incredibly easy to set up and use no matter what conditions you are in.
Finally, the NexiGO n980P is compatible with most operating systems such as Windows, Mac OS, Chrome OS, and even Linux and Ubuntu. Because of this, it is an excellent choice for any computer enthusiast who wants a compact camera capable of supporting all the operating systems on their device.
Overall, I was highly impressed by this webcam. It beats most of its immediate competition in terms of FPS at 1080p, and the sound is quite good, making it an excellent camera for streaming.
7. MOKOSE 12MP HDMI Camera
---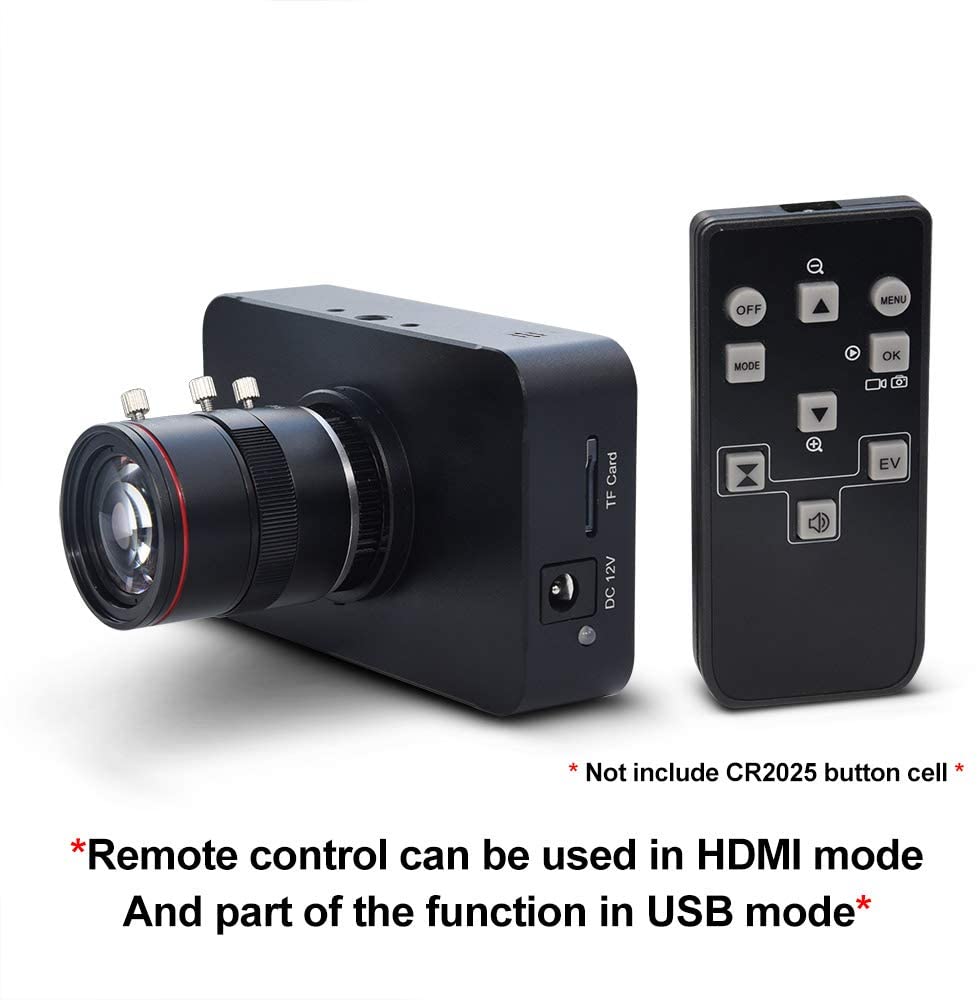 ---
Unusual in its design yet still quite effective in its function, the MOKOSE streaming webcam features Ultra HD video at 30fps and Full HD video recording at 60fps, making it a great choice for those looking to get into the higher resolutions without investing too much.
The adjustable resolution grants you quite a bit of versatility, and the high quCMOSality CMOS sensor ensures that your video remains smooth. Additionally, the webcam can be connected both via a USB and an HDMI port, granting it that extra bit of versatility.
Additionally, the 3m USB cable and the screw thread make positioning this camera quite easy, as you can mount it on a laptop, desktop, or any other device in order to achieve the optimal angle for your live streaming needs.
The webcam is built from quite durable aluminum alloy, making it incredibly wear-resistant and capable of lasting quite a long time undamaged. Additionally, the fact that it features an interchangeable lens grants you quite a few zoom and other options.
Unfortunately, you will need an external microphone with the MOKOSE 12mp webcam, but that is a small trade-off for its durability and versatility.
One more important downside, however, is the camera's narrow field of view ranging from 27.5 to 48 degrees, less than the majority of its competition.
In the end, I believe that this camera is great for filling its specific niche of streaming at a fixed point, but it isn't that good of a general choice outside of that.
There are better high-quality webcam options for the average streamer out there, though you will still get a good run from it.
8. Sulipse Webcam with Microphone
---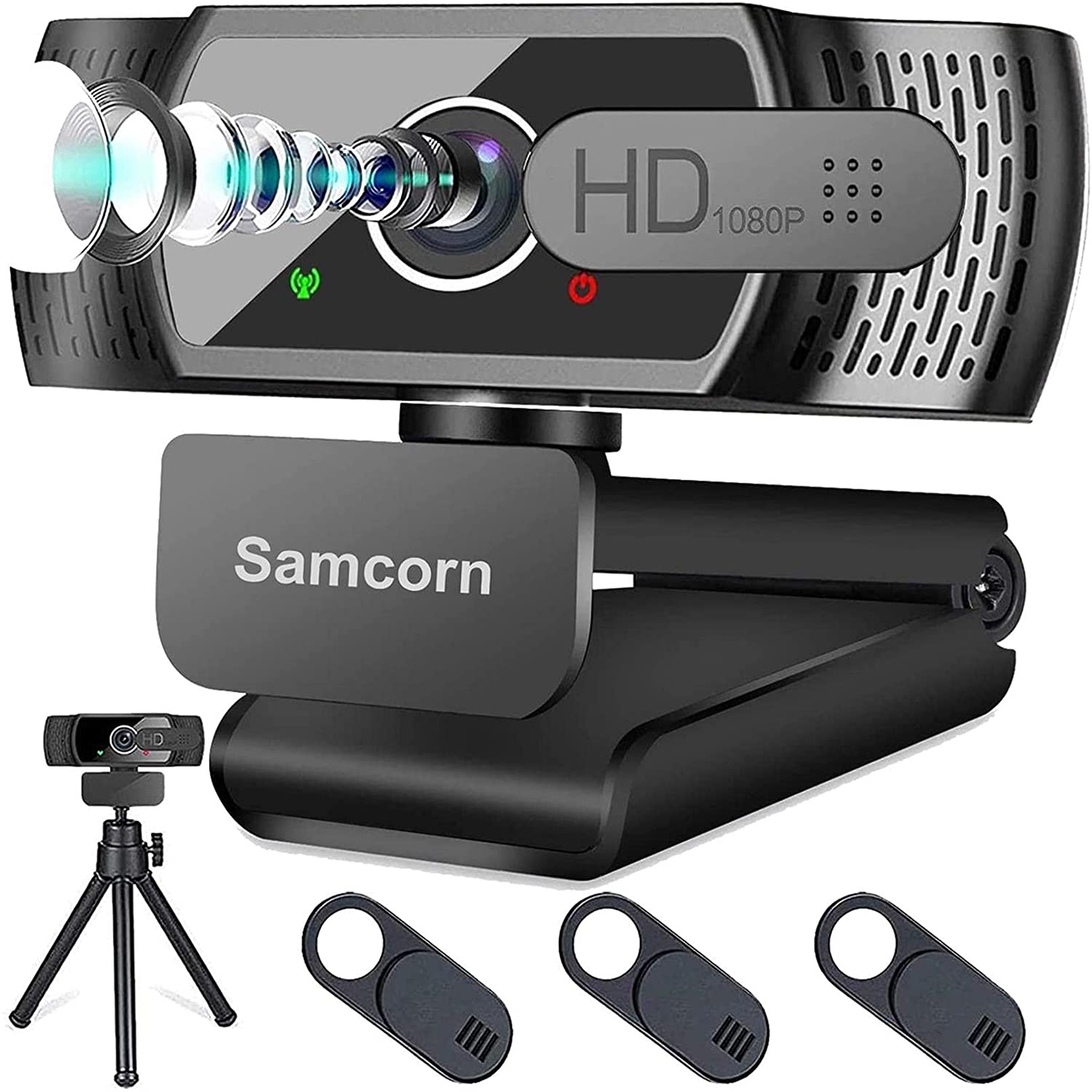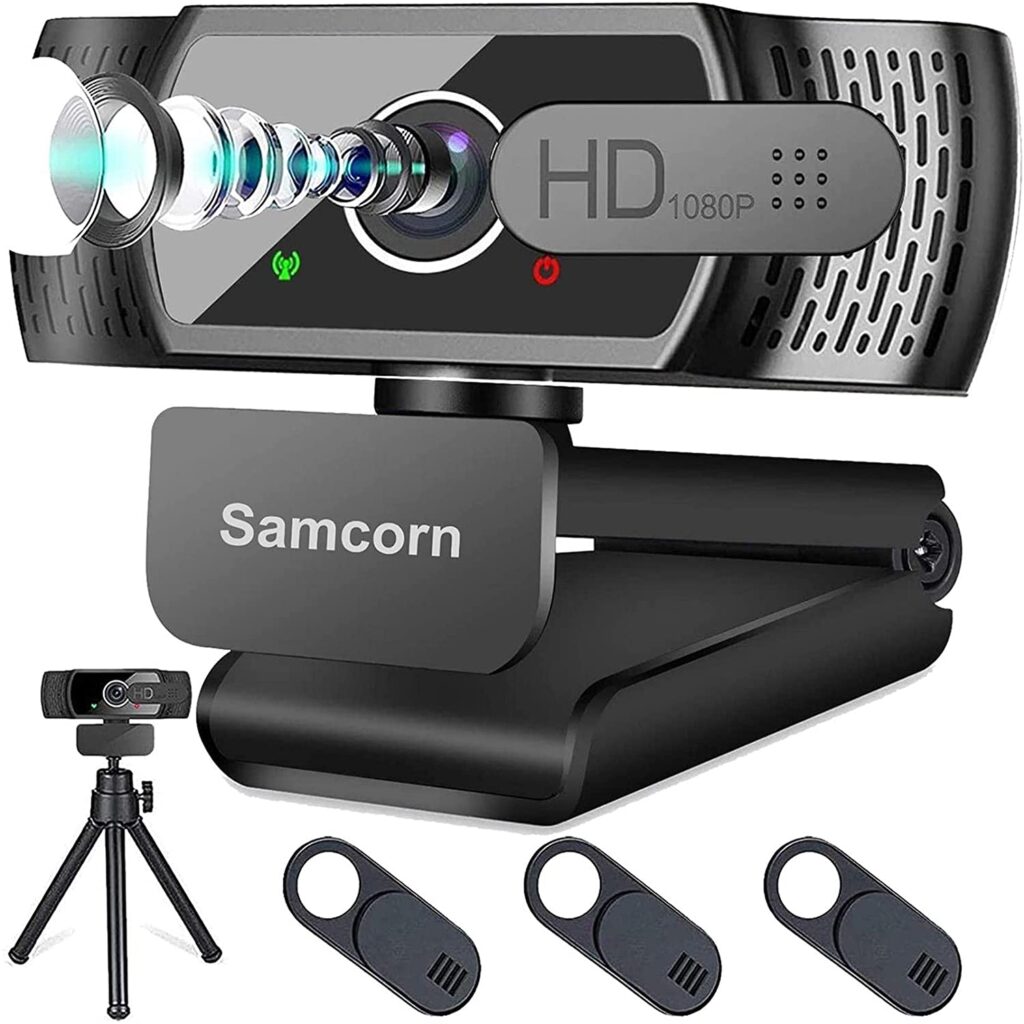 ---
This high-quality webcam works at a maximum resolution of 1080p 30Hz, which while not especially high, is comparable to very popular cameras such as Logitech c922 and c922x, and it features automatic light adjustment to give you the best image quality possible even in low light conditions.
Additionally, this webcam features built-in stereo and 3d noise cancellation, allowing you to maintain the clarity of your voice even in quite noisy environments.
There is another facial enhancing filter that is automatically applied to any video captured by this camera, making you always look your best to your viewers or the person you are video calling.
In addition, the camera is completely plugged and played, making it incredibly easy to use. All you need to do is connect it to your PC or Laptop: there are no annoying drivers to download or update, as it will be automatically recognized by your OS.
Furthermore, between the 360-degree adjustable tripod and the 97-degree field of view of the camera itself, you will have as much space to make adjustments to the position as you want and will always retain a clear and sharp image.
Finally, this device is fully compatible with just about any operating system and streaming platform, as well as conferencing apps such as Skype, Zoom, and Discord, making it possible to use it no matter which software you are using for live streaming.
Overall, we are looking at one of the best cameras for streaming right, with excellent performance across the chart and a tripod that makes any other form of mounting obsolete.
Best Mirrorless Camera for Streaming
1. Panasonic LUMIX FZ80
---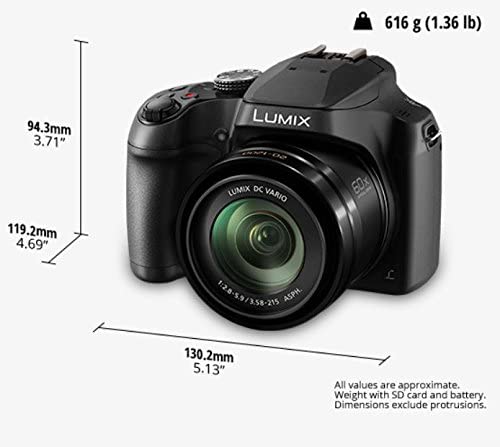 ---
While not associated with streaming all that often, mirrorless cameras can actually do the job quite well, especially if they have the interchangeable lens as this solution from Panasonic does.
Panasonic Lumix FZ80 is a high-quality 18.1 Mpix video camera that provides an amazing60x optical zoom for small or far away objects, making it a great choice for outdoor streaming, for example, if you are a content creator trying to capture a birds nest or animal in a distant field.
Additionally, the fact that it is compatible with a wide variety of lenses ranging from 20 all up to 1200mm grants it unmatched versatility compared to most of its competition, making it so that you will only really need this one camera for all your streaming needs instead of being forced to invest in five of them.
It also features optical image stabilization, making capturing far away footage with this mirrorless camera far smoother than it would otherwise be.
The next great thing that we need to mention is the 3-inch LCD screen on the back of the camera that allows you to have a preview of your video, as well as adjust a number of the camera's parameters.
Furthermore, this mirrorless camera is Ultra HD video compatible, though it only records it at up to 30 FPS, which is admittedly more than enough for most tasks, as there are few streams that feature a video feed that is over 1080p anyway.
Last but not least, the USB and Wi-Fi connectivity of this camera make it a great choice for streaming on the move, providing you have access to a mobile internet connection, of course.
In my personal opinion, this camera features everything you need to capture video and then stream it to your audience while outdoors, making it ideal for travel vlogs, exploration streams, etc.
Best Camcorder for Streaming
OIEXI 4K Camcorder
---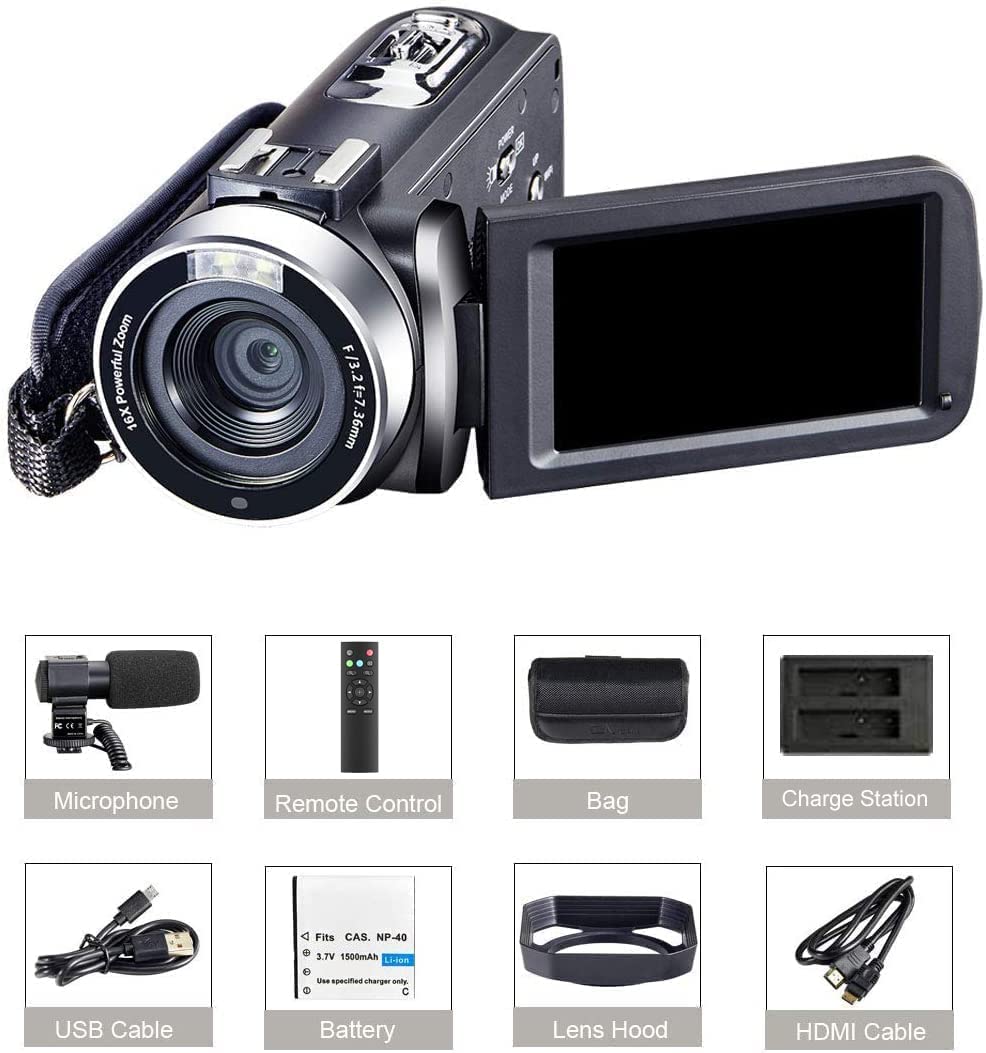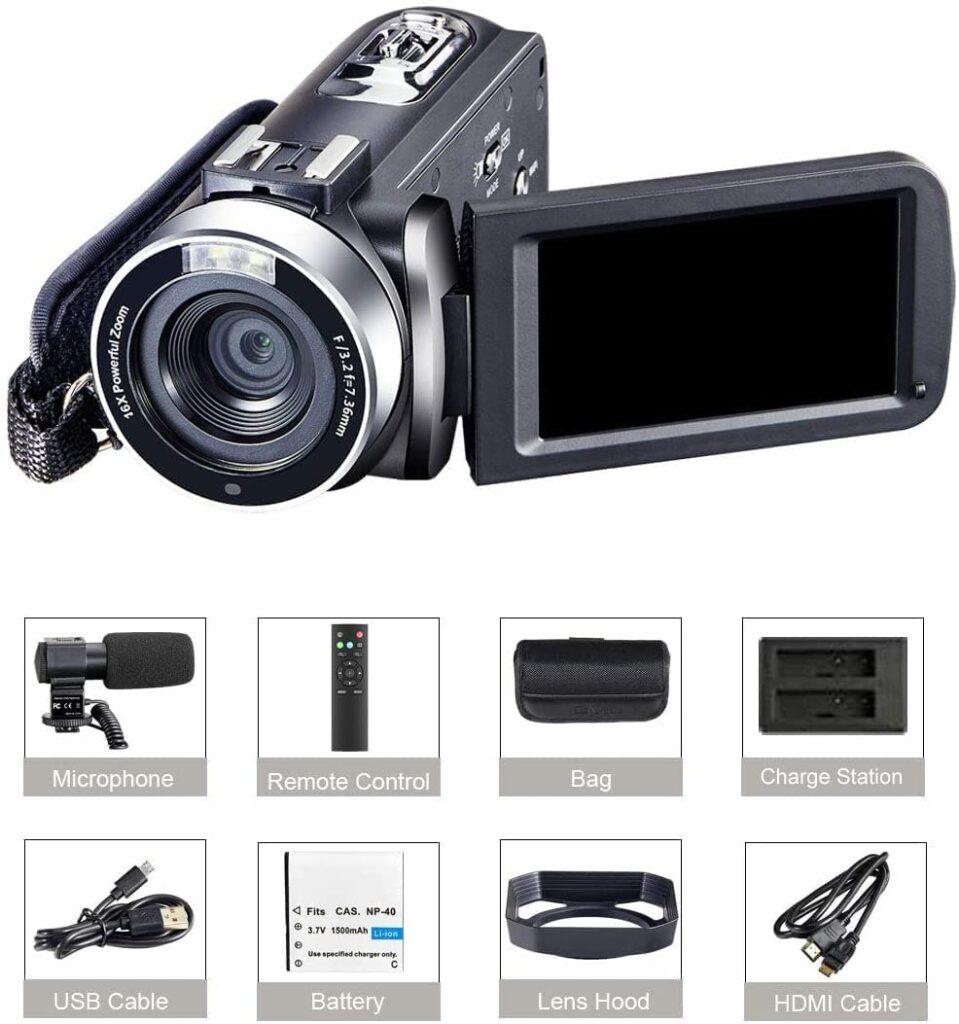 ---
Using a dedicated camcorder for youtube streaming might be seen as an unorthodox choice, but there is no denying that such a device can be a great streaming camera under the right conditions.
For example, covering something like an amateur football or a baseball match is incredibly easy with a camcorder, and you can stream it live to your family at home or even to a large audience if you have one.
But what is it that makes a camcorder, and more specifically this OIEXI camcorder, such a good streaming device? Let's find out.
First of all, we are looking at an Ultra HD resolution video, 48MP resolution image camera with true 16x digital zoom that delivers lifelike video and colors under any and all conditions.
This alone would be enough to put it firmly in the range of the best cameras for live streaming, but there is a lot more.
The camera has a hot shoe interface and can be used with both internal and external microphones as it does have a slot for one and can even serve as a webcam if you turn on the PC CAM mode after connecting it to your desktop via a USB cable.
Furthermore, the camera has an HDMI cable port, allowing you to connect it to your HD tv or other HDMI-compatible devices after you have done recording and streaming for some easy editing of your remaining video recording for later use.
Not only that, but the 270-degree rotation and 3.0-inch IPS screen make it incredibly easy to carry and point this camera at whatever it is that you are trying to stream, and it is also compatible with quite a few gimbals.
Finally, the camera has a decent battery life and supports up to 128GB of memory cards, meaning you will be able to save quite a lot of footage on it.
Best PTZ Cameras for Streaming
1. TONGVEO PTZ Camera
---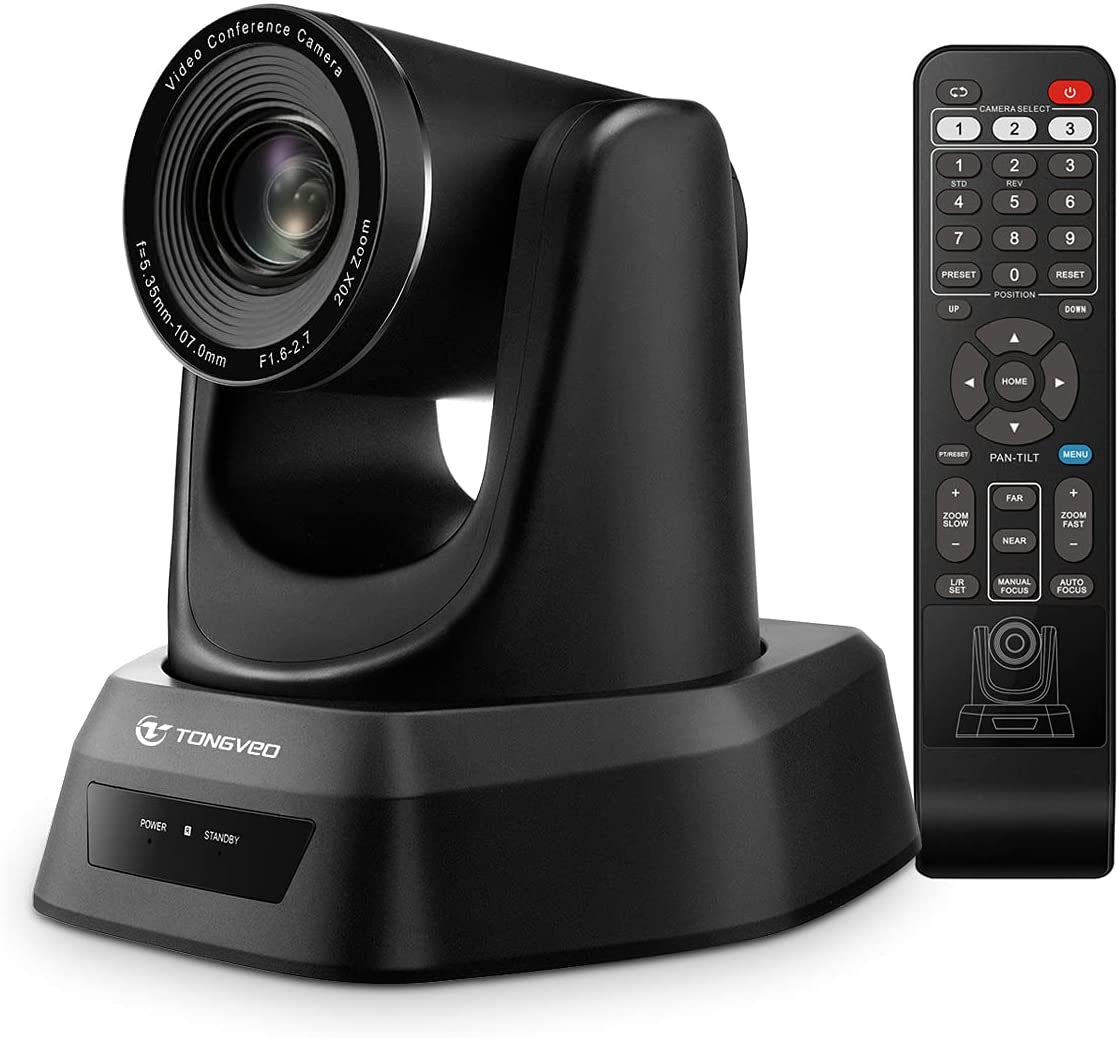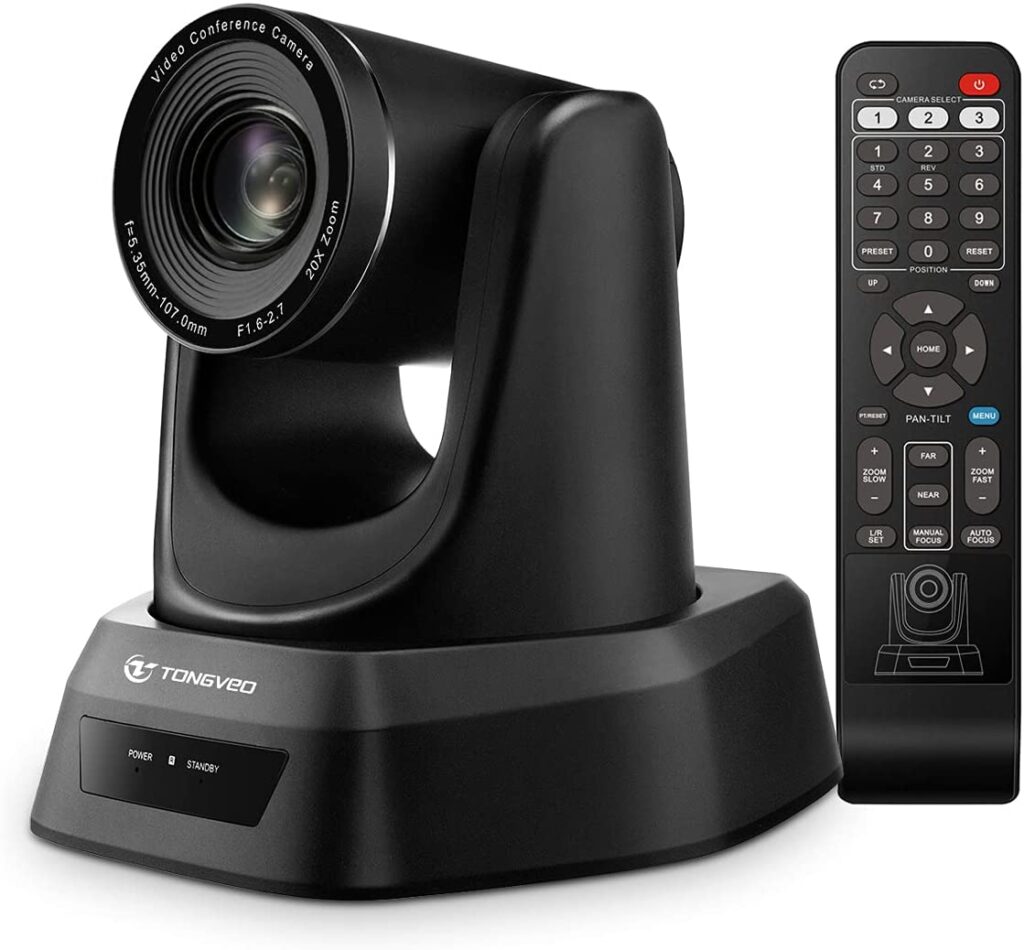 ---
PTZ cameras are, much like camcorders, quite an unusual choice for live streaming, though in their case, it heavily depends on which kind of stream you are planning on broadcasting.
This Tongveo camera is an excellent example of that; with its remote control and 20x optical zoom, it is more suitable for overseeing an entire room, being directed from one cadre to the next, rather than serving as a gaming camera as a webcam would have.
Still, ascertaining its purpose does little to give us its technical capabilities, so we will now get into those.
The camera comes with a 1080p resolution and offers a crystal clear image of its entire 55.5-degree field of view, which seems low but is more than enough for a camera like this which is used for surveillance and can be rotated at will.
The fact that the transmission distance is an amazing 100m makes this camera perfect for teaching, conferences, or even broadcasting something from a remote area to a monitor or a group of monitors.
In addition, the device is completely plug and play, as well as remote-controlled, making setting it up and then using it extremely simple.
Finally, the Tongveo PTZ camera has an extremely wide range of compatibility options, allowing you to use it with all the popular operating systems and conferencing and streaming software.
Overall, if you need to stream an event or hold a lecture to a group of people, this PTZ camera can be an excellent tool. Otherwise, some other types of streaming cameras will offer more to you.
2. AVKANS NDI Camera
---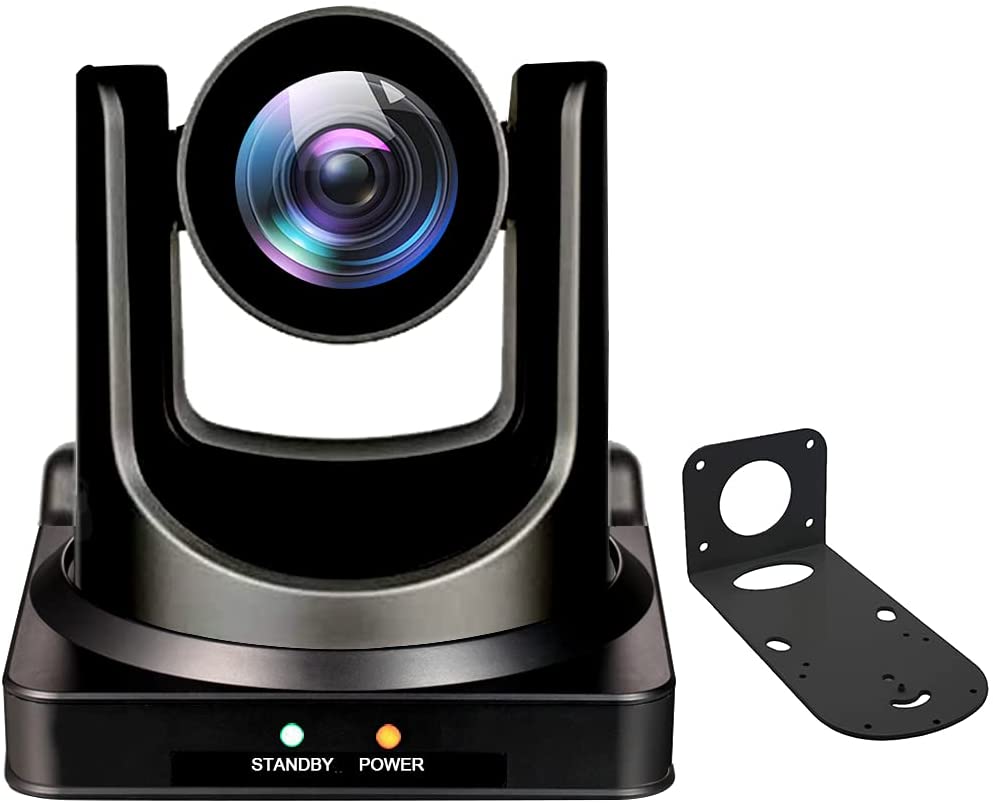 ---
As is fairly standard with PTZ cameras, this one features a 20x optical zoom that allows it to be used from a fixed position high above, a great thing as it is usually meant to serve as a camera for live streaming large events with a lot of people, so you will need that distance.
The camera works at a resolution of 1080p 60fps, and the same video can be transmitted via an HDMI port, whereas the USB port can only be used for video recording.
In addition, the camera can be remotely controlled during Livestream via a joystick and can very easily be integrated into other software systems to allow for an even greater degree of customization.
Furthermore, this PTZ video camera for streaming features a wide degree of compatibility, which allows it to be used with a great number of operating systems and software options such as Windows, macOS, and Linux.
Overall, if you are going to host and stream a large event, this is the camera for you. Otherwise, keeping to the more traditional webcams might be better for a gaming or video conferencing stream.
Best Action Cameras for Streaming
GoPro HERO10 Black
---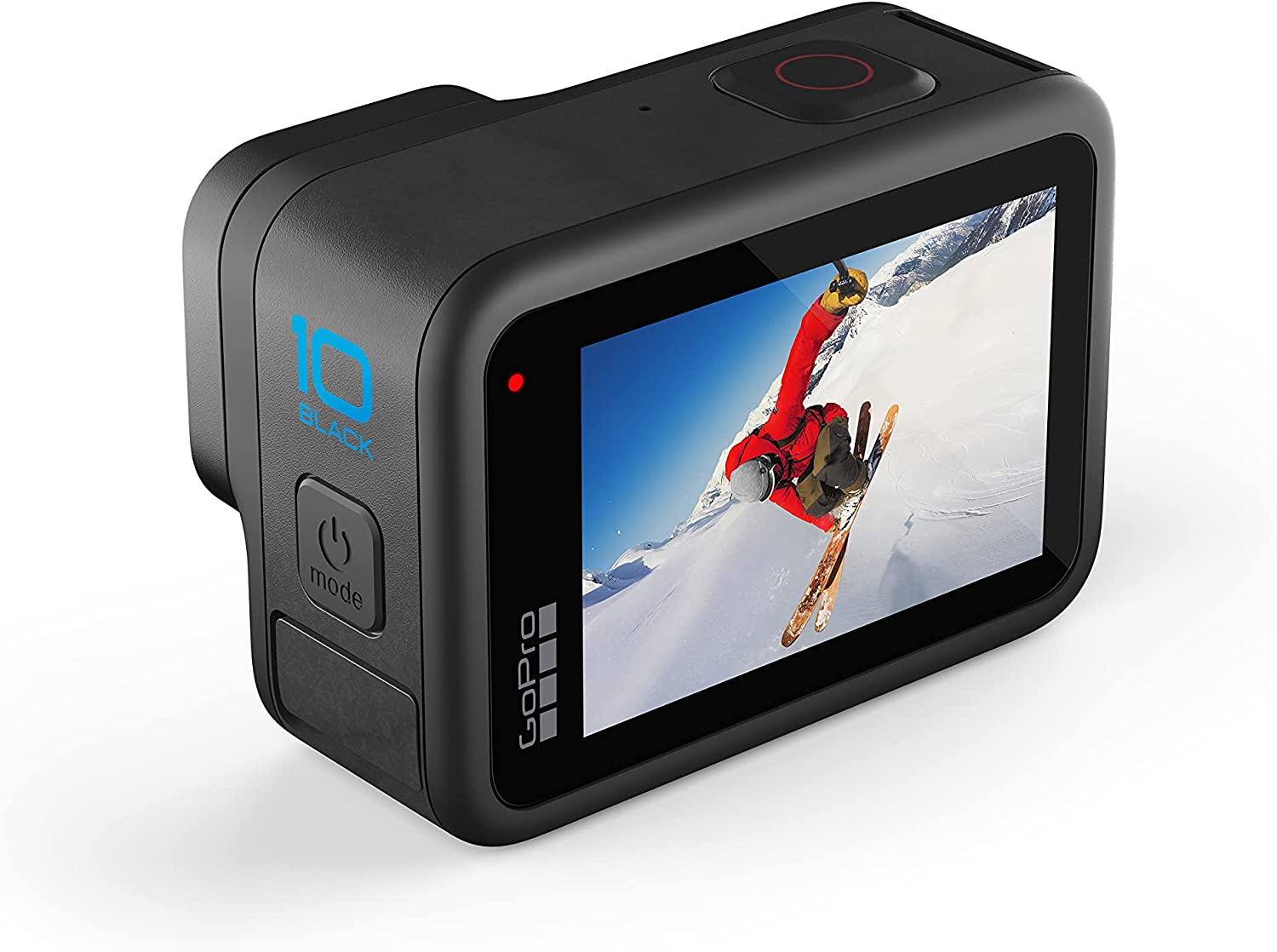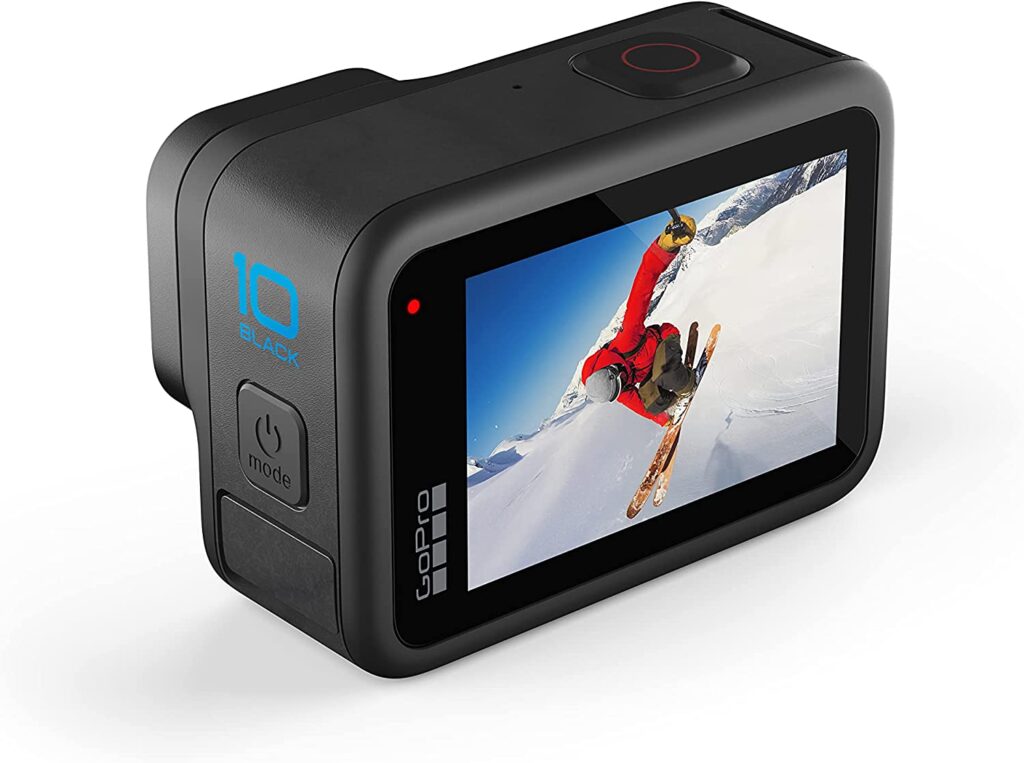 ---
While streaming is usually associated with gaming in the minds of the people, the truth is that many other types of streams have begun to gain traction over the last few years, therefore creating a demand for different types of cameras that are tailor-made for these streamers.
If you are looking to stream on the move, there is nothing better than an action camera for such a video recording. And among action cameras for live streaming, GoPro is usually regarded as the best.
GoPro Hero10 is a massively powerful camera that features up to 23MHz and an incredible 5.3K resolution at 60hZ (Yes, that is even higher than Ultra HD) while also featuring incredible response times thanks to its high-quality touch screen.
Furthermore, the camera has the slow-motion capability that allows you to slow down the footage up to 8 times while still retaining an impressive 2.7k resolution, something that you will learn how to appreciate when trying to record and stream specific moments of fast-paced action.
Next up, we should mention that the image quality of this camera is off the charts, even in unusual conditions such as heavy rain or storms, as its lens is completely hydrophobic and thus water-resistant.
The HyperSmooth 4.0 technology provides excellent image stabilization and low light correction, and the audio is quite good for this type of camera.
Finally, the GoPro Hero10 is fully Wi-Fi compatible and comes with unlimited cloud storage for easy upload of both photos and videos, something that will save you a lot of time when streaming or simply recording videos for later content.
Overall, you are looking at an excellent action camera for streaming whose only real issue is its price, as it does cost quite a bit more than most webcams and other streaming camera options, a price that is well-justified by its incredibly high resolution.
Best DSLR Camera for Streaming
1. Canon EOS Rebel T7
---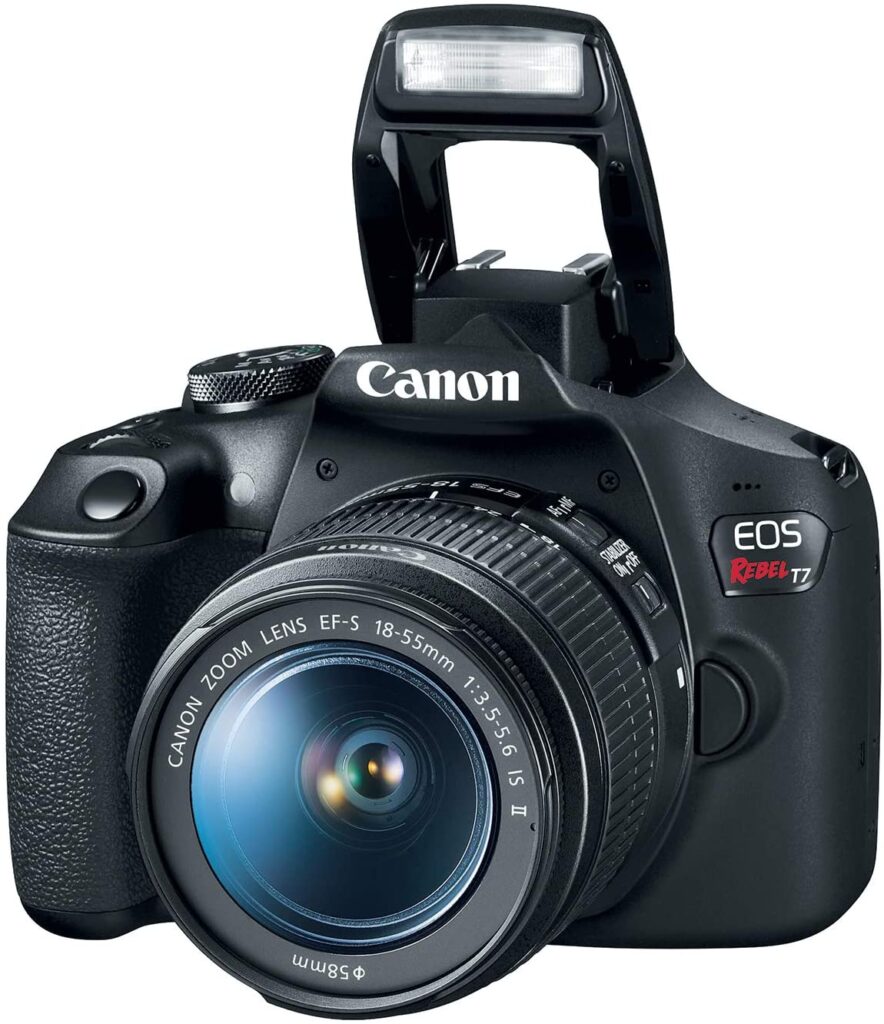 ---
If you are looking to stream on the move or outdoors but have no need for a fast-paced action camera, then DSLR cameras might be the go-to choice for you.
As an example, the Canon eos rebel t7 has a maximum resolution of 24,1 Mpix, which is excellent for its price range, and grants clear and smooth image and video recording regardless of the conditions you use it in, making it an excellent camera for live streaming.
The video resolution is 1080p, perfectly respectable for streaming most outdoor content, and the camera has its own Wi-Fi capability, so you can live stream from whichever location you choose as long as you have access to an internet connection.
Furthermore, the camera has its own autofocus, reducing the amount of input you need to give it when shooting, as well as a great optical viewfinder.
Additionally, thanks to the EOS Utility Webcam Beta Software, this DSLR camera can also double up as a webcam when connected to the appropriate computer device running on either Windows or MAC OS (Linux is not supported).
Overall, if you are looking for a high-quality camera to become a part of your outdoor live stream, look no further. Canon eos rebel t7 has everything you need, from a full HD resolution to an excellent webcam option not found in many DSLR cameras.
2. Canon EOS 4000D
---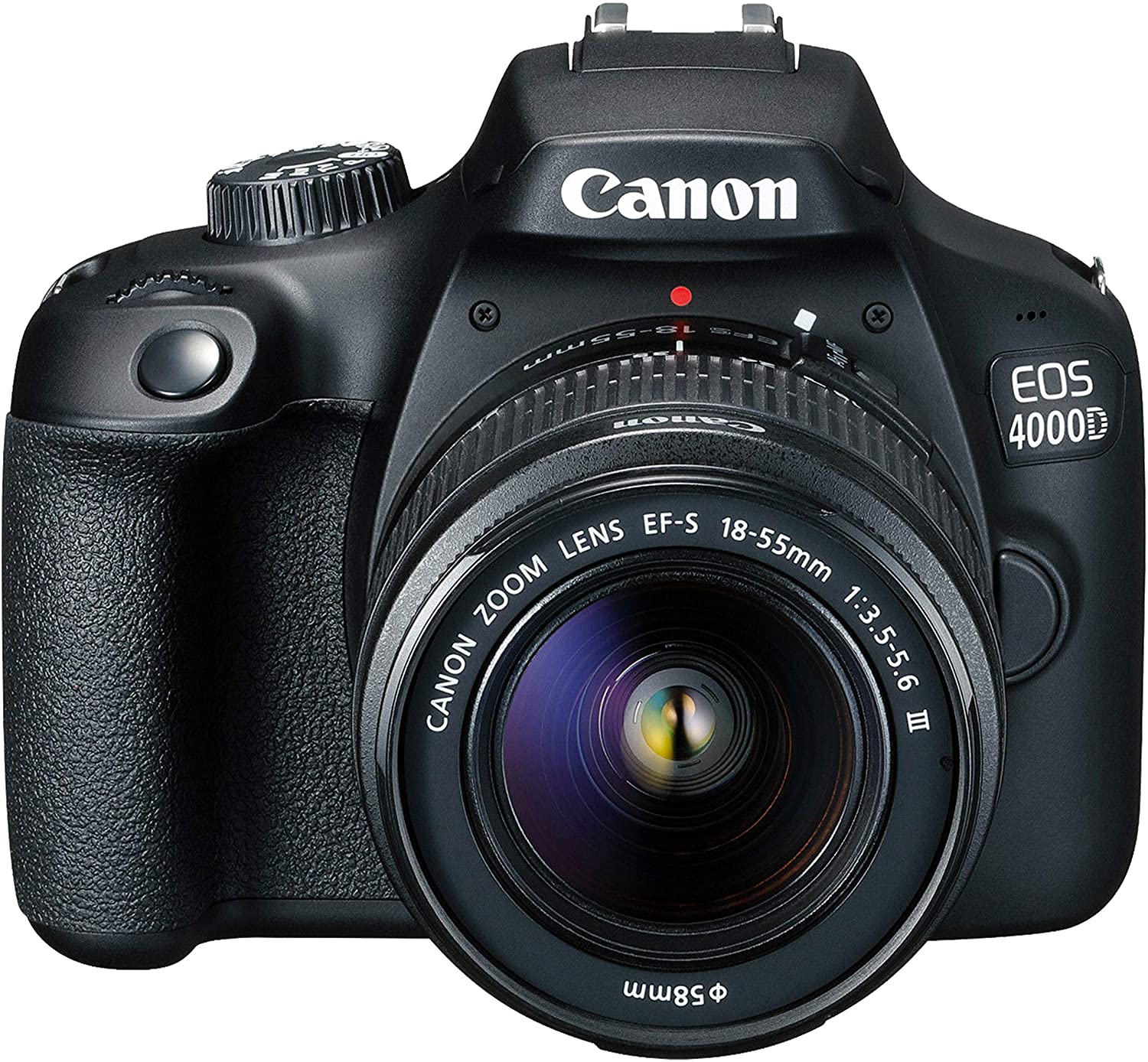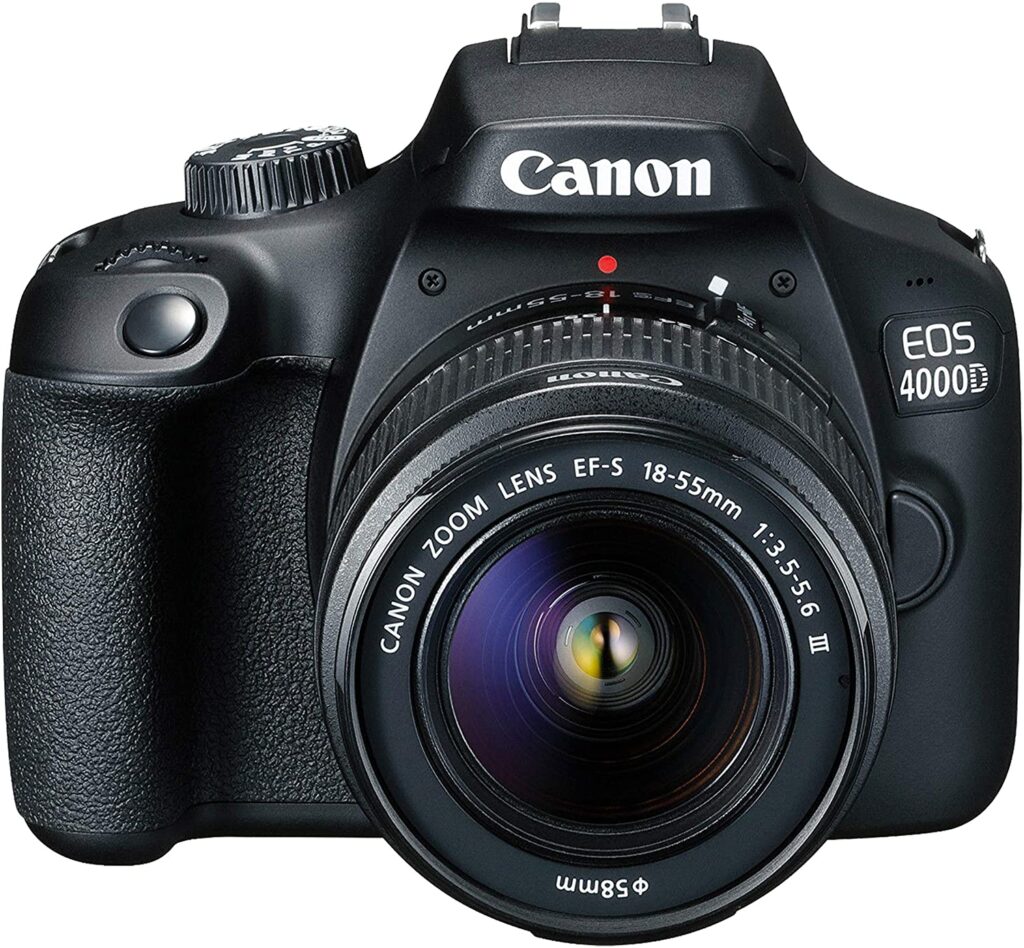 ---
Another DLSR camera from Canon trades a bit lower image resolution for access to 64 GB of internal memory and an adjustable lens.
Much like the t7, the video recording is still at 1080p 30 fps, but the difference is that the scene intelligent software allows for instant transfer of your photos and videos to the device of your choice.
The inclusion of a SanDisk memory card in the package was a very welcome one, allowing you to store videos and photos for later use in addition to streaming them, and the interchangeable lenses allow for adjustments in the field of view.
This angle modification allows this camera to have a number of different uses depending on the distance from the content that is being recorded or streamed, greatly increasing its versatility.
Finally, the amount of extras included with this camera is simply staggering. Lenses, filters, batteries, a screen protector, and many more accessories come inside the package, allowing you to get into the world of full HD DSLR cameras with ease.
My overall opinion on this device was quite positive, mostly due to the number of accessories that come included with it. While it does lack the webcam model of the EOS Rebel, it does have pros of its own, making it a decent choice for any outdoor content streamer.
What to look for in the best camera for streaming?
Type of camera
Depending on what kind of content you intend to stream, you might have a need for different types of cameras suited for such broadcasts.
As a result of this fact, I have decided to include several types of cameras on my list, each of them complete with a guide detailing their most common and effective use.
Resolution
The quality of your stream will directly depend on this factor more than on any other. As a result, you should only look for cameras that have a Full HD or higher resolution, a fact that was reflected in my choice of devices to include in the guide.
Furthermore, you should also check for the respective fps of each camera at each resolution.
Compatibility
While this is becoming less and less of an issue in recent years, you should still make sure if the camera you are looking to buy is compatible with your pc or another device, especially if you are using more than one.
As a result, I have decided to include the data on the compatibility range of each camera in its description.
FAQ
What camera is best for live streaming?
This is an incredibly complex topic that cannot be easily answered. As a result, I will direct you to check out the rest of this guide, as it details the types of cameras and which kind of stream they would be the best suited for.
What cameras do streamers use to stream?
It can depend on quite a few factors, from the type of content to the existence of any sponsorship deals. You shouldn't consider this as a factor in your purchase.
Instead, look for whatever camera suits you the best, even if it's not a popular choice. You can find some great cameras in this guide, regardless of the type of content you stream.
What cameras do Youtubers use for streaming?
Most YouTubers will use a webcam for their stream, but this is not an absolute rule. Instead, you will see people stream from all kinds of devices, depending on the type of content, conditions they are in, and even things like personal preference.
If you're looking to buy a camera to start or even upgrade your existing stream, check out this guide. It has a lot of interesting things to offer you.
Join our Discord Group. Ask questions, team up with fellow streamers, share memes, and more!