So, you're on your way to set up your streaming channel and are in need of equipment that won't break the bank?
You've come to the right place!
Once you go through the best streaming webcam list I've assembled for you, you'll be able to purchase the right product and kickstart your Twitch streaming journey.
Here's what I have in store for you:
Let's find you a great webcam for streaming at a reasonable price!
Post 12 of 17 in the Webcams/Cameras
Best Budget Webcam For Streaming
Reviews
---
QUICK OVERVIEW: Best Budget Webcam for Streaming
<!—INSERT CODE BLOCKS BELOW—>

720p resolution
Built-in mic

Full HD 1080p
Auto light correction feature

1080p resolution with 30 fps
Plug-and-play model
❶ Logitech HD C310
---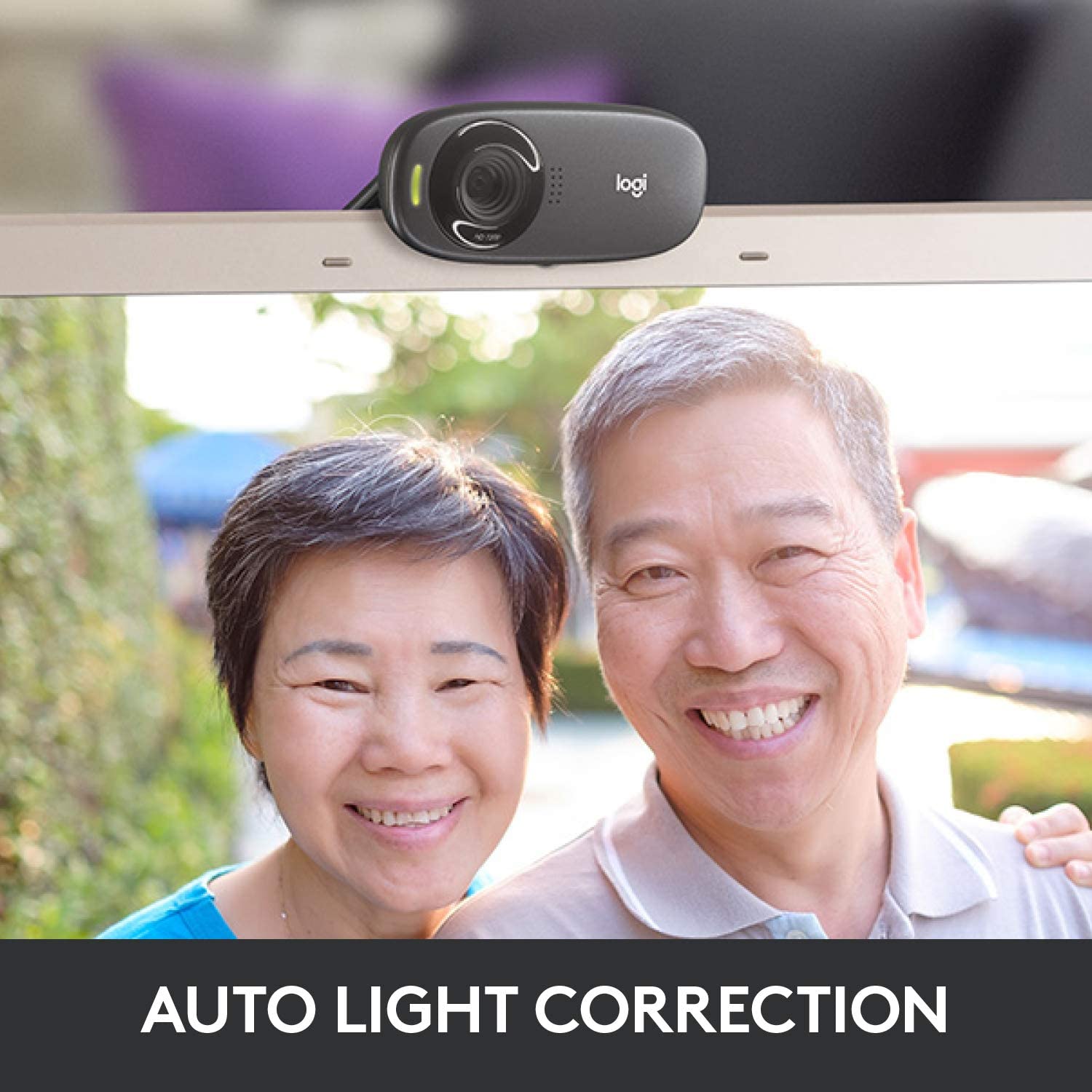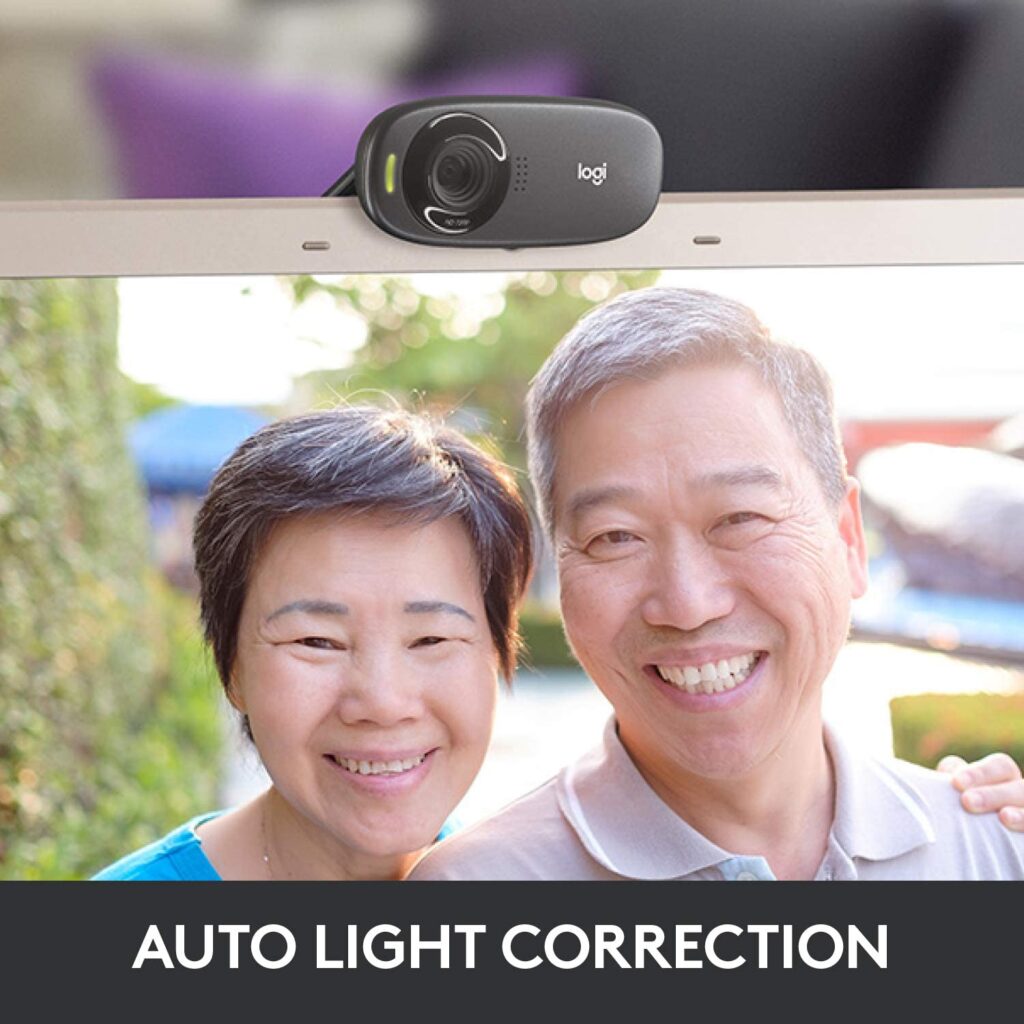 ---
Logitech is a go-to brand for equipment for many people, and this budget-friendly webcam is one of the examples of why.
If you're still not ready to invest in the infamous Logitech C922, try this one out.
Description
This webcam is mainly recommended as the best budget-friendly webcam for video calls or video conferencing, but some of its characteristics may do the job for live streaming, too.
The camera lens has 5 megapixels, and the image quality is at 720p.
As with many other webcams nowadays, the Logitech c310 has a built-in microphone that you could use.
For video chatting, you could use that mic with no problems. However, Twitch streaming may require a separate mic, as audio quality is sometimes more important to viewers than the quality of your facecam.
Of course, all of this depends on the type of content you create.
This inexpensive gadget also has the auto light correction feature, which is a great thing to have at such a low price point.
The model is plug-and-play, so there is not a complicated process behind the installation.
If you want better control over the webcam, Logitech has a free cam engine software called Logitech capture software, and this can be a good thing to have if you want to up your live streaming quality.
Also, if you need to have more control over your image during video calls, this is useful.
And finally, this webcam has an auto-focus feature, so you'll be sure that everything that needs to be the main focus will be.
❷ eMeet C960
---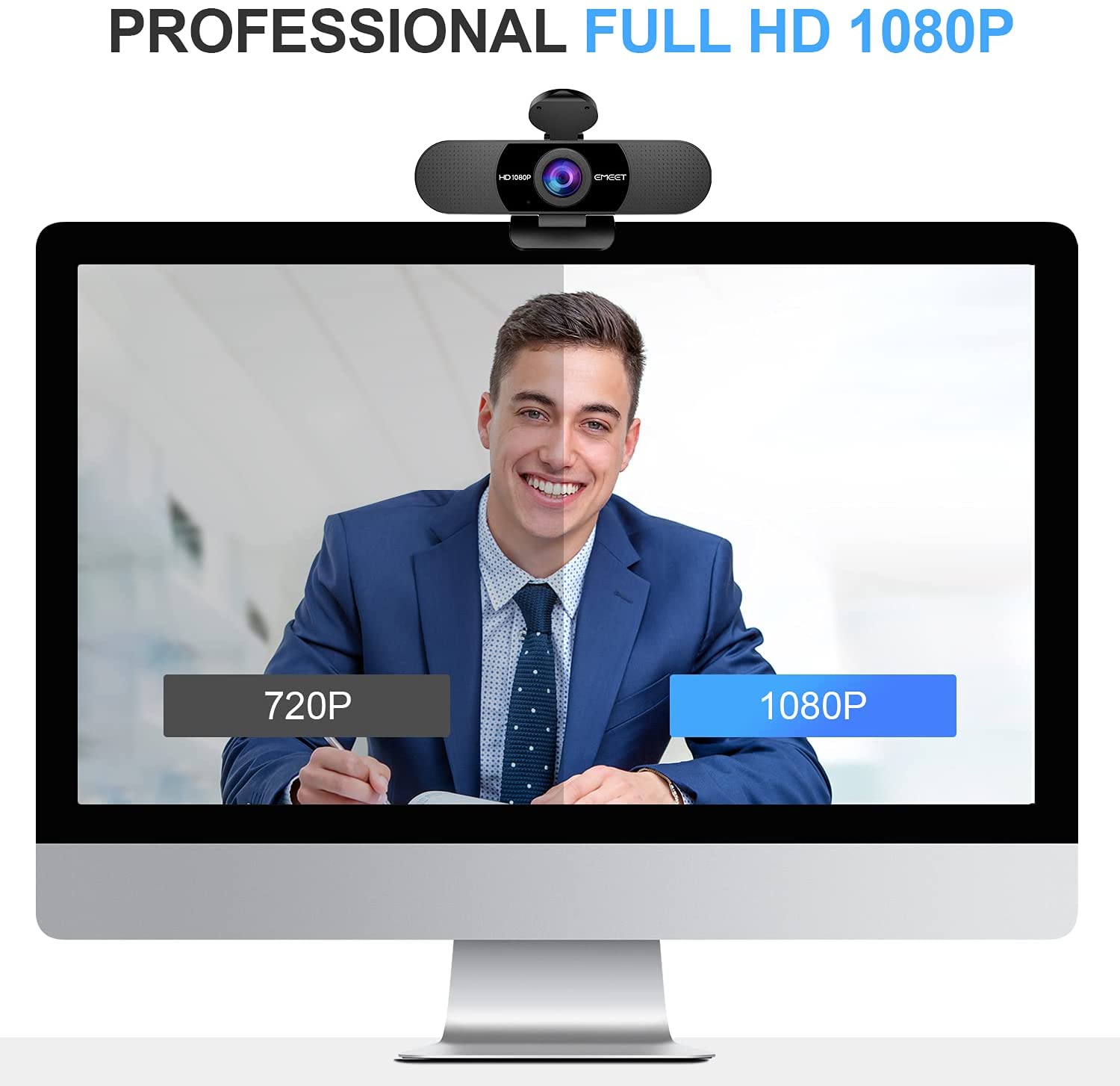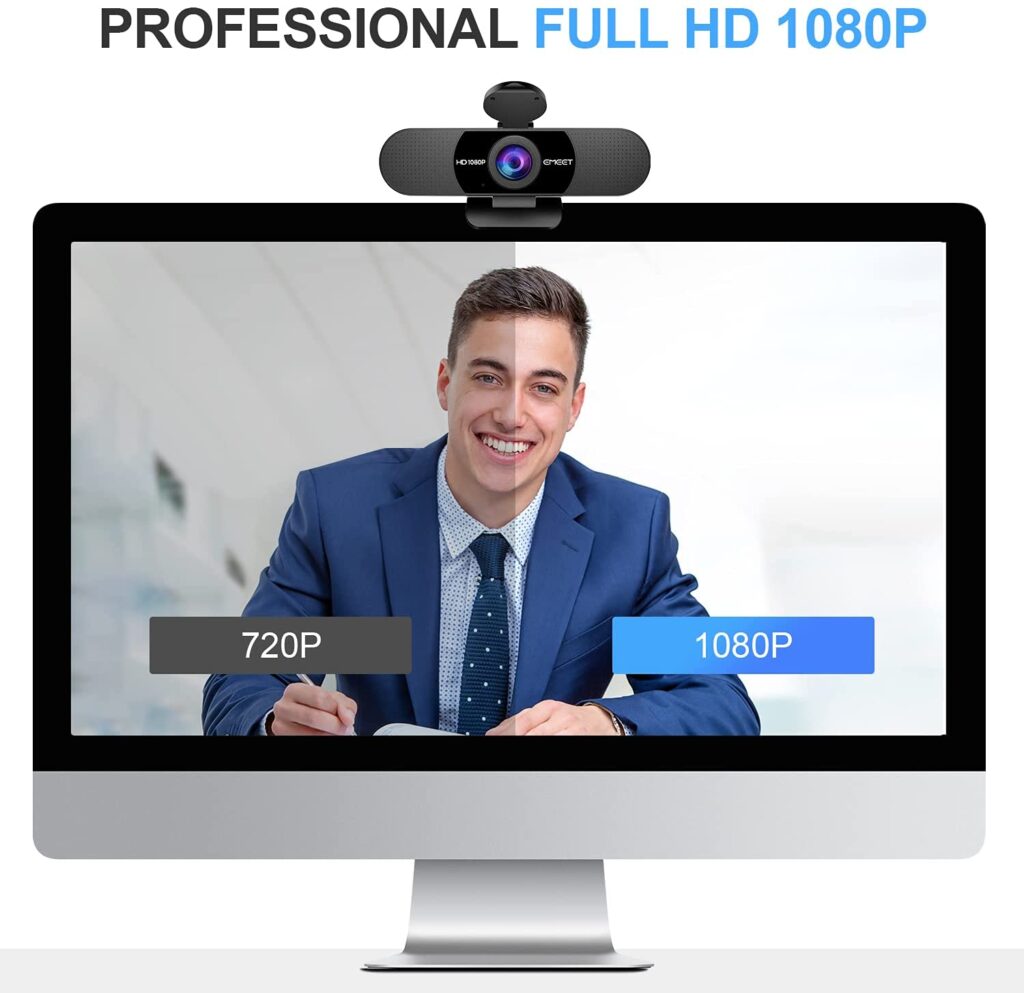 ---
Another streaming webcam that is around the $30 mark let's see what this one has to offer when it comes to video streaming.
Description
If you want to get 1080p video streams without breaking the bank, this is a good webcam for you, as it gives you exactly that.
This webcam also has a food privacy cover, so you can be sure everything is at bay while you're not at your desk live streaming.
You will also have good image quality thanks to the anti-glare lens.
If you don't want to invest in a microphone just yet, don't worry, as this webcam has noise reduction dual microphones built-in.
And unlike all the webcams that just claim this, the mics on this one are actually usable and pick up the voice nicely.
Besides video streaming, this might be one of the best webcams for you if you need better image quality for your daily video calls.
If you work in low-light environments, this could be a good choice as it has an automatic low-light correction.
This webcam is extremely easy to set up, as it is a plug-and-play type of webcam, like most webcams nowadays.
It's compatible with a lot of platforms, even Smart Android TVs, so that shouldn't be a worry.
Another great feature is the 90-degree field of view, which can be useful for game streams as well as video conferences.
The base of the webcam is sturdy and safe and also can be adjusted within 180-degree reach.
The settings are also very easy to work with, and you can have excellent picture quality once you find the exact options that work for you.
This high-quality webcam doesn't come with detailed software that you can control it with, but any third-party software of that kind will work just right.
❸ NexiGo N930AF
---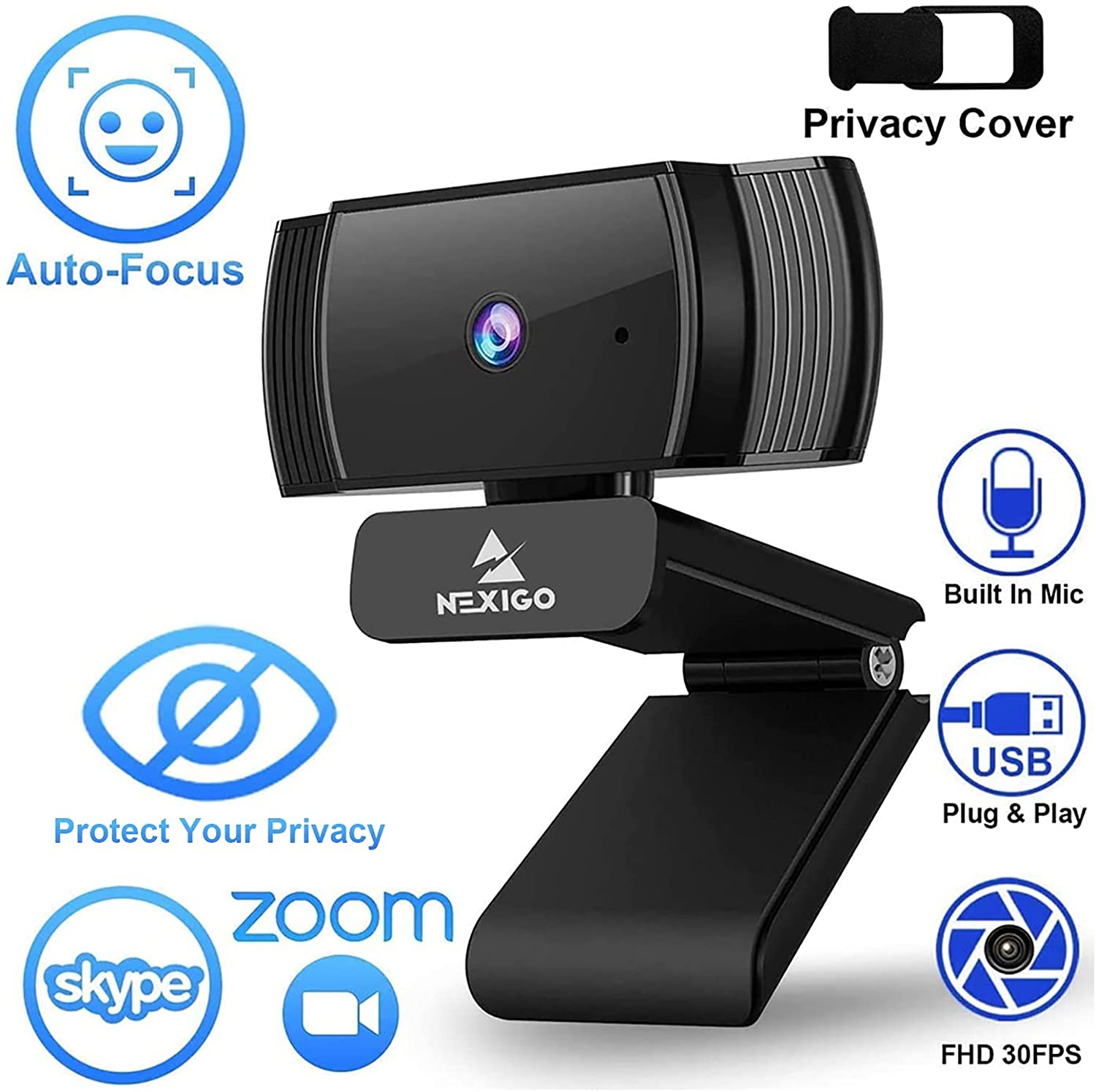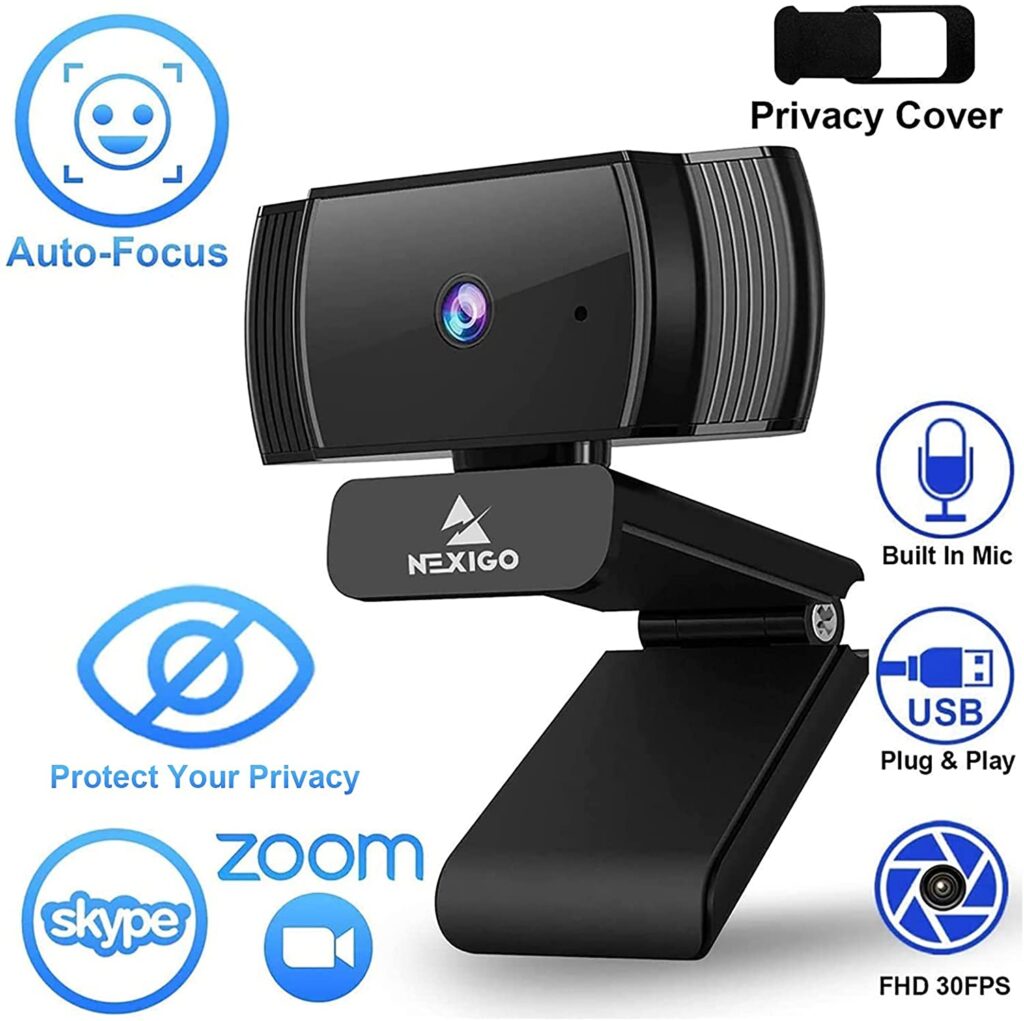 ---
A bit pricier but still in the not-breaking-the-bank range, the NexiGo might be the reliable webcam you're looking for.
Description
A bit pricier than the previous two webcams, this webcam comes with a lot of great things.
To start with, the video quality you get from this one is at 1080p, with 30 fps.
Like many other best webcams, this one comes with the auto-focus feature, however, it also has the ability to be switched to manual focus, which many people prefer for video recording and high-quality video streaming.
Also, that feature can be very useful for video conferencing, of course, depending on what it is that you do.
The privacy cover is not lacking with this one, and it's very nice and sliding, so not only will you have good video quality, but you'll also be safe while you're not recording.
Many other webcams have a flimsy sticker in the place of a privacy cover, but that is not the case here.
As expected, there is a built-in microphone that is great for video conferencing, and it will probably do the job for streaming, but as usual, I would always recommend buying a separate mic if you want both your video and audio quality to be top-notch when you stream.
However, the mic is good and cancels background noise for the most part.
The NexiGo is compatible with all types of operating systems as well as all popular platforms, both for conferencing and streaming.
So you won't have any issues whether you need it to work well with OBS or with Zoom.
Two little things that I found great about this one are the sleek design that matches the aesthetics of most gaming setups and the fact that the design makes it very easy to wipe your camera lens clean.
There is no separate webcam software for this webcam, but as I already said, it works great with just about any platform, so I look at that as a non-issue.
It has every right to be considered one of the best webcams available!
❹ Razer Kiyo
---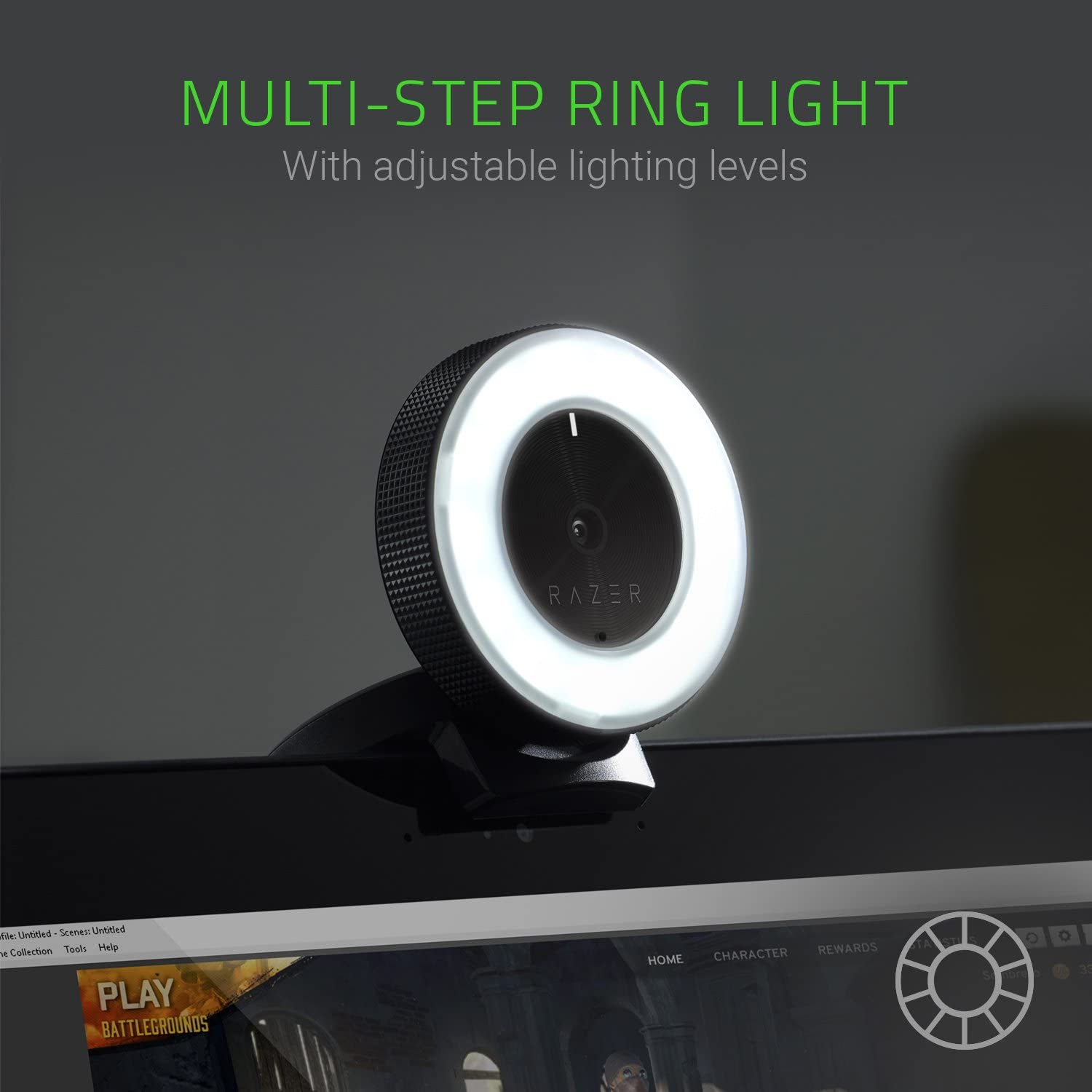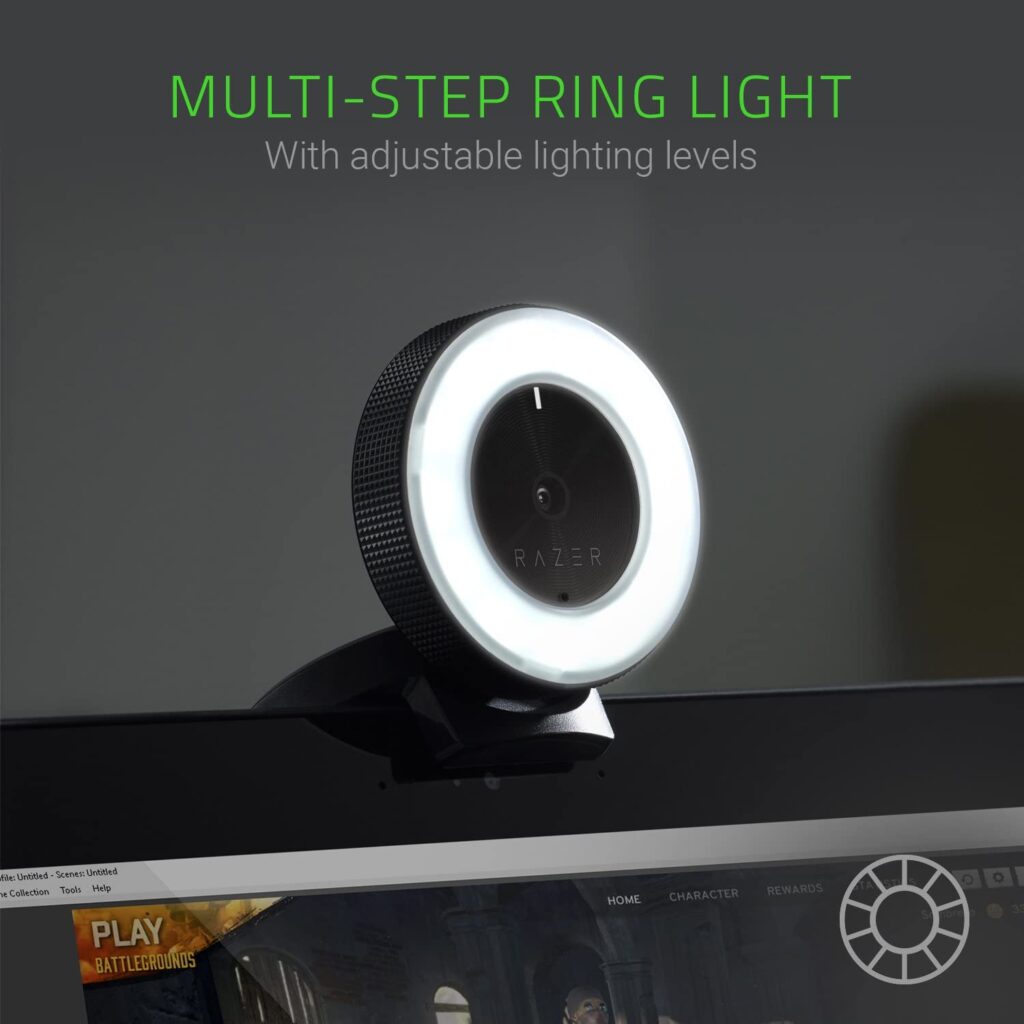 ---
The Razer Kiyo webcam is a very popular quality webcam that many streamers opt for.
Even though it's not as inexpensive, it's a quality webcam that you might want to consider, as it has one big advantage.
Description
The main benefit of the Kiyo Razer that many people know it by is the built-in ring light.
Not only is this two in one situation a great deal when it comes to pricing, but it's also a win for saving space.
Streaming equipment can get very bulky and space-consuming very quickly, so any kind of an improvement on that front is welcome if you ask me.
The ring light will provide you with great video quality when+ther you're in a video conference or a video stream.
Some other important features of this webcam include its ability to have videos at 60 fps, as well as an advanced auto-focus.
However, if you want to have that, you'll have to settle for 720p.
That's still a pretty high resolution, but filming with 30 fps will give you 1080p.
It all depends on what you're streaming with this premium webcam, so you can choose which one suits your needs better.
Either way, it's great to have both options.
Many in-depth reviews all over the Internet speak highly of this webcam, calling it one of the best webcams for streaming.
And overall, it can be, as it is definitely geared towards that more than people who use webcams just for calls.
If you have the means to, I definitely think this should be your update from the laptop built-in cameras.
Also, it's worth looking around for some webcam deals and trying to get the Razer Kiyo at a discount.
Some people find the ring light intimidating, but don't let the brightness freak you out – the levels are adjustable just by rotating the wheel behind the ring light part, so everything can be set without even opening a separate program on the PC.
The design is also foldable, making it great for people who are on the go.
Of course, it's compatible with a wide variety of operating systems and streaming platforms.
The Razer Kiyo actually has software that you can download and use to control your preferred settings.
The software is called Razer Synapse and works great with all of their webcams.
❺ Microsoft LifeCam Studio
---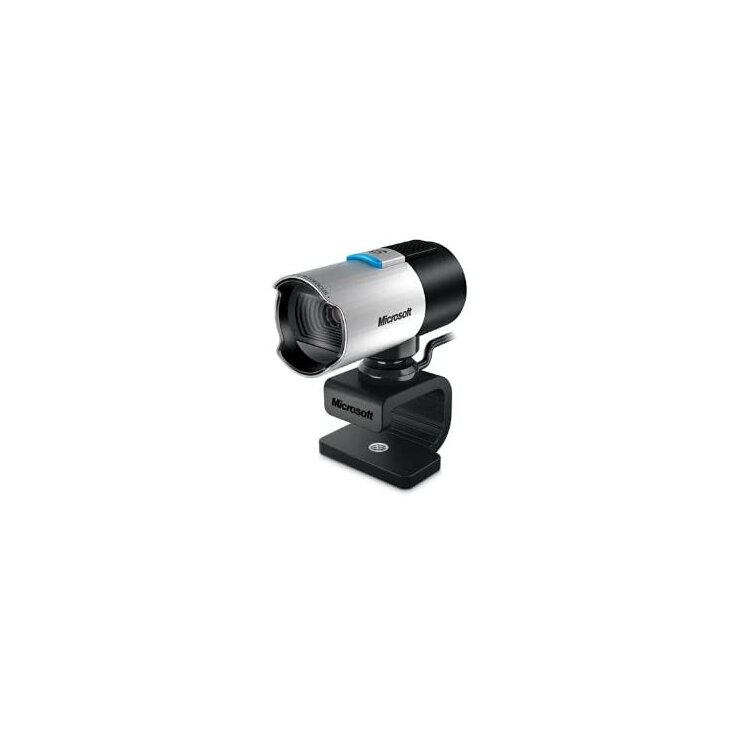 ---
The Microsoft LifeCam is in the mid-range of prices, so if you're not after a really cheap webcam, this one might be worth considering.
Description
Microsoft LifeCam is a device loved by many but is it worth a higher price, compared to the best webcams that I have for you here?
If you are someone who likes to go with long-lasting, household names for your devices, then it makes sense that you'll be interested in a webcam by the leading digital publisher.
But it seems like that might be the only real advantage this webcam has over the ones on top of this list.
Of course, this webcam is mainly compatible with various Microsoft platforms, and when it comes to iOS, it sometimes works, sometimes not.
The video quality you get with this one is at a great 1080p, and it has auto-focus.
As you would expect, it's easy to set it up on a computer with Windows, and in that scenario, this is a plug-and-play type of device.
It will work great if you would mainly need it for a video conference, and it's a decent webcam for streaming, but it's definitely not my first choice.
If you find the Microsoft LifeCam somewhere at a great deal, then that's when I would consider it.
Join our Discord Group. Ask questions, team up with fellow streamers, share memes, and more!