Capture cards are the middle man between gameplay devices and an uploading computer with the purpose to distress your PC from overuse of graphics and processors.
Typically capture cards are stand-aloneUSB or PCI devices used to record footage from a console or a camera.
The process of capturing starts within a console that outputs the signal you want to record and sends it to a capture card. A card formats the signal and forwards it to the PC to be encoded into a playable video file or a live stream.
Post 14 of 14 in the Capture Cards
Best Budget Capture Card
Reviews
The demand for Capture cards grew over the past years and the market started responding by offering affordable options as well improved high-end options.
While searching for the best cheap capture card we discovered these eight options for streaming and recording.
Our criteria are based on quality, price, durability, ratings, and compatibility with multi-device.
QUICK OVERVIEW: Best Budget Capture Cards
<!—INSERT CODE BLOCKS BELOW—>

Resolution: 4K
Audio: L-PCM

AVerMedia Live Gamer Plus

Input and output: HDMI
Resolution: Up to 4K/60p
1. IPXOZO Capture Card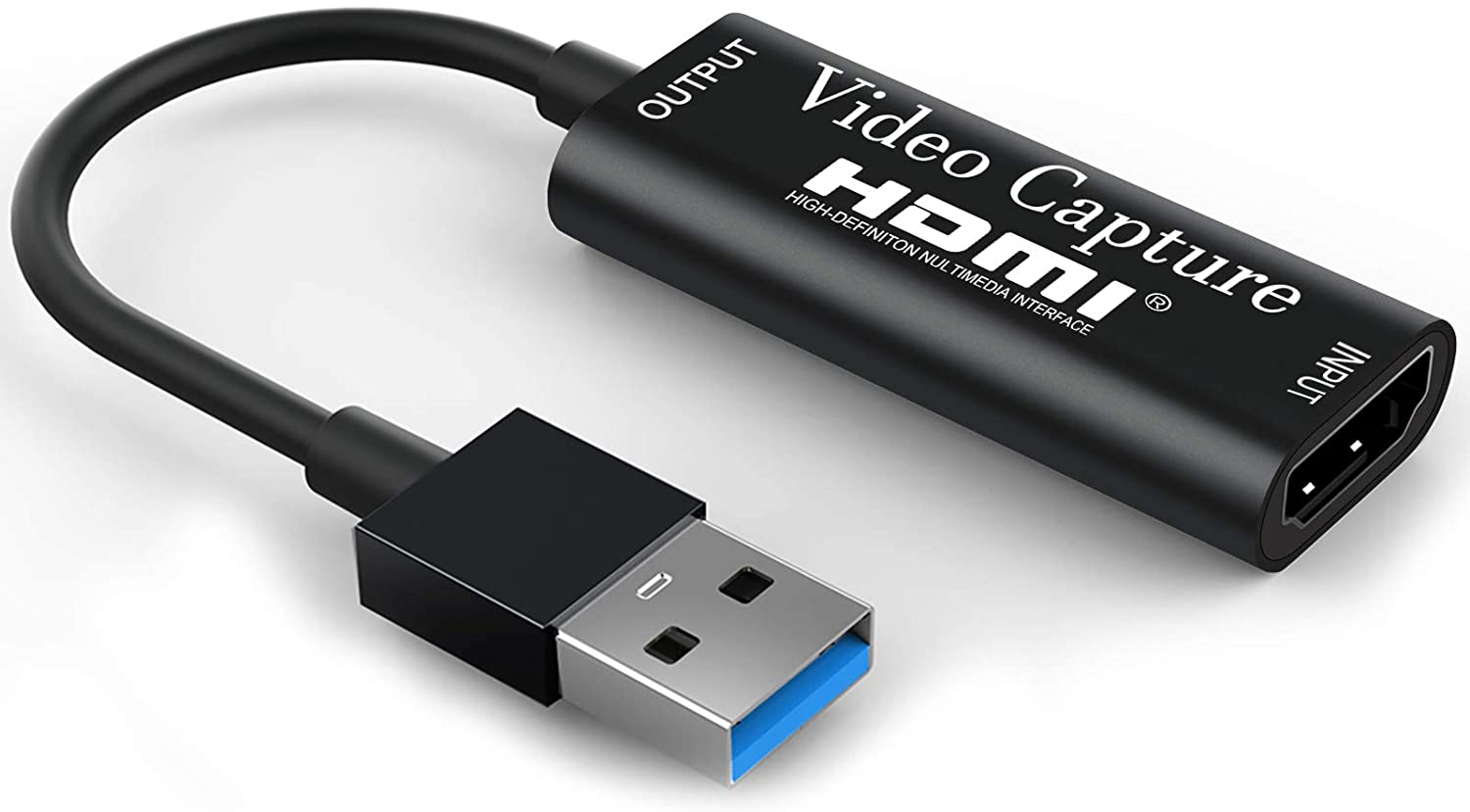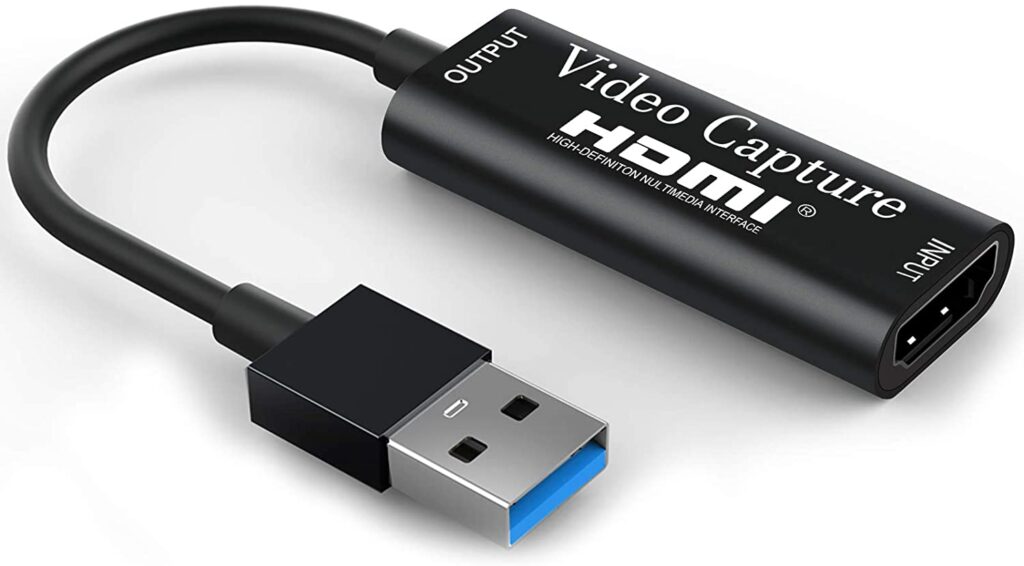 This is the cheapest capture card that comes from the IPXOZO, an unfamiliar brand that left high-end manufacturers scratching their heads.
Due to the affordability, IPXOZO Audio Video Capture Card found its way to YouTuber`s channels, blogs, and eventually Twitch streamers.
Who is it for?
This cheap hdmi capture card is suitable for pretty much everyone in the need of audio-visual content.
Pandemic changed our world and jobs are becoming home-based. Teachers, therapists, and even medical consultants are working remotely and are in the need of capturing material, video conferences, and online meetings.
The usage of capture cards is massive in live-stream gaming.
Game consoles users need these for live-play or capturing and uploading gameplay recorded video to platforms.
IPXOZO Audio Video Capture Card doesn't include software but it works perfectly with OBS, consoles, and Pcs and for less than 20$ it is the most budget-friendly card.
For those new in gaming and streaming, this card is perfect to get you started and know what to expect from devices like this.
Key features:
This HD-4K capture card is a small, easy to install, and portable USB device. It is compatible with most Software, video players, and devices.
The installation process is simple, plug and play, you won't need additional drivers or power supply. Offered functions in your current software will connect with the device for optimal functioning.
IPXOZO Audio Video Capture Card body has two ports, on each side, for USB 3.0 and HDMI.
The adapter is a simple USB, it connects instantly with computers and devices with USB ports and for MAC users there is a separate mountable adapter.
All recorded videos are saved on your PC or a laptop, the card itself doesn't require any additional memory sources.
The result is captured video with the full-color spectrum and sound, and depending on your preferences, ready for editing.
This card is a great choice for YouTubers, connecting any camera or camcorder to the capture card and your computer is an easy and better option for recording video, especially if you are relying on a built-in laptop camera which is usually a wide-angle lens.
Newer cameras with motion tracking will always keep the focus on the subject and lenses can be changed depending on the need.
A live stream is optimal at 1080P 30fps with full color and sound. With the HD quality delays are minimal and even with technology moving to 4K and higher users agree that not everyone is ready to replace existing devices at the same time which is another reason this card is getting great reviews.
---
2. AVerMedia Live Gamer Plus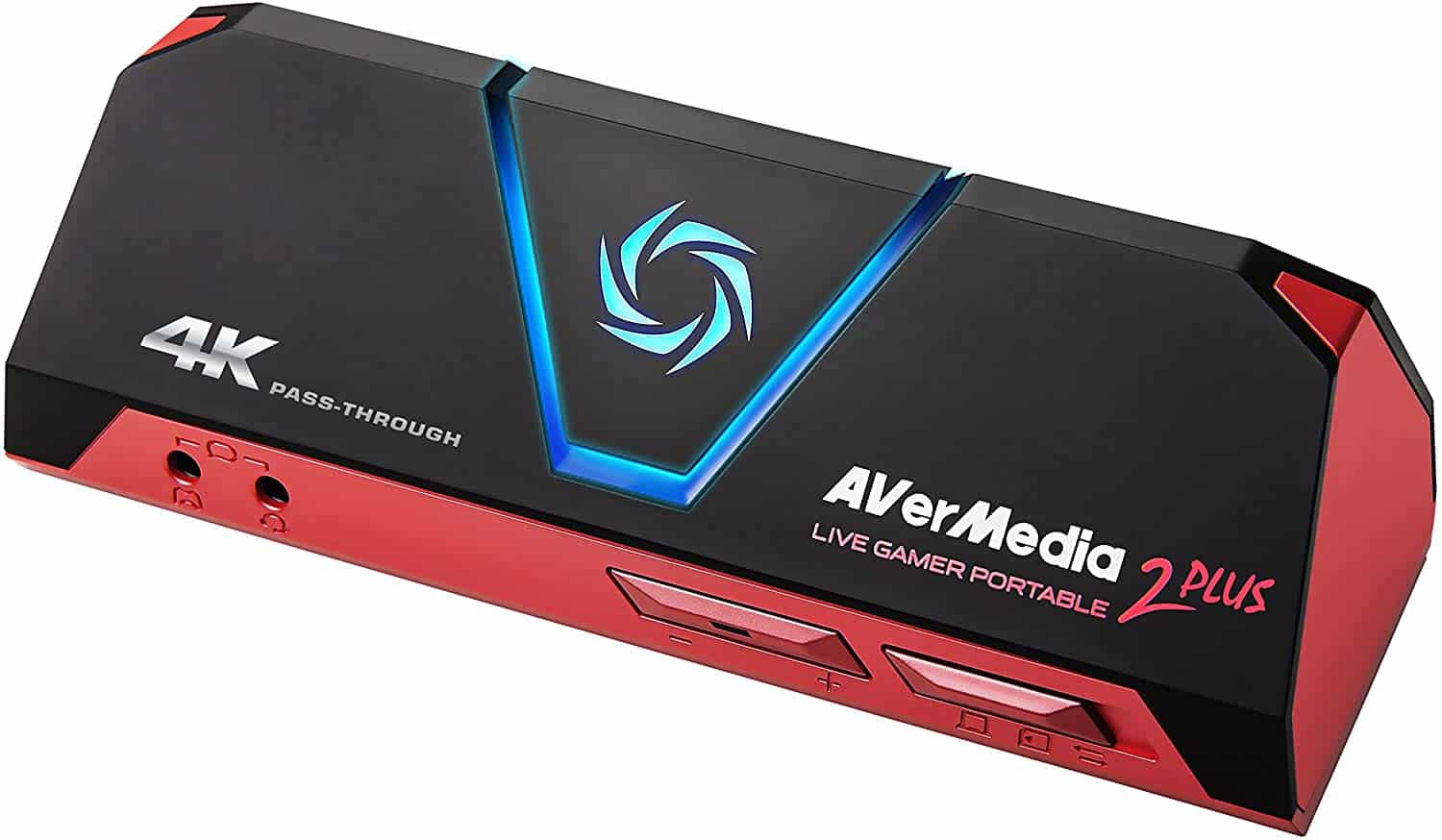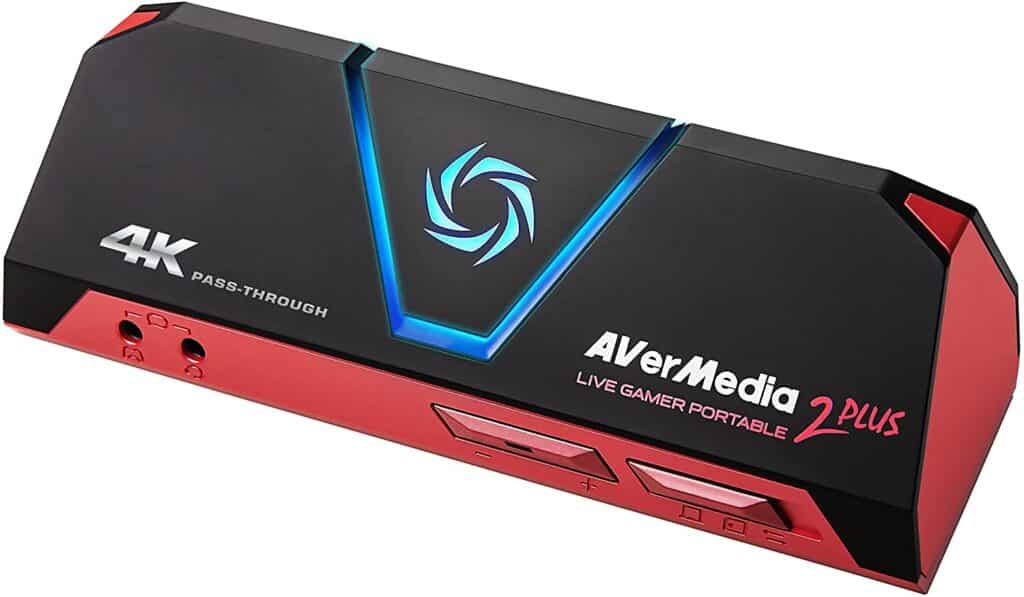 This Toblerone-shaped capture card hit the market a couple of years back. Its name and design were put together to pursue the gaming market, and now finally users are interested as the price is dropping and the market is opening up to capture cards.
AverMedia is a Taiwanese brand with a primary focus on video technologies. Thanks to the Amazon and global market they slowly expanded from a local brand to a renowned competitor to high-end brands.
This company is actively pursuing innovations in visual technology and owns several patents with approved licensing, so there's a good chance that technology used in more expensive cards originally comes from this affordable brand.
Who is it for?
Starting with 2019 all capture cards unexpectedly gained a wide range of users. For all those in a need of recorded footage for purposes of online courses, video conferences to original customers, gamers, and streamers.
Twitch and YouTube aficionados, especially those who aren't users of 4K devices and screens, might appreciate the pass-through technology incited in this card.
Live Gamer is considered inclusive for the PC game players and those who don't own new consoles with recording options.
Key features:
AVerMedia Live Gamer Portable 2 Plus comes with an input USB 2.0/4K pass-through port with a framerate of 60P, and HDMI output.
A standard cable headset/speaker and separate microphone input are available on the device for a live commentary, all it needs to be done is plug your set and the card will run it without additional software.
This applies to console chats as well and since there is no sound compression you will clearly hear all the sounds separately instead of a channeled mix.
Considering that his device dropped its anchor in 2017, an SD card slot, PC memory, or integrated memory are offered options for footage recording. These are neat solutions if you want to take your recordings elsewhere and additionally, the device performs as a card reader so all your data is backed up.
Chroma key helps with the background removal in a case of a live chat or other self-recording needs.
To set up this card you won't need any additional drivers but if you prefer your own settings, apps like OBS, XSplit, or Streamlabs will enable access to all needed tools for content personalizations. 
For a full gaming experience, the card will flash the lights to let you know if you are recording. Blue light is emitted when the card is ready to use and red light flashes when recording.
Once you are in a recording session all light will mute and you won't be distracted while playing.
Due to the integrated memory, you don't have to use a PC at all times, so if you prefer to take your gaming experience out of your game room this easily transportable card is all you need.
---
3. Live Gamer ULTRA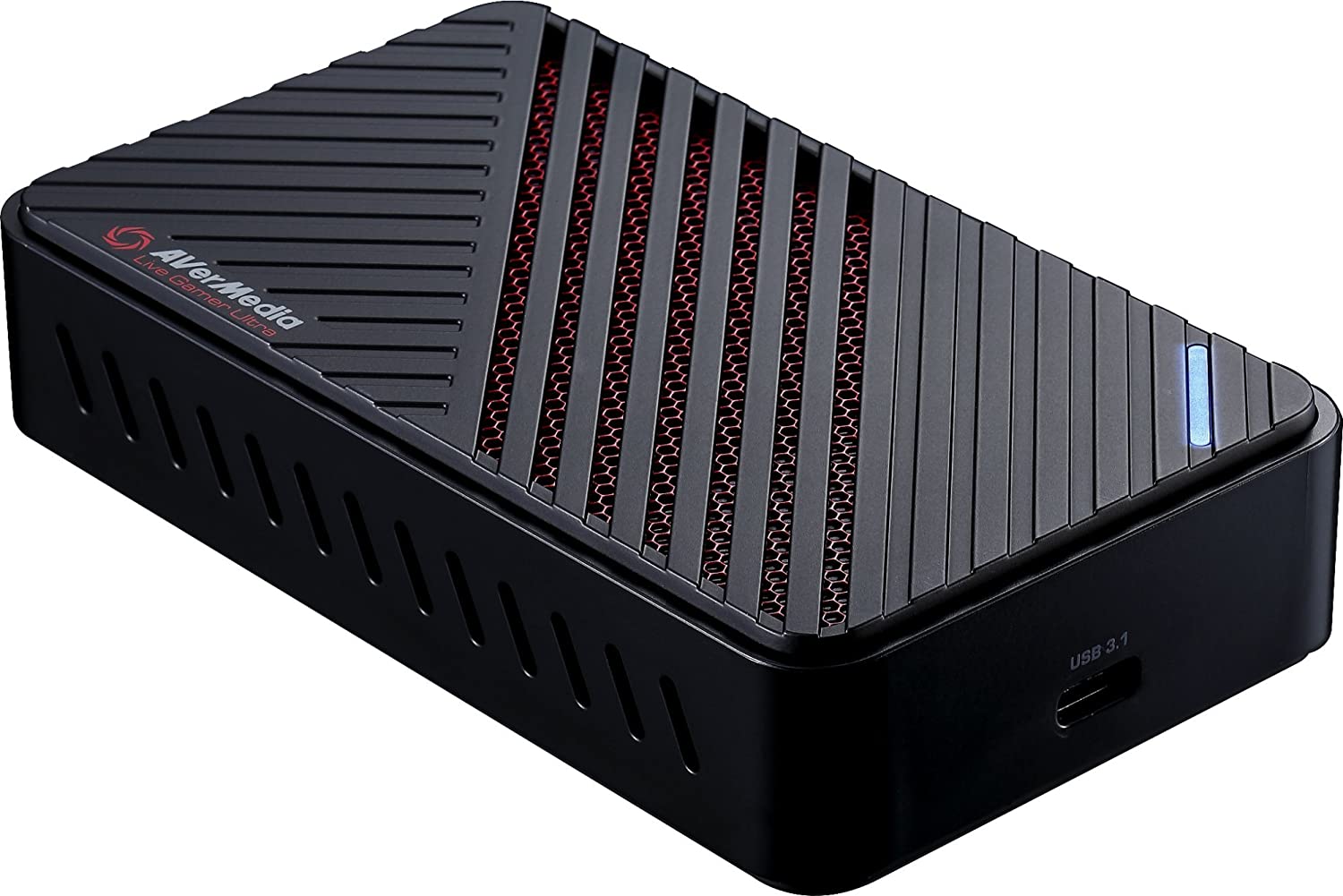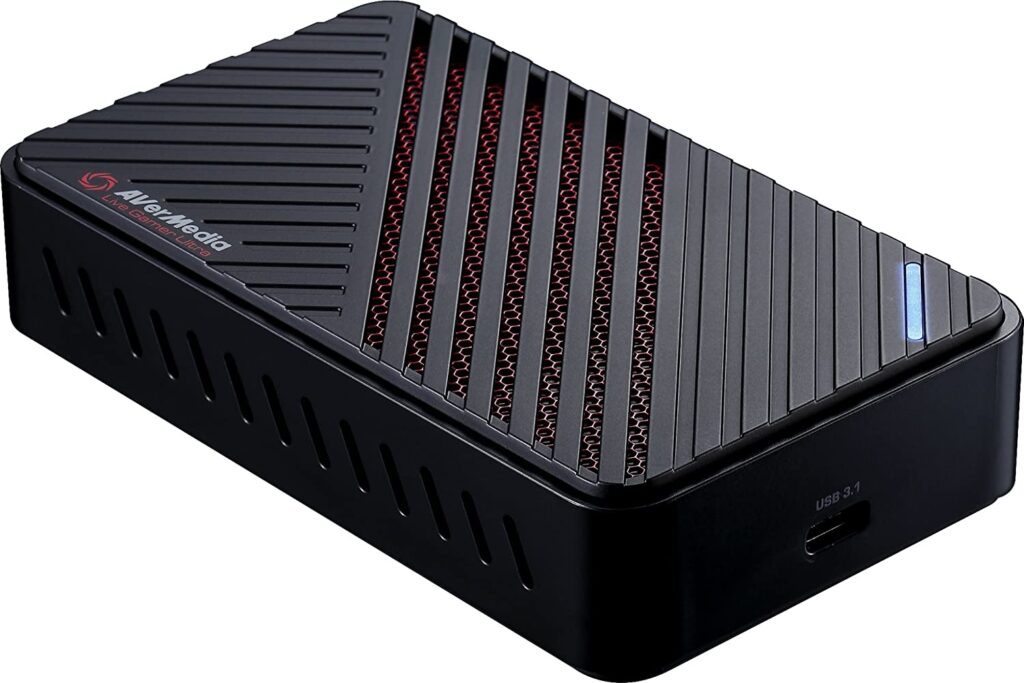 Another card coming from the brand AverMedia, this time with updated features and improved resolution rates.
The product design of Live Gamer Ultra is sleeker and smaller unlike the bulky Live gamer portable 2.
This brand is expanding its product versatility and according to the reviews, newer products are awaiting releases of new consoles which reflects their futuristic vision.
Who is it for?
The card supports Consoles and PCs but requires high-performance operating systems and graphics starting with i5 processors.
For a 4Kperformance Operating system supported are Windows 10(64), Intel processor, NVIDIA graphics, and memory should be at least 8BG RAM.
For a laptop user's processor requirements are even higher, Intel i7 should correspond well.
This card uses advanced technology and requires advanced systems to support high-resolution streaming and recording.
This includes newer Xbox series consoles, Nintendo Switch and PS4.
Key features:
Live Gamer Ultra is a pass-through 4K system with a dynamic recording range optimized for 60p. 4K resolution in the recording is a leg-less wide range color spectrum providing impeccable material for content creators.
To start using this card, all you need to do is connect it with your supported consoles and PC and you are good to go.
RECentral software is included in the package for a better experience while recording or streaming.
This card is built to be resistant and supportive to new consoles, to achieve the data flow the plastic structure of the card is reinforced with a metal mesh for the purposes of airflow pass and cooling system.
The package includes FPS support, a trial version of the editing software PowerDirector 15.
Bitrates can be pushed to an astonishing 150Mbps for a 4K, however, Youtube recommends 80Mbps and AVerMedia offers advice on their official website as well instructions that come with the box.
In reality and based on the users' experience, the best quality of 4K is achieved in 30FPS. Some consoles have locks on FPS (Marvel's Spider-Man is played at 4k/30FPS) which is probably the main reason for these recommendations.
The performance Test feature is a clever addition to the software, it will allow fast troubleshooting in the case of some interruptions and by measuring the resolution and frame rates it will offer available solutions instantly so your live play won't be interrupted.
Just like the previous versions of AverMedia cards, the light indicators are included so you won't forget to record.
Live editing is a feature yet to be mastered by game players but if you want to give it a go you can do it in OBS and avoid dragging and excessive memory usage.
This cheep card is a device-friendly and portable device for new generation content creators.
---
4. AVerMedia EZMaker 7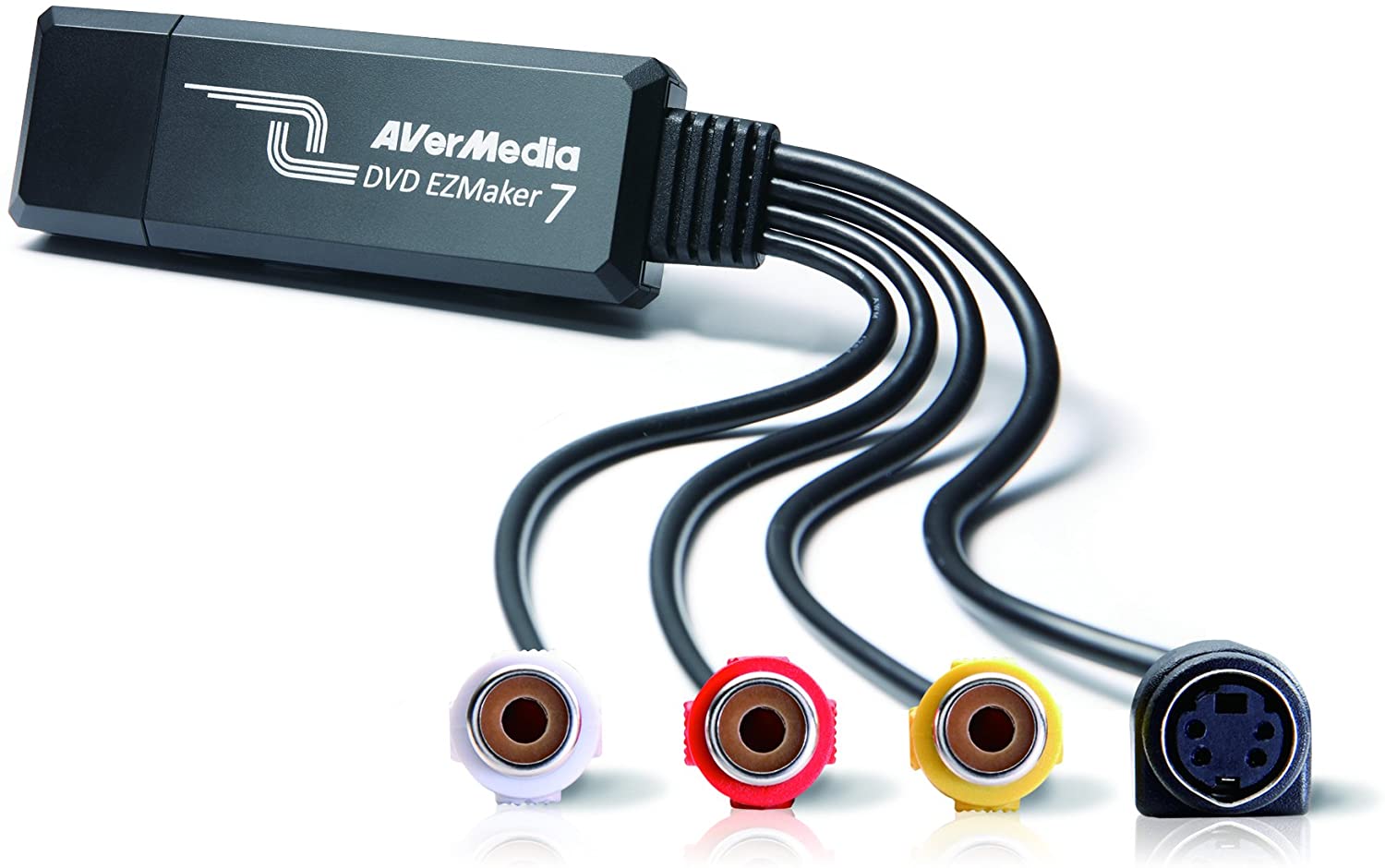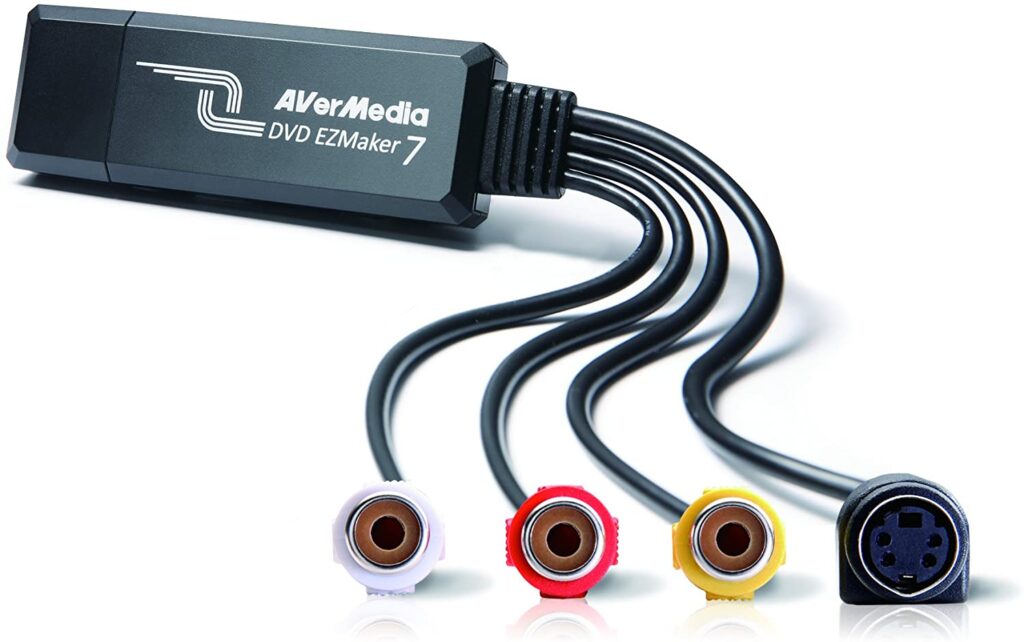 AVerMedia continues to surprise. Their dedication to creating devices for perfect gameplay is becoming more and more obvious, this time with the focus on vintage games.
Classical and ever-popular older games are an inevitable treasure for passionate gamers and game collectors.
EZMaker 7 has been around the block for almost a decade but nowadays it is getting a spotlight as a neat solution for digitizing analog technology.
Who is it for?
This card offers solutions for digitizing vintage formats. Other than game affesionatos this card is a great device for bringing footage from VHS and DVD into the present.
Old family videos and memories and all important content from outdated devices can be easily transferred to mp4 formats.
Key features:
The EZMaker 7 analyzes, calculates, and recognizes PAL or NTSC format from VHS, Video 8, or DVD and converts it into a digital file. The digital files are sent to include editing software, PowerDirector 10, to be saved or viewed.
AVerMedia updated their drivers to the Windows 10 version, and in the instructions offered in the package, you can find the information regarding pre-installation drivers if needed.
---
5. NIX Video Game Capture Card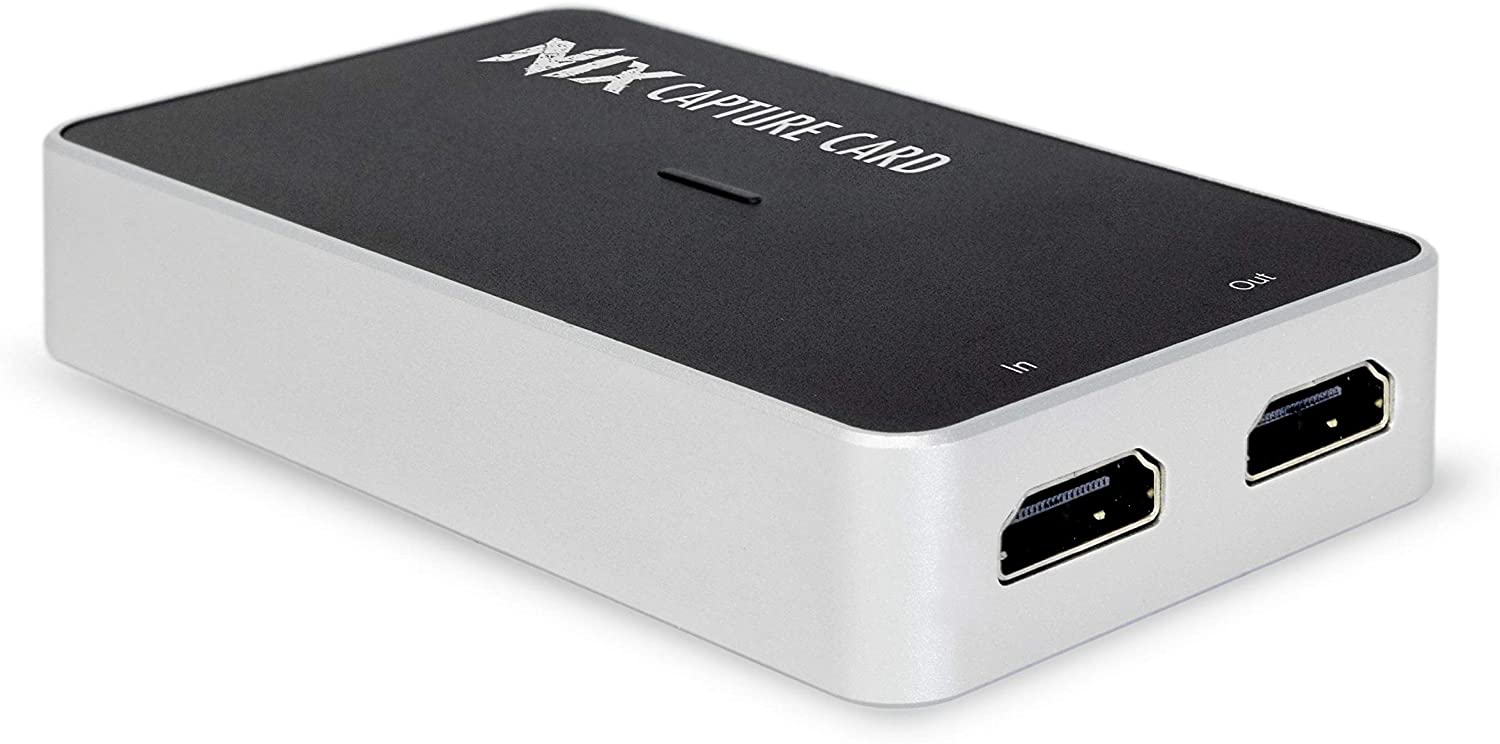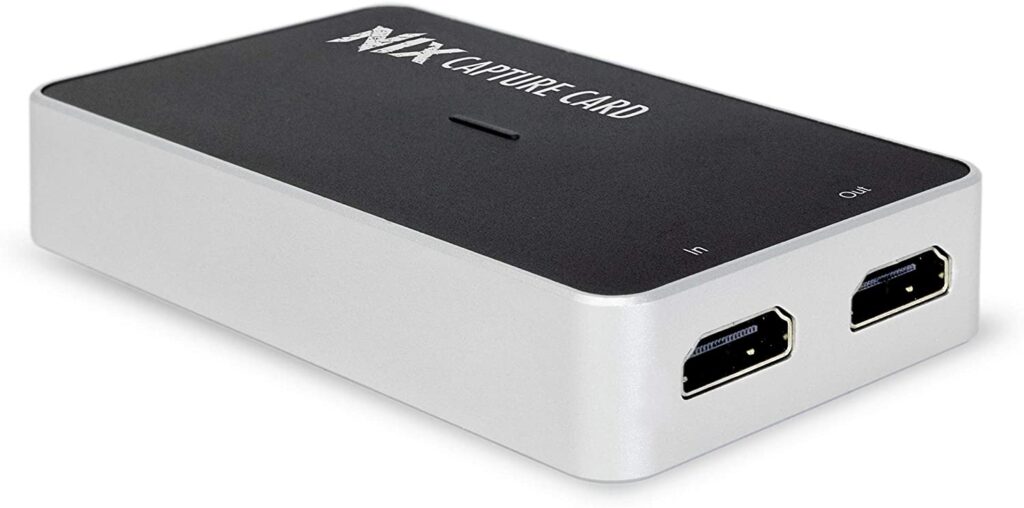 Plugable is a renowned USB device manufacturer. A range of products are available for online purchases and the brand representatives claim that their new products are a combination of user reviews and innovations. Direct response policy is a driving force for this brand.
Who is it for?
The NIX card is a great gadget for streaming, it is a cheap USB high-quality card with a wide device compatibility range.
With the best performance rate at 1080/60fps, this card works perfectly with OBS and Xsplit.
The Plugable company took into consideration users' needs and comments and created this small and cheap game capture card with very straightforward specifications without promising impressive 4K features.
With the HD quality, they included users with different performing devices a simple plug-and-play technology for a smooth streaming experience.
Key features:
NIX captures the footage at HD/1080p/60Hz by utilizing pass-through HDMI ports.
Compatible with streaming software (Xsplit and OBS) for uninterrupted gameplay and streaming.
This card is compatible with gaming consoles and PC`s and due to integrated drivers, the usage of graphics and processors is reduced.
The is a small, easily transported, and cheap hd capture card but at the same time high quality with included USB 3.0 and separate plugins for microphone and headphones.
---
6. ClonerAlliance Flint 4KP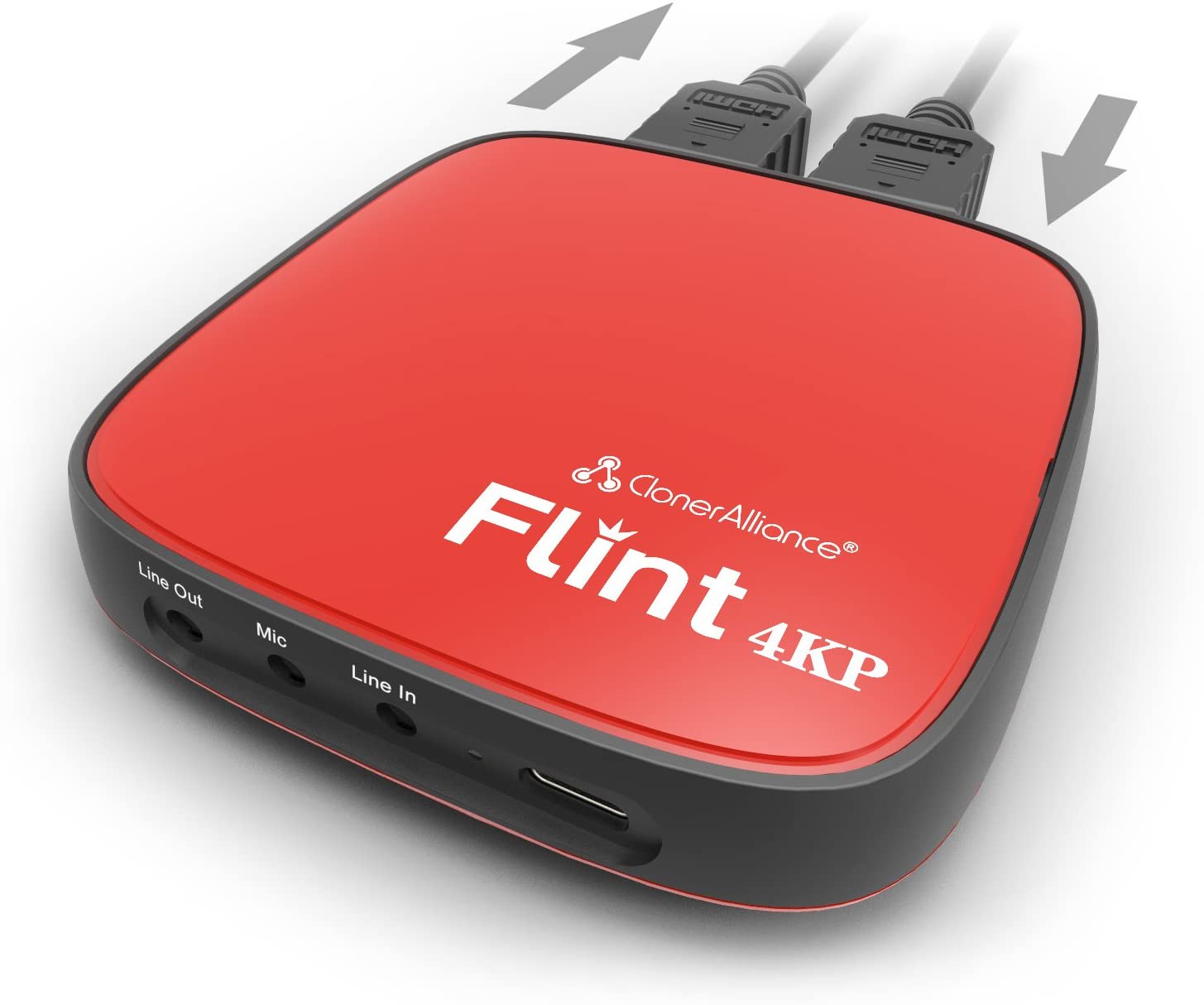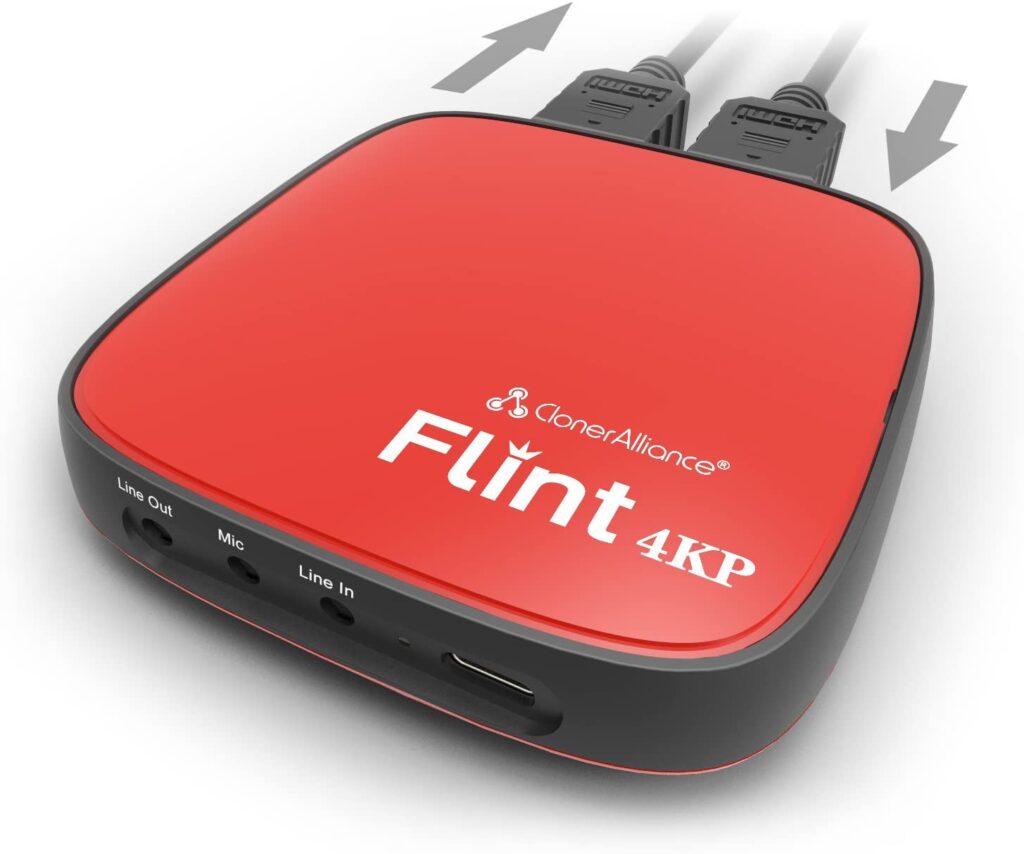 Cloner alliance specializes in video recorders and capture cards with a goal to ensure affordable devices for everyone. Capture cards are standalone and high-performing units compatible with Consoles and PCs.
Who is it for?
The ClonerAlliance Flint 4KP is all about a 4K pass-through. Based on the specifications this card suits the best to content creators who don't mind the HD quality in recording.
Software and technology available with this card offer a variety of options in fps speed and editing software.
The manufacturer appears to lean towards console players and streamers as this market is booming but other than console players this card is suitable for recording PC gameplay or cross-device gameplay.
This card is a great option for any streaming needs. Especially if you don't want to bother with streaming software and are looking for the simplest solution.
Key features:
This cheap and simple card is an excellent choice for streaming and recording video games. Ideal for beginners and pros.
4K pass-through allows monitoring in 4K but to record in this resolution we might wait for a little while for this price range.
The design of the card is matte red sleek and minimalist, it is reinforced with aluminum for the purposes of preventing overheating.
Microphone and headset inputs are included. This allows you to chat during the game and by selecting the best buds l(link with the previous article) the sound you hear will be impeccable too.
Ultra-low latency is a huge plus for this card. While running at 1080/24-60 fps you can expect an ultra-high refresh rate which means that the device was created with the intention to stick for a while and wait for new consoles.
The ClonerAlliance App, MP4-Cloner, and HDML-Cloner Pro Helper are editing software that are included in the package with the intention to stream, broadcast and record without reaching out for complex apps.
These software are pretty simple and easy to use unless you prefer professional editing programs for your content.
QuickTime, VLC, Wirecast, OBS, XSplit, Adobe Premiere Pro, and other apps are supported as well as newer and older consoles.
---
7. DIGITNOW Capture Cards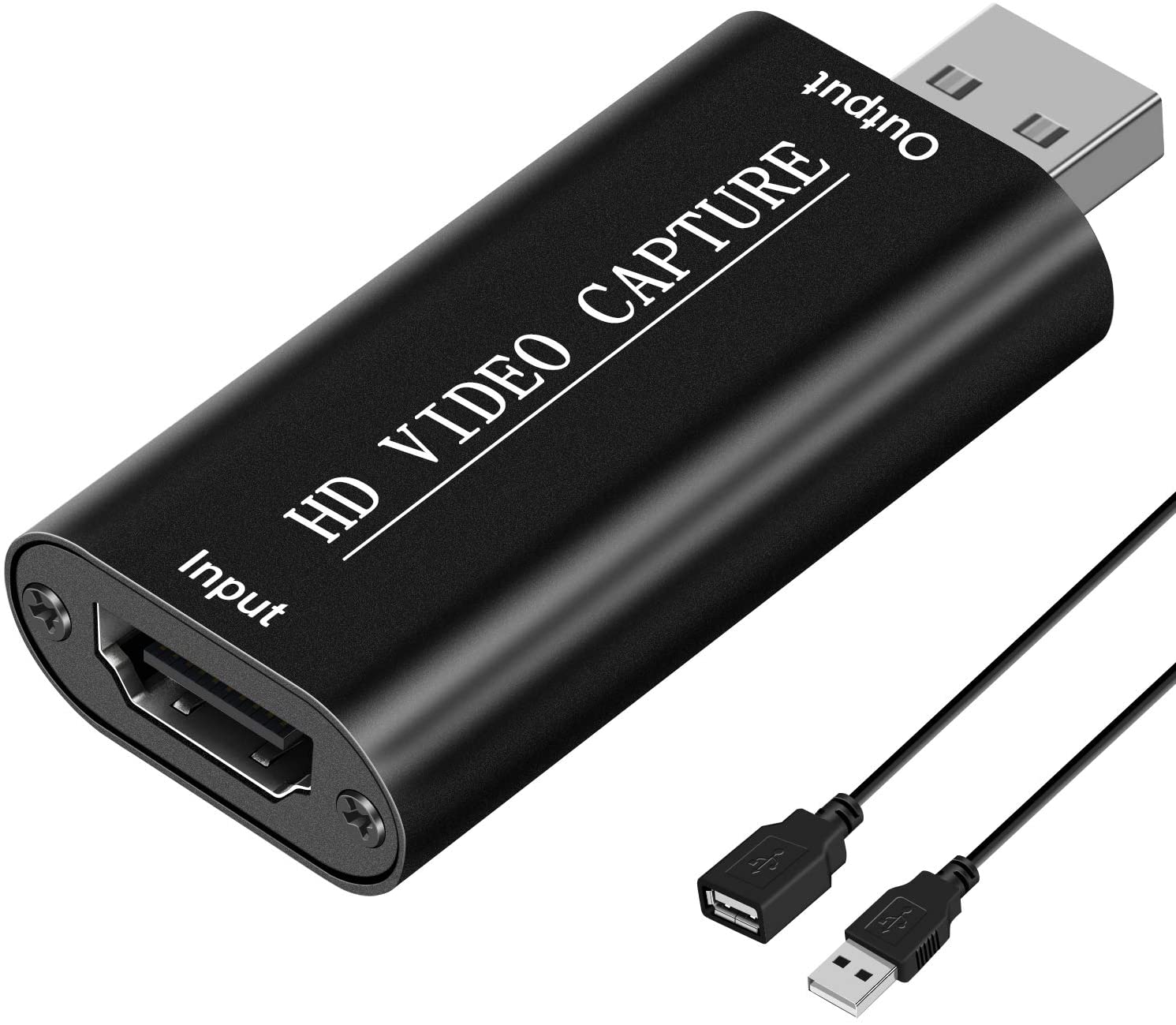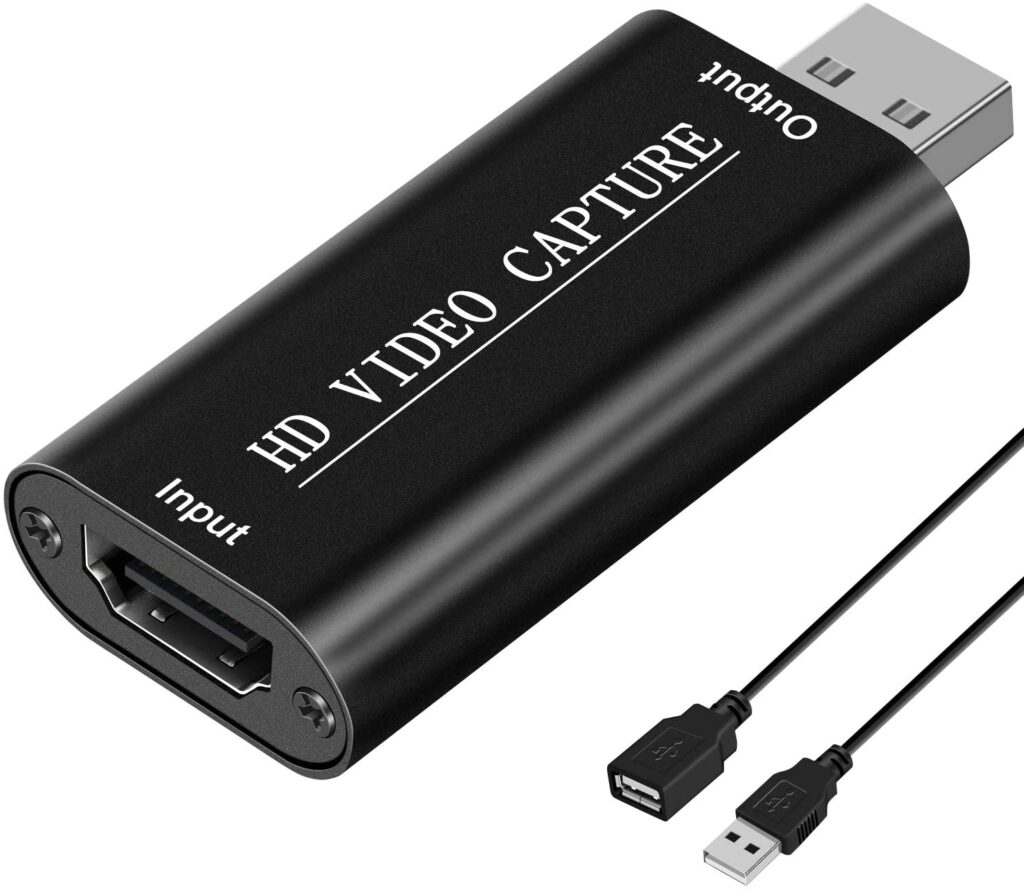 DIGITNOW is one of the brands developed by River Electric. This brand develops and grows new electronic products and distributes them to more than 30 countries worldwide, both online and in-store purchases are available for a variety of products.
One of the missions of the brand is to create affordable but excellent gear for customers as well as offer local support for all questions and instructions regarding their products.
Who is it for?
This simple and small hand-free card is great for gamers and content creators.
Other than recording and streaming, connectivity with cameras is a neat addition if you prefer commentary content or need to use recording devices for your content.
It is a cheap option if you are just starting with streaming or if you are developing your channels on the platforms.
Key features:
Audio Video Capture Card is a plug-and-play USB 2.0 device with a maximum resolution of 3840×2160 input and HD output resolution.
It is a great capture card for OBS but it is also compatible with VLC, and similar apps as well operating systems Windows and MAC. Installation is simple and no additional drivers need to be installed. Compatible with cameras and camcorders as well consoles and PCs.
---
8. Elgato HD60 S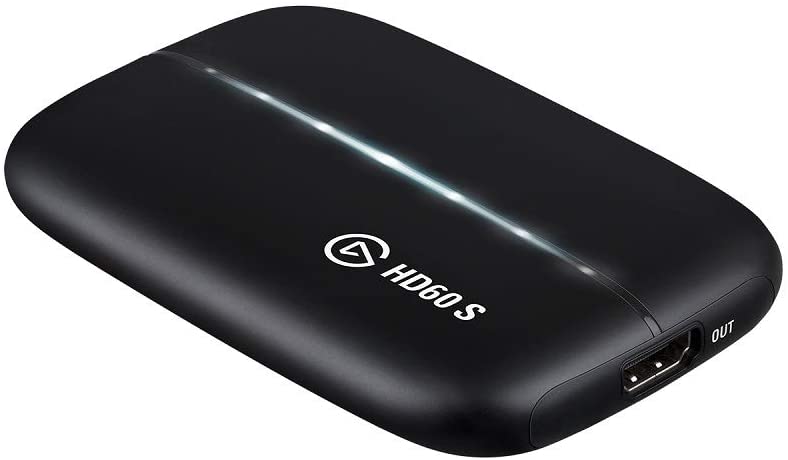 Elgato brand is well known for its cheap, hands-free, and high-quality capture devices.
This German manufacturer is leaning towards content creators and is producing software, hardware and gadgets to pumper the needs of pros and beginners in streaming as well as recording footage for platforms.
Other than capture cards, Elgato specializes in additional equipment such as lights, cameras, multi mounts, even the green screen.
Content created with items by this brand varies from simple PC recording of gameplay to unlimited creative content utilizing green screen and inserting yourself into the video to creating a completely new surrounding and commentary.
The options are only limited by the imagination of the creator.
Who is it for?
HD60S is a simple plug-and-play card with built-in software. This makes it ideal for streamers and gamers who just want a simple solution to recording or streaming their gameplay.
Interesting feature flashback recording is added for those that often forget to push the rec button.
This USB capture card is perfect for those who don't want to install additional drivers and software and are on the look for compatible and cross-device cards.
Key features:
The card is easy to set up, with plug and play system and automatic screening of resolution options all you have to do is wait for a couple of seconds to get everything ready. If you prefer the manual setting that too is available.
Software is included and comes with the basic setting. You can set up your preferences in sound or headset devices and connect it with consoles to TV or PC.
USB-C connector allows fast data transfer while powering the device at some time.
Compatibility with operating systems Windows and Mac is a great option, not many cards are coded for both systems which creates a barrier for cross-device users.
A customizing content feature – Stream command allows creative inserts and graphics overlays so you can personalize your content as you please. This is great for logo or signature animation insertions for recognizable content for your channel.
---
Things to Consider before buying Best Budget Capture Card
1. Compatibility
Prior to purchase you should check your PCs and console compatibility. This includes resolution and graphics as well monitors and inputs.
For content creators and streamers, capture cards are a great option to take the burden off of devices but this doesn't mean that if a capture card has a standard 2.0 or 3.0 USB input will necessarily work with your devices.
Specifications of consoles and PCs should match specifications of the capture card.
2. Size
Just like most devices, capture cards are getting smaller and more convenient, but at the same time they are getting more powerful.
In the future these will be small 4K or 8K gadgets but at this time their size varies from toblerone and brick sizes to standard USB size.
Size of the capture card will play a role in convenience of travel or just moving around the house.
They still have to be directly connected to devices via cable or USB , so the smaller the better in the sense of mobility.
However, capture cards tend to get warm, selecting the card with extra air flow filters is a smart way to go.
3. 4K Pass-Through
For a 4K feel , capture cards offer pass through inputs and outputs for the consoles and PCs that are not in fact 4K.
This allows better resolution and it's perfect for streaming, however , if you haven't checked specifications of your devices, this will only give you a headache.
Dragging and lagging of the image are just some of the problems if devices are not compatible.
If your devices are compatible this is a great option until you upgrade to 4K.
4. Content Personalization
Some capture cards come with included software's. These software's allow personalization of your content and editing, while others allow live edit which is perfect for streaming.
These editing software's are usually fairly simple and instructions on how to use them are available in manuals but also online.
Capture cards that come with a camera connecting option is a great feature for content creators that like to be personally involved in game play.
5. Warrant and Return Policy
This is a no thinker. Return policy is a must , even if you checked all the specifications it is possible that a specific card just won't work as expected.
Perhaps the image you are receiving is not improved or your card overheats. Testing this device will save you a lot of time and money in the long run, especially if you are creating content.
Warranty is easily important. While brands are perfecting these devices there are some hiccups on the road.
To be able to return or replace your capture card is only fair.
Common issues may occur in overheating, personalization software can get slow and unresponsive, connectivity cables can get damaged and these are just some issues that might occur , so not having to worry about these is just smart.
If you decide to go for the brand that don't offer these , at least make sure you are not overplaying for the card.
Conclusion
Capture cards are getting well-deserved attention and we can expect some great options in the future.
Prices are dropping and quality is increasing. Soon we will be able to record and stream in 4K with legless pass-through technology.
Content creators, even now, have options to make their mark for under $20. Before choosing the capture card you might want to check compatibility with your devices.
Most of the cards are highly compatible, some offer a 4K pass-through for streaming and to enjoy this fascinating technology you might need to grab some monitors that support this 4K resolution, but if you are not there yet there are super cheap options for full HD and even vintage technology such as VHS and DVDs can be digitized with capture cards. All in all, a great invention for gamers, creatives, and streamers.
Frequently Asked Section
Join our Discord Group. Ask questions, team up with fellow streamers, share memes, and more!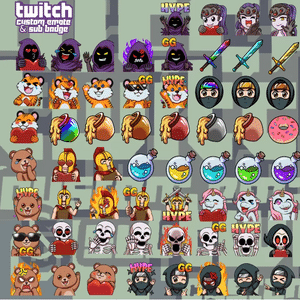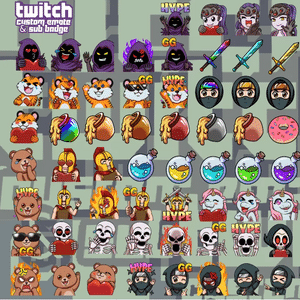 Claim for FREE:
FREE Emote PACKS
A book on growing your audience