Ankhbot is one of the most popular streaming bots integrated into several streaming platforms and is an absolute favorite among gamers.
However, handling a new bot can be quite hard, and you will certainly need to spend some time online in order to learn all the commands you need.
In order to make this process easier for you, we have gathered all of the best Ankhbot commands in one place!
Post 4 of 14 in the Bots and Commands
Ankhbot Commands You Need To Try
These are the most popular settings and commands on Ankhbot you need to learn how to use if you want to have a popular live stream.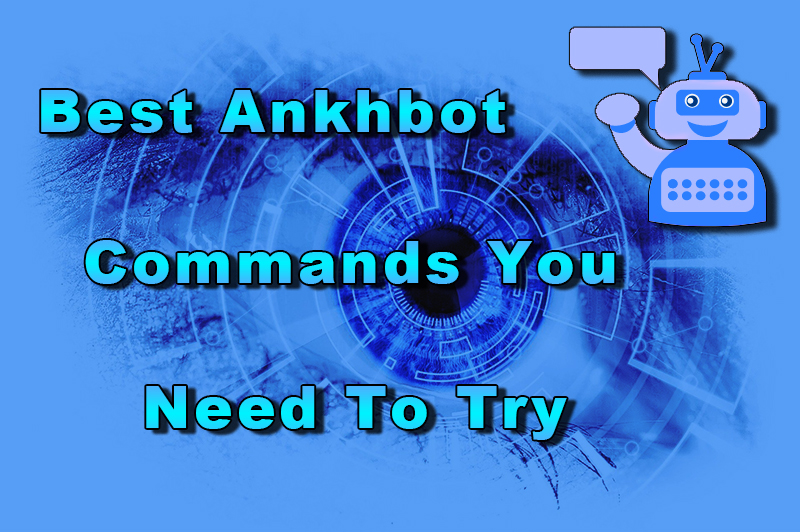 1. Highlight
When someone is using the highlight command, they will be able to save the stream, the date and time of the stream, and people who have been playing it.
This is a great command that can help you keep track of your games, so it is best to have a link where you will keep all of your Twitch chat content and streams.
All you will have to do is type in !highlight, and moderators are usually the only ones that can create a direct link and highlight.
2. Uptime
One of the most important commands for gamers and their targeted user is screen time.
If you share for how long your stream has been running, you will be able to provide your viewers with just enough info and keep track of the duration of the game.
It is very important to stop when things last too long, and this is the best way one user can control screen time.
However, everyone will be able to type in !uptime and see what is the duration of the live, so if you don't want to, you don't need to share it but rather let everyone find out for themselves if they are interested in that sort of information.
3. Quotes
This is one of the basic Ankhbot commands that can be activated with just a few simple clicks.
When using the quote command, you will be able to add some of your favorite sayings or activate a unique feature that will make all of the things you say throughout live appear in the lower part of the screen.
In case you are struggling with a bad microphone, and especially if you are one of the small streamers that still doesn't have the best equipment for it, this may be the solution.
Ad serving is based on the things your say throughout the stream, too, so I believe you should activate it either way!
4. Song Request
Song requests are one of the most popular commands on all streaming bots, and I don't know if it is just me, or every stream seems to be a bit more fun and enjoyable when there is a good song playing in the background.
This is a command you can customize or fill in with your favorite playlist of songs you can watch on Youtube that will then start playing throughout your stream.
In case you are using the OBS software to stream, then you can also their services of popping up the current song at the bottom of your screen and sharing all the songs and playlists that your viewers can hear at the moment.
This is a great way to avoid needless questions in the Twitch chat and also to keep the stream active and a bit more enjoyable for everyone.
It will also refresh every time the song or playlist changes, so you won't have to worry about going to the browser to change the song.
If you are eager to keep your community engaged, you can always make this feature available to everyone and stimulate your viewers to choose the next song through the command.
It is always a great way to keep them engaged and maintain a good number of people on your live stream.
5. Shoutout
The shoutout command is one of the best options for people who are not that popular and also for those who want to do a favor to others and make them pop up on the streaming platforms.
When using a shoutout, you will need to tag the other streamer you are trying to give the shoutout to, and your viewers will immediately be sent to their channel through the link.
6. Top Points and Top Hours
The top points and hours command is quite useful for a streamer because it provides them with information about who are the people that spend the most time on their channel.
This command needs to use cookies and data, so if you have disabled them on your computer, make sure you undo that.
Depending on your settings and preferences, you will see who are the top 3, 5, or 10 people on your channel, and this is amazing for engagement and site statistics too.
It will show you when most people lose their interest and live the live stream, and who are those that always stay until the end.
I would always recommend you to use cookies for personalization while streaming because the effectiveness of ads will also be a lot better, and you will be able to learn how to customize your settings according to the needs of your loyal audience.
Ads can be based on the age and preferences of your followers too, so it is always best to know who you are dealing with if you want to deliver and measure your performance.
7. Followage
This is quite a simple command that will allow you to see for how long a specific user has been following you, and you can see who is your most loyal follower.
All you will have to do is type in !followage and the username of the user or their URL, and Ankhbot will show you the date they have started following you.
8. Account Creation
This is also quite a simple feature that will allow you to see when was the date a specific person has created their streaming account, but you can only do it for the people who are active on your live streams.
9. Recent Follower
If you type in !recentfollower, you will be able to see who are the last 3 people that have followed your channel.
10. BTTV Emotes
If you want to add BTTV emotes to your streaming channel, the easiest way to do it is by using this command and typing !bttvemote.
11. Give Points
If you want to award your loyal follower, then this is one of the settings you will need to use.
By typing in !givepoints and the username of your favorite follower, they will receive a certain amount of points that will make them stand out on the channel and be one of the most prominent viewers and followers.
You can even create competitions of this kind, but you will need to give points regularly; otherwise, your followers may get mad.
Join our Discord Group. Ask questions, team up with fellow streamers, share memes, and more!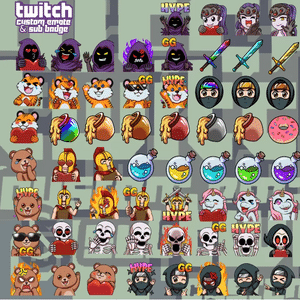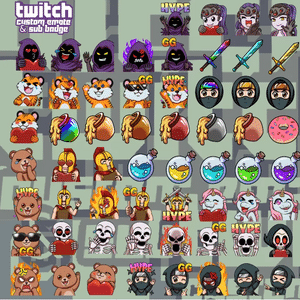 Claim for FREE:
FREE Emote PACKS
A book on growing your audience