In the beginning, you probably won't pay that much attention to the design of your channel – you can easily recognize the amateur streamer by classic, "vanilla" theme.
However, after some time, amateurs learn about the importance of graphics of their channel, such as overlays and Twitch panels.
So, if your goal is to have the unique OBS animated overlay that will help with branding, you've come to the right place. In this guide, I will focus on the best animated Twitch overlays – how to make Twitch overlays and add them to your stream.
Post 8 of 12 in the Twitch Overlays
Animated Twitch Overlays – What You Need to Know
Firstly, I will just briefly explain what overlays on Twitch are and why is it important to use them, before going in-depth about animated overlays.
What is Twitch overlay?
Every stream has an overlay – it is simple graphics that are covering the broadcast.
One overlay can have multiple borders, sections, and animation, depending on the type of the stream, as well as the streamer that designed it.
Twitch overlay should highlight some important parts such as chatbox, alerts, donations, webcam – as a content creator, you decide which borders you need and what should be highlighted.
When you start streaming, you will see that Twitch overlays are quite dull – borders are simple, and since many streamers are probably using the same, default overlay, the content of your channel won't stand out much.
Luckily, multiple websites can help you improve the streams – there are numerous templates for animated stream overlays that will attract more viewers.
How to recognize a good Twitch overlay?
Once you start browsing, you might feel overwhelmed by the number of options – between so many templates, how to recognize the one that will help you stand out?
Well, one trait of a good overlay is uniqueness.
Always choose websites that offer customizable overlays – when you pick a template, there should be an option to change it, so it matches your channel and brand.
The authentic overlays separate good, professional streamers, from amateurs, and these overlays will attract more people, thus more views.
Why do I need a Twitch overlay?
Now I would like to only point out the benefits of using overlays:
Where to find Twitch animated overlays?
Now that you know the basics, you are probably wondering where you can find a well-animated stream overlay.
Multiple websites offer entirely free overlays – graphics are good, but since they are entirely free, there is a good chance that multiple streamers will use the same one.
I would advise you to use websites that offer both free and premium overlays so that you can customize overlays to fit your style.
If you don't mind spending more money on an overlay, there is always an option to hire a professional, designer to create one for you.
How to know which design suits you?
You will notice that each website has tons of options, so picking the right Twitch animated overlay won't be an easy task.
When picking the right one, consider the following things:
Best Animated Twitch Overlays
Reviews
In case you decided to stick with the websites (free and paid), I have prepared a list of the most popular ones.
While searching for them, I took into account two things:
Now, let's move on to the list!
1. OWN3D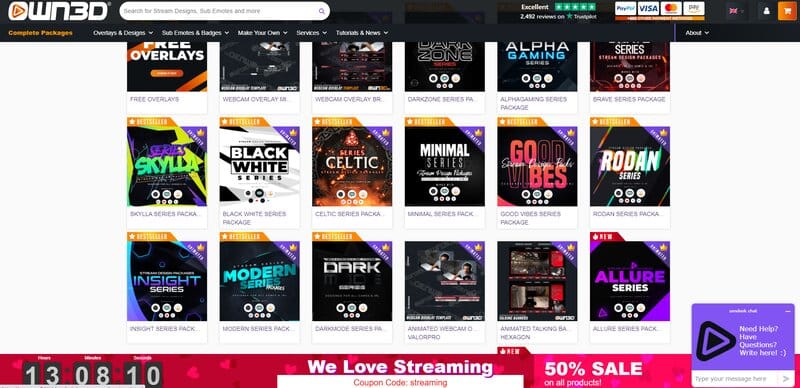 ---
*Use code STREAMMENTOR for 50% discount*
OWN3D offers you versatility, which is why it is considered one of the best websites for Twitch graphics in general.
When it comes to overlays, you can find both dynamic and static, as well as free and premium.
Even if you choose one of the premium overlays, you don't have to worry about the price, since the website is quite budget-friendly.
There are multiple styles available, and the best thing is that you can customize each to match yours.
Furthermore, you will notice that each template highlights different things.
For example, you can find the animated twitch overlay which will display social information as well as stream-related ones.
When it comes to free templates, these can be customized as well, so even in this case, you can get a unique overlay that accurately represents your brand.
You can use OWN3D for other graphics, such as panels, or custom alerts and chatbox. It is compatible with other streaming platforms besides Twitch, so you can still use the website if you switch to YouTube Gaming for example.
2. Kudos.tv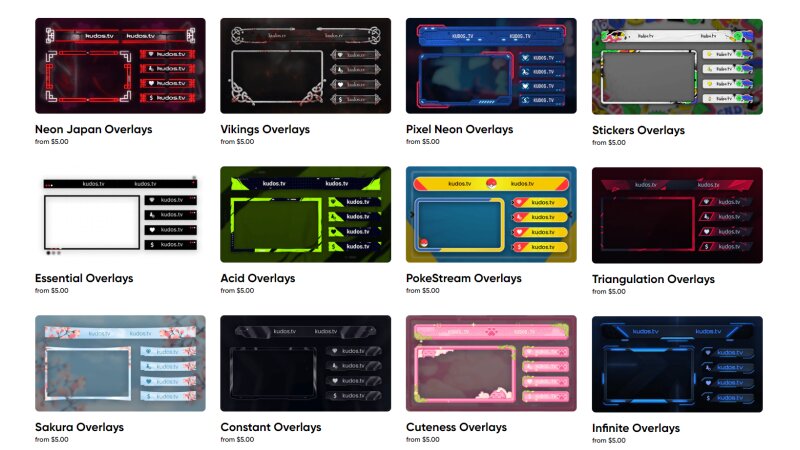 Kudos.tv has plenty of professionally designed twitch overlays in their store. The styles of their designs vary greatly — minimalistic, neon, e-sports, and anything else that a modern streamer may look for.
Their primary focus is fully equipped with stream packages that cover all design and stream branding needs. But if you're looking for specific overlays, they offer small packs with the most used streaming assets — webcam overlays, header banners, and stream labels.
The price for these packs usually ranges from $5 to $10, but you can always find something on sale for half the price or less.
They also offer a neat-looking free animated neon webcam overlay that will match most streamers' branding styles.
3. Fiverr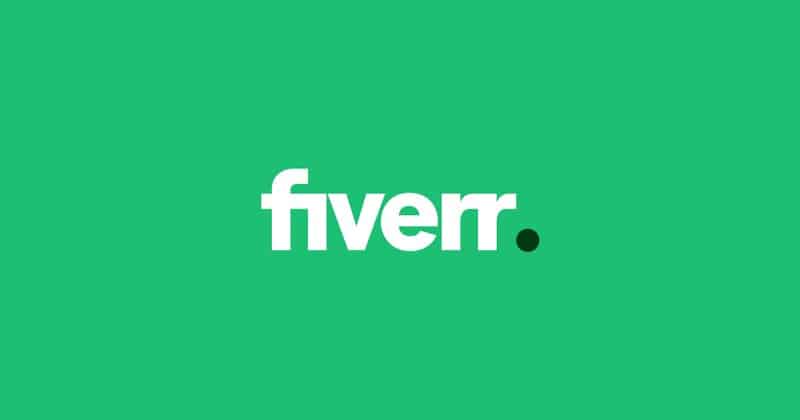 Another great low-cost option is Fiverr.
Almost all templates on the website are designed by freelancers, hence the lower price.
This also means that you will have an authentic layout.
When you stumble upon a design you like, you can get in touch with the freelancer – each designer has total freedom to accept or deny a customer. You can write a few words about your channel, how you want the overlay to look like, and wait for their response.
If the designer accepts to work with you, they will send you a few designs, and ask if you want anything to be altered. After one or two edits, the designer will send you the final product.
4. Visuals by Impulse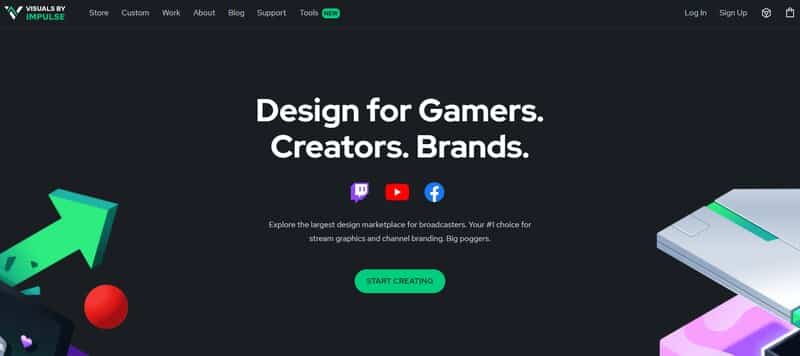 If you need both game and webcam overlays, Visuals by Impulse is a great choice.
The creator of the website (and templates) is one of the streamers – as a professional, he understands the importance of good graphics, and he created the website to help others improve their channels.
Now, more designers are involved in creating unique static and animated templates.
If you are streaming on multiple platforms, you can use one template for each, since they are compatible with YouTube and Facebook, as well as with different streaming software.
The price of the template depends on whether you are purchasing a pre-made one or working with the designer and getting a unique design. As you probably guess, the latter will be more expensive.
Typically, the designer will ask you a few questions, to understand your brand, and then propose a design.
5. Nerd or Die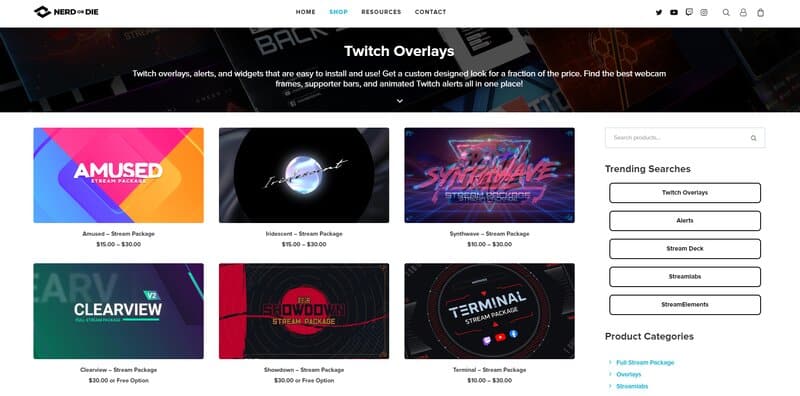 If you don't find what you are looking for on OWN3D, then I would recommend checking out Nerdordie.
As OWN3D, it has some free templates, along with premium, and you can find animated ones as well.
For overlays, you will find around forty design packages – the best thing is that these packages include other graphics besides overlays, so the panels will have the same theme as well, and you can use one website to brand your channel.
Some of these packages will be free, and for premium packages, you have the option to suggest a price, so you can set the amount to the one you can afford.
When it comes to compatibility, it can be used on multiple platforms, not only Twitch. Also, you can change streaming software as well, since it works on SLOBS and XSplit, not only on OBS.
6. Placeit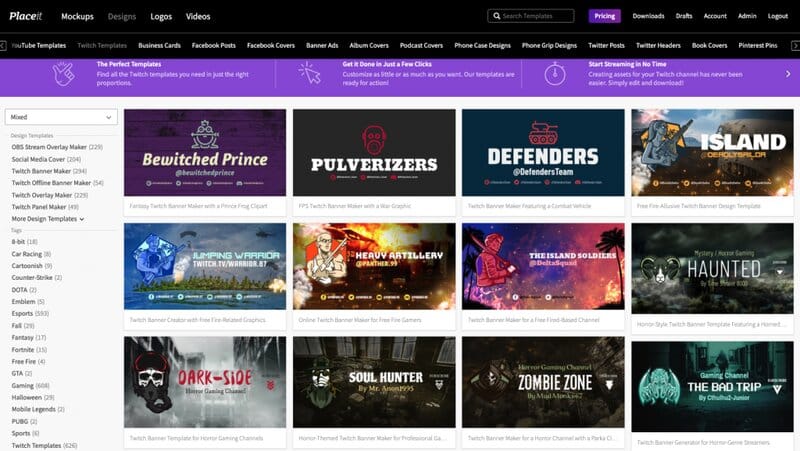 Remember the criteria for picking the design mentioned before? Well, a small reminder – take into account the price.
If you don't have a big budget, then consider Placeit.
This website offers good quality overlay templates, at affordable prices. Packages or templates are bought individually, but you can also become a subscriber and have unlimited access to all packages. Monthly, it will cost you $14.95, so if you like their designs, I recommend purchasing a yearly subscription.
Even at that low price, you can customize each to fit your channel the best.
Besides templates, you will find panels and banners, even logo designs, so you can do full branding via one website.
Additionally, you can get some templates for Facebook posts, as well as merchandise.
7. SLOBS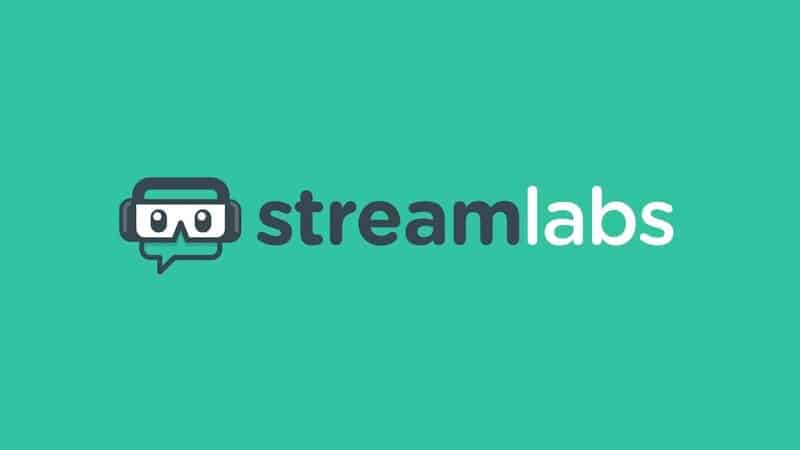 If you already use SLOBS, then why not check out some of their designs?
After getting a design there, it will be super easy to add it to the stream.
However, keep in mind that these designs are only available to SLOBS Prime users, so before you start browsing, you have to purchase a membership. Monthly memberships are available, and the price is budget-friendly.
Also, by becoming a SLOBS Prime subscriber, you get access to other features that can help with branding and monetization, such as merch and widgets.
8. StreamShark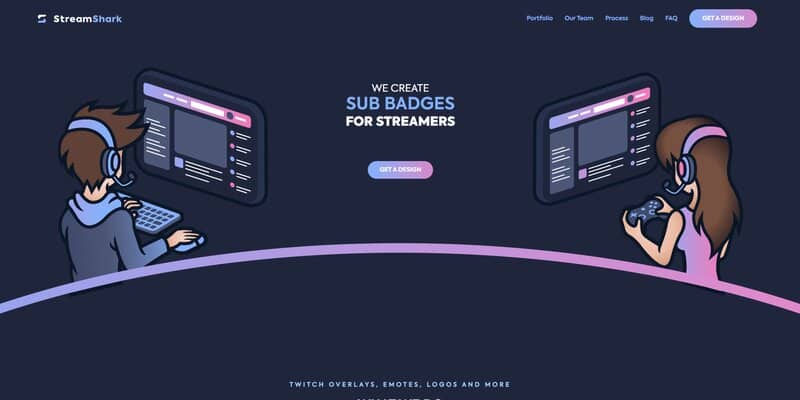 Behind StreamShark is a group of designers. Their specialty is Twitch graphics, from panels to overlays.
They will also do logos, so this is another website that offers full-branding of the Twitch channel.
The quality of the templates is high, since they are used to working with streamers, and are already familiar with different styles and themes.
9. Tactical Lion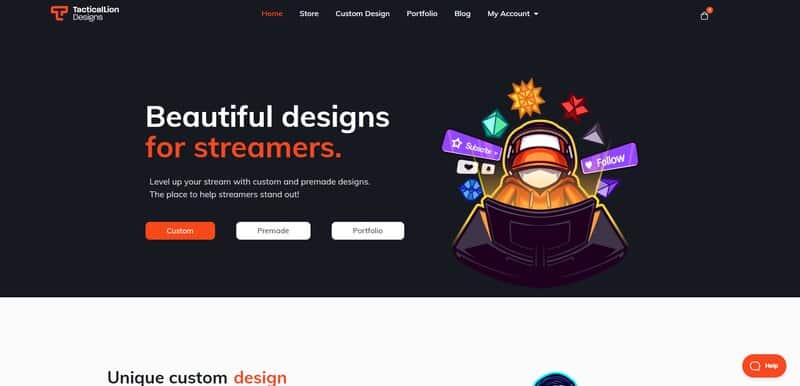 Tactical Lion offers not only great graphics for Twitch but different social platforms too.
You can browse the packages by style or by platform and social media, to find the templates that best suit the purpose.
Before you download the template, you can change it on your own – add extra animations, change color, or remove one of the elements.
If are using SLOBS, then implementing their graphics will be super easy, since Tactical Lion is one of their partners.
Prices are budget-friendly, but if you don't want to spend any money, you don't have to worry, since there are a bunch of free designs, and customization is available to everyone.
10. Strexm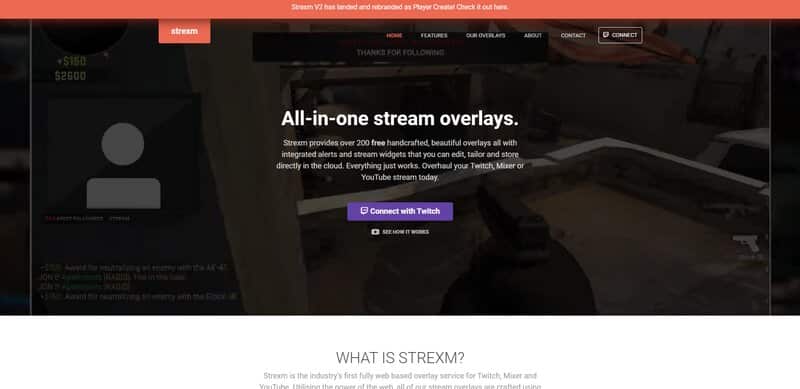 As said, an overlay should match the game when it comes to style and theme.
Strexm is great because the templates are designed for specific games. For example, if you are playing Fortnite while browsing, you can only look at the templates that best suit that game.
Once the template is picked out, you are given the flexibility to change it as you wish. There is an online editor, so any parameter or element can be changed whenever.
Furthermore, with each overlay, you can get alerts.
Strexm overlays are mostly used for LoL, DOTA 2, Fallout 4, Minecraft, WoW, Halo 5, Rocket League.
11. WDFLAT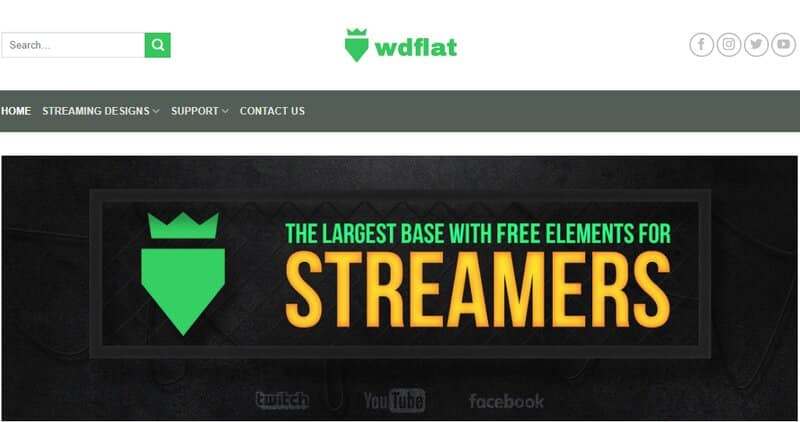 One of the biggest advantages of WDFLAT is that has the biggest free-template library.
Their designs are mostly png, and besides overlays, you can get templates for alerts, panels, webcam, logos, and intermissions.
Since you can do full channel branding via one website, you can also consider getting a premium subscription. This isn't a typical subscription, but rather a kit, and the full kit includes multiple panels and alerts, thumbnails, overlay, banner, and other graphics you will need to improve your channel.
12. Zerging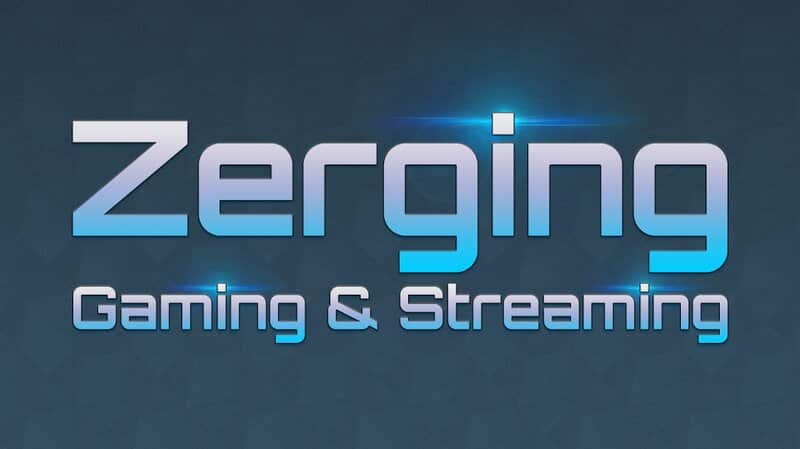 The website that allows you to mix different overlay templates is Zerging.
So, if you like more than one overlay, you can combine them to get the final one.
Also, it allows users to change elements of overlay, use the full pack, or just a few elements.
Another advantage of Zerging is that each overlay is designed for a specific game, which helps while browsing – the theme and style of the overlay will match the game, and with your changes, you can make the overlay match your branding.
This is a German website, so if you are not fluent in German, you may have some difficulties since not everything on the site is fully translated.
13. Player.me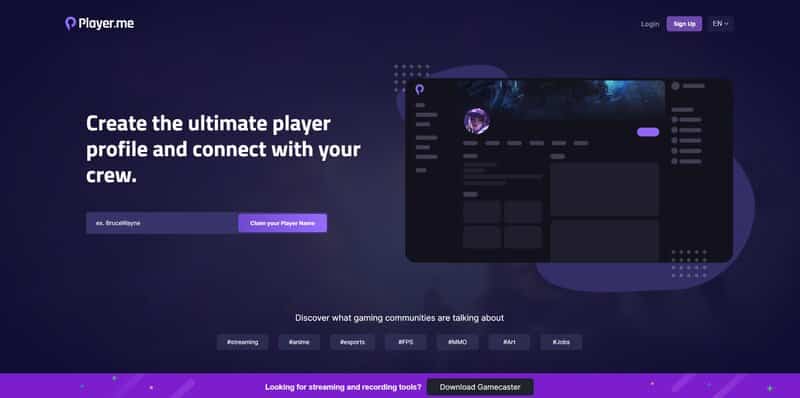 Player.me is not only for templates.
This is streaming software, which contains an editor and allows users to create overlays, alerts, and different widgets.
Once you select the theme, you can customize it, and all of the graphics on your channel will match that theme.
If you don't want to use Player.me for streaming, you still have access to overlays – they are web-based, so when you are done with editing, copy the link to your software of choice.
14. Streamplay
This is another affordable website that offers a variety of Twitch graphics.
In a package, you can expect overlays (along with the ones for the webcam), alerts, transitions, banners, and panels.
Unfortunately, most of the graphics are paid templates, and when it comes to free options, there isn't much to choose from.
15. GDR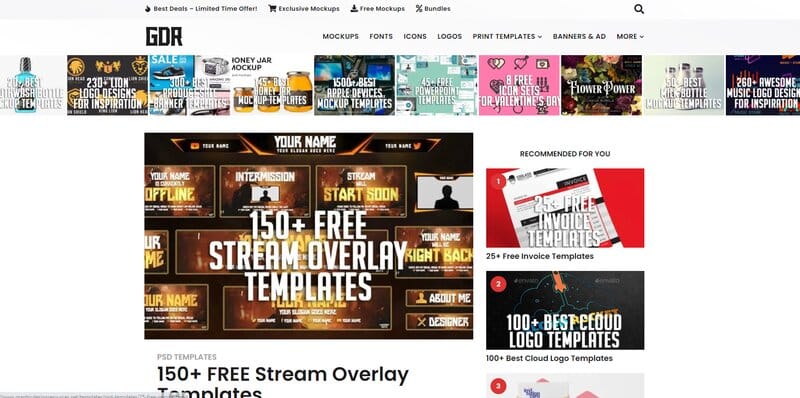 For multi-streamers, I recommend GDR.
Their library of stream overlays is huge (more than 150 overlays to choose from), and the templates are compatible with different streaming platforms.
GDR has templates of different themes, styles, graphics, as well as mock-ups for logos.
If you need more than just an overlay, you can check out GDR bundles, and get all graphics in one place.
16. OvrStream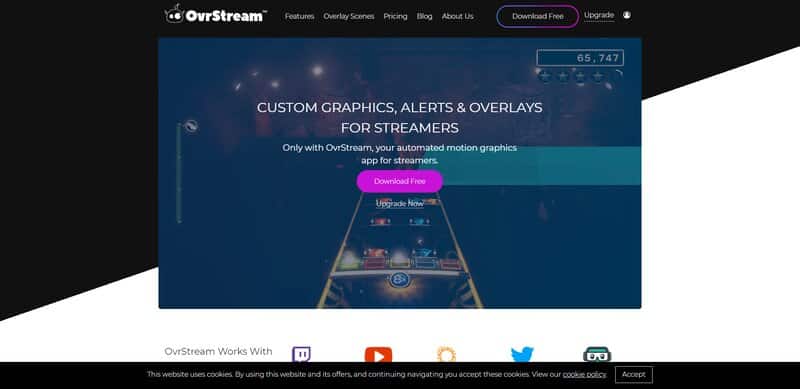 OvrStream is a paid app with templates for different Twitch graphics.
There is a 60-day free trial – more than enough to explore the templates, get to know different themes and styles. After that, you will have to pay for a monthly subscription.
Luckily, the app is affordable, and for $4.99, you will get access to different animations, as well as the editor.
The editing panel is super simple and when you go to Title Designer, you will get the option to create an overlay from zero.
All of their designs are compatible with YouTube and SLOBS, besides Twitch.
17. StreamShift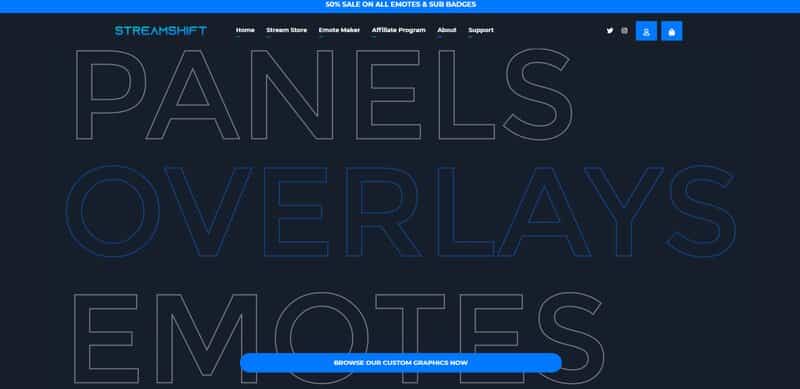 An advantage of StreamShift is that all of their designs are easily added to streamers.
If you are using SLOBS, you can add the overlay with just one click. The same goes for streamers that prefer StreamElements.
On StreamShift, you will find tons of different designs and themes, for alerts, widgets, panels, overlays… The same color scheme and theme will help you with branding, and each template can be customized.
Some of the designs are free, and there are also premium ones that require a small fee or subscription.
18. TwitchGFX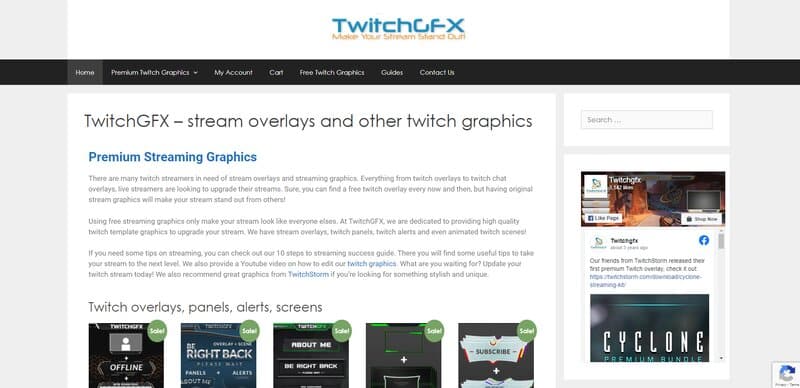 TwitchGFX is the first website on this list dedicated especially to designing templates for Twitch and only Twitch.
Their graphics are mostly overlays, or to be specific premium overlays.
The creators behind TwitchGFX understand the importance of good graphics, thus you can find a variety of styles and themes.
When you pick the graphic, you can modify it, so it suits your channel the best.
If you don't want to spend any money, you can get some free graphics as well – these are well-made too, but not as great as premium ones.
19. Twitch Overlay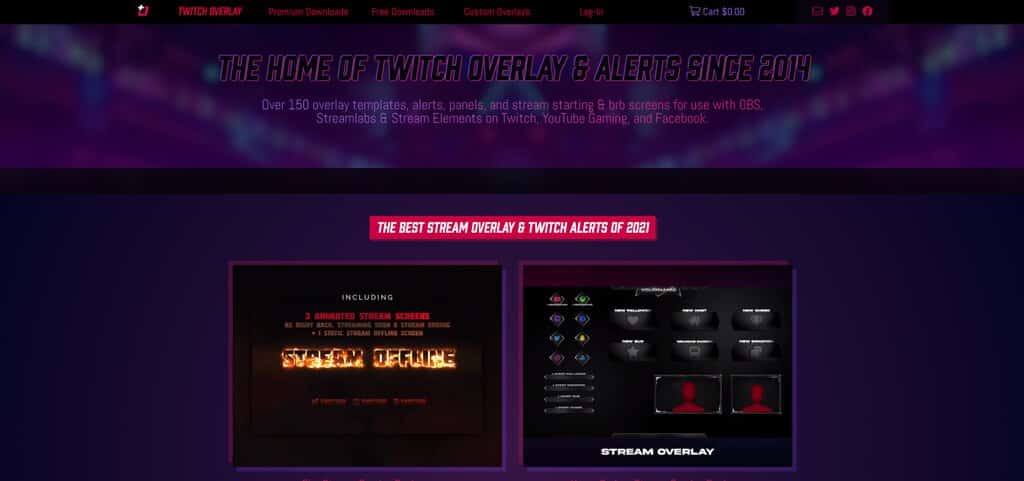 As you can probably conclude from the website's name, it is the one that offers only Twitch overlays.
Their designs are compatible with YouTube gaming as well, so if you are a multi-streamer, you might find a suitable template here.
Keep in mind that their library is not as big as on other websites.
For overlays, they have only 19 free templates.
You can also find templates for other widgets, such as alerts, and screens, as well as one bundle.
For subscribers, here are a bit more options – subscription unlocks around 50 templates, among which you will get 42 overlays.
20. Twitch Designs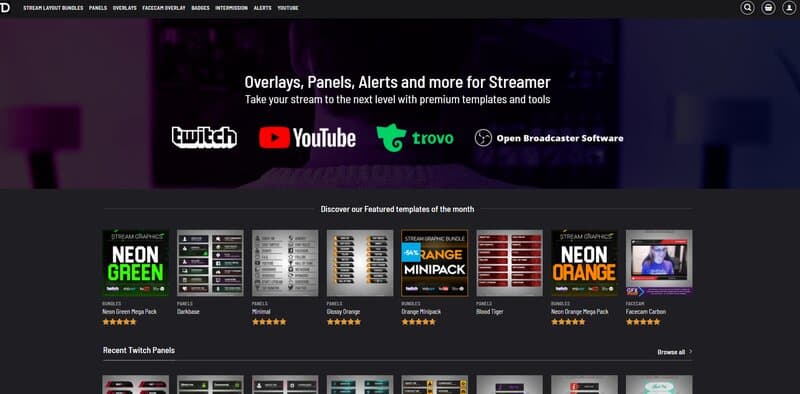 This website offers more versatility since all of its graphics are specifically designed for Twitch streaming.
Anything you need from graphics (including overlays) can be found here: panels, banners, logos, and transitions.
Creators of the website are quite familiar with popular games on Twitch and know the requirements of each graphic, so many designs suit individual games.
If you don't like a premade template, there is also an option to contact one of the designers and get a unique, authentic overlay.
21. Twitch Temple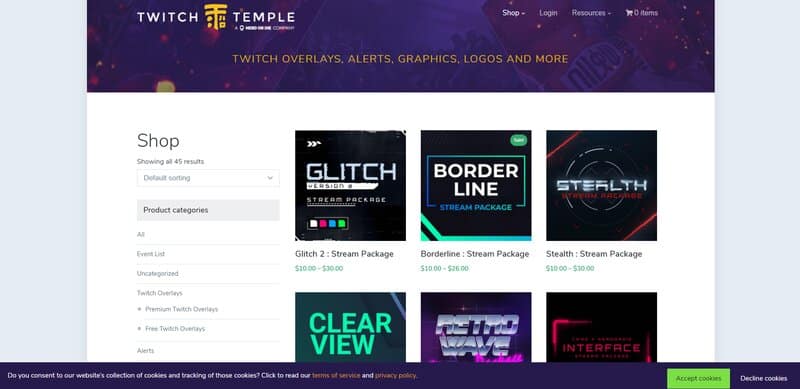 Last but not least, is Twitch Temple – another website whose target audience is Twitch streamers.
It offers free and premium bundles, and the cost depends on the overlay – if it contains more elements and better graphics in general, it will cost around $20. There are also cheaper prices, and some bundles cost only $3.
When it comes to free templates, options are quite limited, since there are only four overlays you don't have to pay for. Still, with a bit of customization and editing, you can get a great-looking overlay.
Frequently Asked Questions
Can Twitch overlays be animated?
Yes, Twitch overlays can be animated. An overlay is graphics (static or animated) placed over the stream.
Creating an OBS animated overlay from scratch is difficult, so I would suggest using a website (such as OWN3D or Nerdordie) to get a template, and then just edit it a bit to fit the channel.
How do you make an animated stream overlay?
When it comes to designing and making animated overlays, you have two options: either make on your own or use a website with animated templates.
If you are doing it on your own, it will be a bit more complex. In most cases, you have to create a rectangle border, add a gradient in colors that match your channel, and add a mask.
All of this can be done in PhotoShopFor animations, you will have to use a different program – many of the websites mentioned in the article have an editor so you can add the animation you want.
As you can see, the process of making the animated overlay from zero is a bit lengthy, so I would suggest using the templates on the website, and just changing the style or colors a bit.
How do you make an animated Twitch icon?
This can also be done in Photoshop.
Firstly, you will need to get the Twitch icon you want to animate. Then in Photoshop, add the icon, and add the new file size. The icon should be placed on top of that new file and saved.
For further editing, you need to know Photoshop and be familiar with its tools, cause creating an animation requires some cutting, deleting, and filling tools The faster way is probably via a website that has different animated graphics
How do you make an animated facecam border?
The facecam border is made in the same way as an overlay. If you already have a template for overlay, search for facecam border on the same website – mostly likely, they have the border in a similar style.
Then just download it and add it to the stream. If you are using Photoshop, then make sure to have an overlay open in a separate window, so you can match the style and colors correctly.
Join our Discord Group. Ask questions, team up with fellow streamers, share memes, and more!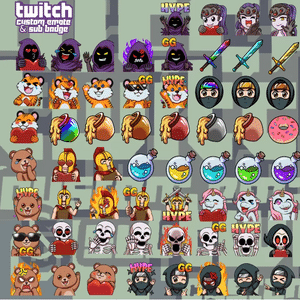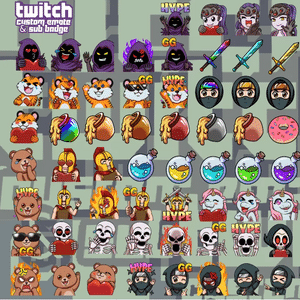 Claim for FREE:
FREE Emote PACKS
A book on growing your audience