Many people don't realize how much of a difference a good home studio can make when starting their streaming career.
They rely on basic microphones and headphones to do the job without considering that there are amazing USB home studios.
A good audio interface can completely transform your performance and allow you to avoid audio glitches and rip music easily.
For that reason, we have decided to do a complete Behringer UMC240HD review that will completely change your streaming experience.
Post 1 of 15 in the Streaming Gear
Behringer UMC204HD Review
Features, Software, Audience, and Price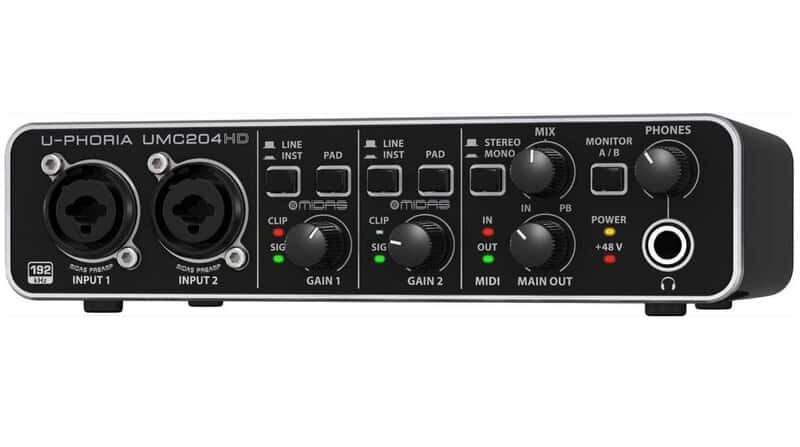 This is one of the best home studios you can find on the market and a great option if you want to engage in audio production.
Software Installation
Downloading and installing each of the Behringer products is a pretty fast and easy process, and you can do it all by yourself, even if you have never installed software before.
You can easily access the official Behringer website, find the product you are currently using and open the Driver dropdown box where you will find all the information.
When you access this page, you will see that you have to download the latest firmware or driver software to your computer.
After that, you should open your Downloads folder and find the last zipped file in it – that will be the firmware file.
Choose the "Extract all" option and double-click on the new folder you have just extracted, open the installer, and follow the instructions on the homepage.
In case this doesn't seem to be working on your PC or laptop, you can always choose to install the UMC driver to your device manually.
You can do that through the Device Manager, where you will have to update the driver and choose a preferred driver from your computer.
As you can see, this whole process is very simple, and everyone will know how to do it all by themselves, so you really don't need too much help.
It works with every PC, whether Windows or Mac, but I have had some problems while installing it on Mac, so you really need to be extra careful while doing that.
Key Features
1. Records perfect vocals
This Behringer UMC 240 HD device is well-known for its capability to record the voice perfectly and eliminate all the background noise like it never existed.
The reason why so many people opt for this studio box is the fact that it has 2 Midas designed mic preamps which are considered to be first-class amps.
These amps are a perfect match for your condenser microphone, and they come with 48 Volt Phantom power that guarantees the best sound quality and elevates the audio productions instantly.
They will also work the best in a studio environment, but you will see a great impact on your headphone amp.
It will definitely help you become the most popular voice in your niche because the audio quality you will get with it is impeccable, and you can gain control over the sound at any moment.
This great interface will also allow you to convert the sound recordings to better quality or with some other additions, which is really a great thing.
In my perspective, people who have used this setup really had a much better recording quality, and they managed to sound a lot more natural than those who used those extra expensive studios.
Unfortunately, the build quality is pretty bad, and you really need to be careful with the device if you want it to last for some time.
The USB ports can also get harmed easily, so be careful when putting the cables in them, because if you destroy one, the others will stop working – I did it twice so and it seems like I still didn't learn my lesson.
2. 192 kHz resolution
As I have already mentioned, all types of recordings made with this home studio sound great, and that is thanks to its amazing 192 kHz resolution.
This is really the professional audio quality, and not too many similar devices can provide you with the same sound quality.
However, I have realized that when you are recording a sound and start talking a bit too loud at one moment, the audio interface is not really able to get accustomed to it, and you may face some problems.
When this happens, the audio doesn't really sound fantastic, and you will need to modify it in the audio driver if you want to get a decent recording.
Unfortunately, it also doesn't have zero-latency direct monitoring, which usually doesn't make a problem, and I really didn't hear it in any of my recordings.
The latency on this device is pretty good, and it will be able to function properly even with a condenser mic, so you shouldn't worry too much about it.
Since the resolution is pretty high, you may struggle with too much bass or noise sometimes, which can really harm the experience, but overall, this happens rarely, and most people don't even realize that's the problem, especially those who are complete amateurs.
3. Input and output choices
When using the Behringer U Phoria UMC204HD device, you will see that it has several input and output choices, which is something you don't come across often on other devices.
Even though this is an audio sound input device, you will also be guaranteed a great headphone output, and this is one of the best things about this device, at least in my experience.
It was not the first audio interface I have used, so I can really say that even though it has zero-latency monitoring, the output is amazing, and you can choose among 4 different output options.
The channel controls are amazing, and you can really modify your voice as much as you want and do the PC playback easily.
You can upload your own channel inserts, record instruments, or your voice and mix all of that to get a great result.
Even though the product is not very expensive, this is not a cheap interface, and you will really get access to amazing virtual instruments and essential controls that will allow you to control first-class audio.
Condenser microphones will do a great job and make even standard channel inserts sound outstanding, so I really recommend using them in combination with this home studio.
It also provides you phantom power, so you don't have to worry too much about your condenser mic because it will certainly get all it needs.
4. Connection
You will see that this Behringer device has the tightest USB jack you have ever seen, and although it matches all regular PCs and laptops, it works well with other devices too.
The USB jack may look weird to you, but it is able to work perfectly fine, and you definitely won't have problems with it because it works both with Windows and Mac devices.
This device can be connected to analog ones because it has XLR inputs, which is an essential option for every streamer and gamer.
You will also receive an XLR cable, so you will really get the opportunity to create the best headphone mix there is.
There are two inputs for analog connections, and you will also be able to connect your keyboard to the device.
Since it doesn't have a headphone jack, this is something you will need to connect to the device, too, especially if you want to get that loopback audio.
It is also suitable for instrument inputs and even input channels, so this is one of the best audio interfaces I have used, and I have really tried out a lot of them.
Since you don't have one USB port but 4 of them, you will really be able to connect many devices without problems.
You can even connect an electric guitar, and your USB interfaces will be able to support it just fine, so in my perspective, this is a really worthy investment.
The device comes with its own USB cable, so you also won't have to struggle with finding the right one for it.
5. Tracktion
This amazing audio interface also provides you with access to the Tracktion app that is one of the best digital audio workstations you will come across.
It will allow you to start recording, editing, composing, and mixing all kinds of audio, and it even provides you with a Multi-client audio option.
The mix knob is very easy to navigate, and it will even allow you to start playing keyboard live in your stream, which really makes it an amazing audio app.
You will get studio-grade recordings and the possibility to start tracking instruments directly, which is really great, and the CPU usage will still stay low, even on Mac devices, so you don't have to worry about your computer crashing.
It definitely won't lose power, and you will be able to use even more features simultaneously, and it will still work just fine.
Target Audience
This home studio is actually aimed at people who love to experiment with audio interfaces and want to get a good sound quality without spending thousands of dollars on expensive equipment.
During the past few years, streamers and gamers have started using it to create the perfect sound for their videos, and its amazing interface was able to provide them with all they need.
Not only it ensures basic functionalities one may need when audio mixing, but it also has better USB interfaces than most home studios and allows you to connect several devices at the same time.
It comes with multiple LED indicators and a USB power adapter, so it is really a beast that will provide you with amazing sound quality without problems.
It is a good option for everyone who is just getting into audio production but definitely works the best for streamers and gamers.
In case you are just curious about sounds and want to try out some audio mixes, this is really a great audio interface, and it has even more than you need.
However, it is not really made for professionals, so if you want to get your sound quality to another level, you will need to invest more money and buy a better device.
Price
For 120 dollars, Behringer UMC204HD is definitely one of the cheapest audio interfaces you will ever come across, and I can't believe it is such a good product.
It gives you access to many features, and it has several USB ports that will allow you to connect as many devices as you want.
There is also phantom power, so you can use it with your condenser mic without any problems and without having to add anything else.
It doesn't have a built-in headphone jack, and it can accept all software plugins, and the noise floor will remain pretty good.
If you are looking for a project studio, this is definitely the right option because it is definitely the cheapest device in this niche, and it gives amazing results.
Its build quality may not be that amazing, but it is certainly a product that is worth the attention, and I sincerely recommend it to everyone.
The price is really low, and if you are looking for something that will provide you with many options and features to create your own audio recordings, this is definitely the best device you can purchase.
Frequently Asked Questions
How do I install the Behringer software?
The software installation of this Behringer device is pretty simple, and all you will need to do is go to their official website and download it. After you have downloaded the zipped file to your device, you will have to extract it and save it to your computer, and you should be able to open the software without any problems.
It will recognize the device automatically, so you really don't have to worry too much about it, and even if it doesn't do it immediately, you can always type in the serial number and get all the information and instructions you may need.
Can 2 inputs be used at the same time?
Yes, you can use both inputs simultaneously without any problems, no matter how slow or fast your PC is. The software will create 2 separate channels for your 2 inputs, and you will be able to control each of them without problems.
However, I don't recommend using 2 different instruments at the same time because the channels may get messed up and you will probably need to do the whole process again from scratch.
Is Behringer U Phoria UMC204HD really worth it?
Even though it isn't a professional studio device, it is definitely worth the money, and you will be able to create amazing audio while using it. Many people stay away from this product because it is way too cheap to be good, but the fact is that it performs a lot better than some audio interfaces that are twice as expensive.
In my perspective, this is a really great investment, and it will pay off long term, both for people interested in audio mixing and those who use it to create their original content.
Why is Behringer more expensive on Amazon?
As you have probably seen, this product is around 70 dollars more expensive. Then on their official website, because Amazon is a reseller, so that is completely normal.
However, this is a very big difference, so I would always recommend ordering the device from the official website because not only will you pay less, but you will probably get the device faster, and you will be able to contact the company directly in case something happens with it.
Conclusion
As you could see, this Behringer U Phoria UMC204HD device is one of the most popular audio interfaces on the market, and it really does miracles.
Since it is very cheap, many people decide to purchase it and experiment with audio quality, different recordings, and instruments and create the content they need for their channel or stream.
Even though it is not a perfect product and it is definitely not aimed at professionals, it is really worth the price because it gives you access to various features, and you can really create a great recording.
If you are starting in audio production or don't have too many skills but still want to create the perfect audio for your game or stream, then this is definitely the product you should give a try.
Related: Best Mixer for Streaming