Live streaming games is simple if you are a small PC gamer and use only your computer to do all the work. On the other hand, if you use a game console such as Nintendo Wii U or Nintendo Switch or if you use more than one computer, you will need a capture card.
A capture card is a device used to transfer the signal containing the encoded video from one device to another. Hence the need for it when you want to stream or record your console-played games. The signal should be transferred from your console to your computer.
One of the best producers of capture cards is the Taiwanese company AVerMedia Technologies Inc. Its many satisfied users show that they create reliable and high-quality products.
This AVerMedia capture card review will give you an overview of its video capture device Live Gamer Portable 2 Plus and the appropriate streaming software that any live gamer can use to record gameplay and, certainly, to stream gameplay as well.
AVerMedia Live Gamer Portable 2 Plus Review
Features, Software, Audience, and Price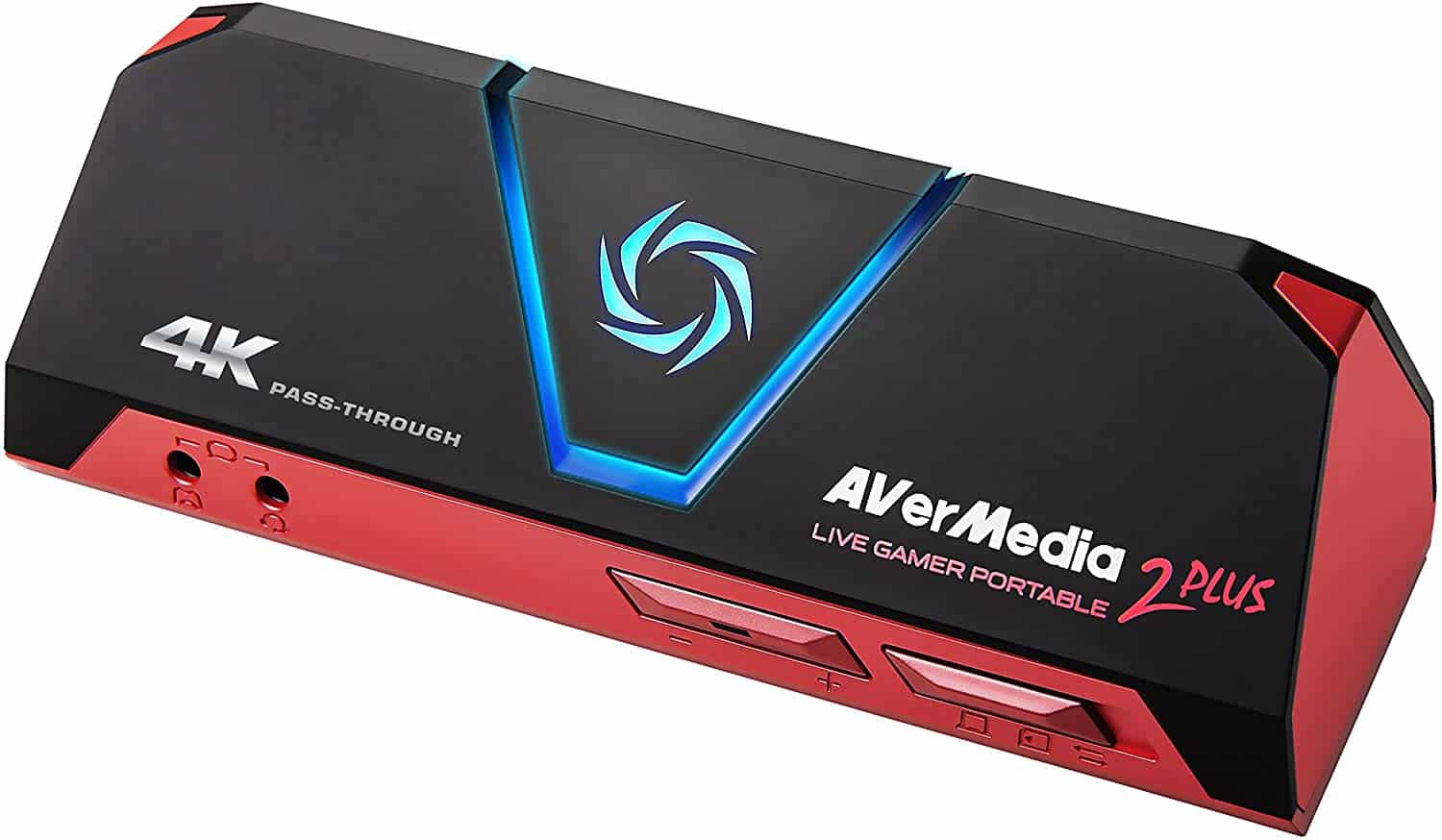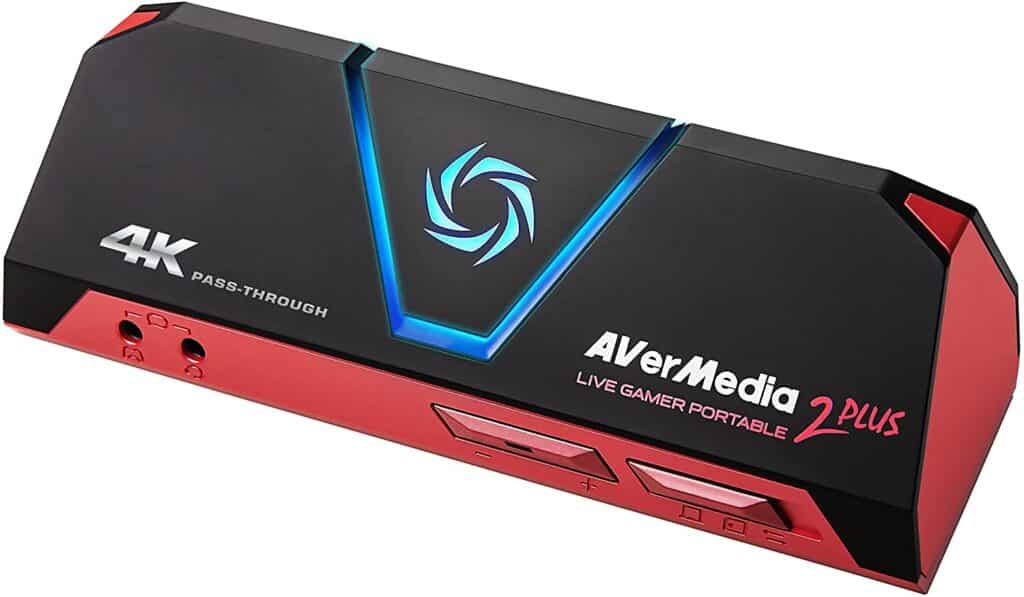 AVerMedia Technologies Inc. is a Taiwanese company that manufactures high-end video technology products. Their products have won many awards so far and they keep producing excellent V/A goods.
Today, I will present to you their capture card AVerMedia Live Gamer Portable 2 Plus.
This device has gotten excellent reviews online, and my experience with it agrees with other users.
Surely, there are some drawbacks, but overall, this device gives excellent results and it is also one of the cheaper variants. So, it is something to consider when you are looking to get a new capture card.
It is small and portable; the set includes the necessary cables such as the one for the USB power supply and those for audio and HDMI input.
There is a Micro SD card reader that can be used for PC-free recording. That means that you only need your console and, with this standalone device, you can record your games. Isn't this so comfy?
On the top side of the device, there is a button that will become blue when it is ready. You just press it to start recording. It is red during the process. To stop recording, you should just press the button again.
There are three modes to choose from: PC free mode, PC mode, and transfer mode used for transferring the video footage from the SD card to the computer via the USB cable.
The maximum game capture quality this device is capable of working with is 1080p60. This is very good video quality, though some consoles need a larger one for streaming. If you are using anything such as Nintendo Switch or Xbox One, this capture card will be strong enough.
It supports a 4K pass-through, so it can be used for watching videos at as big a resolution as 4K.
When it comes to the software that can be used to stream and record gameplay through AVerMedia Live Gamer Portable 2 Plus, you can use any program that you want, for example, OBS. In that case, you should choose the AVerMedia Live Gamer as the preferred Video Capture Device.
But a better option is to download the RECentral 4 software (you can find it on the AVerMedia website) and use it in conjunction with your Live Gamer. It is an excellent program that gives many useful options for adjusting the video stream to your taste.
There is the Single-Mode where you use only one source to stream your video.
On the other hand, there is the Multi-Mode that is much more versatile than the Single Mode. There is a number of features that are available only in this mode:
Why Do I Need an External Capture Card?
Experienced gamers already know why an external capture card is necessary. However, for those who are new in this field, here is a short explanation.
First of all, let us imagine that you are using one computer for playing a game and streaming it. In that case, here are the tasks that your computer is doing (note that this is in addition to the gameplay itself and any other program you might have running concurrently):
You can imagine that these two processes take up a lot of space for your CPU. And when you add the gameplay itself, recording the video, and adding voice commentary, you can see that your computer is under a very heavy workload.
So, let us move now to a better variant: more than one device to share the load. Can you see how much better that sounds already?
Here is a simple example. You play on a gaming console or one computer. You have another computer for the encoding and decoding processes (even better if you have software with GPU acceleration that outsources these from CPU to GPU). And you have a capture card to work as a messenger between those two, managing the encoded video files for streaming and recording.
Hopefully, you have now understood why this device is so important for any live gamer.
Now let's see how good I felt about using AVerMedia Live Gamer Portable 2 Plus.
Software
The streaming and recording software that needs to be used when AVerMedia Live Gamer Portable 2 Plus is in the PC mode is AVerMedia's RECentral 4.
On the one hand, in the PC free mode, no computer is used, hence there is no program for designing the looks and settings. So, PC free recording is done with default settings.
On the other hand, when we talk about the PC mode and RECentral 4, you can adjust the settings as you see fit. The bit rate, game capture quality, frame rate, and more settings are there to set up.
On the left side under the gaming footage, you can choose the mode – whether you want to record or stream. Then, to start, you just click the big button on the right.
A very useful feature is the Chroma key. It allows you, if you have a one-color background, to remove it completely. It doesn't have to be a green screen. You can have anything with one color behind you, be it a wall, a sheet, or anything else.
The bottom right corner has some important numbers related to how your computer works. It is a great addition to the software that we are now able to follow the computer's CPU, frame rate, and RAM statuses. One more thing that you can keep track of is the length of the content that can be recorded further – this is based on the current file size and the leftover storage on your PC.
Some of the features of RECentral 4 are:
Single Mode
You can capture video in a single mode, the basic one. With it, you can stream or record footage from one video source, without overlays or layouts.
This mode focuses on the video itself and the load on the processing unit is low.
Multi-Mode
Multimode is multifaceted when compared to the single-mode.
There are several features that are worth mentioning here. I have to say that I have found them very useful and even fun to play with.
Scenes
If you stream on several platforms at once, RECentral's Scenes feature lets you design each scene individually. You can switch between them, reorder them, delete the ones you don't want.
However, you should have in mind that multiple scenes give more workload to the CPU. Thus, you may encounter sound delay or lags.
Should that happen, delete one scene at a time to see how many your computer can handle at that moment.
Source Overlay
This has proven to be a very useful feature for my friend who makes a lot of tutorials.
Basically, you can add several different sources, such as capture devices, webcams, or webpages.
Another excellent thing is that screen capturing is enabled. I myself haven't used it but got much praise about this feature from other streamers.
Chroma Key
I have already talked about this feature, but it won't hurt to mention it once again.
So, the Chroma key feature is there to delete your background and play a video of you only.
To achieve this, you must have something that is of only one color behind you. It doesn't have to be a green screen, any color will do, as long as it is only one.
Live Editing
This is really a premium option and it makes editing a video much easier after you have recorded it.
Basically, it means that you can view and cut your video while it is still cached. Then you save it.
When you enable this option, you won't be able to change the video quality. For that reason, and for many others, it is useful to have set the video quality as one of the first things before you start recording.
Key Features
AVerMedia Live Gamer Portable 2 Plus is a very good device for anyone who is beginning to use one or doesn't need a professional capture card.
Nevertheless, it is a very good model. Though it didn't give me a pro feeling (I have tried out several capture cards so far), it is certainly one that I would recommend.
1. Design
The design of this capture card is simple. It is very light and small enough to fit into your hand, which is a great advantage if you stream from multiple locations.
At a sight, it is very handsome, with a triangular design and black-and-red racing car style.
On the front side, it has two buttons on the right: Mode Switch and Audio Buttons. On the left side, there are two jacks: one is the controller jack (this is recommended for PS4 and Xbox One) and the other one is a headphone jack.
On the backside, there are jacks for the following cables: an HDMI cable that goes to the TV or monitor, another HDMI cable for the console, a USB port for the power source (that is the computer). There is also a micro SD card slot.
On the top of the device, there is a big start button.
2. Simple setup
Setting up this device is very simple and straightforward. There is no space for fearing there would be intertwined cables, plugs, and similar.
Just plug in all the necessary cables: USB power cable, one HDMI cable for the TV and another one for the console, a headset, and a microSD card if you want.
3. Modes
There are three modes that can be used on AVerMedia Live Gamer Portable 2 Plus:
4. Recording
This device can record footage at the highest game capture quality of 1080p60. The bit rate depends on the performance of your PC or microSD card, on your console, and on your internet connection. When you use a PC for recording, you can set the bit rate to 60 Mbit/s at most.
It supports a 4K pass-through from a device through the capture card to a TV. That means that you can watch videos at that resolution. However, the capture device doesn't support recording at 4K. So, if you are using a console such as Xbox One X or PS4 Pro, you will need a capture card stronger than AVerMedia Live Gamer Portable 2 Plus.
5. Streaming
Streaming is simple, especially with their RECentral 4 software. Once you install and prepare it (it is user-friendly software), streaming goes smoothly.
There may be a teeny tiny lag (less than half a second) between the console and the computer program, but that is barely noticeable and may seem only like a slight echo.
While steaming, you can record audio commentary or party chat, and it will get incorporated with the stream completely.
6. The light for the main button
Since there isn't any screen on the device nor instructions on the meaning of the color of the main button (the one on the top part of the device), here are some indications on what they might mean (but take this lightly as the only way to verify these assumptions is by one's personal experience).
Solid blue light: the device is ready for recording.
Solid red light: something is wrong.
Flashing blue light: the device is getting ready or loading something.
Flashing red light: video content is being recorded.
Technical Specifications
System Requirements
In the following part, you will see the operating system requirements for Windows and Mac.
1. For Windows 10, 8.1, 7, and Mac OS X
Desktop:
Laptop:
2. For Mac OS X 10.13 or later
iMac 2013:
MacBook Pro 2013:
MacBook Pro 2017:
Target Audience
The AVerMedia Live Gamer Portable 2 Plus first capture card is one of the best capture cards you can get when you are in search of your first card to capture gameplay.
In my opinion, it is a very good choice for beginner and amateur streamers. Though there are stronger and more advanced models, this one does provide a very good game capture with the capture quality of high resolution.
The AVerMedia capture device provides all the basics that a streamer needs for decent live streaming. Even if you are still not sure exactly what you need from a capture card, this is a great device to start with.
Should everything work well, you will not experience lags, the video quality can reach 1080, and the frame rate up to 60 FPM.
Price
The lowest price of AVerMedia Live Gamer Portable 2 Plus is about $150. It is among the cheaper bunch of game capture cards, though the price may vary depending on the seller and the shipping fees.
When you buy a product, pay attention to where they ship from and how much they charge for shipping. This goes especially if you are ordering from abroad – in that case, the shipping may be even more expensive than the product itself.
For that price of this capture card, you get a lot: a quiet capture card that supports quite a good resolution for streaming and recording and even a 4k pass-through. You can record on your PC or use the PC-free mode for recording your game onto the micro SD card directly.
Frequently Asked Questions
Is the AVerMedia capture card good?
Yes, this capture card is very good. It is budget-friendly, easy to set up and use, and the free software that you download from the AVerMedia website is quite versatile for a program of that caliber.
If you don't need capture cards for games that require a 4k resolution (you can watch but not stream or record that video quality), I can freely say that it will not disappoint you.
Does AVerMedia capture card work with OBS?
It certainly does work with that program. When you use OBS and want to stream or record footage captured by the AVerMedia game capture, you should find Source and add this capture card as your Video Capture Device. However, it is recommended that you use the original software RECentral 4 which is designed especially for AVerMedia capture cards.
What is AVerMedia capture card?
AVerMedia Live Gamer Portable 2 Plus is a game capture device that lets you stream and record your games on one computer while you play on a console or another computer.
This particular model is a satisfactory choice for almost all of its users. It gives a picture of exceptional video quality and doesn't have lags. You can stream your games and your viewers can enjoy the experience.
Does AVerMedia capture audio?
Yes, audio is captured together with the video on the AVerMedia capture device and through its RECentral 4 software. For recording audio material, you will need a 4-port 3.5 mm cable, which comes with the device. Just open the program on your connected computer, plug in your headset in the device, and you can record commentary while playing your favorite game.
Conclusion
The aim of this text was to review AVerMedia Live Gamer Portable 2 Plus. This is a decent device that can be bought at an affordable price.
Though the manual is not as clear as it may have been, this shouldn't put you off getting the device, as you will get everything you need with it.
It uses an excellent video quality for streaming (it can pass through a 4K video signal as well), has virtually no lags, and multifaceted software (RECentral 4) is available for managing the streaming and recording processes.
It can be used with some software on your PC or in the PC-free mode, as the device has a Micro SD card reader, giving you the possibility to record directly onto an SD card.
AVerMedia game capture is an excellent choice for beginner and amateur gamers. It is certainly worth trying out.
Related: Best Capture Card for Streaming – Top 8 Great Choices