Mic Reviews
Here are some of the most popular mics that streamers use. We reviewed them and have our thoughts whether they are a good investment or not.
Post 1 of 1
Whether you are a professional music producer or an enthusiast with a more refined taste in high-grade headphones, you have undoubtedly heard o the brand Audio Technica.
Marketing themselves both as a seamless combination of quality and reliability, with superior sound quality and frequency range, there are a couple of differences a potential buyer should keep in mind.
In this article, we will put the Audio-Technica ATH-MSR7 vs M50x and give you all the relevant info you need to make the right choice for personal and studio use!
Post 1 of 1 in the Mic Reviews
Specifications – Audio Technica ATH M50x vs ATH MSR7
Both of these fantastic products represent the pinnacle of audio technology and still hold a lot of respect in the consumer market, and the attention to detail is truly phenomenal, with high-quality sound, sturdy removable cables, and pure bass being present in both products.
However, on closer inspection, it is easier to see why there are so many reviews of these two competitors – there are crucial differences in features that can be very important for a potential buyer.
Audio Technica ATH M50x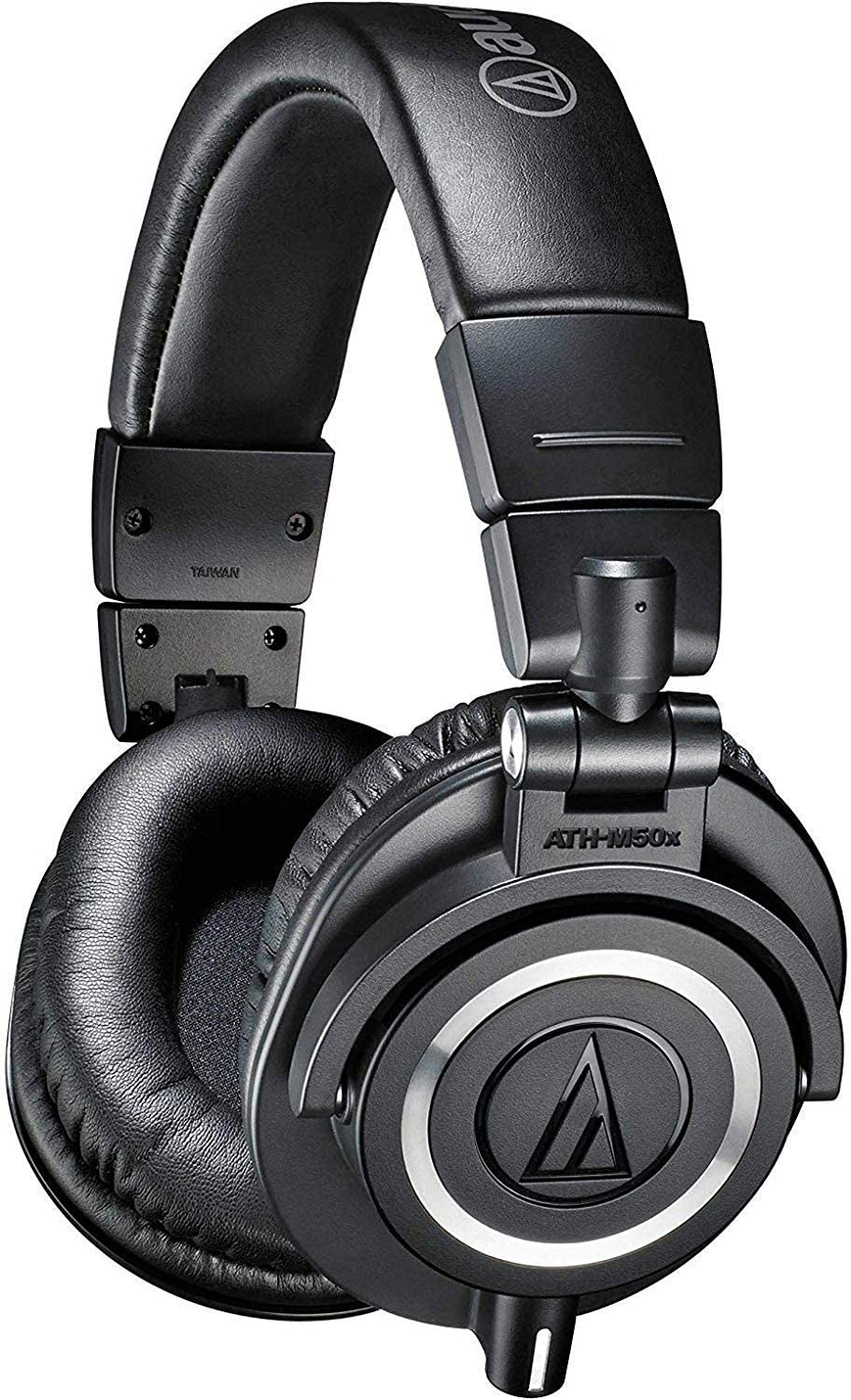 Audio Technica ATH MSR7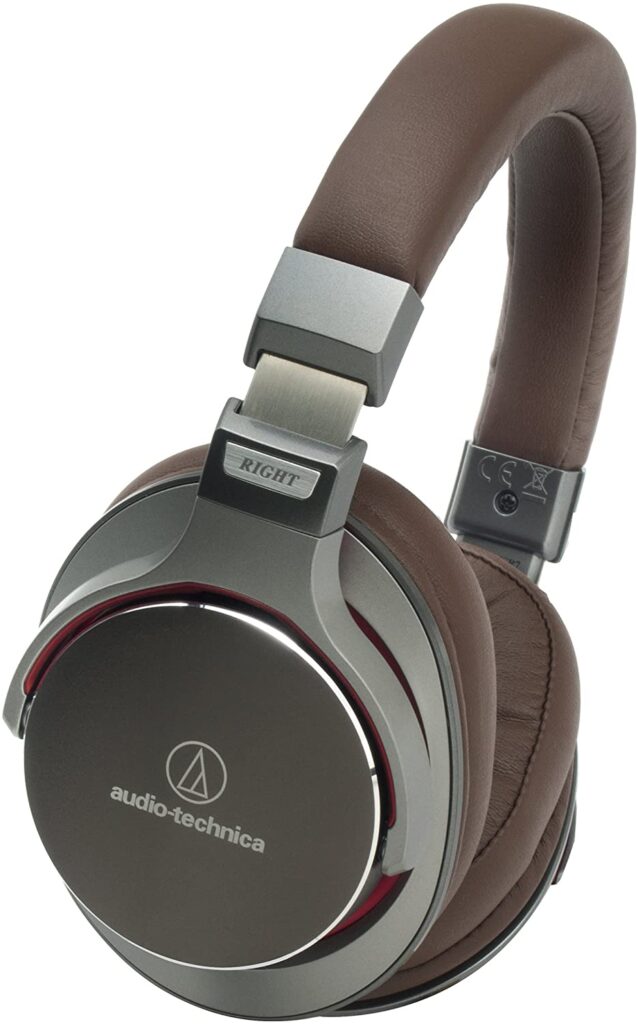 Differences – Audio-Technica ATH-MSR7 vs M50x
The first thing consumers notice when viewing these two headphones is the price- the ATH m50 is more affordable, and many tech reviews give these headphones high praise for the attention to detail present in every detail of their construction.
Both of these headphones offer treble and volume quality close to the highly-praised Sennheiser headphones. They are both fantastic for studio use, but what sets them apart?
The sturdy build, pure bass, and ambient sound cancelation qualities are impressive on both headphones, as both exemplify the Technica ATH series's dedication to quality.
The sturdy plastic construction and the earpads are similar in design; the different level of control over headphone features is the first detail consumers notice, as the Audio Technica ATH MSR7 has an in-line mic and cable sound controls.
The Audio Technica ATH M50x is a long-time favorite in the low-end tech market due to the more affordable price attached to it, with high-end treble and volume quality that will satisfy most consumers.
On the high-end spectrum, however, the signature qualities of the ATH m50 fall short in comparison to its superior cousin- the Audio Technica ATH MSR7.
The broader sense of scope, the more comprehensive frequency range, and the higher sensitivity of the MSR7 Audio Technica have received great reviews from critics, including those with a tendency to nitpick.
However, there are benefits for opting for the classic Audio Technica ATH product, as it has a slight advantage in professional studio use that we will explore in greater detail!
Audio Technica ATH MSR7 vs Audio Technica M50x Comparison
The most essential aspects of headphones include:
Sound quality
Both of these headphones offer phenomenal and precise sound quality. Yet, the superiority of both headphones depends on what kind of sound is being reproduced.
Low end
The Impedance and volume of the Audio Technica ATH M50x model are comparable to its competitor and can even surpass it, as it packs slightly more ohms and reproduces exceptional sound quality and bass.
Overall, the audio the M50x gives off packs a bigger overall punch and can give off more precise sounds, but, in general, the MSR7 is only toped at this category when playing bass frequency signals under 250Hz.
Mids
When we compare and listen to the audio reproduction in the mid-tier, it becomes more apparent why the Audio Technica ATH MSR7 is superior- it reproduces flatter, overall more pleasant tones.
When it comes down to giving an overall grade, both headphones can deliver mids on the level of professional, studio-level headphones such as the Sennheiser HD25-1 II, yer the MSR7 has a noticeable edge.
High end
The Technical superiority of the MSR7 starts to really shine when high-frequency sounds from instruments such as trumpets, synths, violins come into play- it becomes almost unmatched in terms of performance.
In a pure performance comparison, pitting the ATH MSR7 vs ATH M50x will yield a massive difference in favor of the former, being able to reproduce instruments with a lot of strings as if they were played right next to you.
It is somewhat unfair to compare headphones with a frequency response that tops at 40,000 to a model which tops at 28,000, but it is important to understand that they both serve different roles.
Many audiophiles, especially those who adore bass, give the M50x the edge due to its quality to price ratio and extra punch over the MSR7, better reproducing specific music such as rap or hip hop.
Producers and avid listeners of classical or synth music will naturally gravitate towards the Audio Technica ATH MSR7, custom-made for high-res audio.
If, however, you really like the low-end reproduction power of the M50x that, in some cases, the MSR7 simply cannot reproduce, a solid upgrade would be to get the V-Moda M-100 that manages to combine the best of both worlds.
Sensitivity
Both of these headphones are pretty much identical in this area, as the 100 dB and 99 dB sensitivity scores are almost indistinguishable except if tested in a very fervent review.
Impedance
In the music industry, the impedance level can make a break a gig- you have to know both your input and your output devices if you want to get the most out of your equipment.
The 38 ohms of power delivered by Audio Technica ATH M50X is slightly over the 35 ohms within the MSR7 model, meaning the latter works better with smaller audio devices, while the former is suitable for both studios and casual use with both small and medium-sized devices and amplifiers.
In this category, the Audio Technica ATH M50X has a slight advantage, but this by no means translates to them being better.
Laptops with high-quality sound cards work great with the legendary M50X that helped put Audio Technica on top of the headphone industry, as the MSR7 was centered around the casual consumer that usually uses smartphones to play music and not studio-quality producer-grade laptops.
Both are, however, similar in this regard as well, but with a noticeable enough difference to count it as a potential factor when deciding whether or not to invest in one over the other.
Weight
The difference between the two is just 5 grams.
Every headphone model in these two series falls within the lightweight category. Both of them are very balanced, being comfortable for use even after hours of use.
Design
This is where the attention to detail Audio Technica puts into its products really starts to shine, as both of these seemingly similar headphones begin to exhibit differences upon a closer review.
The now-critically acclaimed Audio Technica ATH MSR7 strongly resembles the Sony MDR-1A, but it sports improvements in build quality, better materials, and a more stylish appearance.
The first thing you will notice is that this headphone model is very sturdy, and rightly so- it sports an aluminum casing around the drivers and a sturdy yet surprisingly light metal headband.
While there is a fair amount of plastic in its construction, it never feels clunky nor of poor quality, which makes it great for outdoor use without worrying if a fall could damage this sturdy headphone design.
All in all, it has a closed-back design that covers the ears with high-quality aluminum extenders. This is a high-end luxury headphone model, with no cut corners and additional audio controls and a mic included, sporting a similar built as the SENNHEISER Momentum 2.0.
Don't let the high praise for the MSR7 sway you – Audio Technica ATH M50X has all the makings of a true competitor on the market, offering an immensely satisfying listening experience as well as build quality.
This classic has set the standards of quality- from its durable 1.2 and 3 m cable design to can compression, it is primarily built from plastic and is well-built from top to bottom.
Being just as beautiful as the Audio Technica ATH MSR7, it is slightly more clunky and, due to the lack of extra aluminum and metal construction present in the built of its bigger brother, the MSR7.
Earpads
 The Audio Technica ATH M50X is primarily built around the needs of a bass-heavy, studio-oriented production, and this comes with its own set of perks.
Ditching the overused foam-based earpad design, Audio Technica reserves the very best for its professional consumer base- premium leATHer earcups, which are very comfortable for the ear.
While the headband is not as resistant to physical damage, the entire leATHer-based design is better equipped to withstand wear and tear and remain beautiful even after years of prolonged use.
The only issue that could arise from this design is the lack of active noise cancelation, as the Audio Technica ATH MS50X has passive noise cancelation that blocks all but the loudest ambient noise.
 However, the quality of sound cancelation present in the Audio Technica ATH MSR7 is comparable to models such as the famed Sony WH-1000XM3.
The thick layer of memory foam coats the roomy earcups. The main advantage foam-based headphone models have over leATHer is based on the foam formula's ability to adapt to the contours of your ear.
 While some users might complain that this line of luxury headphone models deserves to get leATHer included, the classical foam formula is hard to beat in terms of comfort. Still, it tends to wear out a lot faster over time in comparison to the Audio Technica ATH M50X's earpads and is less glamorous.
Overall, the classics have the edge over the newer model, as Audio Technica ATH M50X trades slightly less initial comfort for longevity, beauty, and class.
Noise isolation
In a detailed review, it becomes clear that there is a noticeable difference when listening to different kinds of music in different environments when using either of these two products.
Despite its prestigious reputation, the Audio Technica ATH M50X falls behind the MSR7 in every category except for the mid-tier, scoring the following:
Audio Technika ATH M50X
Audio Technika ATH MSR7
The M50X offers absolutely no noise cancelation in the bass range, leading to unsatisfying listening experiences when near loud vehicles.
In mid-tier tests, when used to listen to music in crowded areas, they achieve a score of roughly 9dB, which is somewhat mediocre (-15dB being a solid value).
However, in the treble range, listening to these headphones becomes noticeably more enjoyable! They offer isolation slightly below optimal spectrum (- 30dB) without affecting audio output too much.
When we turn to the Audio Technica ATH MSR7 in the Bass range, we get sub-par noise cancelation which beats the practically non-existent one found in the M50X.
The mid-tier is slightly worse than the one present in the M50X, but it does the job in day-to-day situations if you ever find yourself in noisy ambient environments.
In the Treble tier- this headphone model is above the optimal range. As a result, you will hear almost no sharp T or S sounds and can fully engross yourself in the music of your choice!
Overall, Audio Technika ATH MSR7 beats the M50X in this comparison by a value of -3.22.
While neither of them can compare to headphone models such as the Sony WH1000XM3 in terms of eliminating outside sounds, the MSR7 triumphs over the M50X noticeably in this area.
Portability
This is a tricky comparison as both come with additional equipment such as a cable set that is detachable, a mic and on-cable audio control features(MSR7), and a cloth pouch for storage.
While the Audio Tecnica ATH M50X does not come with a microphone nor additional control features, it has a noticeably larger profile – it can be folded and carried in a backpack but not in a jacket pocket.
While the Audio Technica ATH MSR7 is also quite large and does not have a compact form, it has a smaller profile. While not ideal, they are easier to carry around.
Price
For some, this is irrelevant, but for many more, this could be a dealbreaker. While the Audio Technica ATH M50X is every bit as impressive as it was when it came out, age has caught up to it.
Audio Technica ATH M50X can be found for about $150 on Amazon. Honestly, you get a lot of value for the price- few headphones can match the history and fame this tech marvel has achieved.
Its 35 ohms cousin offers a sound that is more detailed and more natural, better response rates, sturdier and comfier earcups, and top-of-the-line microphone and cable equipment.
However,  it can leave a hole in many people's pockets, and many consumers will be happy with what the Audio Technica ATH M50X offers and might not need too much additional equipment other than a cable set for simply listening to music that is every bit as good as the best budget headphones.
If money is not a problem, definitely go for the Audio Technica ATH MSR7, as it is superior to the ATH M50X in many categories.
 But it is not all so black and white, as the Audio Technica ATH M50X remains the champ in the music industry. If bass-heavy music is your forte and your budget is restricted, you won't regret picking the M50X up.
Verdict – Which One to Get
It always feels wrong to say something bad about the classics, but here it is – the Audio Technica ATH MSR7 is superior to the Audio Technica ATH M50X.
The MSR7 offers richer sound, is more comfortable for the ear, and comes with a microphone. While aesthetically, the M50X is still extremely beautiful, the ATH MSR7 provides superior performance.
However, the consumer community's response to the aging model is still highly positive, as these budget headphones are affordable for every ear and have a long life ahead of them despite their age.
FAQ
Is the MSR7 better than the M50X?
Yes, it outclasses it in almost every regard. However, both models are of exceptional quality, and it is hard to call it a mistake to pick one over the other if all factors are considered.
Are the included cables removable?
Yes, they can be detached and attached at will.
Is the MSR7 foldable?
Unfortunately, no, this model does not come with a compressible can form, unlike the M50X model.