One of the indispensable tools that transform an ordinary streaming experience into a professional one is a good-quality microphone.
Steaming microphones should provide studio-quality articulation, durability, frequency response, reliability, great pickup patterns, and easy handling. Such are the characteristics of the Audio Technica AT2020 and the Blue Yeti that they have become two of the most popular streaming condenser microphones with outstanding sound quality and performance.
Not only can you use them for streaming and gaming, but also for creating podcasts, voiceovers, interviews, conferences, vocals, and musical instruments.
Which one is better, you ask? Let's compare some technical specifications of both mics prior to answering that question.
Let's start this AT2020 vs Blue Yeti battle!
Post 15 of 15 in the Microphone Faceoff
Specifications – Blue Yeti vs AT2020
In order to determine which microphone is better, let's make a comparison between the two.
Audio Technica AT2020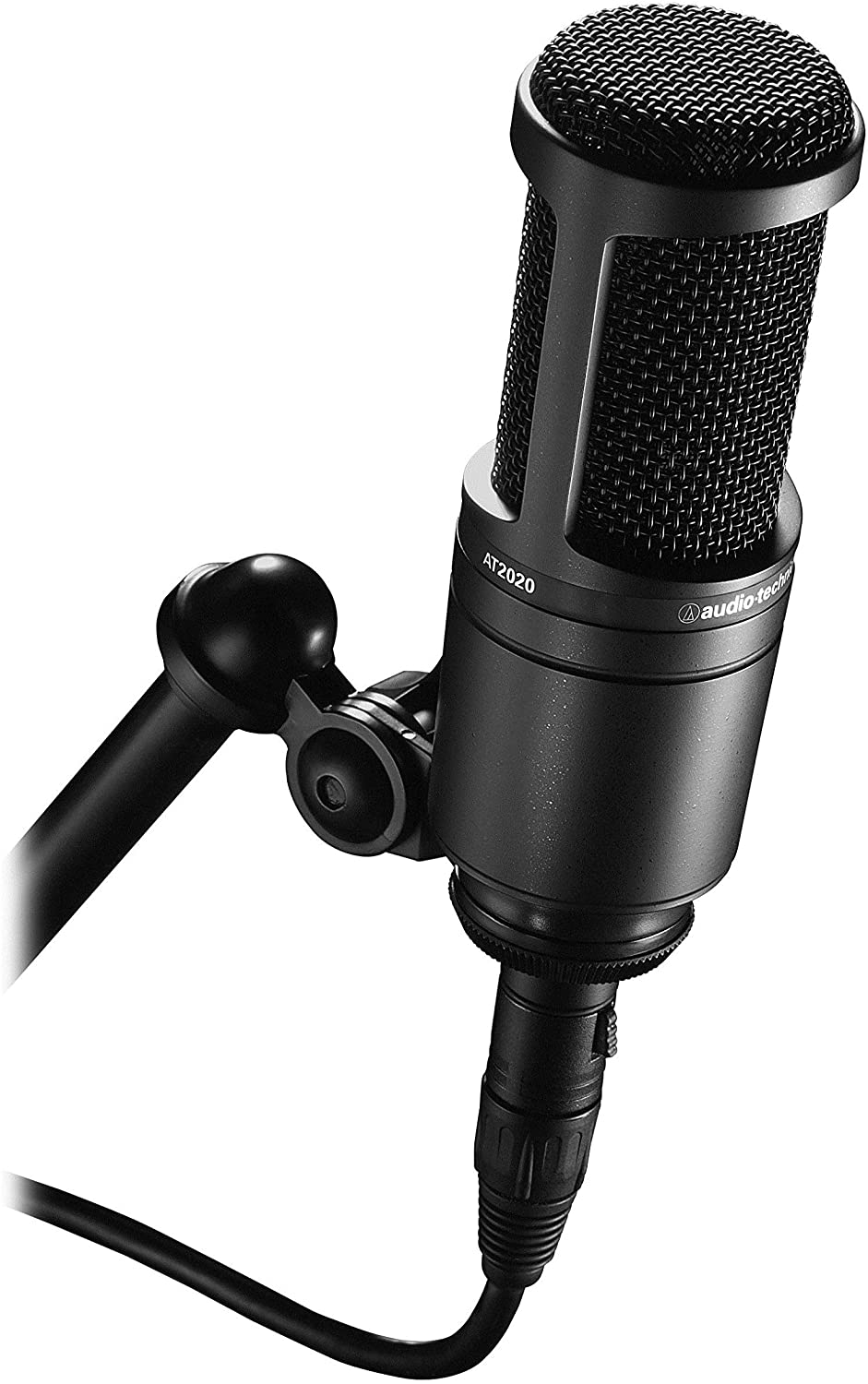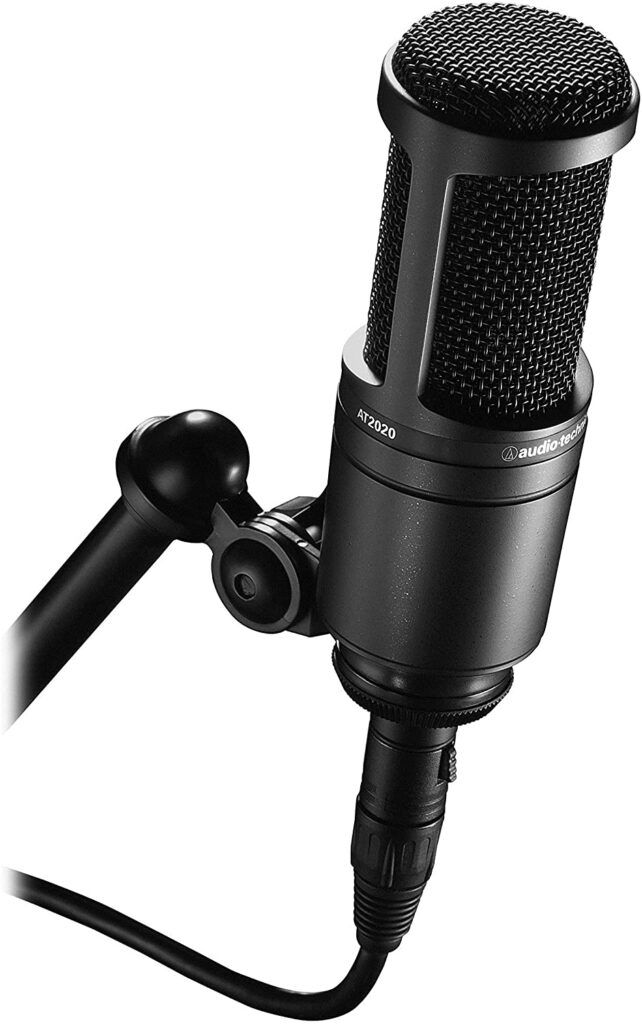 The Audio Technica AT2020 condenser microphone is an essential tool for streamers, musicians, and podcasters that transforms any home into a professional home studio with its innovative features, consistent, reliable sound quality, and design.
The AT2020 comes with:
Blue Yeti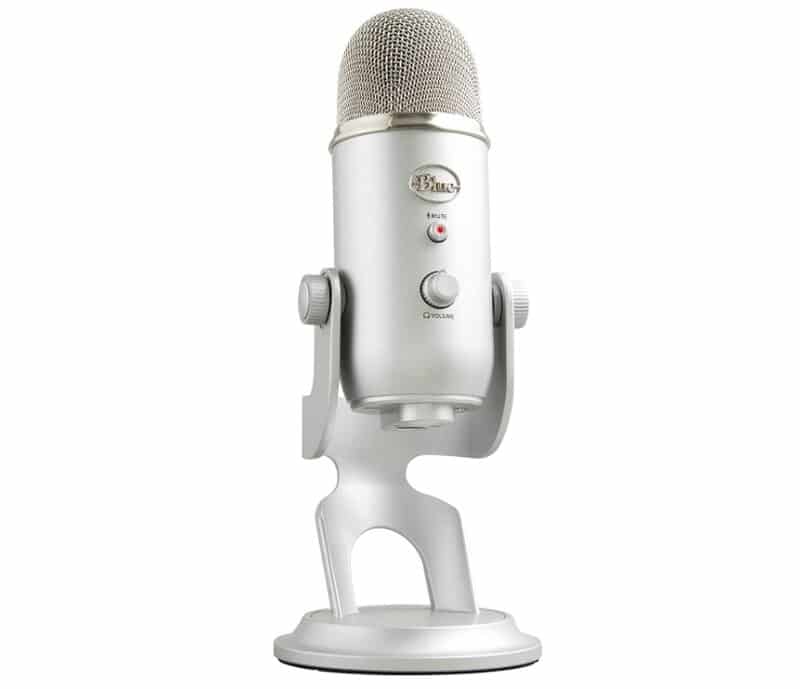 Described as the most widely sought-after USB microphone for recording and streaming, the Blue Yeti leaves other USB microphones standing with its tri-capsule technology, condenser microphones, four different polar pattern settings, guaranteeing high-quality recordings with astonishing ease.
It features:
AT2020 vs Blue Yeti – Differences
The Audio Technica AT2020 is used for streaming like the Blue Yeti, be it professional or home use. They are both side-address microphones, which means that they pick up sound at a 90° angle. That means you should record sounds at the sides of the microphone, not at the top of it. What's more, their frequency response is identical and you can purchase both for almost the same price.
However, there are some notable differences between the two and they are presented below.
Design
The most important parameters for a good microphone in terms of design are practicability and versatility. A mic should also be positionable so you can easily manipulate it, compact and not too heavy or large.
The AT2020 is built in a state-of-the-art fashion that guarantees durability. It is a custom-designed low-mass diaphragm with two side-address condensers. It weighs 354g and it is 162 mm long and 52mm in diameter. However, there is one slight disadvantage. This microphone cannot stand on its own. Rather, you will need to invest in an adjustable boom arm threaded with an XLR cable. This will make the mic more adjustable, versatile, and easier to use.
Conversely, The Blue Yeti is an independent mic and it doesn't need any additional studio arm. In that sense, you can adjust it more easily compared to the AT2020. All you need to do is secure the mic by tightening the knobs. Besides, you can easily detach it from the desk it comes with and mount it on a separate microphone stand – it is up to you. Finally, it weighs 55 kg and the dimensions are 12cm x 12.5cm x 29.5cm.
Having said that, we can conclude that though heavier, the Blue Yeti is a lot more practical and versatile and requires no additional cost for a studio arm.
Pattern Modes
Different microphones will pick up audio signals differently at different angles, at some better than others depending on the polar patterns. Pattern Modes refer to the sensitivity that your microphone has at different angles. There are four polar pattern modes: cardioid, omnidirectional, bidirectional, and unidirectional.
USB cable microphones usually have a cardioid polar pattern, which means they pick up sound best from the front because that's their most sensitive spot. The cardioid polar pattern is great for streaming or podcasting.
Now, the Blue Yeti is innovative and unique in this aspect as it is a USB mic, yet it features tri-capsule technology and four polar patterns that build quality:
How amazing is that! Compared to the Blue Yeti, the Audio Technica AT2020 only has cardioid polar mode.
You see the difference in power, right? It is blatantly obvious that the Blue Yeti excels in many different recording scenarios, which wouldn't be the case with the AT2020.
Sound Quality
Now, polar patterns further influence sound quality. Don't expect the AT2020 to produce high-quality audio recordings of larger conferences, live performances, or a podcast that involves a range of people. Not even if you are interviewing a speaker sitting opposite you. The AT2020 is primarily used for streaming and creating podcasts.
That said, the Blue Yeti guarantees far better sound quality and can produce outstanding results in a range of situations. Besides, you can use the microphone gain option to adjust sensitivity, mute button to make a pause during a podcast or a voice-over.
Recording control
You are in charge of the entire audio recording process if using the Blue Yeti because it has controls for headphone volume, polar mode selection, and mute. You can adjust the sensitivity at any time with the gain control. Also, use the mute button to take a break during the recording. This range of options really puts you in full control of the process.
If you record your streaming content using the AT2020, the process is nothing like it and there are no buttons on the mic itself. Rather, you need to use the settings on your sound recording device to do the entire process.
In this regard, the Blue Yeti is an absolute winner.
Output connector – XLR vs Jack (USB)
First of all, it is worth mentioning that the Audio Technica AT2020 and the Blue Yeti have different output connectors. The AT2020 has an XLR output whereas the Blue Yeti has a 3.5-millimeter headphone jack. Which one is better and why?
USB microphones like the Blue Yeti are usually more affordable and easier to use than XLR microphones. You can connect the mic with your computer and headphones and listen to what you are recording with a slight delay of only three seconds.
On the other hand, XLR mics like the AT2020 are used for professional audio equipment and thus highly recommended if you are recording vocal sounds or musical instruments or just want a better, more crystal-clear sound for your audio recordings.
They are usually more expensive and require purchasing an audio interface so you can connect the mic with your computer, and is an additional cost. Nevertheless, it is undeniable that they produce higher-quality audio recordings and a more balanced connection. The reason behind it is that they have two channels and cancel out any noise.
To sum, XLR is better, though you will incur some additional costs purchasing an interface to connect the mic to your computer.
Accessories and connectivity
Though the AT2020 comes with threaded stands and adapters, you will have to purchase an additional USB audio interface or a mixer with USB output if you want to connect your microphone to the computer. This is, of course, an additional cost, but only then are you fully equipped to start streaming.
On the other hand, since the Blue Yeti is a USB mic, you won't have to deal with any of that. It is compatible with both Windows 10 or higher and macOS 10.13 or later versions with USB 1.1/2.0/3.0. Simply plug and play.
Needless to say, the Blue Yeti here outperformed the AT2020 both in terms of compatibility and affordability.
Ease of Use
How easy it is to set up and use the Audio Technica AT2020 vs the Blue Yeti?
After purchasing the Blue Yeti, you want to adjust the mic at your desired angle by tightening the screws, making sure you are speaking at the sides of the mic and not on top. Connect it to your PC with the supplied USB cable. No drivers are required, just select your favorite audio recording software and you are ready to record. It couldn't be easier, right?
However, it gets a bit more complicated with the AT2020. You will need to use a 3.5mm adapter or a mixer to connect it to your PC. And of course, you will need audio recording software. Some of the most commonly used ones are Audacity, iMovie, Ableton, and Garageband.
Conclusion
Now here comes the most important question of this article – Which microphone is better, the Audio Technica AT2020 or the Blue Yeti? Which one is the winner?
Namely, the Blue Yeti produces significantly better results in various situations not only for streaming and gaming with the four different polar patterns. Besides, it is more practical, versatile and it guarantees legendary ease of use without any additional equipment.
Personally, I would disregard the price in the light of the aforementioned features, since it differs only in a matter of 30 dollars. Even if you buy the AT2020 thinking that you have saved the money, you will have to buy additional equipment to connect the mic to the PC, so it boils down to the same amount of money. With the Blue Yeti, you only need to plug and play.
Nevertheless, the Audio Technica AT2020 is also a good quality mic that will serve your streaming, gaming, or podcasting purposes just right.
Try either of the two for yourself and record memorable voice content to share with your audience.
Related: Best Dynamic Microphone for Streaming
Frequently Asked Questions
Which is better – AT2020 vs Blue Yeti?
The answer to this question depends on your needs. The two mics are both condenser microphones. If you need a mic for your streaming, gaming, and podcasting purposes in your home studio, the AT2020 is a slightly more affordable option.
However, you will still need to purchase additional equipment to connect the mic to your PC. If you need a mic not only for streaming but also for recording live music performances, conferences, meetings, and podcasts that involve a group of people or if you are interviewing speakers opposite you, definitely go for the Blue Yeti.
It indubitably produces better results in these situations with four different pickup patterns and tri-capsule feature, compared to the AT2020, and is a lot easier to use without additional costs. Simply plug and play.
Is the AT2020 a good mic?
The Audio Technica AT2020 is a hugely popular side-address mic with a cardioid polar pattern used for streaming or podcast recording, and the popularity is more than justified. It ensures great sound quality, frequency response 20Hz, good noise control, and it is definitely good value for money.
Should you get a USB or XLR microphone?
Each of the two mics has its advantages and disadvantages. USB microphones are usually more affordable and easier to use, but they usually have cardioid polar patterns, which means they are not so versatile in situations outside streaming and podcasting.
On the other hand, XLR microphones can't be connected to the PC without the help of an exterior device and associates program, but they ensure the better sound quality of your recordings regardless of the setting.
That said, you should consider what's more important for you: versatility or ease of use. You cannot really build the quality of your microphone, but you can definitely purchase an exterior device.
Join our Discord Group. Ask questions, team up with fellow streamers, share memes, and more!