So, you have started your streaming career. It goes well, and you are satisfied with your content, but you need something to improve your Twitch channel.
One might need some kind of Twitch stream analytics or Twitch channel analytics. However, everyone has their own preferences and needs.
Therefore, we have decided to make a list of tools that can help you for example, with the questions- when to start live on Twitch or with whom to collaborate, or simply who is your competition.
There are many Twitch analytics tools, but we have chosen the best ones to represent you. Hopefully, they will bring your channel to the next level.
Post 9 of 22 in the Brand Growth
Analytics Tools for Twitch
But first, let us explain in a few words why you need the analytics tools.
As you know, influencers on Instagram or Facebook have already become well-known examples of people who study and checks their analytics in order to get more followers or likes.
Thanks to the analytics tools for Twitch, nowadays you can check what parts of your stream have made your viewers go crazy in the chat and at the same time what parts have been boring or non-attractive to them.
Therefore, Twitch stream analyzers will help you make your stream more appealing to the masses.
1. Sully Gnome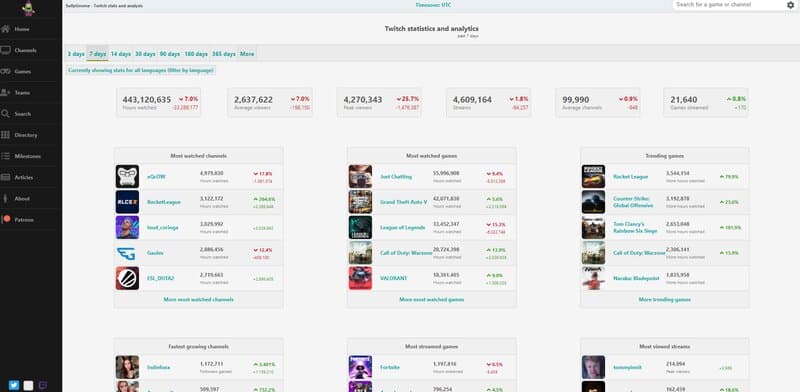 First of all, when you open Sully Gnome website you will be amazed by the myriads of different statistics. You can check:
And all that on their homepage.
You can type the name of your or someone else's channel in the search bar which is at the top right corner. There you can see various Twitch channel stats or stream stats Twitch.
Generally, within the Twitch analytics you can see your or someone else's:
And many more things that will be interesting for streamers and their audience.
Generally, Sully Gnome is used by large corporations when they have to decide where to sponsor their product or with whom of the streamers to cooperate.
Moreover, it is a great, and possibly the best way for streamers to see their representation and decide whether a certain game is a success for them or not.
A tab "Long Term" is the one we highly recommend because it is easy to read, and shows different Twitch stat. It is great for an overview of your recent work and planning for the months to come.
Thanks to a plethora of graphs and different colour code it is easy to compare the success of streamers or games.
Yes, we know that it is possible to see many aspects of Twitch analytics on Twitch itself, but there is something special about the tools for analytics.
They are simply more user friendly, and it is more interesting to see all those Twitch charts and graphs in different colours there.
An extremely important feature for streamers, especially the new ones is a so-called Game picker tool.
Namely, it predicts how many viewers you are going to get by playing different games, based on your audience. Honestly, it is a very useful Twitch analysis addition.
However, bear in mind that it is a beta version, so further improvements are to be expected. We think that Twitch strike is better in this field, but certainly, the difference is not big between these two tools.
Another good piece of advice for you is to try to see what streaming Teams are playing at the moment. But, bear in mind that their pages might difficult to access because those are mostly esports teams or simply organizations that too large.
This twitchtracker tool is phenomenal for various things. Therefore, it is one of our favourites on this list.
2. Twitch Dashboard Analytics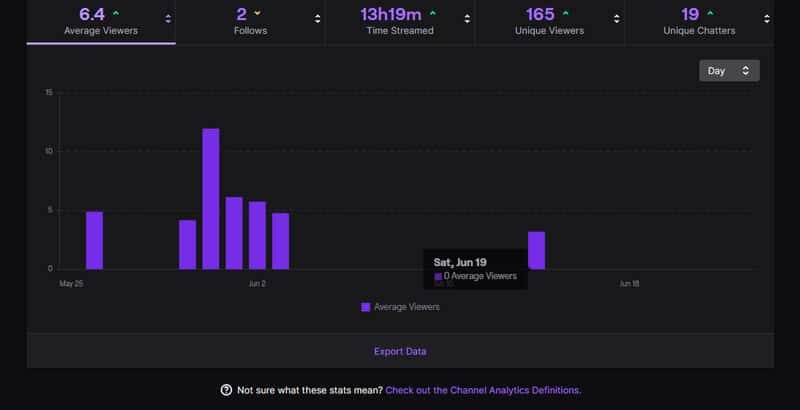 The second option on our list is Twitch Dashboard Analytics. It is built into the Twitch system and it gives you basic information on how your stream goes.
An important advantage of this Twitch tracker is that Twitch itself is using it when choosing a partner or affiliate.
Generally, it shows you a 30-day recap, but it is possible to customize the time frame and get more detailed Twitch analytics.
The data you can see is the following:
And, many more features.
Thanks to the Twitch viewer tracker you will be able to see where your views come from. Therefore, you will be able to further develop your content because of the specific category of viewers.
Moreover, if you see that they come from shoutouts or social mentions you can focus more on that.
Thanks to a specific twitch tracker, you can see when you have received a donation from your chat members.
Twitch chat stats are of paramount importance for developing your channel. Therefore, Twitch enabled you to see when the chat is most crowded and engaged. Moreover, the viewer count peaks of your stream are available to be checked, as well.
In general, we recommend you check your Twitch Dashboard from time to time, to see if it is growing, to check chat stats Twitch, achieve collaboration with someone similar or simply to check the pulse of your audience and channel itself.
3. Twitch Metrics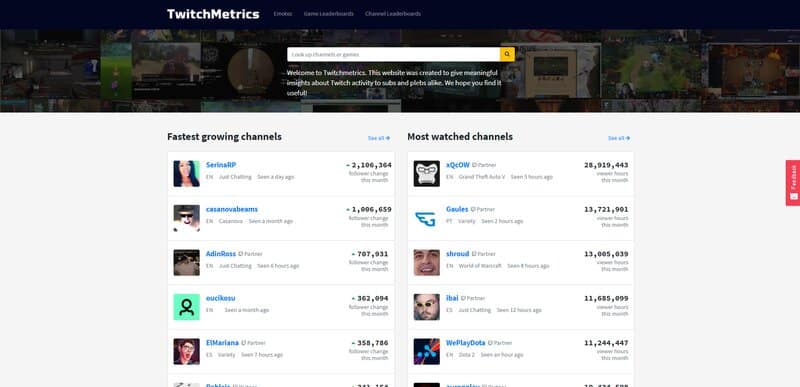 Twitch Metrics is very similar to Sully Gnome.
On Its homepage, you can see:
When you click on a game, it shows you the whole analytics of it. For example, average viewers, average live channels playing it and its peak viewers.
Moreover, it shows a recent game activity (number of streamers playing it recently and viewers who have watched it).
Twitch Metrics, therefore, allows you to see the trends in a gaming world, and choose the right game for your streams.
Who knows, maybe one day you end up on a list of streamers who stream a particular game, which is available just below the Twitch game stats.
To conclude, Twitch Metrics is the most useful tool when you have to find an appropriate game for your streaming career, or simply if you want to find the content from the most popular clips that you think is the best.
4. Twitch Strike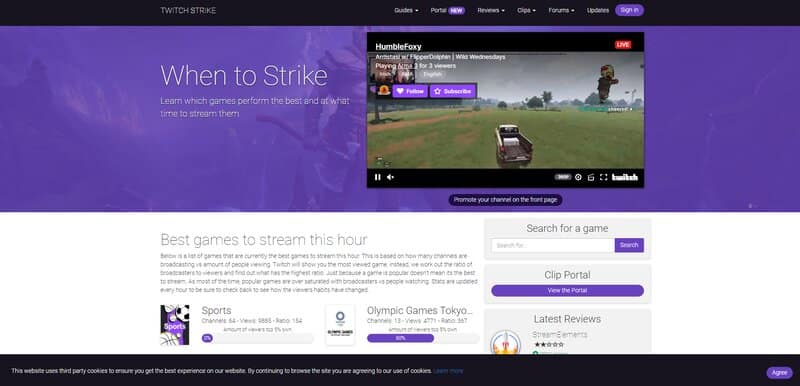 As they say, learn when and what to Stream on Twitch. It is a perfect slogan for this tool.
Twitch Strike provides you with the list of the best games to stream on an hourly basis! They give you a sort of personalized analysis of the most played games. Therefore, they provide you with the best choices when it comes to streaming and gaming.
On the other hand, they give you a list of the worst games to stream. They based their results there on the small number of views that certain games get.
Their Twitch game stats are based on average views, trends or the number of streamers streaming a particular game.
Generally, this specific focus on gaming is attractive to streamers.
Moreover, if you register, you will get the data on an hourly basis without checking the website. It is good for inspiration, it can simply give you an idea of what to stream. Finally, it might motivate you to experiment with different games.
The same goes with the clips. They have a list of the most popular clips in the past hour.
You need the best possible gear, as well. Do not worry they have the reviews too.
Another interesting feature is that they have a forum. You can have a rant or you can simply ask questions related to streams, Twitch or something else.
Sometimes it is good to check the facts, and see what the best choice for you is.
5. Twitch Tracker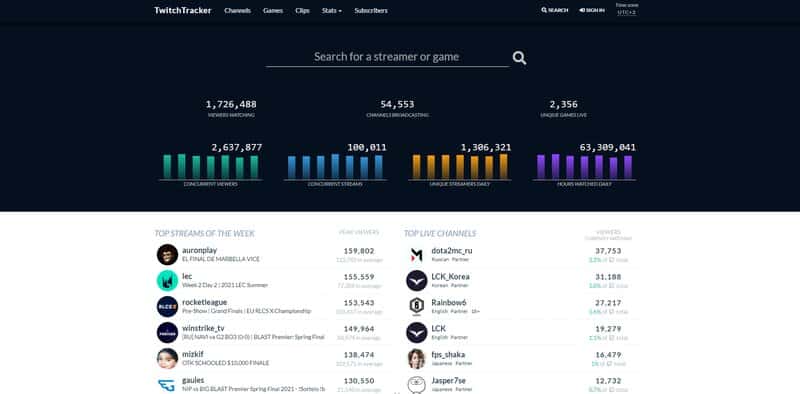 Right from the beginning, on their homepage, you will see that the Twitch Tracker is a universe of its own.
Its smooth design and a plethora of Twitch charts and stats bring the world of Twitch analytics closer in a magnificent way.
On the homepage, the following features and stats will welcome you:
Twitch Tracker is basically sleekier Sully Gnome. It provides you with the Twitch activity statistics. Therefore, you can see how many viewers and streamers are active at the moment on Twitch.
The top streams and the top streamers in the past period can be seen, as well.
At the very centre of the page you open (homepage), you can search for your or someone else's channels. When you open the channel's page, the coloured little arrows will show you whether the channel is improving or degrading in the time frame you select.
The "Streams tab" is a particularly useful feature, where you can see a calendar of a preferred channel's streams. Moreover, you can see the details by clicking on any week you want.
A fantastic and user-friendly feature is that the days are coloured. So, those days coloured in brighter colours mean more views, while the darker coloured days, of course, mean fewer views.
After some time, you can compare the results of the previous streaming sessions from the past weeks, and see which game has done best for you.
Moreover, if you have streamed a few games or categories in one day, you can see which one brought the most people to your stream.
As everyone's ideas are different it can give a clear picture of those ideas that you have tried. Moreover, you can compare your Twitch stats to others'. For example, other streamers might stream the same game as you, but they have more views than you. So how is that?
The Twitch Tracker allows you to see if the possible problem is the time of streaming because you can see when the peaks of their streams were. After that, it is easier to think about the improvements.
Overall, if you have ever asked can you see how many subscribers someone has on Twitch or wanted to dig deeper into someone's Twitch analytics, Twitch Tracker, as well as Sully Gnome is highly recommendable.
6. Twitch Stats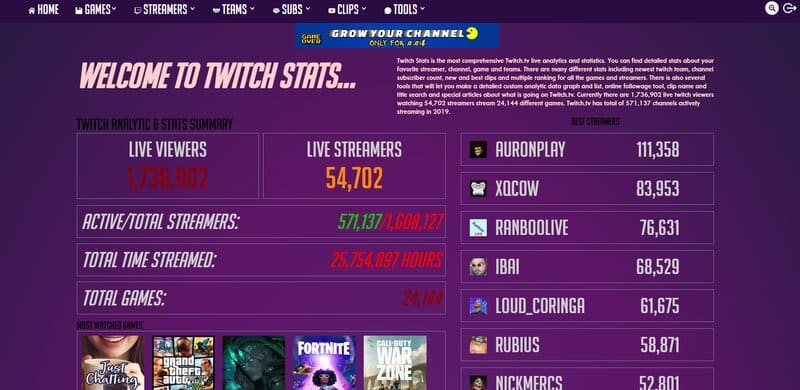 Twitch Stats or TwitchStats, it is the same, is another twitch tracker that helps the Twitch streamers worldwide.
Twitch Stats provide you with:
It provides you with detailed statistics of individual streamers, as well.
Generally, we think that their homepage and website, in general, is a bit confusing, and goes without saying messy.
They claim that their site is the most comprehensive and generally the best when it comes to twitch analysis, but we honestly do not agree on that. Namely, they do not provide anything new to the viewers or streaming community.
If they, for example, have included Twitch chat stats or Twitch emote trackers, we would have said that it really is something refreshing on the twitchtracking scene.
Yes, the Twitch Stats is useful if you want to see how many subscribers the major streamers have, but the number should be taken with a pinch of salt. Not only on this website but generally.
The exact numbers are available only to streamers and maybe their teams or huge organizations. The viewers, on the other hand, need to be satisfied with the approximate number of subscribers or views.
However, the number provided by platforms such as Twitch Stats are useful to see how content can influence the number of views or subscriptions.
Moreover, younger and future streamers might learn a lot from that.
Generally, we think that Twitch Tracker, Sully Gnome or even Twitch Metrics are better choices for you.
7. R1CH Twitch Analyzer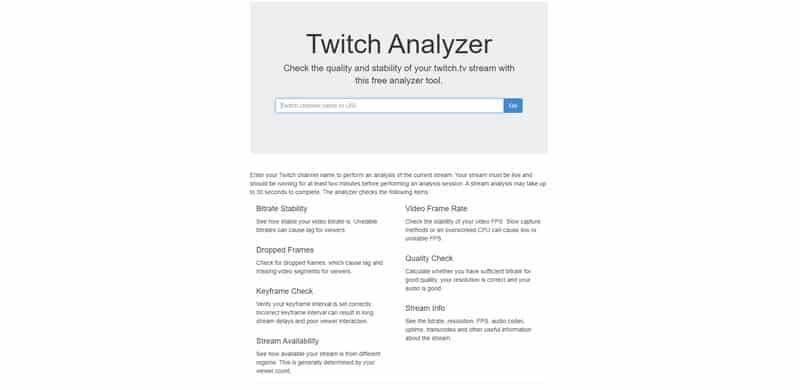 R1CH Twitch Analyser is definitely not an average analyzer or twitch tracker.
Thanks to R1CH Twitch Analyzer one can check:
It is a robust, old-fashioned weapon for resolving a problem or problem analysis. You just have to enter your Twitch channel name or URL and you get access to it.
When you enter your data, R1CH will provide you with the compressed report, as well as a few pieces of information to consider.
Firstly, you get a kind of technical report. There you see the facts about your bitrate. Most importantly, you get a clear picture if it is stable or not. You will see possible bitrate or frame drops respectively.
The frame drops can be boring and annoying for your audience, so checking them from time to time is the best possible way to ensure it does not happen.
Secondly, the keyframe check is a section that will help you see if there are any problems with your video compression.
At the bottom, you will see information about your audio. As we all know, the sound should not be too loud nor too quiet, therefore this feature will help you see if you have chosen the right balance.
However, the huge disadvantage of R1CH Twitch Analyzer is that provides reports only for live streams and not from previous ones.
But the R1CH is very practical while preparing your stream or at the beginning of it because you can check the preferences before you start.
We know that aforementioned data one can see on Twitch itself because Twitch has a built-in "Twitch inspector". However, R1CH gives you a better experience and it is more user-friendly.
8. Social Blade
Social Blade is a wonderful analytics tool if you are an avid user of multiple social networks.
Overall, people know for it due to the options like the Twitch sub count tracker or Youtube subscription tracking. The interesting information is that it updates every second!
Therefore, if you are coming closer to a milestone it can get pretty interesting to follow it.
All things aside, what makes this app universal is the ability to track growth on multiple platforms. For example, those who already have had accounts on Instagram, Facebook or Youtube should try to bring their followers to their Twitch account as well.
That is why this tool is useful. You can track the growth of your audience if you have, for example, posted a link to your Twitch account on Twitter.
So, it is in your best interest, as a streamer, to be present on multiple platforms at the same time and track the Twitch follower stats.
Another cool feature is that you can check when you had the biggest number of views or new followers, and see what you were doing to attract all those people.
Finally, Social Blade can make predictions about your followers' growth. Although it is not completely accurate it can show you potential changes based on your historical data and your stats analysis.
9. StreamElements Chat Stats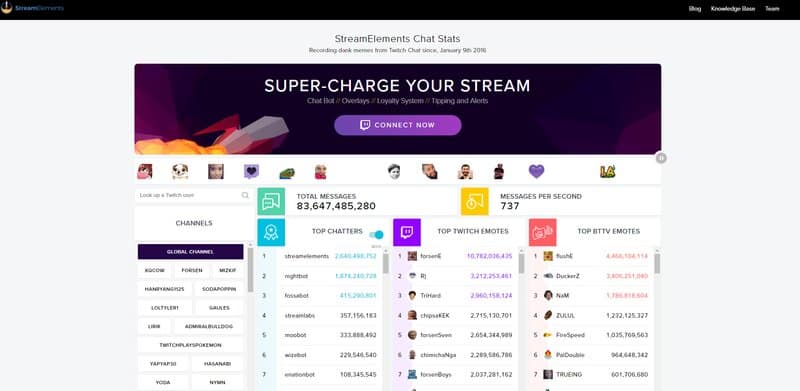 StreamElements Chat Stats is something for those interested in the Twitch chat stats. Although it only tracks Twitch chat stats, it is very important for the analysis and further development of your channel.
Moreover, it is a great Twitch emote tracker.
It shows you the following things:
Have you ever wondered who might be your biggest fan or supporter? Thanks to this website you might find out that, as well.
For example, you can find out who your biggest supporter is, and reward him with the VIP badge. That is a good way to connect with your audience and show them how much you appreciate their support.
Thanks to StreamElements Chat Stats you can use Twitch emote tracker and see what the most popular emotes are in your chat.
It can be a kind of helpe for you, as well. Namely, if you cannot decide what emotes to include in your cheat, follow the pulse of your audience.
If you see that they are using LOL, for example, and that you do not have a laughing emote enabled, include it next time.
Moreover, you will be able to see the most commonly used hashtags and commands in your chat.
Overall, there are not many tools helping you with Twitch chat stats and Twitch emote tracking, therefore we strongly recommend you check this one and dig deeper into the complex world of successful Twitch streaming.
10. Streamlabs Reports/StreamElements Reports
Tired of checking your Twitch analytics on your browser?
Then signing up for the Streamlabs or StreamElements reports might be a perfect solution for you.
Generally, both of the abovementioned analytics tools offer you the same data- the number of messages, how much viewers spent watching you, or how many chatters were there on your stream.
You can use it to get information on donations, as well. Therefore, you can compare your streaming sessions in terms of donations. That is a nice way to see what type of content makes your viewers donate money.
11. Hype Auditor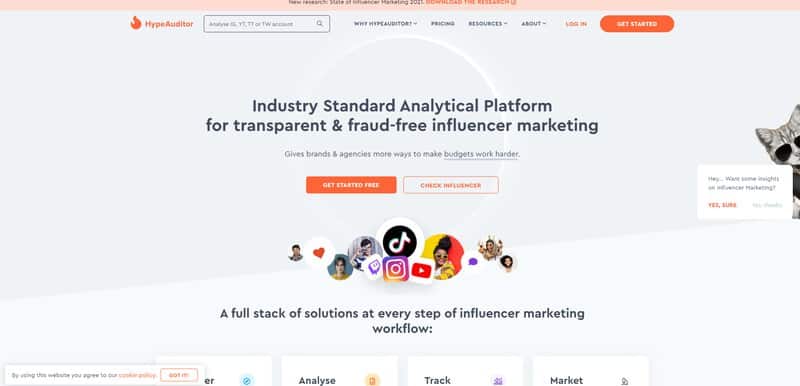 Hype auditor is one of the most recent analytics tools for Twitch.
They seem to be more focused on social networks such as Instagram or Youtube, but Twitch streamers might find it useful, as well.
When you enter a name of the account or a streamer, you will get the following data:
Of course, if you dig deeper, you will see detailed data of the streamers.
For example, the average number of viewers, how many days a week they go live or how many hours of streams they have created.
Another cool, but nowadays a common feature is to see Twitch streamer's followers growth. One can select the time frame, and see the growth in the past 7, 30 or 90 days.
The cool and kinda unique feature of Hype Auditor is that you can see a complete demographic picture of your followers. Namely, you can check their home countries, mother languages or age and gender distribution.
Therefore, it is a cool Twitch viewer tracker.
Conclusion
We hope that our list of analytics tools for Twitch helped.
These eleven options are the best that the internet can provide for you.
However, among these eleven, we certainly have our favorites. For an overall analysis of your streams, we recommend Sully Gnome or Twitch Tracker . They offer the best features and beautifully designed graphs and pages of streaming accounts.
If you are interested in Twitch chat stats, then use StreamElements Chat Stats because it is the best and only one offering the chat stats.
To conclude, it is up to you to choose the type of analytics you need. But bear in mind that all these tools should be used smartly and that the numbers shown sometimes might not be as accurate as presented.
Join our Discord Group. Ask questions, team up with fellow streamers, share memes, and more!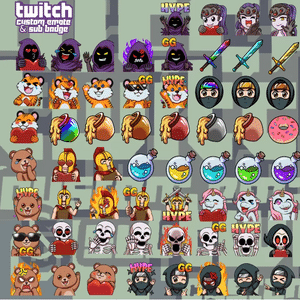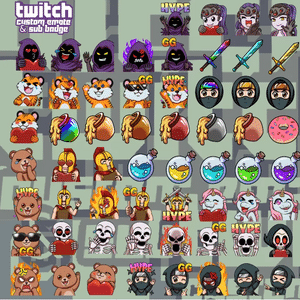 Claim for FREE:
FREE Emote PACKS
A book on growing your audience